Golden sand dunes, clear beaches and vibrant souks – these are just some of the things expats will encounter during their time in Qatar. The country also offers a number of employment opportunities, especially in the petrochemical industry. Qatar has also recently been in the news for its successful bid to host the 2022 FIFA World Cup. This means the government will be spending more on strengthening its infrastructure, which in turn translates to more jobs, particularly in the capital city of Doha, where the event will be held.Expats who have made the decision to relocate to Qatar have many things to consider, such as finding suitable accommodation, obtaining health insurance and gathering the necessary paperwork required for travel and entry into the country. Expats with pets will have additional considerations around relocating their pets to the new destination. Pet owners must first ask themselves whether their pet will be able to handle the hot and humid climate in Qatar, whether their chosen accommodation will have enough space to house their pet and, crucially, whether their pet is one of the species Qatar prohibits from entering the country. There are relocation services available for importing pets into different countries, but for budgetary reasons, many expats choose to import their pets themselves. Here's a guide for expats who are bringing their pets into Qatar.
Import Permits
The ministry of municipality and environment's department of animal resources is responsible for animal control and for monitoring animal diseases, and also supervises the transport of pets across borders and issues import permits.
An import permit can be obtained from the department of animal resources. Documents needed for this process include:
– A copy of your ID or passport.
– Your pet's health certificate, issued in your current country of residence, within two weeks prior to your expected entry into Qatar.
– Current vaccination records of your pet, including a rabies certificate. Cats must receive panleukopaenia, calicivirus and rhinotracheitis vaccinations; dogs must be vaccinated for hepatitis, parainfluenza, distemper, leptospirosis and parvovirus. Vaccinations must be administered at least a month prior to travel.
– Microchip details, such as date, number, and location.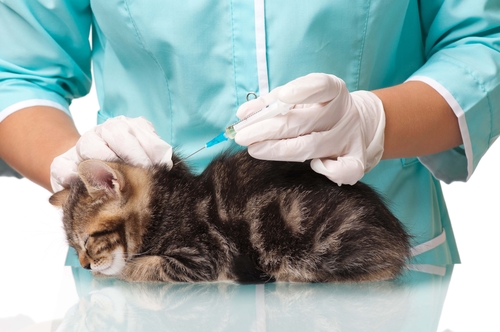 Your pet must have up-to-date vaccinations
To qualify for an import permit, your pet must older than four months and must have received vaccinations at least a month prior to traveling. Cats and dogs must also be microchipped. This permit is valid for one month, and your employer or sponsor can obtain it for you before your pet's arrival. Pets with an import permit can be transported as cargo or excess baggage. There is no quarantine in Qatar, but all animals are placed in a special facility at the Doha International Airport before clearing customs.
Regulations
There are some important regulations in place in Qatar that may affect your plans for relocating your pet. Therefore, it is important to go through these carefully and ensure that your pet meets the requirements.
As mentioned above, your pet must be at least four months old. This is because Qatar prohibits the entry of pets that are too young to be vaccinated for rabies. A lapse of more than a year after the vaccination is also not allowed.
There are certain breeds of pets that are cannot be imported into Qatar. These include the following dog breeds:
– American Staffordshire Terrier
– Boerboel
– Boston Terrier
– Boxer
– Bull Terrier
– Bulldog
– Chinese Shar-Pei
– Doberman
– Great Dane
– Japanese Akita
– Neapolitan Mastiff
– Afghan Hound
– Rottweiler
– Staffordshire Bull Terrier
Presently, there are no prohibited cat breeds in Qatar. However, most airlines do not transport snub-nosed pets such as Persian cats. It is advisable that you confirm the breed of your cat or dog with your vet, and check with the airline before deciding to transport your animal to Qatar.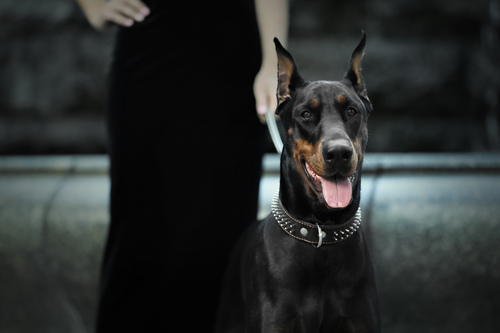 Certain breeds of dog are not allowed into Qatar
There are other requirements for specific types of pets, such as birds, rabbits, fish and invertebrates. These pets too must have an import permit and health certificate to enter Qatar.
Travelling With Your Pets
All pets arriving in Qatar are required to enter through Doha's Hamad International Airport.
Your pet can travel with you either as accompanied baggage or as cargo. As accompanied baggage, your pet will travel along with you when you depart for Qatar. At the airport, you are required to check-in your pet at the baggage check-in area and pay the fees for excess baggage. Travelling with your pet in this manner depends on the airline, so you need to notify them in advance and obtain acceptance of live animals travelling with you.
As cargo, your pet will not travel alongside you, but as an unaccompanied shipment. You do not need to check-in your pet with your other luggage. Instead, your pet will be checked-in at the cargo terminal of the airport some hours before the departure time. The airline authorities will take care of your pet from here on. Since your pet will be classified as cargo shipment, you need to have all the relevant documents and adhere to the security procedures. Different countries may have different procedures, so you need to check with your local airport and airline in advance, and stay updated on any prevailing requirements that are specific to your country. As the owner, you are required to present a letter of authorization, a copy of your passport, a copy of your work contract, contact details of the pet exporter in your current country of residence and the date of travel.
You also need to provide details of your pet, such as vaccination records from the past year, details such as breed, sex, age, weight, color and markings, microchip number and a health certificate from your pet's veterinarian. Ensure that you include your pet's vaccination card and government health certificate along with the airway bill, so that your pet can be promptly cleared by customs upon arrival in Qatar. Originals of these documents are necessary, as without them, there could be delays in clearing customs.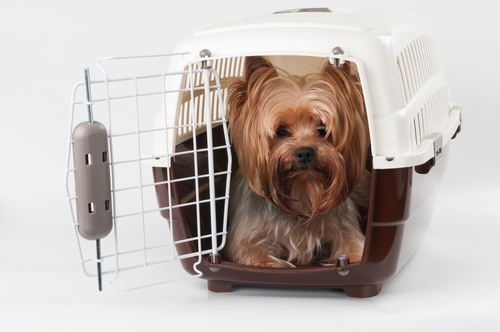 Make sure your pet is placed in an appropriate carrier
Pet owners usually prefer to have their pet travel along with them as accompanied baggage, as this enables them to monitor their pet during the journey. However, having your pet travel as cargo should not be a cause for concern. In fact, your pet is likely to feel more relaxed in the quieter environment of the cargo hold for live animals, compared to the busyness of the airport check-in process. Also, as cargo, your pet will be travelling with all the paperwork necessary for proper transportation to the right destination.
Not all airlines permit passengers to have their pets accompany them in the cabin for international flights, meaning they must travel as cargo or accompanying baggage. Carrying your pets as accompanied baggage tends to work out as more economical, but you will need to abide by the applicable weight restrictions. You can call your airline beforehand and check their weight restrictions for animals.
The International Air Transport Association (IATA) has established certain rules of conduct for travelling with pets, and their website has information on their regulations and even crate sizes. For Qatar, an adult passenger is permitted to import only two dogs. There are no restrictions on the number of cats.
Preparing Your Pet For Travel
A few weeks before your departure, it is a good idea to help your pet get accustomed to the crate or carrier. Buy one well in advance to give your pet adequate time to become familiar with it. This is an important measure, as it is stressful for animals to leave their familiar surroundings, and familiarity with the crate or carrier will help. One day prior to the departure, decrease the amount of food you give your pet, but provide adequate water. It is helpful to walk your dog before you leave for the airport, and once more before check-in. Keep a warm blanket and water container inside the crate to ensure that your pet remains comfortable.
IATA and its member airlines discourage administering sedatives and tranquilizers to pets that will travel as cargo or accompanied baggage, as this can have dangerous effects during the journey. Sedatives can lead to a lowering of an animal's body temperature to harmful levels while travelling, especially since they are contained in an area of the plane where the temperature is already lowered.
Arriving In Qatar
Once your pet arrives in Doha, the ground staff of airlines such as Qatar Airways will allow them out of their crates so that they can stretch and walk. Pets are also examined for any signs of sickness or strain. The staff also walks the dogs and cleans the kennels. If your journey involves transit in Doha, the staff will provide food and water. Larger, more spacious kennels are also provided during transit.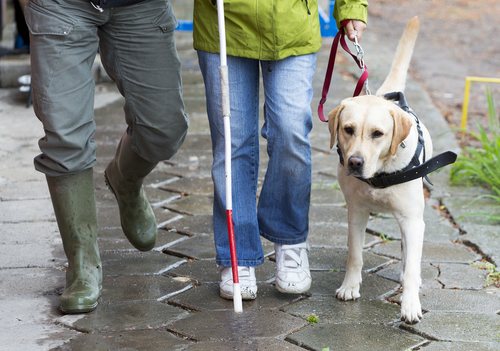 Service dogs can travel free
A health inspection is also done to check the health of your pet. If there is any health issue, you may have to pay for a special veterinary inspection and treatment.
Service Dogs
Qatar Airways allows cost-free travel in the cabin for seeing eye, psychiatric service and emotional support dogs only on flights to or from the EU, India, Australia, Canada, Brazil, Switzerland, USA, Norway and Georgia. On other flights, these dogs are allowed to travel for free, but only as checked baggage.
Expats who will be travelling with a service dog should check with their airline and be aware of all the requirements and procedures. With Qatar Airways, you need to inform the airline at least two days before departure, and check-in an hour earlier than you normally would. They also require you to prove that your dog will not relieve itself during the flight or that you can sufficiently take care of the situation without causing a health and sanitation problem on the flight. Safety harnesses are recommended for the dog at any time when passengers are required to wear seat belts. Those travelling with emotional support or psychiatric service dogs must provide a certificate issued by a licensed mental health professional within the year prior to the flight. If the airline is unable to accommodate your dog where you are seated, they will offer another available seat. You will need to ensure that your dog is not seated in such a way as to avoid blocking the aisle or emergency exit or restricting the leg space of the neighboring passenger.
Keeping Pets In Qatar
Qatar has a licensing system for dogs and cats. Keeping dogs as pets does not really feature as a part of the country's heritage; only salukis and Persian greyhounds are common among local people, but they are usually kept as hunting dogs rather than pets. Dog owners must note that they cannot walk their dogs everywhere, as public spaces such as boardwalks and parks are usually out of bounds. Some beaches permit dogs, but insist on them being leashed at all times. While researching your move to Qatar, it is a good idea to also check with your landlord whether your apartment or building allows pets.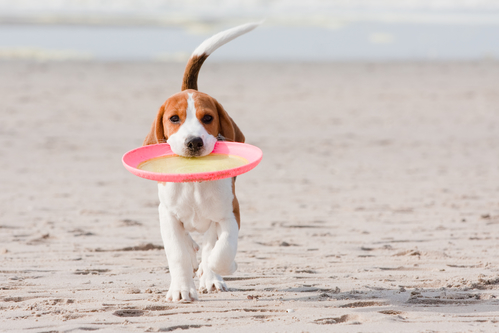 Be sure to check the rules about where you can walk your dog
Qatar encourages pet owners to ID their pets with microchips and tags. Cats that are microchipped qualify for a free trap-neuter-return program by the department of animal resources.
Leaving Qatar With Pets
Expats who plan to leave the country along with their pets must remember that animals must have their own documents to leave. Qatar sets out certain requirements for pets leaving the country. Upon fulfilling these conditions, the pet can receive an exit permit. These requirements include having your pet microchipped, if this was not already done. Your pet must also be administered vaccinations in a timely manner.
You will then need to find out the import regulations regarding bringing pets into your destination country. Some countries, such as EU member states, New Zealand, Australia, Singapore and Japan stipulate that pets must undergo a rabies test, which indicates the level of antibodies and establishes whether the pet is immune to rabies. If you are travelling to any of these countries, your pet must be microchipped in advance. Other countries, such as the United States and Canada, do not make it necessary for pets to undergo a rabies test, and also do not keep pets in quarantine when they arrive in the country. Canada advises owners to have a rabies vaccination certificate for their pet.
Further information
Government Website
IATA
Qatar Airways
Have you lived in Qatar with pets? Share your experiences in the comments below, or answer the questions here to be featured in an interview!