Seoul, the capital of South Korea, is a bustling metropolis with deep historical roots. The city is famous for several things including its N Seoul Tower and Incheon International Airport, which has a golf course and skating rink, and is often named the world's best airport.
Seoul is a city that never sleeps, with restaurants, shopping centers and spas open for business at all hours of the day and night. Local people love their vibrant nightlife, which is concentrated in areas such as Gangnam and Itaewon. The city is home to many places of historical interest, such as shrines and palaces, and offers great variety in terms of accommodation.
Seoul has an excellent healthcare system, and expats can also choose from a range of international schools for their children. Teaching English is a popular employment opportunity for plenty of expats who arrive in the city from different parts of the world. South Korea has a reputation for being technologically advanced, and Seoul is at the forefront of this innovation. It is also a city with a great passion for locally-influenced architectural modernization, which is especially evident in the Lotte World Tower, the 123-floor skyscraper inspired by traditional Korean art.Expats tend to have an excellent experience living in Seoul because of its cosmopolitan and modern character. It is dotted with large shopping malls, brand stores and high-end boutiques. Alongside these modern amenities, expats will also be able to delve deeper into Seoul's cultural side, as there are plenty of art markets selling traditional paintings and crafts.
Seoul is considered to be among the richest cities in the world due to its thriving economy. The city is responsible for more than 20 percent of the country's GDP. Heavy industry, information technology and education are some of the sectors that drive the economy. Giants in the IT and communications field, such as LG and Samsung – both South Korean companies – have contributed to the city's prosperity, and continue to provide employment to large numbers of people. A number of companies operating in the finance and electronics industries have also set up offices in the city. The education industry in Seoul is booming too. The city is home to some of the best universities in the world, two of which feature among the world's top 50 institutions of higher education.
Seoul frequently attracts people from different parts of Asia and across the world. Since it is the largest city in South Korea, it has a dense population that includes expats, some of whom arrive in the city looking for jobs in the many multinational companies that have a presence here. Since the city is economically advanced and financially robust, finding a job can be fairly easy.
Pros And Cons Of Working In Seoul
Since Seoul has a sizable expat community, migrants should find it quite easy to live and work here. The city has a cosmopolitan atmosphere; international influences abound, and most expats will not experience much of a culture shock. Seoul is a lively place with tons of entertainment options, great nightlife and plenty of places to shop for local goods as well as luxury items. It is easy to get around due to its efficient public transport system, which has a network of buses and trains, and a modern subway. Eating out is a treat in Seoul due to the huge variety of restaurants serving up a range of cuisines.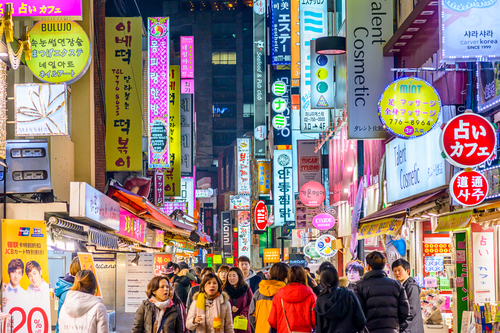 Seoul is a bustling city with many things to see and do
Although living and working in Seoul is a fantastic experience for many expats, there are of course some downsides as well. Seoul also faces severe traffic congestion on a regular basis, due to its huge population, and the city has some of the highest pollution levels in the country. The dense population also means that accommodation may only be available in the form of small studio apartments. Seoul lives up to its reputation of being a city that never sleeps, which means it has a constant backdrop of sounds of vendors, fire trucks and pedestrians. Architectural marvels such as sleek skyscrapers and modern buildings make the city exciting, but also mean there isn't much access to nature. Seoul has a high cost of living, and expats may be unable to save as much as they would like to.
Visas And Work Permits
If you have secured a job in Seoul, your employer will act as a sponsor and arrange for your visa and work permit. The ministry of justice is charged with approving the work permit, after which it issues a certificate that enables an individual to apply for a visa at the South Korean consulate or embassy in their home country. It can take up to four weeks to receive your visa, which is usually valid for a period of one year. Keep in mind that expats arriving in Seoul on a tourist visa will not be able to change this to a work visa while remaining in the country, as this process must be conducted at a South Korean consulate or embassy outside South Korea.
Single-entry, double-entry and multiple-entry visas are available for South Korea. Expats can inform the consulate or embassy, or their employer, of their preference in this regard at the time of application.
Expats who wish to reside in South Korea for more than three months must register at a local immigration office within that time. It is an offence to remain in the country without being registered. Registration takes place via an application, and once the application is approved, the passport is stamped and an alien registration card is issued. This can take three to four days. This registration card enables you to perform various tasks such as applying for a driver's license and opening a bank account. Expats are required to carry the card with them at all times while in South Korea. If the card is lost or damaged, you must re-apply for it at the local immigration office within two weeks.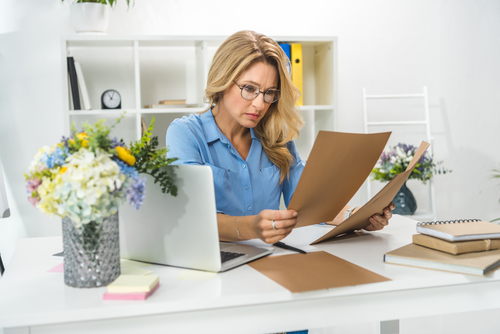 If you change jobs you will also need to switch visa, so keep your paperwork in order
In South Korea, if you switch jobs, you will also need to change your visa, since employers are responsible for sponsoring work visas. It is possible to conduct this process while remaining in the country, provided you have all the appropriate documents. Your present employer also needs to issue a letter of release, which can be submitted to the immigration office, along with your passport and alien registration card.
The Job Market
Plenty of job opportunities in the information and technology field are available in Seoul. English teaching is also a popular employment opportunity among native English-speaking expats.
Many of the multinational companies that have their offices in Seoul frequently hire migrants, but remember that in the case of jobs in the IT sector, expats will face strong competition from local people. Additionally, the language barrier may also pose a challenge. Close social and business networks exist in South Korea, which this may also restrict the opportunities available to international workers. Building up a network of contacts in Seoul can enhance your chances of navigating the job market there. Although Korean is the official language of the country, English is spoken in the city.
Seoul has seen rapid growth in certain sectors such as biotechnology and software, and jobs may be available for expats in these areas. Since South Korea relies a great deal on exports, it is constantly striving to build up its domestic service industry, and here too, expats can apply for jobs. The main industries in Seoul include telecommunications, electronics, semiconductors and automobile manufacturing, and many expats are able to find employment in these fields.
English Teaching Jobs
Teaching jobs are often the first choice for expats, especially among native English speakers who wish to live and work in Seoul. Such jobs have many advantages – they often provide accommodation, arrange for airfare and offer lucrative salaries. The basic qualifications required for English teaching jobs are a bachelor's degree and a clean criminal record. If you are applying to public schools, you may be required to have a TEFL certificate.
Private schools, in particular, are known for hiring a large number of migrant teachers. These are also known as language schools. However, public schools don't have as many job options for expats, since these instutitions have been hiring fewer migrant teachers over the years due to budget cuts and a drive to employ local English teachers.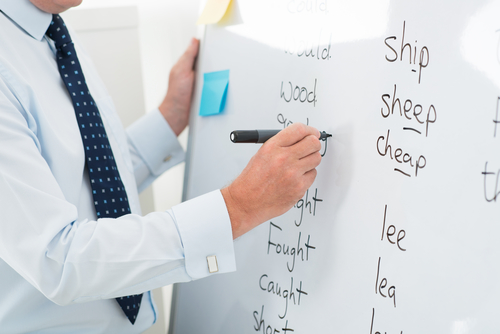 Teaching English is a popular option for expats in Singapore
While full-time job opportunities are usually available throughout the year, schools tend to do most of their hiring either in February and March, or in August and September, in accordance with the school semesters.
Applying For Jobs
Many expats secure a job before they enter Seoul, as this is the easier route in terms of obtaining visas and work permits. The hiring process in Seoul is similar to that in other countries. Some companies may just ask for your CV, while others may require you to fill out an application form as well. Multinational companies usually have their application forms in English. Expats who know Korean can choose to take the Korean language proficiency test, which evaluates communication skills and help when applying for jobs. International qualifications are usually recognized in Seoul, but it is advisable to check with the company before putting in your job application.
There are a number of Korean websites that offer information on the job application process and post vacancies. The Korean Employment Information Service runs a recruitment portal called work-net, which has a job search engine along with other useful tools such as vocational tests. Expats looking for postdoctoral employment opportunities in research and lecturing at Seoul's universities can browse through the HigherEd Jobs portal. English teaching job vacancies can be found on Gone 2 Korea. Seoul Global Center is a support service for expats which also has a jobs board. For expats looking for non-English teaching opportunities, Seoul Professionals is a useful website that features vacancies for applicants with varying experience levels. A good place to look for internships in Seoul is Kopra, which covers the entire East Asia region.
In recent years, Korean companies have taken an active role in scouting for overseas skilled professionals, many of which have a careers section in English on their websites.
One of the traditional ways of finding job opportunities is to look through the local newspapers. English speakers look at the Seoul Times and the Korea Times, while the Korea Herald features a special page for expats.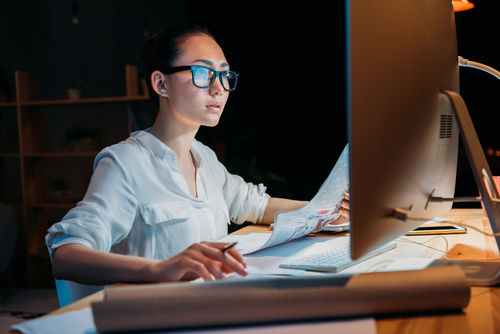 The working culture in Singapore includes long hours
Networking is a huge part of the job search in Seoul. The city houses many chambers of commerce that conduct business and social events serving as great networking opportunities. Job fairs are usually held during September and October, and this is where you can speak with recruiters about available job opportunities. Since these are usually held by the major universities, they are especially popular among younger professionals looking for internship options in Seoul.
Working Environment
Expats must keep in mind that many employers in Seoul tend to favor long working hours, even though the official working hours are usually 40 hours a week. There are also certain cultural differences that expats may notice in the workplace in Seoul. For instance, employees tend to stay at work until a supervisor signals permission for them to leave. Expats who want to stick to the hours specified in their contract may be perceived as being selfish.
Seoul is a modern city, but tradition still plays an important role here, even in a business setting. A tendency to instill and maintain a sense of harmony when doing business exists. Local people also have great respect for authority. Familial and friendship ties are highly valued in Korean society, and this also extends to the business environment. Due to this unique nature of Korean society, it is important for expats to maintain good working relationships. This will help them get ahead in Seoul's professional and business world.
Further information
Target Jobs
Government Website
Asia Options
Have you lived and worked in Seoul? Share your experiences in the comments below, or answer the questions here to be featured in an interview!