Living overseas requires adjustment and adaptation. From learning the language to becomes au fait with customs and traditions, the most successful expats are the ones who take on the local culture and begin to make it work for them.
As well as learning to remove shoes, bow appropriately, and which flowers are taboo as a a gift, your palate will have to learn new tricks. Those icky oodstuffs that barely looked edible, let alone appealing, when you first arrived will eventually become the go-to snack that you crave all day.The menu in your home will adapt from familiar tinned goods to an array of freshly prepared delicacies, involving exotic ingredients and expert kitchen skills. At least, that's what we can dream of.
For most of us, dinner consists of whatever we have time to make, which remains true wherever we are in the world. As much as we'd love to linger over finely chopped herbs and expertly filleted servings of fresh fish, we also have busy lives.
The other thing holding us back is that we just plain love the food we are familiar with. They call it 'the taste of home' for a reason; although we may be living our daily lives well adapted to both the culture and the menu, we'll always crave the comfort food we grew up with.
Whilst Britain is not famed for its fine cuisine, British expats seem to crave a portion of patriotic grub more than other nationalities. Londoners, Mancunians, Glaswegians and Scousers will all put aside their regional differences so sip a cold pint or tuck into a hearty fry-up.
Wherever the Brits go, a trail of baked beans, teabags and Hobnob biscuits is sure to give them away. An estimated 5.5 million Brits reside overseas, making them a sizeable, and hungry, market for products from home.
Mark Callaghan runs British Corner Shop, an online store where Brits overseas order GBP£4 million-worth of treats every year. Callaghan told the Guardian, "I once lived in America for work and really missed things like Tetley Tea, Kellogg's cereals and Heinz Baked Beans."
If you are hungry for a life of thrill and excitement overseas, but are also hankering after Hobnobs or a Hovis loaf, read on to find which foods you'll miss the most.
10. Marmite
The dark, salty, sticky spread is famous as the 'love it or loathe it' dividing line in British society. The nation is categorized into those for whom a warm slice of toast slathered in the yeasty substance is a dream come true, and the rest who believe the revolting gunk to be the work of a culinary devil.
Made from leftover sludge from the industrial brewing industry, Marmite has been a staple of kitchen cupboards in the UK for over a century. The tangy taste is not the only reason Marmite is a regular part of many British diets: the paste is also rich in vitamins and folic acid.
So nutritious is Marmite that is was added to soldiers' rations during World War I and is credited with curing an outbreak of malaria in Sri Lanka.
Australians and New Zealanders also enjoy a love-hate relationship with the spread, each claiming also to be the original home of Marmite. The foodstuff was actually invented by a German scientist, Justus von Liebig, whose recipe was then put into mass production by the Marmite Food Extract Company in Burton-Upon-Trent in England.
Whatever the origin of the beguiling goop, expats will go to great lengths to obtain it. Rob Savage, a Brit living in New Zealand, got embroiled in legal wranglings after importing NZ$12,000 (GBP£6,000) of the stuff.
9. Cadbury's Chocolate
Brits at home consume an average of 7.5kg of chocolate each per year, making them the fifth most chocaholic nation in Europe. With such a sizable sweet tooth, it seems unfair to single out one brand of chocolate.
There is a lot of choice in the confectionary market when searching for sweet snacks, but one company more than any other dominates. Cadbury's produces such a vast array of gooey, chewy, crunchy and tasty products that its has come to dominate the marketplace.
British-made chocolate is a careful balance of bitter cocoa, creamy dairy and sweet sugar. The delicious brown goop is then mixed with caramel, nuts, wafers, toffee, honeycomb and a decadent assortment of sweetstuffs. The resulting plethora of tasty treats means that there is a chocolate bar to tempt even the most ardent of healthy eaters.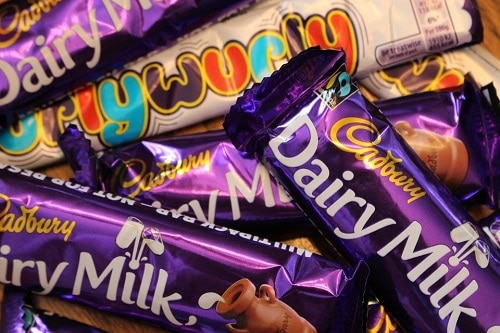 © AppletonOnfoot on Pixabay
But thanks to trade laws, it can be difficult to get the good stuff overseas. Cadbury's chocolate may be second-to-none but the business name is far from unique. In Australia, similar products are on offer, but with an altered recipe to stop the chocolate melting in the Aussie heat.
The hottest battle faced by British chocolate lovers is in the USA, where the market is dominated by Hershey's. Jim Gillon, a Scot who works in American summer camps told The Guardian that he can't see the appeal of the brand. "I can't understand why anyone who had tasted proper chocolate would ever buy Hershey's," he said. "Hershey's is fine until you begin eating it. It's like eating plastic."
America seems to have a problem with British chocolate, using complex lawsuit to keep the foodstuff from crossing the Atlantic. Hershey's has petitioned to prevent chocolate coming in from the UK, suggesting that similar product names and packaging styles infringe on their market.
8. Crisps
Is there anything quite as satisfying as the rustle of a bag of crisps, followed by the mighty crunch as you hungrily devour them? The sound alone is almost as delicious as the flavour.
Of course, finely sliced potato products are available the world over, known by many names and served in a variety of ways. But Brits go misty eyed for a brightly coloured foil packet of strongly flavoured crisps and crumbs.
Whilst expats can readily find crisps overseas, the flavours will be alien. Chilli and Lime is a favourite in Mexico whilst fish flavours dominate in Japan. Expats can scour their new country in vain looking for salt and vinegar, prawn cocktail or cheese and onion.
Posting on the Guardian as DoctorFerrant, one Brit in Bolivia told of his excitement of finding familiar flavours in the market. "I nearly spontaneously combusted with excitement when I found salt and vinegar crisps in La Paz," he wrote, "I bought so many packets that by rights I should have been found a desiccated mess the next morning."
7. Cornflakes
Breakfast is the most important meal of the day. Start the day without a nutritious meal and the rest of the working day is bound to unravel fast. So it's no surprise that British expats bemoan the loss of their most familiar breakfast foods.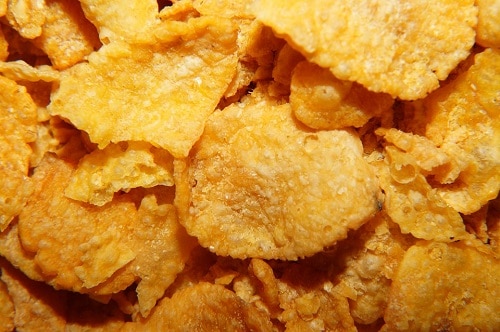 © Kapa65 on Pixabay
Some brands of cereal may be totally absent, whilst others are a poor imitation of their home-grown glories. The biggest complaint amongst expats is that where a bowl of bran-packed, milk-soaked tasty treats can be found, they are ridiculously expensive. Even where you can find your favourite foods, breakfast can break the bank
"Everything, everything is more expensive," says Donnalynn Rainey, a Dorset woman now living in Montreal, Canada. She told expatchild.com, "a box of cereal in the UK, less than GBP£2 easily. Here nearly CAN$7 a box. That's around GBP£4.50 for your Shreddies. Plus tax. Everything is plus tax. The price you see is not the price you pay."
6. Bacon and sausages
There are parts of the world where pork products are outlawed due to religious reasons. In the rest of the world, these mighty meaty ingredients inspire their own devoted following.
The Full English Fry Up revolves around a chunky, juicy sausage and thick smoky bacon, and even the humble bacon sandwich is a mighty handful of thickly sliced back flesh.
Britain is not the only country in the world to celebrate sausage or bacon, but it's the only one that does it in the British way. There may be a myriad of ways to smoke, cure and serve bacon and sausages, all reflecting their originating culture.
But to a Brit, these are just pitiful imitations of the right way to prepare pork. Hayley summed it up on her blog, bitterballenbruid.com, "that wafer thin stuff you get at the slagerij (butcher) called spek (bacon)?" She writes, "just because you call it bacon, doesn't mean it is. British bacon comes in slabs! Thick and meaty. 'Nuff said."
5. Biscuits
Some things are just meant to go together: horses and carts, stars and stripes, biscuits and tea. A 'brew and a biccie' are as quintessential a part of British life as you can get; never will a 'latte and a brownie' supplant their place in the pantheon of Britishness.
The world may be full of 'cookies', but the biscuit is a different, more humble and yet noble beast. A simple, sweet snack, usually fairly plain in appearance, the unassuming biscuit knows its place as an accompaniment to tea.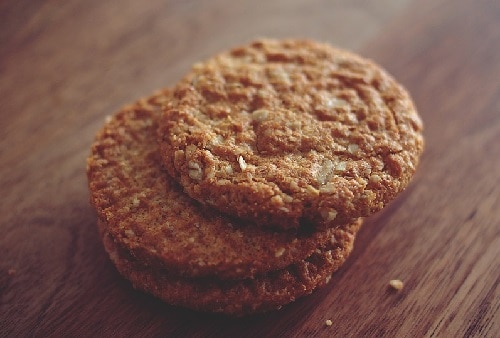 © Unsplash
Sadly, the rest of the world seems slow to adopt the unglamorous snack, making it hard to find overseas. Abigail Simpson, an Englishwoman in New Zealand, writes for pomsawaydownunder.wordpress.com, "the first time my nana visited us, after our first Christmas in New Zealand, I begged her to bring Hobnobs and Hovis Digestives."
4. Gravy
Gravy is the utility sauce of the British kitchen. The beefy broth is poured over anything savoury, instantly making it twice as tasty.
Elaborately prepared roast dinners are naked without a splash of gravy and the humblest of drunken snacks can benefit from a serving of the steaming stuff. It's poured on potatoes and mopped up with bread and butter.
Traditionally made from the juices of a roasting joint, the dying art of gravy production has been supplanted by ready-made broth in dissolvable granule form. It is this key ingredient that is leaving classics like Toad in the Hole, bangers and mash, and the mighty Sunday Roast dry and flavourless.
3. Baked Beans
Although invented by America, Britain has taken the humble baked bean to her bosom. Americans visiting the UK are often dismayed by the gusto with which Brits dish up the orange dish, utilising it for breakfast, lunch and dinner.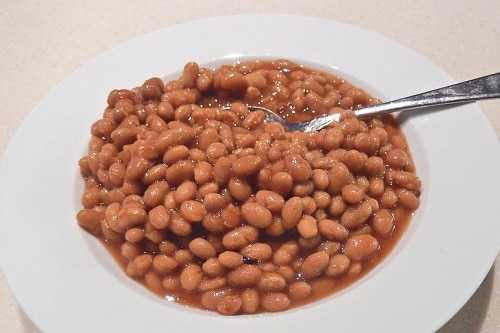 © pixel1 on Pixabay
Baked beans are liberally slathered over meals as a garnish that turn even a sad slice of toast into a filling main meal. Whilst the British bombast for baked beans makes them a staple of UK menus, they are noticeably absent from expat homes.
2. Crumpets
Crumpets are an old British favourite, with references made to the tea cake as far back as 1382. Since then the hard, burnt pancake has evolved into a fluffy little bun that just calls to be slathered in tasty butter.
There are imitation products available worldwide, but the true taste of home needs to be shipped from the source in the case of the crumpet.
A spokesman for British Corner Shop, a website selling British products to expats around the world, revealed to the Express that crumpets were the company's best seller: "in the past year, we shipped out 17,000 packs to expats abroad who miss the taste from home."
1. A Good Cup Of Tea
Brits have been obsessed with this steaming brew since the 18th century and the country remains one of the world's biggest consumers of the beverage. Back when the British Empire spanned the globe, people thrived on cups of steaming tea and the economy boomed as the trade in leaves drove massive investment.
But as the Empire has declined, so has the omnipresence of tea. Coffee consumption is going up in the UK and over the world. But Brits abroad will still be in for a rude shock, realising that their new home may be entirely devoid of teabags.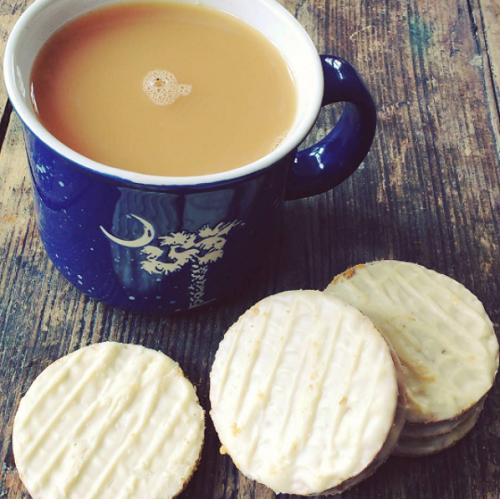 © jeviscachee on Instagram
Barrie Mahoney, writing for britishexpats.com, advises those heading abroad to prepare for a lack of a welcoming cuppa: "the true expat quickly accepts the fact that "A Nice Cup of Tea" is impossible to find once one passes the White Cliffs of Dover."
For a great number of Brits this is terrifying prospect. A famously reserved species, the average Briton replaces displays of emotion with cups of steaming tea. When disaster strikes tea urns are deployed with rescue equipment, when we meet with friends the kettle goes on, the highs and lows of human life are all met with a cuppa and a biscuit. Tea is not just a taste of home, it's a salve to sooth away the stress of the day, a means of cementing friendships and bonding a family together.
Undertaking a stressful anything as stressful as moving abroad without the emotional support of a refreshing, revitalising brew seems like madness to many Brits.
What did you miss when you moved abroad? Share your thoughts in the comments below, or answer the questions here to be featured in an interview!
Article by Andy Scofield, Expat Focus International Features Writer