Austria is famous for its architecture, as found in its castles, buildings and palaces. It also has a beautiful, mountainous landscape, perfect for skiing in winter and for hiking during the summer months. If you would like to move to Austria, or else stay there for a prolonged period of time, then you will need to think carefully about what accommodation you will need. This article looks at your options in terms of renting or buying property there.
Renting property in Austria
The process of renting a property in Austria is relatively straightforward, as the majority of the rental market is processed through real estate agents. The cost for using estate agents can be between one and two months' rent, but they make the property searching process much easier, as they are familiar with locations and prices. You could also use property websites, or read local newspaper advertisements. However, unless you speak fluent German, these may be difficult to navigate.
It's important to know that, in Austria, it is better to search for property in some seasons than others. For example, the beginning of the academic year (September) is a terrible time to look, as an influx of foreign students heightens competition, making certain types of properties harder to find.
When it comes to your rental paperwork, you'll want to ensure that you have a translator with you, or a reliable translation service available, so that you can read the lease carefully before signing anything.
The typical length for a tenancy lease is three years, with a month's rent charged for each year, to be held as a security deposit. For tenancies of this duration, a three-month notice period is also common. This can be waived in certain circumstances at the discretion of your landlord or letting agent.
Utility bills are often paid separately to rent. However, in some cases, you can request to pay the estate agent a flat fee to cover your monthly bills.
Rental prices in Austria vary, most noticeably between inner and outer city dwellings. Examples of the change in property prices are as follows:
• One-bedroom apartment in the city centre: €700-€1,200 per month
• One-bedroom apartment outside the city centre: €500-€825 per month
• Three-bedroom apartment in the city centre: €1,200-€2,500
• Three-bedroom apartment outside the city centre: €1,200-€1,500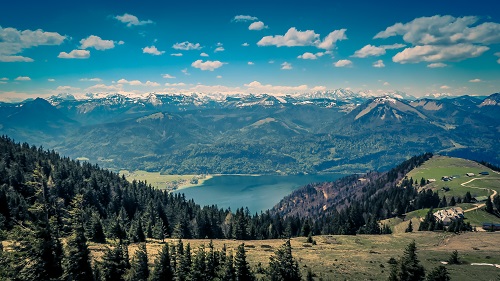 Rental prices in Austria vary, most noticeably between inner and outer city locations.
Buying property in Austria
There are no buying restrictions on foreign nationals purchasing property in Austria if you come from an EU/EEC member state. If you're not from one of these countries, then you must obtain permission from the local authority office in the area you're looking to buy property in. This is an easy process and can be accomplished very quickly, so don't let it put you off.
You can find properties for sale on the following websites:
• Rightmove
• Tranio
• Amazing Austria
• Engel and Voelkers
• Savills
Alternatively, you can search by enlisting a local estate agent to help you find the type of property you're looking for. We always recommend working with local estate agents, especially if you're new to the country and are not sure where you want to live, as they have an abundance of knowledge regarding public transportation, schools and neighbourhoods.
The most popular place for expats to live in Austria is Vienna. Property prices there vary greatly, with apartment prices ranging from €600,000 to €3,000,000. Outside of this area, property prices are lower, and apartments and houses can be found for €300,000 upwards.
If you need to secure funds for the property by way of a mortgage, financing can be obtained regardless of your citizenship status. Loan durations are flexible, and interest rates typically sit between 2.5% and 3.5%. An example of a mortgage offered in Austria is a loan of 70% of a property's value, with a repayment term of 20 to 30 years.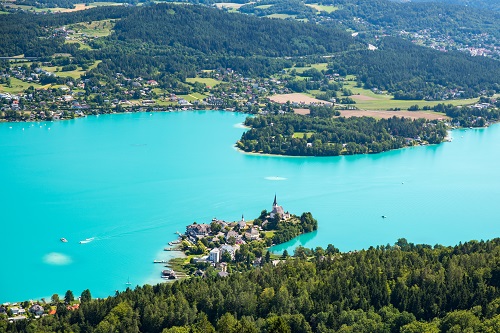 You can get a mortgage in Austria regardless of your citizenship status.
Once you have found the property you want to buy, you'll need to make an offer in writing through your real estate agent. When you make an offer, a Kostenaufstellung will be attached. A Kostenaufstellung is a breakdown of the associated costs and fees, which will be applicable when purchasing the property. The price of these fees varies depending upon the price of the property you are purchasing, but the following breakdown will give you a rough idea of what the financial implications may look like:
• Legal fees: 1% to 3% of the property price + 20% VAT
• Property transfer tax: 3.5%
• Registration duty: circa €400
• Notary fee: up to €120 per person + 20% VAT
• Real estate agent's fee: 3% to 4% of the property value
Once your offer has been accepted, a Sale of Agreement will be drawn up by an Austrian notary, and, once signed, you will be required to place a 10% deposit in order to secure the property. This will then be put into escrow until the property sale has completed.
It takes, on average, between 10 and 35 days for a property purchase to complete in Austria, and during this time you should ensure that all relevant checks have been carried out on the property. This includes professionals evaluating the condition of the property, its structure and whether it has any damp problems.
Once the property selling process has completed, your lawyer will register the transfer details at the local registry office and pay the fees and registration duties mentioned above. Once this has been done, you'll officially own a property in Austria!