Millions of tourists flock to the Bahamas each year to enjoy the warm sun, white sandy beaches, and turquoise waters – and it is a popular destination for expats too! When you are not at the beach or enjoying the island's many attractions, you can sample the nation's delicacies at local restaurants. Seafood is quite popular in the country because of its proximity to the ocean. However, there are many other treats that you can enjoy here.
Soup
There are many variations of Bahamian fish chowder. Many chefs and food connoisseurs agree that the soup is quite tasty when made with grouper. The soup is often made with celery, onions, tomatoes, steak sauce, thyme, cooking sherry, lime juice, and a bit of rum. For many years, turtle soup was a popular food especially in the outer islands. However, this dish is becoming increasingly rare due to national efforts to conserve the turtle.
Conch (pronounced "konk")
This is the national dish of the Bahamas. It is large ball of firm white meat that is enjoyed throughout the country. Locals prefer to eat it as a snack in bars and taverns. It can be eaten as a main dish, salad, or hors d'oeuvre. Conch tastes like abalone and does not have the typical fishy flavor. It is a bit chewy and has to be pounded to tenderize it.
Recipes for making conch powder vary depending on the cook. One of the most popular versions is made of sweet peppers, carrots, onions, thyme, potatoes, tomatoes, bacon, bay leaves, salt and pepper. You can also try ball-shaped conch fritters, often served with hot sauce and made with finely grated sweet peppers, onions, and tomato paste. Conch fritters are often deep-fried in oil.
Another local favorite is the conch salad. This dish also has many local variations but is essentially uncooked conch marinated in hot pepper sauce to add flavor and break down its tissues. This dish is often served with chopped onions and diced peppers.
This dish is quite easy to prepare. The conch is first pounded, dipped in batter, and sautéed. It can be served steamed, curried, stewed, or creamed in toast. You are likely to find many variations of conch served in restaurants including conch burgers, soup, and chowder.
Seafood
A popular must-have in any menu in the Bahamas is lobster, especially the local spiny variety. This lobster is considered by many people to be tastier than the rock lobster or crayfish. However, only the tail of this lobster is eaten and it is not as sweet as the Maine lobster.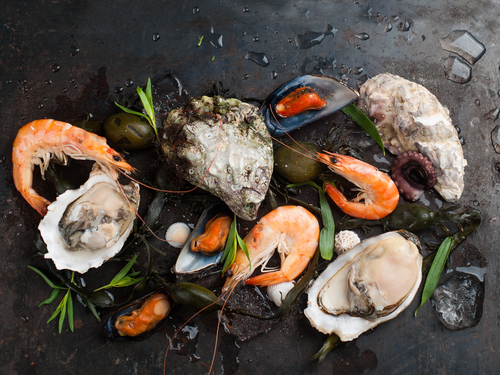 Seafood is popular in the Bahamas
Lobster season lasts from early April to late August and this is the best time to savor fresh lobsters in restaurants and eateries across the island. Although Bahamian lobster may be quite costly, it is always worth every penny when prepared to perfection. A typical preparation process involves currying it with limejuice and fresh coconut.
Grouper
This is the second most consumed dish in the Bahamas after conch. It can be served in various ways including batter dipped or sautéed. You can also have it steamed and served in Creole sauce. Some restaurants and eateries serve it dressed in white wine, onions, thyme, and mushrooms. The ingredients of the dish help to add a rich taste to the food because the fish is generally mildly tasty.
Baked Bonefish
This dish is also common and quite simple to prepare. Bonefish is prepared by splitting the fish in half and seasoning it with pepper sauce and salt before it is placed into the oven.
Baked Crab
You will often see this delicacy in restaurants and eateries throughout the Bahamas. It is prepared by mixing eggs and meat of either land or sea crabs with seasonings and breadcrumbs. The crabs are then put back in their shells before being baked.
Peas, Rice, and Johnnycake
Mashed potatoes are the national starch of the U.S. In the Bahamas, peas and rice take the role of the national starch. Like potatoes, peas and rice can be prepared in various ways. One of the most popular preparation methods involves cooking peas with salt pork, celery, tomatoes, green pepper, rice, thyme, and onions.
Johnnycake is a favorite Bahamian dish that traces its origins back to the early settlers. These settlers were poor and survived mainly on rice, fish, and johnnycakes. The original name of the dish was journey cakes, which was eventually corrupted to johnnycakes. This food is made with flour, sugar, salt, baking powder, and milk. Fishermen out at sea could make this dish on the decks of their vessels.
Drinks
If there is one thing the Bahamians are fond of, it's fruits. The islanders make many inventive dishes from fruits including soursop ice cream and sapodilla pudding. They also make guava duff desserts using guavas. Bahamians also enjoy pineapples, passion fruits, melons, and mangoes. One of the most popular fruits in the country is the papaya, affectionately called paw paw or melon tree by the islanders. They often use the fruit to make chutney while others eat it as it is. Papaya or paw paw is a common feature in many lunch and dinner recipes.
The old Bahamian tradition of using papaya as meat tenderizer has been adopted by many around the world. Papaya is also used to make tropical drinks including the Bahama mama shake.
Rum, Liqueur, and Specialty Drinks
Although Cuba and Jamaica are more closely associated with rum, Bahamians have quickly adopted it as their national drink. The islanders have used their imagination to invent several alcoholic beverages including the Bahama mama, Goombay Smash, and the Yellow Bird.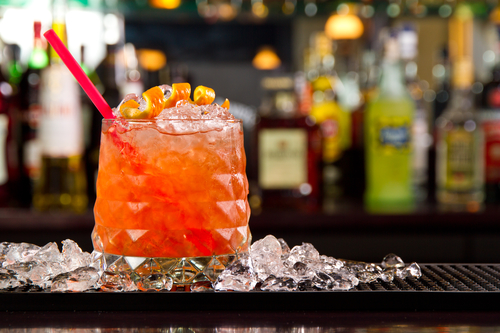 Rum-based cocktails are a popular choice
The yellow bird is made of rum, orange juice, apricot brandy, pineapple juice, and Galliano. The Bahama mama consists of rum, bitters, nutmeg, grenadine, and citrus juice such as pineapple juice.
Planter's punch is a favorite in bars and clubs throughout the country. Variations of the drink exist, with each bartender having their own version of the drink. A classic recipe consists of rum, bitters, sugar, and limejuice. This drink is usually served with cherries or orange slices.
Have you lived in the Bahamas? What were your favourite local dishes? Share your thoughts in the comments below, or answer the questions here to be featured in an interview!