Colombia has one of the most diverse and varied cuisines in the world. The culinary delicacies you are likely to find in the country are determined by the region you will visit. In some regions, you will find roasted ants and guinea pigs while in others you would not find anything like these dishes. If you are a vegetarian, Colombia may not seem like the culinary paradise it is known to be, because Colombians eat lots of meat. Popular dishes in the coastal areas include seafood, lobster, and fish. In addition, fruits are common features of many dishes in the country.One of the most important meals in Colombia is breakfast, which often consists of fruit juices, hot chocolate, eggs, and bread. Lunch is the main meal of the day and is usually served between noon and 2pm. The meal often consists of soup, a main dish, a drink, and a dessert in certain cases. Dinner is usually the lightest and is more like a snack. This meal is often served between 7pm and 8pm.
Arepa
This is perhaps the most common food in Colombia. It can be eaten on its own or as an accompaniment. This dish is made from cornmeal bread and often served with butter or corn. People who come to Colombia quickly familiarize themselves with arepa because it is served throughout the country.
Ajiaco
This soup is made from chicken, potato, avocado, capers, sour cream, and corn. No ajiaco is complete without guasca, a herb found throughout South America. Ajiaco has a rich, distinct taste and is served in most restaurants and eateries in the country.
Bandeja Paisa
This is considered the national dish of Colombia. However, this delicacy is not for the faint hearted. It consists of steak, pork, and chorizo sausages served on a bed of rice and red beans. Top it off with fried eggs, sliced avocados, and sweet banana chips. The fact that bandeja has been designated a national dish has been a subject of contention among many Colombians, with many disagreements about what should be included as a national dish. Visitors are likely to see various versions of the dish throughout the country.
Lechona
This is a popular Colombian dish especially in Tolima to the west of the country. However, you can also expect to see this dish in specialty restaurants throughout the country. If you visit Tolima, you will probably see lechona at any kind of special event. This dish consists of a whole roast pig stuffed with rice, onions, spices, and peas cooked slowly in a clay oven. It may take up to ten hours to cook the delicacy.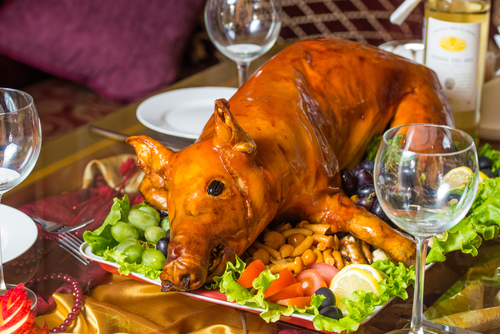 Lechona, a whole suckling pig on a plate, is an acquired taste
Sancocho
This dish traces its roots back to the Spanish invaders who introduced it into the country. It is quite popular in every region. Regional variations of the dish exist in every part of South America. The dish's ingredients vary depending on what is available in the various regions of the country. Although the dish can be prepared with almost any kind of meat including fish, it often includes potatoes, plantains, and yucca. The delicacy is often served with rice, which can be added to the dish itself or be a side dish.
Fritanga
This is a platter of meat served with arepas, plantain, and manioc. It can be made from grilled chicken, beef, or fried cow intestines. The food is often covered with aji sauce and can be found in various forms throughout the country.
Empanadas
Colombia is the home of many tasty snacks. One of the most popular snacks in the country is empanadas. Although this food can be found throughout South America, each country has its own version of the dish. This dish originated in Spain and Portugal. The word empanada was coined from the Spanish word empanar, which loosely translates to 'wrap' or 'coat in bread'. In simple terms, the empanada is a small pasty that is baked or fried. In Colombia, the dish is usually fried and contains many fillings that vary depending on the region. For example, empanadas in Medellin are usually filled with chorizo while others may be filled with cheese and spinach.
Churros
This is a popular breakfast dish consisting of elongated pieces of fried dough. This dish is often accompanied with calentado, which consists of reheated beans and rice from the previous night's dinner. Churros can be served with sausage, beef, hot chocolate, arepa, and eggs.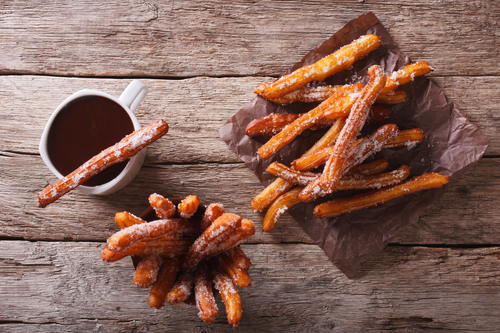 Churros are very popular in Colombia
Drinks
Colombia exports some of the best coffee in the world. For many people, the word coffee often invokes memories of Colombia. Even if you are not keen on coffee, you should really try Colombian coffee at least once. It is important to know that black coffee is often referred to as tinto in Colombia.
Aguapanela
This is a traditional drink often prepared in large quantities to be kept in the house. Making the drink involves dissolving sugarcane in hot water and adding limejuice to the mixture.
Avena Colombiana
Avena refers to oats, which is what Avena Colombiana is made of. The drink also contains milk, cinnamon, cloves, sugar, and water. Avena Colombiana is a rich drink with a creamy texture often served for breakfast, but it can be savored any time of the day.
Champú
Champú literally means shampoo. However, this drink bears no resemblance with what most people use to wash their hair. Champúis made of a mix of fruits and maize seasoned with cinnamon, cloves, and tree leaves. It is a popular Colombian drink, especially during Christmas.
Rum
Be sure to learn the Spanish word for rum,
ron
, before you visit Colombia because you will certainly want to sample some! Although other South American and Caribbean countries may have more popular brands of rum, Colombian rum is just as good.
Have you lived in Colombia? What were your favourite local dishes? Share your thoughts in the comments below, or answer the questions here to be featured in an interview!