With a huge expat population, it's easy to find a restaurant to suit most tastes, but it's worth trying the local Bahraini delicacies too.
One of the most popular – and a 'must try' for all expats – is muhammar. This sweet rice dish is seasoned with dates, molasses and spices and eaten with grilled or fried fish. There's also machboos, which consists of fish or meat served with rice.Bahrainis enjoy lots of other Arabian food including falafel, a deep fried ball of ground chickpeas and usually served with tasty bread and shawarma, which is lamb or chicken that has been spit-roasted or grilled for up to a day. Along with popular traditional dishes, expats in Bahrain could also look for balaleet, which is a sweet saffron noodle dish served with an omelette and can be a choice for breakfast or dessert.
There are also various traditional snacks including samboosas, which are pastries filled with meat, cheese, or sugar and nuts.
Fish
Because of its location in the Gulf, Bahrain also offers lots of fresh fish in a typical diet. Expats can enjoy fried, grilled or steamed fish such as hammour, which might also be known as brown spotted grouper. Safi – better known as rabbit fish – is stuffed with herbs and spices and then fried before being served whole.
Fish dishes are often accompanied by deep-friend Lebanese style potatoes, saffron rice, hummus and a tomato salad. There is also a tangy fish sauce called mahyawa which some might enjoy.
Seafood is a popular choice for those eating out, with lobster, crayfish, crab, tuna and prawns being widely available. A lot of hotels and restaurants in Bahrain will offer a fresh seafood display so the diner can choose what they want to eat and the chef will prepare a traditional Bahraini dish with it.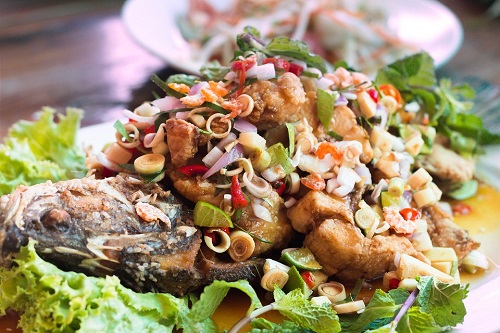 Seafood is popular in Bahrain
Bahrain's location means many of its popular dishes have been influenced from nearby countries and other parts of the Middle East; Turkish grills and kebabs, for instance, are very popular. However, Bahrain having been a British protectorate for more than century means that fish and chips is also a popular choice for Bahrainis – though British expats should expect that they will be rather different than those found at home! While cod is available, many outlets will offer the locally-caught hammour.
Traditional Bahraini meals
Bahrain offers a number of local delicacies that expats should try – qoozi is slow cooked lamb stuffed with rice, onions, spices and eggs. Some qoozi will be offered with raisins and roasted nuts. Expats will also enjoy the many bakeries and should make an effort to enjoy a fresh offering of khubz, a traditional flatbread.
The dishes most likely to be served in a local's home include thick meat stews with flour dumplings known as gabout, and biryani, which is seasoned rice cooked with lamb or chicken. There's also a fried yeast dumpling called lugaimat, which is soaked in a sugar syrup containing saffron, and a popular snack is a fried cookie called bayth elgitta, which is made with ground nuts and then tossed in sugar.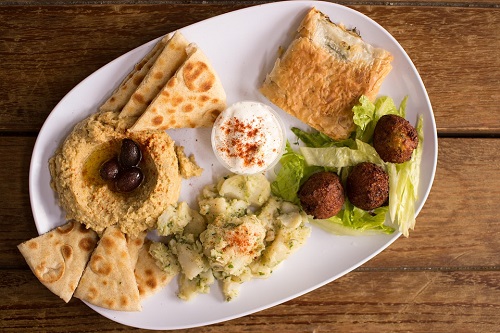 Bahraini cuisine shares many elements with other Middle Eastern countries
For those who want to enjoy a traditional Bahraini meal then the desserts are something to look forward to; the most popular include baklava and hulwa – made with semolina, sugar and dried fruits. There's also kunafa which is a cheese pastry soaked in a sweet syrup.
Local coffee is called gahwa and made in a pot called a dalla. Gahwa is offered as part of the traditional Bahraini welcome and sometimes has saffron and cardamom mixed with it before offered in a small cup, known as a finjan. Bahrainis drink a lot of tea too, and another popular beverage is a buttermilk drink with a salty flavour called laban.
Should an expat be invited to the home of a Bahraini or be asked to go for a meal, they will usually begin with mezze then an appetiser, usually hummus, beans and fritters or taboule, a dish of tomatoes and mint.
They will then move on to a chicken or fish dish, or other meats with rice and salad followed by red tea, sweet desserts and fruit. Usually Bahrainis eat with a knife and fork but expats should be prepared to eat with their hands should their hosts be doing so – though they should only use their right hand since the left is considered to be unclean.
Expats in Bahrain are spoilt for choice when it comes to dining in restaurants, with the country's top hotels offering world-class cooking, but often at a price to match. For expats on a budget, it's possible to enjoy local food in souks (markets), particularly kebabs and falafels.
Have you lived in Bahrain? What was your favourite food there? Share your thoughts in the comments below, or answer the questions here to be featured in an interview.