The cuisine of the beautiful country of Belize is quite varied, with a mix of African, Mexican, Caribbean and Mayan culinary influence. You are likely to find restaurants and eateries that serve Indian, Chinese, and American dishes in this country.Seafood is one of Belize's strongest suits. You will find a wide range of fresh seafood such as shrimp, lobster and conch served in restaurants. Although Belize has been one of the major exporters of lobsters, overharvesting caused a decline in the population of the seafood. Nevertheless, lobster is still served in many of the eateries around the country at a relatively affordable rate. The country even has a lobster season, from June 15 to February 14.
Rice and beans is a Belizean staple which is served as an accompaniment to many main dishes. However, be sure to order the right rice and beans combination. In Belize, the order of the two food names could alter the meaning altogether. "Rice and beans" means that the ingredients are cooked with coconut milk and served together. On the other hand, "beans and rice" means the two main food ingredients are cooked and served separately. The most popular bean variety in Belize is the small red bean. However, you can also find black beans being served in some restaurants.
If there are any dishes that are considered distinctly Belizean, they are stews of chicken, beef and fish. These are dark stews that get their color from a broad mix of spices including red recado or annatto seeds. Another popular Belizean stew is chimole or black gumbo.
One of the most distinctive elements of Belizean cuisine is hot sauce. This is a common feature on almost every dining table in the country. The sauce is made from a spicy mix of sauces, chutneys and jams.
Meals And Dining Customs
Local people in Belize usually eat three meals a day. Breakfast is often served between 6am and 9am; lunch between noon and 2pm; and dinner between 6pm and 10pm. The dining setting in Belize is quite informal. In fact, there are very few restaurants that are considered formal and none require a suit and tie, although it's fine to dress up if you want to.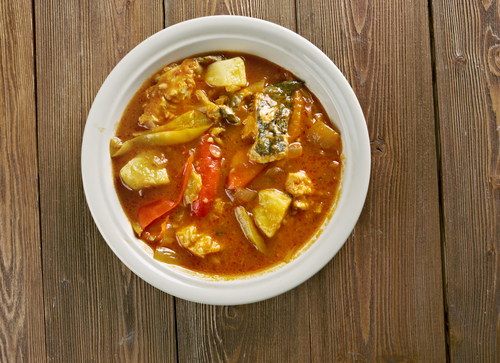 Seafood dishes such conch soup are very popular
You are likely to find jars of onions and habanero peppers marinating in white vinegar in restaurants around the country. We recommend that you try the organic homemade chocolate found in supermarkets and gift shops.
A typical Belizean breakfast is quite simple, often featuring scrambled eggs and fried beans. However, you are also likely to see people eat tortillas, Johnnycakes, or fry jacks instead of toast. Johnnycakes are relatively dry, baked, round biscuits which are served with butter or ham and cheese stuffing. Fry jacks are similar to Johnnycakes, but are usually deep-fried and served straight up or dusted with sugar. Corn tortillas are very popular in Belize.
You cannot leave Belize without trying its popular and tasty conch fritters, usually served as appetisers. You are likely to see deep fried conch meat in almost every bar and restaurant around the country, especially on the cayes and along the coast.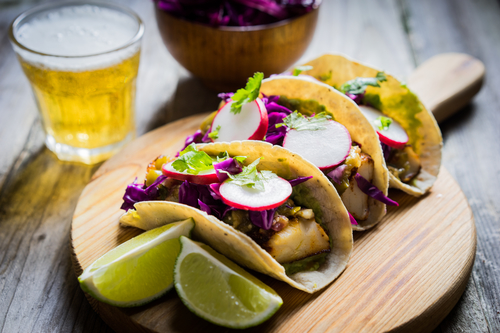 Tacos are another popular dish
Most restaurants and eateries in Belize have a light menu, with Mexican and American dishes featuring prominently. Simple eateries and roadside carts often serve tacos, garnaches, and tamales. A garnache is a type of corn tortilla that is fried and topped with cheese, beans or shredded meat, often chicken. You may also sample stuffed pastries including meat pies, empanadas and panades. Traditional sandwiches such as fish, conch or shrimp burgers are popular culinary delicacies in beach and island destinations.
Belizeans tend to eat lots of meat and poultry as well as wild game. The country's beef industry is not as developed as those of other countries in North America, and many people rely on wild game for meat. Popular game meats you will see in eateries include paca and iguana. Paca, also known as gibnut, is a large rodent whose meat some say tastes like rabbit. Iguana, popularly known as bamboo chicken, actually does taste like chicken. Occasionally, you may come across restaurants that serve armadillo and wild boar meat.
Drinks
When in Belize, be ready to enjoy tropical soft drinks such as fresh lime and orange juices as well as fresh shakes of papaya, mango and pineapple. Other unique drinks in Belize include seaweed shakes, which as the name suggests are made from seaweed, condensed milk, nutmeg, and cinnamon then blended with ice. To kick it up a level, try a seaweed shake with a shot of rum or brandy.
Belize gets most of its drinking water from rain. Many people collect rainwater from their roofs, which is stored in cisterns for a year's supply. Tap water is not considered safe for drinking even in cities and tourist resorts. However, tap water in Belize city and San Ignacio is relatively safe for drinking. Nevertheless, travelers often experience a touch of diarrhea when they visit a foreign country. Therefore, it is advisable to play it safe and stick to drinking bottled water.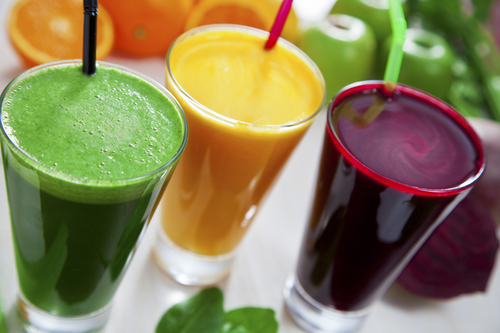 You will find many fresh fruit juices available
The national beer of Belize is Belikin. There are several varieties of the beer including lager, stout and premium. Guinness stout is also popular in Belize. As in other Caribbean countries, rum is the drink of choice in Belize. You will find a wide range of rums in restaurants and bars. However, one of the most popular Belizean rums is One Barrel, which has a hint of vanilla. Belizean wine is not as popular as French or South African wine. There are few brands of wine that are more of a novelty than a delicacy. Many people produce their own homemade fruit wine using flavors such as banana or pineapple.
Belize is an impressive melting pot of culinary extremes with Caribbean, African and American influences. The country's food and drink is delicious and world class.
Have you lived in Belize? Share your favourite foods in the comments below, or answer the questions here to be featured in an interview!