An alluring air of mystery, pink-sand beaches and whistling tree frogs are features that are unique to the 21-square mile island of Bermuda.
This destination is often voted the best in the world by tourists and travel experts because of its stunning beauty and opportunities for adventure.The Caribbean island is home to many beaches, oceans, bays and cliffs. If you are interested in water sports of any kind, especially scuba diving, head for Bermuda.
Scuba Diving In Bermuda
With its colorful coral reefs, underwater caves, ancient shipwrecks and diverse marine life, Bermuda is nothing short of a haven for professional and amateur scuba divers. Moreover, the island has some of the finest diving centers in the world, offering 5-Star PADI (Professional Association of Diving Instructors) facilities. As well as promising their customers an out of this world experience, these centers provide extensive guidance for first time divers. It is no surprise that many people choose to have their first diving experience in Bermuda.
Most of the centers provide a Discover Scuba course, in which inexperienced divers can take a brief lesson by following an instructor into a shallow reef dive or wreck. No prior experience or certification is required for these courses, although the diver must meet the required level of fitness. A novice should be able to learn the basics and then venture into shallow waters (about 8 meters or 25 feet deep) on the very same day.
If you are staying in a luxury resort that caters to tourist requirements, look for the in-house diving school, as it is likely to have a few fast-track courses, which will be around three hours. The instructors may teach you the basics in a pool, on the beach or from a diving boat. Once you are ready, they will guide you on diving into a reef or shipwreck.
Reef Dive And Sites
Divers and snorkelers from all over the world are attracted to Bermuda mainly because of the wide range of beautiful and colorful coral reefs that can be seen in the waters surrounding the island. These reefs are the northernmost in the Atlantic, and many of them are huge. Corals can only survive in a warm environment, and the Gulf Stream keeps the waters around Bermuda clean and warm.
Coral reefs are beautiful underwater landscapes
Marine invertebrates are often mistaken for plants, but the two are very different. Corals are more like animals, and they feed on plankton, algae or small fish. They secrete a chemical known as calcium carbonate, which gradually turns into limestone. Over time, millions of corals add to the limestone rocks, forming the shape and size of a massive reef. However, this process can take several years. There are three types of coral reefs in Bermunda, located in different zones.
Lagoon Reefs: As the name suggests, these are formed in the lagoon that surrounds the island and the inshore water. Since the waves are low, the water remains relatively calm, and a significant amount of sedimentation takes place in the area. The average depth of a lagoon reef is usually between 10 meters (33 feet) and 20 meters (66 feet). These reefs usually consist of soft corals (such as sea rods, sea fans, madracis and oculina) that can withstand the low waves and get rid of the sedimentation. As a result of the silt deposit, the floor gets sandy and the visibility remains relatively low.
Rim Reefs: With an average depth of two meters (seven feet) to 10 meters (33 feet), some reefs form a rim around the boundary of the lagoon water. These reefs are massive and usually consist of hard corals (such as brain and star). However, they may also contain sea rods and sea fans. The largest reef of Bermuda, the North Rock, is a rim reef. The visibility around these reefs is usually excellent. Boiler reefs, found in the southern and south eastern water of Bermuda, are also rim reefs. They have round-shaped heads and reach the surface of the water. As the waves constantly break over the top of the reef, the water looks like it is boiling or churning.
Terrace Reefs: The outermost reef system consists of hard corals. It has excellent visibility because of the open ocean water and low waves. As the seamount begins to fall away from the rim reefs, terrace reefs appear.
Coral reefs have numerous benefits as they act as a barrier, protecting the land from heavy currents and wave movements. They attract a wide variety of marine creatures, many of which have immense commercial value. Studies show that Bermuda's reef system is valued at around a billion dollars. The government is therefore implementing measures to protect and preserve the island's reefs.
The reefs most highly recommended for scuba diving include:
• The North Rock
• The Aquarium
• Blue Hole
• The Mills Breaker
• South West Breaker
• Killa Puffa
• The Basilica and The Cathedral
At times, divers can have a negative impact on a coral reef, as these marine creatures get badly damaged when they come into contact with sunscreen lotions that contain certain chemicals. It is therefore best to avoid using any lotion when you go scuba diving.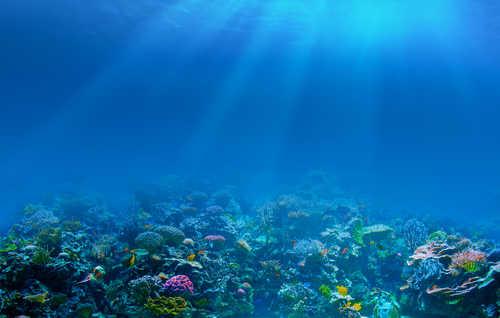 There are different types of reef to explore
Wreck Dive And Sites
Thanks to its marine history, which goes back to more than five centuries, the water surrounding Bermuda more shipwrecks than any other location in the world. There are more than 300 of them, with at least 20 lying close to the island's shoreline. You will be able to find details about most of these wrecks at the national museum of Bermuda. Alternately, speak with some of the veteran divers to hear about the history behind them. Here are some of the most popular wreck dive sites.
• Constellation
• Cristobal Colon
• Hermes
• Iristo
• Lartington
• L'Herminie
• Mary Celestia
• Minnie Breslauer
• Montana (Nola)
• North Carolina
• Taunton
• Pelinaion
• Beaumaris Castle
• Blanch King
• Caraquet
• Col. William G. Ball
• Darlington
• Madiana
• Pollockshields
• Virginia Merchant
• Rita Zovetto
• Avenger
• Caesar Curlew
• Drydock
• Eagle
• Frenchman
• Lord Amherst
• Ramona
• Wychwood
• Triton Ferry
Many of the well-preserved wrecks lie towards the north and east of the island and in diving depths ranging between eight meters (25 feet) and 24 meters (80 feet). In the western region, the wrecks can be found in shallow waters of nine meters (30 feet) or less, making this spot ideal for beginners.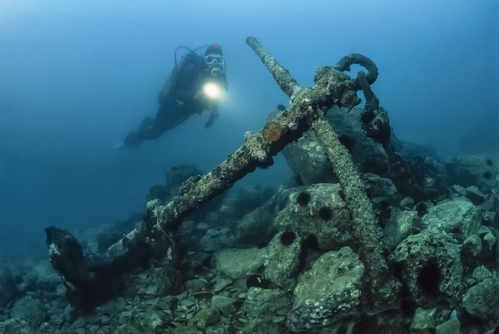 Diving provides a chance to explore wrecks
The department of tourism, in collaboration with the scuba diving clubs on the island, has instituted a shipwreck certification program for divers, profiling 35 of the most well-known and historic shipwrecks in the region. On completion of the dive, the participant receives a free certificate that is printed on a beautiful parchment sheet. It will have your name, the date of the dive and the signature of the captain or dive master, along with the details of the ship.
Top Dive Operators
While it is possible to go scuba diving in Bermuda on your own, you should only do so if you have the right amount of expertise and experience. Alternately, there are many diving centers that will help you have a safe and memorable experience. Here are the details of the top five scuba diving clubs in Bermuda.
Bermuda Sub Aqua Club
Admiralty Park Club House, Spanish Point Road, Pembroke, HMNX
Tel: +1 441 292 9656
Website: http://www.bsac.bm/
Having been operating for more than 40 years in the region, this diving center is a branch of the renowned British Sub Aqua Club (BSAC). Its members are actively involved in scuba diving training, marine expeditions and underwater photography. Joining this club is easy; those who are interested can send an email to membership@bsac.bm. Depending on your prior experience, you can join as an ocean diver, a sports diver or a diver leader. There are numerous benefits to becoming a member of this club, including discounts to local dive shops and operators.
Blue Water Divers And Watersports Ltd.
Robinson's Marina, Somerset Bridge
Tel: +1 441 234 1034
Website: http://www.divebermuda.com/
This club has 5-Star PADI facilities and is the island's longest running diving operation, offering customers access to the most exciting shipwrecks and pristine reefs. With two custom dive boats, Blue Water Divers has three locations. The instructors offer guided shore dives and packages all year long. Visit their website to learn about their set up and look at their courses, photos and the events planned throughout the year.
Dive Bermuda
101, South Shore Road, Southampton, SN02
Tel: +1 441 238 2332
Website: https://www.bermudascuba.com/
Located on a private, pink sand beach at the Fairmont Southampton Resort, Dive Bermuda is on the southern shore of the island, a 15-minute boat ride away from some of the world-class diving sites. This center has received accolades from the most renowned global travel websites for the past five years. In addition to a full range of PADI courses, it offers daily one and two-tank dive trips. The team has the expertise to cater to customers of all experience levels, from beginners to professionals. As well as scuba diving, Dive Bermuda also offers a complete range of water sports, from kayaking to paddle boarding. Don't forget to pick up their branded merchandise to make your trip even more memorable.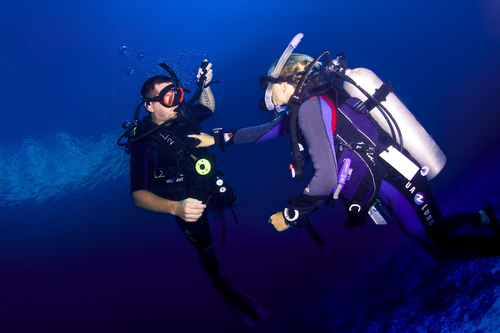 Make sure you choose a reputable diving instructor
Fantasea Diving And Water Sports
Dockyard Water Sports Center, North Arm, Sandys, MA01
Tel: +1 441 236 1300 / 3483 (DIVE)
Website: http://fantasea.bm/
If you are a cruise ship passenger docked at Heritage or Kings Wharf, this will be the most convenient diving operator for you, since this 5-Star PADI facility are located nearby. You can easily walk to their center from the cruise pier. Fantasea Diving and Water Sports offers two-tank dives for wrecks and reefs on a daily basis, along with Discover Scuba lessons. Other special services provided by them include SNUBA (snorkeling and scuba) adventures, power snorkeling, sundeck sightseeing and snorkeling, whale watching, rum tasting cruises, kayaking and boat rentals. This club also offers a guided tour of the island.
Tucker's Point Dive And Water Sports
18 Harbor Dr, HS02,
Tel: +1 441 298 4050
Website: http://www.divinginbermuda.com/
Located on the eastern side of Bermuda in the Castle Harbor area, part of Tucker's Point Hotel and Spa, this is a new diving center with PADI facilities. It offers daily one and two-tank dives into reefs and wrecks. This center has its own custom built boat that can reach any diving spot. Choose a customized dive or a chartered dive program according to your preference.
Best Time For Diving
You can go scuba diving in Bermuda all year round, but experts usually recommend the months between May and October, since the sea is the most tranquil during this time. Moreover, during this period, the temperature of the water is quite moderate, averaging around 83°F (28°C); whereas between November and April, it dips to 62°F (17°C). In fact, many of the scuba diving centers remain closed in winter, meaning it is best to carry your own gear if you are visiting during those months. This should include the right wetsuit. As the water in the Caribbean region tends have an exceptionally high salt content, you may need additional weights.
On the upside, the Atlantic water is generally quite clear, so getting a clear view deep down should not be a concern. In summers, from May to October, the visibility is around 25 meters (roughly 82 feet). However, in winter it is much higher and can even go up to 61 meters (around 200 feet) or more.
Where are your favourite scuba diving spots? Share your thoughts in the comments below, or answer the questions here to be featured in an interview!