Canada is one of the preferred countries for expats looking to retire. The country's economy is thriving, its healthcare system is well-established, and the government provides various incentives to senior citizens to ensure they live comfortably in their golden days. There is a choice of cities in Canada that fit the expat retiree life.Immigration laws in Canada have grown stricter over the years. Moreover, American retirees are still considered foreigners, meaning a lot of paperwork may be involved before you are granted residency if you are from the USA. Fortunately, Canada permits dual citizenship, so you don't have to do away with your original citizenship.
There are many things to consider before retiring abroad. Access to affordable and high-quality healthcare is one of the top concerns for retiring expats. Luckily, Canada has one of the best healthcare systems, which is available to all citizens.
English and French are the official languages in Canada. English is the widely spoken language in most of the Canadian provinces. Provinces such as Quebec, East Ontario and Brunswick are predominantly French territories, so a knowledge of the language is an advantage.
As a retiree, you may want to ensure you are moving to a neighborhood with plenty of trails for walking, jogging or biking. Some provinces are known for their natural scenery, while others have a variety of museums, art centers and so on. Other elements to consider are the transport networks and cost of living in the city you are thinking of moving to, especially in terms of housing tax.
Toronto (Ontario)
Toronto was once nicknamed the boomtown of North America. This city is bigger than Chicago and was voted one of the safest places for expats to live. Toronto has a thriving healthcare system with approximately two doctors per 1000 city dwellers.
Property tax is 1.89 percent, which is one of the lowest in Canada. This is an incentive to would-be homeowners given how expensive it is to buy a house in the metropolis. For cheaper alternatives, it is advisable to buy houses or land in the rural parts of Toronto.
Quebec City (Quebec)
For an outgoing expat, Quebec is one of the friendliest cities to live. Despite being one of the largest cities, the metropolis atmosphere is quite relaxed, and the people are open-minded and friendly.
Climate-wise, the city receives a lot of rainfall with an annual precipitation of 899mm, which contributes to the city's leafy greenery.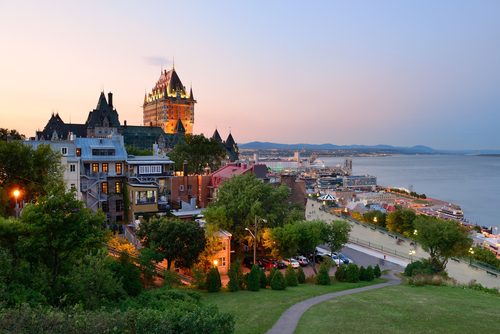 Quebec City is popular with people of all ages
The healthcare system can be quite hard to understand, especially for an expat. However, once you get used to the system, you will appreciate the abundance of health centers and physicians in Quebec. Approximately four doctors per 1000 inhabitants in the city. Property tax is relatively low at 2.04 percent.
Edmonton (Alberta)
Edmonton Falls in Alberta is ranked one of Canada's low tax provinces. It is a city of great ethnic diversity and is home to plenty of friendly English speakers. As the fifth largest city in Canada, housing taxes is also one of the highest at 2.49 percent.
Edmonton is laden with parks that are great for biking, walking, snowshoeing, hiking and skiing. Healthcare is available to both citizens and expats, with a ratio of three doctors per 1000 dwellers.
The weather is mild, with a mix of sunny and rainy days all year.
Kingston (Ontario)
Kingston is an old town full of 19th Century buildings. The city also boasts landmarks such as Lake Ontario and rivers Cataraqui and St. Lawrence. Compared to cities such as Toronto or Edmonton, Kingston town has a rustic feel and a strong sense of community.
As an expat, you may be interested to hear that everyone knows everyone in Kingston. You may feel a little out of place to begin with, but it won't take long before you become part of the community. The air is serene, the streets are clean, and the people are friendly. Healthcare is also accessible for everyone, with about five physicians per 1000 inhabitants.
As for property tax, you may have to contend with a fixed tax rate of 2.68 percent on housing. Other than that, Kingston is an ideal destination for both expat seniors and young families looking for a fresh start.
Vancouver (British Columbia)
Vancouver is an enormous city on the West Coast of Canada. There are plenty of attractions in the city to keep retirees busy in their golden years. Furthermore, Vancouver is located close to the sea which means plenty of time to relax on the beach during summer.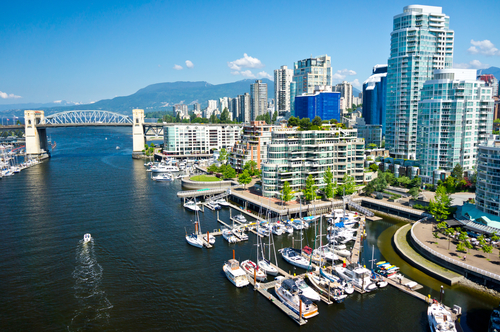 Vancouver is another popular city option
Getting settled in Vancouver may be a bit tough given the high cost of living. In addition, the city's well-developed urban setting makes real estate pricy as well. Fortunately, housing tax is around 1.72 percent for both expats and citizens. The Vancouver government has also done its best to provide the best healthcare to the growing population. Currently, there are around three doctors per 1000 city dwellers.
Be prepared for storms and heavy downpours during the rainy season. Vancouver receives an annual precipitation of 1231mm, which is one of the highest in Canada. Luckily, there are about 331 summer days to make up for the gloomy weather.
Rimouski (Quebec)
Rimouski is a small town in Quebec which is perfect for expats looking for a tiny community to blend into. It is located on the right side of St. Lawrence, precisely where the river is at its widest. Rimouski city is a French territory, so prior knowledge of the language is a must.
Rimouski town has a population of about 50,000 inhabitants. This small community enjoys good healthcare at a ratio of four doctors per 1000 people. Buying a house in Rimouski should be cheaper compared to other cities, even with the current housing tax of 2.31 percent. The weather is moderate, with an annual precipitation of 687mm and 197 sunny days.
Canada is a great retirement destination for expats. The country has one of the best healthcare setups in the world plus plenty of government incentives to help cope with rising cost of living. The aforementioned cities are some of the best to live in as an expat; we hope you enjoy your move!

Have you lived in Canada? Share your experiences in the comments below, or answer the questions here to be featured in an interview!