Citizens of certain countries, such as the United States of America, Canada, the United Kingdom, Australia, and New Zealand, only need a valid passport in order to enter Chile. If you are a citizen of Australia or Mexico, you will be charged a reciprocity fee on entry, assuming you arrive by plane. Chile requires all travellers entering the country on a tourism basis to present either a return or onward ticket.Upon arrival, you will be given a 90-day tourist card receipt with a barcode. It is imperative that you keep this safe. If you lose it, go to your local policía internacional or police station as soon as possible. You will need your tourist card in order to leave the country. It is possible to renew your tourist card for a further 90 days at the Departamento de Extranjería. You will need to bring photocopies of your passport and tourist card when you file your application. Alternatively, you can exit the country, crossing over the border into Argentina, and re-enter, to receive a new 90-day tourist card.
There are heavy fines for bringing certain produce into the country. This includes fruit, dairy, spices, nuts, meat and organic products. Inspections in the airport and customs are routine, so do not be afraid or offended if you are questioned or searched. Always have your passport on you, as Chile's police have been known to demand identification at random.
When travelling to Chile, ensure that you keep your passport on you, in case the police demand identification.
Visas
There are several common types of visa that many foreign nationals apply for:
Chile tourist visa
This visa is issued for the sole purpose of tourism and is valid for between 30 and 90 days depending on your nationality.
Chile student visa
The student visa is issued to foreign nationals wishing to study in Chile. You must be accepted by a registered/recognised Chilean educational institution before you travel.
Chile work visa
This visa is issued to foreign nationals who have found employment and been offered a contract in Chile. You must have an existing work contract with a Chilean company or a foreign company that operates in Chile in order to be eligible.
Chile temporary residence visa
A temporary residence visa in Chile is issued to foreign nationals who either have family in Chile, want to make an investment, or are considered advantageous to the economy. It is valid for a maximum period of one year.
Chile working holiday visa
The working holiday visa is issued to nationals of Australia, Canada, and New Zealand who fall within the specified age parameters and wish to participate in the working holiday programme.
Diplomatic/official visa
This visa is for official government workers and diplomats. If you wish to request a diplomatic/official visa, you have to apply in person, and you must present proof of your employment, as well as valid official identification.
When applying for a Chilean visa, you will be required to submit various supporting documents, depending on the type of visa you are applying for. This may include:
• Copies of your passport, which show your biometrics
• Copies of any previous visas
• Proof of status in your country of residence
• One digital passport-size picture meeting passport specifications (if making an online application)
• One passport-size colour photo meeting passport specifications (if you are applying at an embassy or consulate)
• Flight itinerary and accommodation reservations
• Bank statements or proof of earnings from the past three months
• A letter explaining your reason for travelling to Chile
• Copies of education and qualification certificates
• Letter of enrolment (if applicable)
• Letter of invitation (if applicable)
You must also possess the originals of all the documents required for your application, which you may need to present when you go to your local embassy or consulate to obtain your visa.
Visa requirements for minors
If you a minor (under the age of 18 years old) travelling to Chile, you will require additional supporting documents for your visa application, such as:
• Your original birth certificate, as well as copies
• A notarised written authorisation to travel from your parent/s or legal guardian/s, if you are travelling alone or with someone other than your parent
• Notarised permission from your other parent or legal guardian, if you are travelling with only one parent/guardian
You must also leave with the same adult you entered the country with, or hold an authorisation signed by both parents.
Visa application
You must apply for your visa at least 30 days before you intend to travel. The immigration authorities will not accept applications which are submitted within 30 days of travelling.
Chile has a mostly digital visa application process, but in some cases, you may be allowed to apply in person at a Chilean embassy or consulate. You will need to contact your own local embassy or consulate in order to obtain the correct information and find out whether this is possible.
The online application can be found on the Ministry of Foreign Affairs website.
Work permits
Work permits in Chile generally come with the appropriate visa, and are not usually issued as a stand alone document.
There are two types of work permit available. If you are applying from outside the country, you have 90 days to enter Chile once your permit has been approved. Work permits can be extended at the discretion of the Chilean authorities.
You can enter Chile on a tourist visa and then look for employment and apply for a temporary residence permit. Alternatively, if you have an offer of employment from a Chilean company, or are being transferred to a branch of your company operating in Chile, you can arrange a work visa prior to your arrival.
The Immigration Department of the Ministry of the Interior deals with work permit applications within Chile. If you are arranging your permit before you travel, you will need to submit an application at your local embassy or consulate.
Prior to commencing your job in Chile, your work permit will need to be signed by yourself and your employer, then notarised at your Chilean consulate.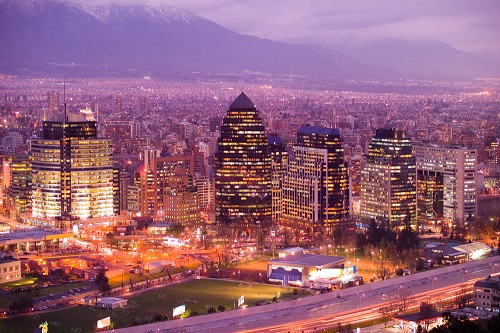 You will need to get your work permit signed by your employer, then notarised at your Chilean consulate, before you start your job in Chile.
Temporary tourist work permits
The temporary tourist work permit is only valid for a period of one month, but it can be renewed. This is perfect for infrequent business trips, occasional consulting, specific project work etc. This type of temporary work permit works out quite expensive if used and extended on multiple occasions, as it costs 150% of the standard work visa. Be careful not to confuse the tourist work permit with the work permit with a visa in progress.
Longer work permits are available. They run in tandem with your employment contract, are usually valid for up to a year at the time, and are renewable if needed.
There is also a special fast track work permit for tourists, which is available to professional athletes and artists. This benefit applies for groups of 15, or more, legally represented athletes or artists with a scheduled stay in the country. For this type of work permit, you will need to submit your application at least 20 days before you enter Chile, and approval will be subject to a criminal record check. The permit does not negate the requirement for a tourist visa for certain nationalities. A support letter from a local company, plus a detailed itinerary of activities, will be required. You can collect this permit on arriving in the country.
If you are unsure whether you will need a work visa, work permit, or both, it is highly advisable to contact your local embassy or consulate in order to seek clarification prior to making travel arrangements.
Residency
There are a number of ways to obtain permanent residency in Chile. For example, after five years of living in the country, you can apply for naturalisation and obtain a Chilean passport.
There are many options for retirees and pensioners, such as the rentista visa, which effectively allows you to have residency in Chile if you can demonstrate a regular monthly (or even quarterly) passive income that can sufficiently support you. This can come in the form of rental income, pension payments, dividends, etc. Those who are over the age of 55 years old and retired also have the option to obtain residency, so long as they can demonstrate their financial independence through a lump sum of liquid assets.
For a single applicant, the lump sum would need to be at least $125,000, with an additional $25,000 per dependent you wish to add (although these figures are an estimate and subject to change). If you wish to start a business in Chile, you can also obtain residency this way. The financial requirement behind this option is around $60,000, and you will start off with a temporary residency, which can be progressed to a permanent residency.
To be eligible for permanent residency, you must meet one of the following conditions:
• You have held a "subject to contract" work visa for two years
• You have held a temporary resident visa for over one year
• You have held a student visa for two years and have completed your professional or secondary studies
All applications for permanent residency must be made online, rather than by mail. If you are unsure about your eligibility for temporary or permanent residency in Chile, or you are unsure how to progress from a temporary to a permanent resident, you can contact the Department of Immigration, or take a look on the government website here.