With a reasonable cost of living and an exciting culture, Chile is an attractive expat destination for many. However, when it comes to managing your finances, things can be a little complicated, because the banking infrastructure isn't very accessible to foreign nationals. Therefore, if you're planning to relocate to the country, you'll need to plan ahead!
Can non-residents open a bank account in Chile?
Short answer: no.
Slightly longer answer: yes, but it's complicated.
If you don't have Chilean residency, your options are very limited. There's only one way to open a bank account in Chile without residency, and that's to try opening a stock brokerage. This has a huge barrier to entry, as the account will require a large minimum balance and, on top of this, can take months to open. So, if you're only in Chile for a short while, it's not worth attempting, and if you're planning to stay in Chile for longer, then it's worth applying for residency rather than attempting to open this type of account.
If you have managed to obtain temporary residence in Chile, there are a few more banking options available to you, as you'll be eligible to apply for a current account with a local bank. You'll only be able to deposit a certain amount into the account each month, but if you're only planning to use it to deposit your salary or to pay your bills, then this account type can be handy to have.
If you're in Chile for a work contract or study programme, your university or employer may be able to assist you in finding a bank, as some companies have agreements in place with banks. It's always worth contacting your employer/university at your earliest convenience to see if this is available to you.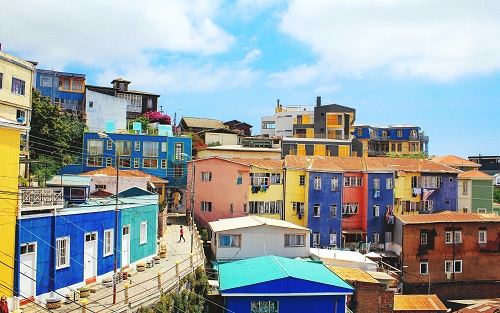 There's only one way to open a bank account in Chile without residency
Alternatively, if you're planning to stay in Chile for a while, you may be able to set up an account, as long as you're happy to pay the £1500 service fee. To do this, you'll need to speak to a bank manager. Many people don't follow through with this option due to the cost.
Due to the issues mentioned above, many non-residents opt to open an international account with their current banking provider instead. However, this isn't always possible and will depend upon who you bank with. Nonetheless, it's worth checking, as it could save you a lot of hassle.
What documents are needed to open a bank account?
As mentioned above, you're usually only able to open a bank account if you have residency in Chile, and you'll also need to have been a resident for two years or more. If you fit these criteria, then here's what else you'll need to open your account:
• Proof of identity
• Your Chilean ID card
• A minimum deposit
• Proof of income
• Your tax identification number (known as Rol Unico Tributario or RUT)
Once you have these documents, you can start to look at what types of bank accounts are most suitable. A bank advisor will be able to provide the best options to suit your financial circumstances. Make sure you look out for interest rates, as well as the following:
ATM fees
ATMs operate 24 hours a day. They tend to charge not just for withdrawals, but also transaction fees, foreign exchange fees, and out-of-network service fees. However, many banks don't charge for withdrawals from their own, or partner, banks. Always check to see what is applicable to your specific bank account.
Banking fees
These can include account handling charges, service fees, and more, especially when it comes to international transfers. Both locals and expats have complained that the international transfer process is headache-inducing, mainly because you're at the mercy of service fees and kiosks. It can often be more cost-effective (and easier!) to use a third party service.
Once you've chosen which account you would like to open, the process gets a little smoother, as it's just a case of completing the paperwork. However, don't expect to obtain a bank card immediately. The process of opening a bank account in Chile can be a lengthy one, so you may have to make a few visits to your local branch before you can use your account.
The process of opening a bank account in Chile can be a lengthy one
Which banks are the best to open an account with?
As an expat, you're probably better off opening an international account with a partner of your bank account back home. But if this is not an option, or you'd prefer to open a local account, here are some banks you may want to use:
• Banco Santander-Chile
• Rabobank Chile
• Banco BBVA (Scotiabank Azul)
• Banco del Estado de Chile
Banks in Chile operate between the hours of 9 am and 2 pm. To open an account, simply visit one, taking with you your documents, and let an advisor know what you'd like to do.