Renowned for its world-class beaches and friendly locals, there are few countries more appealing to sun-seeking expats than Colombia. Miles of Caribbean coastline, coupled with an abundance of culture in the country's increasingly expat-friendly cities, means there's something for everyone.If you're looking to join the many expats who have already made Colombia their home, you'll need to consider your move carefully, including with regard to your finances. In this article, we'll look at how to open a bank account in the country, as well as the associated fees.
Do you have to be in Colombia to open a bank account?
If you're planning a long-term trip to Colombia, having your own bank account is essential. It will allow you to pay for bills, services and goods in the local currency, without hefty exchange rates and fees. Plus, if you're working in Colombia, your employer will be able to pay your salary directly into your bank account.
As a foreigner, you cannot open a bank account in Colombia from abroad. You must go to the branch in person and present the documents required. If you need a bank account before you reach the country, you could see whether any global organisations in your own country will open an account for you, then transfer it to a Colombian account later on. However, this is a more complicated process, and it involves a lot more paperwork.
What documents are needed to open an account?
To open a personal bank account, you'll need to get a few documents ready, but these are by no means extensive, and you should find the entire process relatively straightforward. You'll be given a debit card almost immediately, and you'll be able to bank both online and using your mobile. To open a bank account, you will need:
• Proof of identity – this includes both your passport and visa, showing you have a right to live and work in Colombia. Foreigners will also need to provide their ID card, known as a cédula de extranjería. This must be obtained in person when you arrive in the country, as most banks will not open a personal account for a foreigner without this.
• Proof of address, such as a rental agreement or utility bill
• Address and contact details of your employer (this may not be necessary in all cases)
• Signed contract of employment
• Freelance workers will need to demonstrate their income through bank statements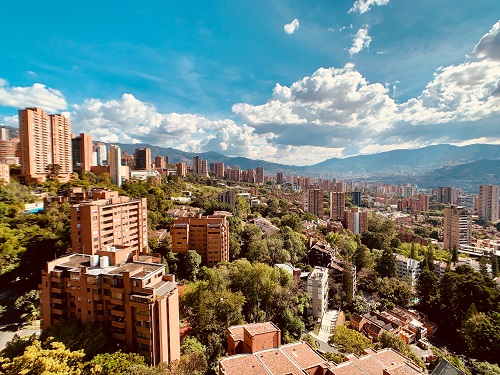 It is not possible to open a bank account in Colombia without your ID card
It's important to note that it is not possible to open a bank account without your ID card. As this cannot be obtained on a tourist visa, you'll need to ensure you have the correct visa to live and work in Colombia, before you try to open a bank account.
The government in Colombia takes money laundering and drugs extremely seriously, so everyone who opens a bank account will have a background check run on them. In addition to this, you will need to verify your income and the origin of your funds.
What banks in Colombia are suitable for expats?
Colombia has a large banking industry, and it's only going to get better. However, there are still risks involved, so it's advisable to open a bank with some of the larger and better known Colombian banks. These are more reliable and can offer a smoother account opening process. You're also far more likely to encounter staff who are fluent in English and other languages. The documentation will also be in English and tailored towards expats.
The best banks for expats in Colombia include:
• Banco de la República
• Banco Occidente
• Bancoldex
To get an appointment, you should call the bank in advance, and if you don't speak Spanish, you'll need to ask for an English-speaking member of staff to help you. Alternatively, you could ask a friend or translator to assist you with the process.
Always remember to compare a few banks and to get advice from other expats if possible. This will help you to get a better idea of each bank's reputation and offerings, so that you can decide which one will work best for you. Take note of monthly account charges, withdrawal fees, and interest rates for investing or borrowing. Third-party reviews will help you see what the top banks can offer and if there are any things you should be cautious about.
Some banks will not allow a foreigner to open an account if they have been in the country for less than six months, so this is also worth checking before you make an appointment.
Banking hours are usually Monday to Friday between 9 am and 4 pm in Bogota, but they're slightly different in the rest of the country. Outside of Bogota, typical banking hours are 8 am to 11:30 am, then 2 pm to 4 pm. On the last workday of the month, banks will close at noon.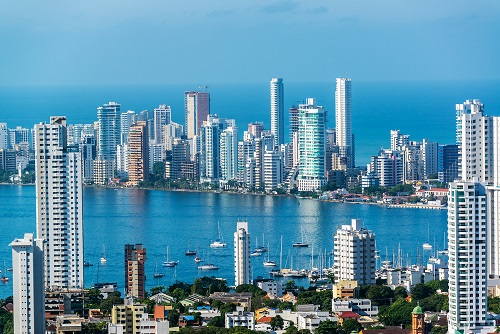 Some banks in Colombia will not allow you to open an account if you have been in the country for less than six months
Are there any fees involved when opening a bank account in Colombia?
The fees you will need to pay will depend on the bank and the kind of account you are opening. It's not unusual in Colombia for there to be regular charges simply to keep your bank account open, and you'll most likely incur a fee when withdrawing cash from ATMs that are operated by a different bank. You'll also face fees when depositing cheques. This is why it's essential that you see your documentation in English and read through it carefully, as otherwise you may be caught out.
You'll need to pay a large amount to move money between different accounts in different currencies. For example, transferring your salary to a bank account in your home country will incur a charge for processing, as well as a hefty fee at the other end, and you'll likely receive a poor exchange rate.
If you are transferring money to a Colombian account, you'll need to declare how you intend to use it. This can catch a lot of foreigners out, as they may change their minds about exactly what they want to spend their money on. If you do this, you could be subject to a hefty fine, as your bank may check on the money, even after a few years, to ensure that you are still using it for its declared purpose. If you haven't spent it how you've said you will, you could be fined up to 100% of the money.
You will need to deposit a minimum amount into the account when you first open it, and this too will need to be verified. The amount you'll need to deposit will vary from bank to bank, so be sure to check this in advance.
Once you have filled in your form, handed in your documents, and paid your deposit, it will take around a week for your account to become active. Ensure that you have sufficient cash available and that you can use your bank account back home during this time.