It's difficult to do any serious research about moving to Mexico and not read claims about how inexpensive it can be to live there.
Enjoy a complete meal of tacos $1.50!
Live on the beach for a third of what it would cost in Southern California!
However, many of these claims come from sources that, for one reason or another, are promoting travel or life in Mexico. Just how true are they, in reality?In order to answer this question as objectively as possible, Best Places in the World to Retire and eight newspapers in Mexico co-sponsored a survey of 1,129 expats currently living in Mexico with a margin of error of + / – 2.9%. From that survey, in addition to the recently published study, "Expats in Mexico—Expectations, Worries, and How It All Turned Out," we just released, "Is It Cheaper To Live In Mexico?" in which we reported the results of a series of questions we asked these expats about their cost of living and lifestyle in Mexico. Here are some of the topline findings and a bit of commentary on each.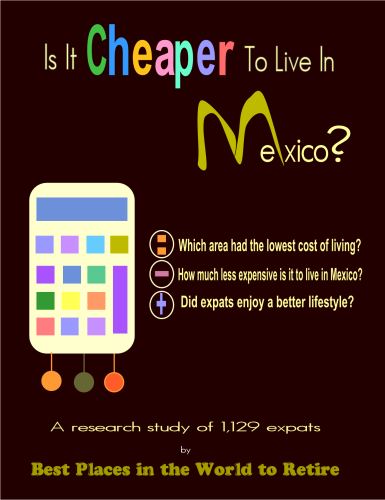 Is it cheaper to live in Mexico study
Almost half of our respondents reported that, for the same quality of goods and services, they spent 50% less in Mexico.
While it is very important to note that you shouldn't move to any country solely for a lower cost of living, these results are quite meaningful. That's a lot of extra cash!
Surprisingly for us, our respondents living in Baja California Norte reported the greatest decrease in costs, with 74.2% reporting that their costs were less than half in Mexico. Our theory is that many expats living in this area were originally from California, which has higher costs than much of the rest of the US and Canada.
Expats reduced their cost of living in Mexico, but didn't save it all—some was used to buy more "stuff."
Comparing the extent of our respondents' reduced cost of living with how much less they reported spending, we found that spending decreased less than the cost of living. This means that, even though our survey respondents were able to spend less in Mexico, they took a part of their savings to buy more "stuff" (goods and services) than they did in their home country.
Here are two typical comments:
"After working all my life, I live on $1,000 per month and would have to live like a poor person in Miami. ! Here I can live like a queen!" —Karen Sydney, semi-retired American living in Greater San Miguel de Allende for 6 – 10 years.

"The money I saved I am spending on new sailboat and adventures."—45 – 64-year-old male from the US living in Baja California Sur for 6 – 10 years.
Worries about money decreased significantly.
As you might expect from the results above, with a lower cost of living, worries about money decreased substantially, with over two thirds reporting that they worried about money "much less" or "a little less."
Here's the comment we thought summed it up best:
"Because the cost of living is much lower in Mexico we spend a lot less time and energy thinking about money and just have fun without any guilt." – Jerry Wyshnowsky, 45 – 64-year-old Canadian living in the Greater Mazatlán area for less than 2 years.
Mexico expats did fewer chores.
We included a question on how much time our respondents spent on chores compared to their home country in order to judge a component to cost of living in addition to money—time.
Expats in Mexico reported doing significantly fewer chores in Mexico than in their home country. (Only 10.5% reported doing "a little more" or "a lot more", and some of those may have done more because they wanted to.)
Hiring others to do their chores is what many of our Mexico expats spent some of that saved money on, as many reported having housekeepers and gardeners, a luxury the expats could not have afforded in their home country.
"Many people hire maids and cooks. We have a young man who rakes the grounds for us once a week as we have large gardens and having the young man do it instead of my husband doesn't interfere with my husband's golf." – 45 – 64-year-old American living in the State of Yucatan for more than 10 years.
If they spent the same amount of money, a whopping 80.0% reported that they would have a "Much better lifestyle in Mexico."
This is the ultimate cost of living question—does a lower cost purchase you a better lifestyle? Some of the cash saved went to buying more goods and services, but a significant quantity of the comments we received spoke to a better lifestyle because of things other than money, including having a better attitude in Mexico, better weather, and having the time and money to be more able to help others.
The results per expat area for the greatest increase in lifestyle was the Lake Chapala area, followed by Mazatlán and San Miguel de Allende.
"If I spent the same amount in Mexico as I did in the US, I would be among the super-rich here. I already feel rich at my current spending level. I'd be scratching my head for things to buy if I spent more, but I don't want more. I prefer the freedom of non-ownership. Having more things would decrease my happiness." – Michael Ogden, 45 – 64-year-old American living in the Greater Lake Chapala rea for less than 2 years.

"We could live a very lavish lifestyle if we spent as much as in the Southern California but we don't want to. Part of the motivation for our move was to simplify our lives and retire early to enjoy the time we have. I don't feel our lifestyle has been diminished at all and at a fraction of the cost." – 45 – 64-year-old female from the US living in Baja California Sur for less than 2 years.

"No amount of money could buy the great weather we have here, which makes so many other things more enjoyable." – Heather Krause, American living in the Greater Lake Chapala area for 2 – 5 years.
To get the full details and comments, download any of our studies on Mexico, Panama, Belize and Nicaragua at our website. Look the next study on Mexico coming out soon – on healthcare.