The Rabsons are sociable souls, who in an ideal world would be planning a party to celebrate 15 glorious years in the Morvan. Our 10th anniversary bash was a triumph. In normal circumstances the invitations would be in the post or email, Charity Cottage would be packed solid and we would be preparing a feast for fifty.Covid19 has scuppered our plans. One of the Four Horsemen of the Apocalypse is galloping through France. The Newsthump website sums up the situation.
There were rumours that Pestilence's role in the band was becoming less and less relevant, with the other three allegedly engaged in talks to replace his position with up-and-comer Pollution.The famous '4th Horseman' said, "Yeah, all that talk of replacement wasn't good for my confidence to be honest.

"But, I'm having this crazy upsurge in popularity and all it took was for a bat to shit on a pangolin in a Wuhan meat market for me to see what I was actually capable of all along.

"I'm literally rushed off my feet trying to get everywhere necessary to cover all my bases. I've never been in demand quite like this. Right now I don't have time for the band anyway, so they can get Pollution in now – if they still want him.

"Let's face it, after this lockdown, there's **** all for him to do anyway.

"Pestilence wins!" he growled.
And now France is in lockdown. I have not heard of a single case of covid19 locally, but socialising is banned, businesses are foundering and morale is low. We are all confined to quarters except for visits to the doctor, essential shopping, and checking up on infirm neighbours at a 'safe' distance. Eateries, libraries and places where the public tend to gather, including churches, are shut. We are not allowed out without an Attestation de Déplacement Dérogatoire (a fresh one for every outing). Failure to comply carries a 135 euro fine.
Many holiday home owners have taken refuge here. Well, there are worse places to spend the lockdown.The spring flowers are running riot. Few homes are without a garden, and the Mairie delivers a weekly newsletter to every mailbox. Fabien, our recently re-elected mayor, makes sure that old folk living alone receive a cheerful telephone call and an offer of home delivery of food and medicines.
Charities are suffering, of course, and that includes Combat Stress. Charity Cottage stood empty over Easter, and nobody is asking about summer bookings. I enjoy dealing with enquiries and helping potential visitors to plan their stay here. Shortly before the pandemic struck I paid for an ad on the French Connections website. Bless them, they gave us a 50% discount and were generous with help and advice.
Most Brits have heard of Burgundy because of its association with wine, but the Morvan, a beautiful region in the centre of Burgundy, is relatively little known outside France. The Morvan majors in forestry and farming. White Charolais cows suckle their calves, who have fluffy coats like teddy bears. They graze, knee-deep in buttercups, in the field behind our house. There are hills and forests and lakes for nature lovers.
The Morvan is rich in history. Visitors to Charity Cottage revel in Autun – formerly Augustodunum – with its Roman amphitheatre where performances are still staged. Autun has two amazingly well preserved Roman gateways – a main road runs through one of them – and a Gallo-Roman temple in the middle of a field. Every major building project in Autun uncovered a Roman treasure. The glorious mosaic which was revealed when the railway station was being built is on display in Autun's Musée Rolin, along with many other mosaics and a beguiling collection of tiny bronze figurines.
In England the Puritans did a heartbreaking amount of damage to our churches and cathedrals. Later the Victorians well-meaningly ripped out a great many original features, whitewashed over wall paintings or replaced carved oak pews with pitch pine in the name of 'modernisation'.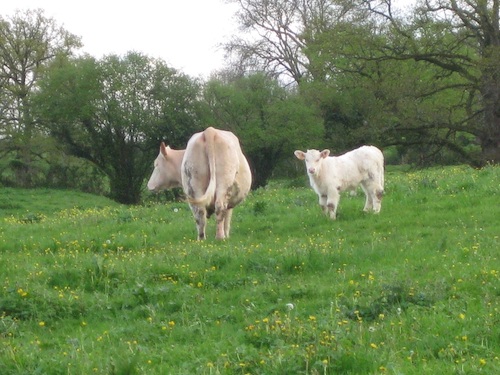 In the Morvan few ecclesiastical buildings have been vandalised or 'modernised'. One reason for this laissez-faire is that the Morvan has never been a prosperous place. For a long time an important source of income, along with agriculture and forestry, was wet nurses: les nourrices. The babies they nursed fitted into two categories. The urban Assistance Publique billeted abandoned infants on families in the Morvan, and there is a museum devoted to them at Alligny-en-Morvan.
For some wet nurses, however, it was 'Have milk, will travel'. The Parisian nobility and gentry imported sturdy peasant women to suckle their aristocratic offspring along with their own infants. I sometimes wonder if a little baby-swapping took place.
Lockdown is an opportunity to prepare Charity Cottage for happier times, and for me that includes sewing patchwork cushions. Louisa May Alcott of Little Women fame wrote a deservedly little known tale called Patty's Patchwork, stressing that life is what you make of it: you do your best with the materials available. Well, I sorted through my scrap bag, John printed templates with diamonds and hexagons, and you can see some of the results in this picture. Some like-minded readers may wish to send me their fabric scraps in the hope of seeing them again when they visit us after the lockdown is lifted.