You know May is on the way when the bluebells appear in the woods along the road to Lormes. They overflow onto the verges and compete for attention with delicate white stitchwort and red campion. Truly tricolore, just in time for the Presidential Election in which John and I are not allowed to vote (whatever happened to 'No taxation without representation'?). As I type it's a a duel between Emmanuel Macron and Marine Le Pen. There is all you need to know, and probably more than you wish to know, here.But back to the bluebells. John took this picture on April 23. By the time Expat Focus appears the little darlings will be in full bloom.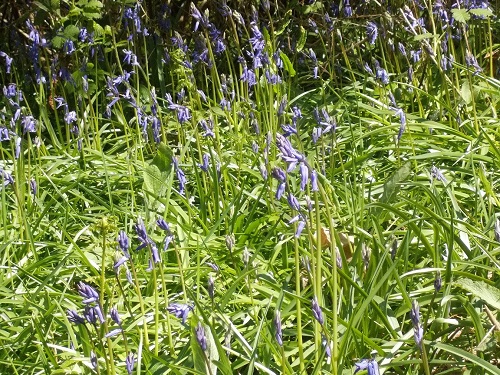 Vive les Vide-Greniers!
The vide-grenier season has opened. Cervon's event took place on 30 April.
Ebay has not yet caught on here, and people moving house or clearing up after a death have three choices. They can donate their unwanted stuff either to the Christian charity Emmaus, who can arrange to collect bulky items, or to a local charity shop. We are a sociable crowd in the Morvan, however, and many people choose the third option: they offer their stuff for sale in a local vide-grenier or brocante.
Un grenier is an attic and vider is to empty. Une brocante is similar; the dictionary definition of brocante is, prosaically, 'secondhand goods' and the French equivalent of Lovejoy is Louis la Brocante. Think car boot sale, but with trestle tables along the village street and around the village square. Even an event billed as, say, a Foire Artisanale (see the poster below) usually includes a vide-grenier/brocante.
This being the Morvan, there will be food and drink and camaraderie. There may well be a roundabout or a bouncy castle for the children. The shindig at Dun les Places even offers helicopter rides. There is stuff there that I would be ashamed to admit to owning, but there are treasures among the trash. If you collect old china, table linen and knick-knacks, a vide-grenier is your hunting ground. When someone dies the family share out what they want and flog the rest at the next vide-grenier. As longevity is the rule in the Morvan, there are bygones and antiques among the junk. Fewer dealers haunt the Morvan than the more populous areas, and there are 'finds' that would rate a spot on The Antiques Road Show.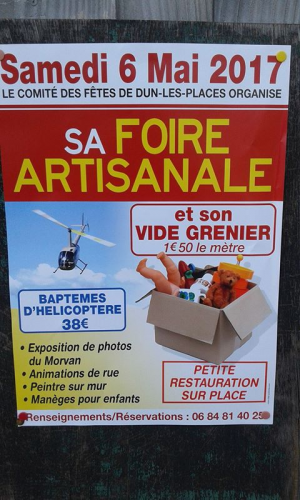 Sinister Dexter?
It isn't often we can watch Roman legionaries marching through the Morvan. Pardon me if I lapse into French. Our local tourist newsletter announces:
"Du 29 avril au 6 mai 2017 est organisée la 5e édition de la Marche Expérimentale de la Légion VIII Augusta. Cette année, le parcours restera intégralement dans le Morvan. Il partira de Vézelay pour réjoindre Autun (via Saulieu, Saint Brisson, Les Settons et Anost) soit 145 km en 8 jours."
Note that they end up at Autun, formerly Augustodunum, with its marvellous Roman amphitheatre.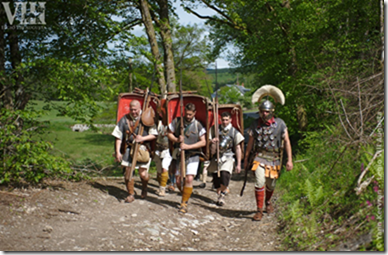 The Augusta has its own website, which I warmly recommend you to visit. There is an enthralling account of firing Roman pottery as produced by Pistillus, a gallo-Roman potter who was active in Autun towards the end of the second century AD. Many of his statuettes are in Autun's Musée Rolin. Don't get me started on the wonders of Autun. I have another item to include in this effusion, one which is close to my heart.
In The Rustle of Spring in the Morvan I mentioned that Michael and Kathy Fordham were about to start up a butchery business at their B & B, The Old Doctor's House at Epinac. Before emigrating they farmed in Sussex, where Michael's meat, especially his sausages, won prizes.
Now Michael is open for business. He buys his meat from local farmers and offers sausages, burgers and delicious local lamb at prices which compare favourably with local competitors. Their website makes no mention of meat, but watch this space. You can like La Boucherie Anglaise on Facebook already, and a new website is in the pipeline. I have not been bribed or blandished for this honourable mention. Making Toad in the Hole with Michael's beautiful bangers is reward enough.