Here in the Morvan we have all been labouring under lockdown. The Mairie has issued us all with washable face masks. It is advised, but not obligatory, to wear masks in situations such as shops. There is a wealth of advice on line for DIY masks and I have seen people wearing beautiful creations they have made from fabric scraps.I am fond of patchwork and I suppose I could construct a patchwork version, but I loathe wearing a mask because it hides my smile. Behold the masked Rosy, grinning, as indicated by the raised eyebrows.
Pubs for Puritans?
Little by little the French government is easing the lockdown and our favourite restaurant, Le Marode in Corbigny, is back in business (see my June effusion). In England, however, all seems to be doubt and uncertainty. See the Times online of 25 June.
Pubs will be expected to impose strict limits on the number of customers to ensure social distancing can be observed. And there's more:
"Every customer will be required to provide their details, including their phone number, for NHS test and trace services in the event of an outbreak. The pubs will be required to keep details of drinkers for three weeks.

On arriving at the pub, customers should use hand sanitiser or wash their hands. Parents will be asked to ensure that their children observe social distancing.

If people fail to follow social distancing guidance staff are advised to inform them that they could face enforcement action from police or local authorities, including fines.

Live music or any form of live performance will be banned. Venues will be urged not to play music that could encourage people to raise their voices or shout, as this increases the risk of transmission of the virus. People will be banned from dancing and singing."
Sounds like a bundle of laughs. Not. Many would prefer to visit friends and bring a bottle to share in their garden; but that is not a simple matter.
"If you follow the rules a visit to someone's house is going to be far from the relaxed affair it was before the pandemic. Preparations should begin before you even leave your own home. You'll need to pack up a car because it is recommended that you bring your own chair to sit on and ideally your own food, plates and cutlery.

Also go to the loo before you leave as the guidance recommends against using the bathroom in any house you visit…

Life is particularly hard for young children in the summer weather. Paddling pools are out as are garden games that require balls or shared equipment. "
Here in the Morvan the lockdown has done Combat Stress a great deal of harm. In normal circumstances the summer bookings for Charity Cottage would be trickling in. I hope Expat Focus readers will visit us as soon as the pandemic issue is sorted. See here and enjoy the 5-star reviews.
Waste Not, Want Not?
Our big news is the reopening of our local recycling centre, the déchetterie. The staff are beyond praise, especially the aptly named Monsieur Gentil. Gentil means kind and/or helpful, and Monsieur Gentil and his team are both.
Here you will see garden waste, cardboard and plastic, scrap metal, old fridges and cookers, builder's waste, dead TVs and computers, and furniture that I would have been proud to own when I was young and poor. There are containers for old clothes, dead light bulbs and used batteries.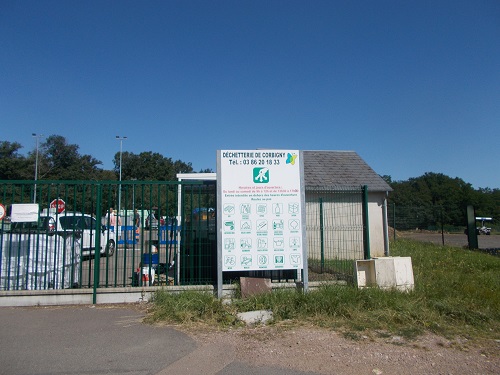 One man's trash is another man's treasure. Womble in the Boîte à Donner – and collect rich compost for your garden, free of charge.