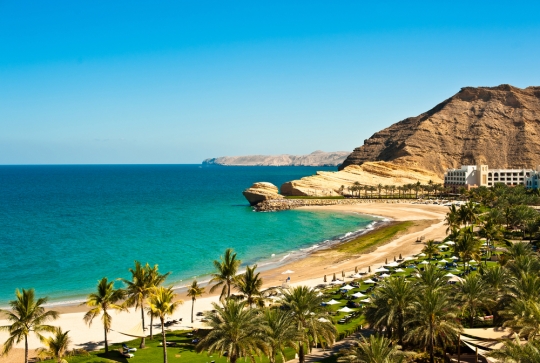 In recent years, the Gulf states have been an oasis of expat jobs in the Middle East. Saudi Arabia, the Emirates, Oman and Yemen have transformed themselves from hostile deserts to business hotspots, drawing in the world's top talent with generous remuneration packages.Huge numbers of expats settled in Gulf states, making themselves an integral part of various industries and the economy. Now though, the dust seems to be settling on the expat boom as restrictions come into effect to limit the migrant presence in these growing economies.
Saudi Arabia is now launching a concerted campaign to get its own citizens into skilled and technical jobs that were once dominated by expats. Middle management, IT, telecoms and media are all seeing an influx of a new generation of Saudi workers. Although the Kingdom is still recruiting expats, there is a vastly increased competition for available jobs and Saudi people have first claim on positions over international workers. Further, employers are expected to pay a tax on every expat they employ.
Right across the Gulf states, similar restrictions are coming into effect, making it more difficult for expats to find work and less attractive for employers to have them on the books. Oman in particular is making life difficult for expats.
In January of 2018, the Omani government announced restrictions on employing expats in 10 sectors of the economy, including media, IT, marketing, insurance and aviation. The legislation was essentially a six-month ban on hiring international workers in these named industries, with a list of 87 job types specifically banned. Graphic designers, computer engineer, media specialists and air traffic controllers are all specifically limited by the ban.
The new rules have been prompted by a rise in unemployment thanks to the slumping price of oil, a key commodity to Oman's economy. Unemployment rates rose to almost 17 percent in 2017, a trend the government is keen to curb. It's hoped that the measures will also help diversify the economy and the skills of homegrown talent.
Although the cap does not stop businesses from replacing expat workers who resign by employing other international workers, it does mean that visas won't be issued to expats for new roles.
This ban has now been extended for another six months, carrying the measure through to the end of 2018. It is possible that these 'temporary' measures may be extended multiple times.
The Omani ministry of manpower stated that the extension to these restrictions gave "private companies more time to create vacancies for Omanis who are out of work". Currently, expats make up more than 70 percent of the private workforce in the country, meaning there are about 1.8 million international workers in the job market.
Unemployment amongst Oman people has been high for a number of years and the government has publicly committed to getting more local workers into the workforce; a process dubbed 'Omanisation'. Announced in October 2017, the government pledged to create 25,000 new jobs, with 60 percent of those being in the public sector where Omani people already make up 90 percent of the workforce. In addition to restrictions on hiring expats, the private sector has been incentivised to hire local manpower.
The public sector has been the employer of choice for Omani working people, says Harith Al Maimani, a manpower consultant. "Private companies are not serious in the implementation of the Omanisation process," Al Maimani told the National. He suggested that high rates of pay in government jobs have traditionally made it difficult for private employers to attract Omanis, requiring a change in mindset by employers. "It is not a good excuse to say that the civil service pays better and that is the reason why the private sector cannot compete."
Businesses haven't been overly excited by the measures, with concerns about finding the right talent. "Expats are important to our country's growth, especially in newer sectors such as renewable energy where we cannot get qualified employees," Nasser Al Maqbali of MENA HR Solutions told Arabian Business. He said, "Clients are coming to us and they are finding it very difficult [to hire]. And there are times when we can't do anything for them."
Due to the long-running expat dominance of the private sector, there is a lack of experienced local talent to fill the jobs in expanding sectors. David Mackenzie, managing director of recruiting agency Mackenzie Jones says this factor is affecting businesses and Omani people alike. "As an example, there is a field within HR called compensation and benefits, which is quite a technical role that Omanis have never been trained to do," Mackenzie tells Arabian Business. "We're trying to fill two roles at the moment and we just can't find anyone."
The Omani model of private business has consistently been to use expats to develop local talent and build businesses fast. As the drop in oil revenue sends ripples of concern through the Gulf states, the countries are seeking to rapidly integrate their citizens into the technical and management roles once dominated by expats.
The challenges represented by the rapid change of pace could lead to a brain-drain of expat talent at the same time as these governments are trying to make new sectors more attractive in an effort to diversify away from oil.
However, the new rules are seeing a positive change in business culture in many of the states. Saudi Arabia and Oman in particular are pushing both public and private sectors to increase their recruitment of women. Keen to drive up the employment figures, the Omani leadership are pushing for highly-qualified females to enter the high-powered roles that have traditionally been reserved for men.
Essentially Oman is operating a 'one-in, one-out' system for expat visas. Those currently working in the country are likely to remain in post for as long as their current papers allow; however, the opportunities for new expats are locked down tight.
The employment figures for Omani citizens are bound to show an uptick for the first 12 months of this scheme as businesses showing growth continue to hire. However, as the oil pinch continues and businesses struggle to fill key positions, the long-term effects could further dampen the private sector.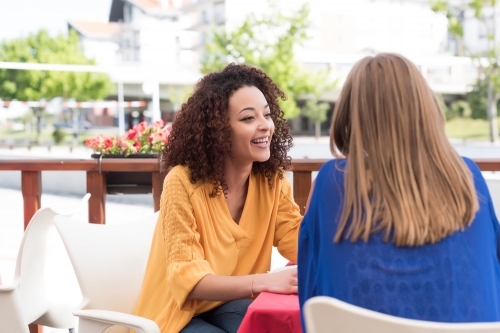 The Sultanate of Oman, historically a seafaring destination, is a land of rich culture, and its oldest human settlement is known to have originated in the stone age. It is located along the Arabian Peninsula, and even though the country has undergone considerable urban development, its stunning natural landscapes and age-old traditions still prevail.In the capital city of Muscat, the sea serves as a source of livelihood for the local fishermen. The city is also an important seaport for vessels that voyage along the Strait of Hormuz. Salalah, another of Oman's main cities, is known for its banana plantations and beaches. The inland city of Nizwa was once the capital of Oman, and is home to the country's largest falaj, an irrigation system dating back to ancient times. Other popular cities of Oman include Sur, famed for its dhows (handmade wooden boats); Sohar, which legend says is the birthplace of Sindbad the Sailor, the fictional hero of Arabian literature; and Bahla, which is home to the grand Bahla Fort, a UNESCO World Heritage Site.
Oman has largely embraced modernity, but retains a quaint charm that is evident in its old forts and busy souks, which sell everything from jewelry to frankincense. Vast petroleum reserves were found in Oman in 1964, and ever since then, the money derived from these resources has been utilized in developing the country's infrastructure. Today, Oman plays a significant role in the world as an oil-producing country, and the petrochemical industry provides employment to a large portion of the population. Many parts of the Middle East are in a tumultuous state due to domestic and regional conflicts, but Oman remains a stable and secure destination.
Even though the government is making efforts to hire more local labor, a measure that has led to more visa restrictions in recent years, there is still a large expat community in Oman, and jobs continue to be available for expats. The expat community has established various support groups to help new arrivals to settle in, socialize and network with each other. The city of Muscat, in particular, is home to a thriving expat community, and many organizations and social clubs can be found here. Smaller towns may be limited in their entertainment options, but even these towns usually have an expat population that organizes social events on a regular basis.
Meetups In Oman
Meetup.com is a place for people to find others who share a particular interest. It helps individuals create local community groups and organize face-to-face meetings. The groups range from adventure-seekers to professionals looking to network. While some meetups may occur only a couple of times, there are others that are organized regularly. Many expats find such meetups an ideal way to make new friends, explore new experiences and discover new places. Through meetups, many expats have made personal and professional contacts that have turned into lasting relationships even after they have moved out of the country.
Sohar Expats Meetup
This meetup group is for expats living and working in the city of Sohar. It offers a chance for like-minded individuals to engage in social gatherings and activities in different locations. There are also events just for women, such as the ladies' night out, and other activities such as yoga classes or coffee afternoons.
Ub-Cool Meetup
Expats who love an adventure will find this group interesting, as it organizes activities such as sailing, skydiving, rock climbing and kite surfing. It is run by Ub-Cool, an online adventure-booking platform which brings together people who share a love for adventure and want to challenge each other. This is a fun way to explore the city of Muscat and meet other expats and local people in the city.
Muscat Digital
The world of digital and social media is booming across the globe, and the Gulf region is no exception. Muscat Digital is a group for those who work in the digital and social media fields, and also for those who simply enjoy social media. It is especially beneficial for those who want to stay updated with the latest in digital marketing trends and new technologies. Professionals who work in digital marketing firms and those who are assigned with handling digital marketing for their companies will find this group a useful way to network and share experiences. The organizer of the group recently moved out of Muscat and was looking for a Muscat resident interested in acting as co-host to organize local events, which may be of interest to organized expats!
Muscat Adventures And Social Club
This is a looser, less strictly focused group, meant simply for all those living in Muscat who wish to socialize and explore new adventures.
Startup Grind Muscat
Startup Grind is a worldwide startup community that also meets in Muscat. It is aimed at providing a platform for entrepreneurs to connect and learn. There are monthly events open to anyone interested in startups.
Spanish In Muscat
Expats interested in the Spanish language will enjoy being part of this group, which organizes events where members can get together and practice their Spanish through fun and interesting methods such as reading poems and articles.
Wamd English
Non-native speaking expats and locals who want to improve their spoken English and practice their conversational skills will find value in this group, where members meet to share interesting stories in English.
Social Clubs In Oman
Oman has a number of societies and groups that play an important role in connecting expats in the country with one another. Some of these cater to nationals of specific countries, although most keep their membership open to all. Oman's ministry of social affairs, labour and vocational training monitors all local and international community clubs functioning in the country, and establishes regulations that they must abide by in order to serve the purpose for which they were established.
American Women's Group
Established in 1975 by the wife of the US Ambassador at the time, this group began with 20 American women as members, but has now grown into a much larger and more varied community of women from different nationalities. The American women's group conducts charity activities and has a political-economic department. Members work to promote interaction between communities and cultures in an effort to gain a better understanding of local Omani traditions.
Australians And New Zealanders In Oman
This group serves the important purpose of bringing together Australians and New Zealanders living in Oman, and is especially beneficial as neither of these countries have embassies in the country. The association promotes social interaction through events unique to both Australia and New Zealand, such as Australia Day and Waitangi Day. They also organize events that include the broader community in Muscat, including the annual ANZO Ball, where people of various nationalities get together with Aussies and New Zealanders for a celebration.
Caledonian Society Of Oman
This is the oldest expat society in Oman, and was established in 1976 to provide a sense of home to the Scottish community in the country, a role it continues to fulfil. The society is now open to those who are simply interested in the Scottish life – membership is available to people of all nationalities.
Environmental Society Of Oman
Formed in 2004, the Environmental Society of Oman brings together Omanis from different parts of the country and from various professional fields. Expats with an interest in environmental conservation and the preservation of the local natural heritage are encouraged to become members.
Indian Social Club Goan Wing
This society is affiliated to the Indian Social Club, which is at the forefront of organizing social and cultural activities in Oman involving the Indian community. The Goan wing enables the community of Goan people in Oman to connect with each other, and puts the interests of this community before official organizations to find solutions to commonly faced issues. The wing also aims to encourage young people to explore Goan culture and the Konkani language while away from their native land.
Muscat Mums
Serving as a support forum for families based in Muscat, this group provides various useful services, such as support groups, playgroups and social events. It is tied up with a range of shops, restaurants, relocation services and health facilities across Muscat, and offers its members discounts at these enterprises.
Muscat Singers
A choral group that performs twice a year in the city, this group is open to anyone interested in singing, and holds rehearsals on Sunday evenings.
Oman Irish Society
The Oman Irish Society was formed to promote Irish culture through social, cultural and educational events. It aims to connect the present and future generations of Irish people in the country and bring them together as a community. It also serves as an important source of information for expats thinking about relocating to Oman. The Oman Irish Society welcomes all new expats to the country.
South African Group Oman
The South African Group Oman or SAGO is open to South Africans and others in the region, and organizes monthly social events for the community, ranging from casual get-togethers to outdoor excursions and festive celebrations.
Latin Dance Muscat
Expats with a love for dance can join Latin dance Muscat, a group dedicated to Latin dance forms. It organizes classes in Latin dance such as salsa, bachata and tango, and also stages social gatherings.
Muscat Arabian Foxes Hockey Club
Located in Madinat Qaboos in Muscat, this friendly field hockey club has members of different nationalities, ages and skill levels. Men and women can join the club and partake in hockey events played against various other expat and local clubs.
Muscat Diving And Adventure Centre
Novice and professional divers can join the Muscat diving and adventure centre, which conducts activities such as sea kayaking, sailing, canyoning and scuba diving. The club is open to all, and provides all the necessary equipment for its activities.
Bangladesh Social Club
Catering to the ever-growing Bangladeshi expat community in Oman, the Bangladesh social club has branches in Muscat, Salalah, Sohar, Barka and Sur. The club has played an active role in facilitating the cultural needs of the Bangladeshi community and exploring solutions to various issues it faces. The club also provides aid to the needy and to victims of traffic accidents.
Pakistan Social Club
Formed in 1992 as a non-profit institution, the Pakistan social club was created to encourage cultural and social camaraderie within the Pakistani community in Oman. It organizes sporting events and welfare, educational and religious awareness activities. Members can seek financial help from the club in case of any mishap, and can also receive support for visa issues.
Sri Lankan Community Social Club
Founded in 1997, this club aims to meet the cultural and sporting needs of Sri Lankan expats living in Oman. The club owns a spacious ground at the Oman automobile association in Seeb, where it has various facilities, such as a volleyball court, a children's playground and a performance stage.
The Filipino Community Social Club
A social club dedicated to Filipino expats residing in Oman, this social club serves the purpose of strengthening the relationship between the Filipino and local Omani communities. It caters to its members' recreational, social and cultural needs.
Golf Clubs In Oman
Golf has recently become popular in Oman, and the country is already gaining a reputation as a leading golfing destination. The Challenge Tour and the MENA Golf Tour both have their finals in Oman. The winter months, from September to May, offer the best golfing conditions, and expats interested in the sport can choose from three 18-hole championship courses in the country, each providing a unique golfing experience. Here are two of the top golf clubs in Oman.
Ghala Valley Golf Club
The Ghala Valley golf club offers individual, family and corporate membership, and houses an 18-hole course set against the panoramic Al-Hajar mountains. Featuring narrow fairways, the course offers challenges for golfers of all levels. The clubhouse, overlooking the course, is open to members only, and is a great place to relax with food and drink after a bout of golfing.
Muscat Hills Golf Course
This is the first 18-hole grass course to be created in Oman, and spans 45 hectares of land that offer stunning sea views. The clubhouse is comfortable and spacious, with practice facilities that include a putting green for members and guests.

Have you lived in Oman? How did you make friends there? Share your thoughts in the comments below, or answer the questions here to be featured in an interview!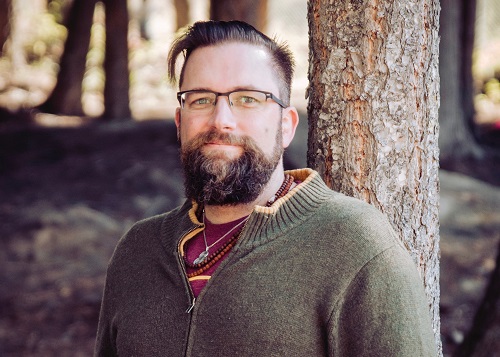 Who are you?
My name is Chris Brauer and I currently live in southeastern British Columbia, Canada. I have been a teacher for seventeen years, and am currently teaching a grade 5/6 split class at Yaqan Nukiy School on Lower Kootenay Reserve (outside Creston).
I am also a writer and have recently completed a travel memoir about living and teaching in the Sultanate of Oman. I am currently working on a book about my travels in Ireland, as well as working on my first collection of poetry. My writing has appeared in Celtic Life International, Ireland of the Welcomes, Running Room, Canadian Teacher Magazine, and Go World Travel.I am married to an equally adventurous wife, and have two sons. I enjoy writing with a Visconti Homo Sapiens fountain pen, running in the woods (while avoiding large wildlife), driving my 1960 Volkswagen Karmann Ghia (when there's no snow on the road), and standing at the open door while my two cats decide if they want to go outside or just think about going outside.
Where, when and why did you move abroad?
We met many expats who were living in southern Oman because they were running away from something – alcoholism or a bad marriage – and I suppose we were also doing the same. With continual cuts to public education in British Columbia, teaching jobs were more and more difficult to obtain and many of the teachers I graduated with were already living in far-flung places. As class sizes increased, programs were cut and entire schools were closed, I desperately wanted to break away from the vicious cycle of getting hired and then laid off when someone with more seniority bumped me out of my position. Rather than continue to look for teaching positions elsewhere in Canada, we took this as a sign from the universe to travel the world and have an adventure.
I took a course in teaching English as a Second Language, and began looking for positions around the globe. After receiving job offers from a couple places in Southeast Asia, I decided to accept a job in Salalah, Oman. We had heard that culture shock was more extreme the further east one traveled. Whether that is true or not, and without knowing much about the country, I headed out on my own as my wife took care of our sons, put our house up for sale, and began to box up our belongings.
We knew that living in a foreign culture, away from familiar things, was going to be difficult but we also realized that the experience of pushing ourselves out of our comfort zone would change us for the better and the education we would be giving our children would be priceless. So few children get the chance to experience another culture for any length of time. While moving to a country few in the West have heard of seems a bit extreme, both my wife and I had faith that we would experience the best of humanity, and that the vast majority of people everywhere are kind, compassionate and welcoming.
What challenges did you face during the move?
Traveling to Oman is not difficult, but it does take many long hours to get from southeastern British Columbia to southern Oman. I don't usually sleep on planes, so the almost forty hours it took us to get from door-to-door seemed like forever. I was hired in October and, since the school year was already in progress, I needed to leave as soon as possible. My wife wasn't excited at having to deal with everything in Canada and then traveling with our two young sons, but she enlisted the help of her family and flew to Oman with her mother.
The Canadian company that hired me (and connects teachers with the Omani Ministry of Education) met me at the airport in Muscat, drove me to a hotel, and arranged all the paperwork that I would need to fill in to get the resident card process started. Later, when my wife and sons joined me, the company assisted in getting my family their tourist visas (and then their short-term resident status). They also assisted in finding appropriate housing. Within a couple days, teachers are usually driven (or flown) to the town they will be stationed at and shown to their own apartment or villa.
While this seems ideal on paper, the reality was a little different. The first couple days in the country were very confusing. The company representative that picked me up from the airport only knew a little English and wasn't able to tell me where I was going or what was required of me. I was randomly plunked somewhere and told to wait while someone did something on my behalf in a language I couldn't understand. Perhaps, if it had been earlier in the year and I was with other expat teachers, it wouldn't have seemed so jarring.
The contract I signed mentioned that the apartments or villas would be fully furnished, and that the company would supply kitchenware. Everything would be in 'good condition', but 'good condition' was obviously up to interpretation. The company also heavily relied on other expats to show new teachers around. As soon as I was safely delivered to my new residence, I didn't see a company representative for the rest of the year. This bothered some teachers, but most quickly integrated themselves into the expat community and only contacted the company if paperwork was required.
Were there many other expats in your area?
The population of Oman is just under four and a half million, of which over two million are expats. Most of these expats are from either the Indian subcontinent or from Southeast Asia, but there is also a large Western expat community. Muscat, the capital of Oman, is very modern and cosmopolitan and there are several shopping malls featuring Western food, music and fashion. But Salalah (population 163,000) is different. While most of the visible workforce is from outside the country, I estimate that there are no more than 150 Western expats living there at one time.
Most of the Western expats in Salalah either teach at one of the three post-secondary institutions or are working with the Omani military. As is always the case, those working for the military make far more than teachers but daily life was comfortable for us because the general cost of living was low.
Many Western expats gathered at the nearby Crowne Plaza after work where, for a yearly fee, we could use the tennis courts, swimming pools and the gym. We also gathered at the family-friendly Oasis Club, located at the Port of Salalah. The Oasis hosted a Valentine's Day dinner, an Easter egg hunt for the children, quiz nights, and other Western traditions that reminded us of home.
What did you like about life in Oman?
While there are several archeological ruins to explore and geographical wonders – including springs, blowholes and white sandy beaches where birds from all over India, Africa and the Middle East gather – the best thing about Oman is the people. Omanis are truly wonderful people, and teaching at the colleges was a real blessing. I had a lot of fun chatting with my students about their lives and dreams, and I enjoyed sharing cups of sweet tea or chicken biryani while the cafeteria televisions blared Bollywood videos. I fed off their positive energy and we laughed lots.
Living in Oman afforded us the opportunity to make friends not just with other Western expats and Omanis, but also with Indians, Pakistanis, Sri Lankans, Sudanese, Syrians and Lebanese. It reconfirmed our belief that people all over the world are basically good and kind and have a natural tendency to help others.
Towards the end of our last year, my mother visited us for a few weeks and one her favourite memories is when my wife got the car stuck in the sand when we were picnicking near Taqah (a half hour drive north of Salalah). As I was rocking the car back and forth, my mother went to wave down traffic for some help. A car quickly pulled over and three men got out. With a little pushing and pulling, and a lot of laughter, we finally got the car out. We shared our lunch with the three men, and they introduced themselves as the Sultan's personal interior decorators. As we were finishing up, the topic turned to religion. One man was Muslim, one man was Christian, and the other man was Hindu. Very briefly, each took a turn discussing his faith. They weren't hoping to convert us (or each other); they were just letting us know what our options were if ever we felt the need. We could pick and choose as we saw fit. This one moment reflected our experiences in Salalah. We were never forced to choose one or the other. It wasn't us against them. We were free to take what we needed and leave what we didn't.
We Canadians pride ourselves on the cultural mosaic of our country, but small towns are still largely a homogeneous 'white' culture and I miss all the sights and sounds from so much ethnic diversity. We will always feel a connection to the Arabian seaside town, and to the country of Oman itself. We feel the pang of nostalgia when we sift through photos, remembering our boys at that age. We often think of our caretaker Mustafa, and whether he is still smiling, feeding stray cats, and knocking down coconuts. I think about my students who by now must be married and have children of their own. Many of the shopkeepers have moved back to their home country, and most of the expats we knew no longer live in Oman, spreading themselves across the planet for new adventures. Some we have kept in touch with, but most have fallen by the wayside. Despite modernization, I know the people of Salalah are balancing the old with the new, and still making time for simpler things: picnics on the beach, watching camels at the falaj (irrigation system), and sharing jokes over shwarmas and date cookies.
What did you dislike about life in Oman?
While Salalah is a major city in the south of the country, and there are lots to explore (including several shops, souks, and restaurants) it is the only major city in the south of the country. When I had a few days off, there were only the nearby seaside and mountain villages to explore. These were fascinating – as were the archeological sites and quiet beaches if we went camping – but we soon wanted to explore beyond the province of Dhofar. If we wanted to explore the north, we would either have to fly and then rent a car or drive across the Arabian Desert. At the time, there wasn't much either online or in books about what to expect during the ten-hour drive from Salalah to Nizwa but, during term break and with the car loaded with snacks, water, blankets and a jerry can, we headed across the great expanse. As it turned out, there were gas stations along the way and little rest houses with clean beds and delicious food. We also discovered that the desert is a remarkably beautiful place.
The other aspect of our life in Salalah that became a little bothersome was the heat. While the weather in September to April was pleasant, and July and August sees the cooler Indian monsoon (called Khareef), May and June were really hot. The playground equipment was hot to the touch and the outdoor swimming pools were too hot to swim in. For the most of the year, we could open doors on either side and the sea breeze would naturally cool our villa, but May and June were different. Industrial-sized air conditioning units blasted freezing air everywhere we went during those two months, and the harsh contrast between indoor and outdoor was unpleasant.
What was the biggest cultural difference you experienced between Oman and life back home?
There is a commonly told joke in Oman about a meeting between the sultan and the president of Mexico. They are traveling together and a member of the Mexican entourage informs the president that there is an urgent matter that must be dealt with. He replies, "Maňana, maňana". The sultan, curious about the reply, asks the president behind the meaning of maňana. He tells him it means tomorrow and the problem can be solved in due time. He then asks the sultan if there is such a concept in Oman. The sultan responds without hesitation. He answers, "Yes, we have a saying: In'shallah. It means God willing. But it is nowhere near as urgent as tomorrow." Nothing is ever urgent in Oman. A typical day moves along at a pace that allows for tea and conversation.
The most jarring thing for me was not the different food, dress or language; it was the Arabic sense of time. In Western countries, we assume that our friends, family or colleagues will arrive on time if we make a lunch date. While we are willing to forgive five or ten minutes, we find it rude if the other half of the party fails to show up after that. Not so in Oman. It is not uncommon for someone to show up half an hour after the appointed time, even in business situations. For the Omanis, time is not controlled by mere mortals; it is controlled by Allah. The popular phrase In'shallah means 'God willing'. The traffic is the will of God, as are the forgetful children that can't find their sandals or their lunch money when it's time to go. I had to learn that, as a stickler for time, I needed to relax and bring a book or magazine if I was expecting someone at a certain hour.
What did you think of the food and drink in Oman? What were your particular likes and dislikes?
I have no complaints about the food in Salalah. We are adventurous eaters, and were more than happy to sample food from across the Middle East, India, and Africa. We ate out a lot – not only because it was delicious but also because it was generally cheap. Since there are only a few traditional Omani dishes and most of the workforce is from the Indian subcontinent, most residents and expats eat Indian (or Indian-inspired) dishes on a regular basis. Chicken biryani seems to be the unofficial national dish. One of my favourite memories is sitting with the young men as they hunkered over their food at the small restaurant – simply called 'Restaurant' – at the frankincense souk as they tucked into their chicken tikka or mutton vindaloo and scooped it all up with piles of warm roti. The food was hot, greasy, a little spicy and always delicious.
We sampled Yemeni food, Lebanese food, Syrian food, Turkish food, and all of it was amazing. If we had spent the evening at the beach, and wanted something quick to fill us up, we would buy a roasted chicken and some shwarmas at the neighbourhood kiosk and tear into the hot meat with our fingers at home as the rice was cooking.
Both my wife and I cook, so we didn't crave Western food from restaurants very often. But, for those that did, there were a couple options. When we lived in Salalah, there was a Pizza Hut and a KFC but it wasn't quite the same as at home; I've heard there are few more places that serve 'Western' food now. Sometimes we would drive out to the port where the Oasis Club offered an extensive menu with meat pies, spaghetti and meatballs, and chicken fingers. When my wife and I celebrated our wedding anniversary or we managed to find a babysitter, we went for dinner at the Hilton.
Nowhere did we notice the rapid modernization of the south of Oman more than at the grocery stores. When we first moved to Salalah, there were some food items that were not available – or really difficult to find – but as the years went by and more shops opened, we noticed more Western-style cheeses and imported vegetables (like broccoli).
Another of my favourite memories is eating the vegetarian thali plates, which are sampler plates. Three dollars bought a large metal tray with a dozen small bowls, each filled with different rice dishes, vegetable dishes, sauces of various consistencies, and a dessert. There was also the prerequisite pile of flat bread in the centre for scooping and soaking. Though all the dishes were vegetarian, they were so flavourful that we didn't miss the meat. The idea behind the thali plate was to offer all of the six flavours. As in Ayurveda, where the tastes of sweet, sour, salty, pungent, bitter and astringent all have a distinct effect on the body, a proper Indian meal should also be a perfect balance of flavours. But we weren't interested in the effects on the body – just unapologetic gluttony. My wife would often talk to the cooks about the recipes they brought from home, and we now have a journal filled with spice blends and curries and chutneys.
The only food that didn't appeal to us was halwa. Made from ghee, saffron, cardamom and rosewater, halwa is available in a variety of added flavours and, while the brown goo smells fragrant and sweet, the dessert has the consistency of hard Jell-O and is definitely an acquired taste.
What advice would you give to anyone following in your footsteps?
My advice to anyone considering a move to Oman is to keep an open mind. Too often we group all of the Middle East (or Africa, or Southeast Asia) together as one culture. The Middle East includes North Africa, the Arabian Peninsula, Turkey and Syria, Iraq and Iran, Pakistan, Afghanistan and several other small countries west of China, and within this huge geographical area there are many wonderful cultures that differ as much from each other as the myriad of cultures within the West. There are not only differences in language, dress and cuisine, but also in how they see the rest of the world (and each other).
Despite instant access to information, several misconceptions continue today. One perception is that the terms 'Arabs' and 'Muslims' refer to the same people, but the two are not the same. 'Arab' refers to either those who speak Arabic as their native language, or to those that belong to a culture in (or originally from) the Arabian Peninsula. The earliest known use of the word dates back to an Assyrian inscription from 853 BC. 'Muslims' are those practicing the religion of Islam. Many Arabs are not Muslims, and not all Muslims are Arabs. More than a billion people in the world are Muslims, but fewer than fifteen percent of Muslims are Arabs. A distorted media image of both the Arab and Muslim people has become ingrained in Western culture and continues to inhibit a resolution of any Middle Eastern conflict. Movies, television shows, novels, comics and video games continue to portray the Arab or Muslim in the role of antagonist onto the unsuspecting audience.
Despite popular Western opinion, Islam does not encourage the suppression of women. The arrival of Islam granted women new rights, including the right to agree to their marriage partner, the right to education, and a guaranteed share of family inheritance. It uplifted the status of the poor and underprivileged in society. For women, this meant an end to female infanticide, and equality of the sexes in stature and worship. Today, Islamic law allows women to vote, work outside the home and, as we saw in Oman, even run for office. Just as in Western countries, the 'proper' role of women is a subject for debate. Some Muslim groups consider a woman's role to be in the home and seek to prevent inappropriate behaviour by restricting fashion choices or independent access to public life; other groups believe women should have equal and independent roles in society, without restriction by law, family or custom.
While my wife and I attempted to correct the misconceptions, the media had engrained these stereotypes for so long that it was difficult for most people to hear differently. We didn't experience violence, hatred or gender issues. The Omanis we met were nothing like the terrorists in the movies or the news reports, and we became resentful and angry at Western culture for pigeonholing such a diverse part of the world. But we also realized that people only acted the way they were trained to. Fear is the ultimate motivator and the media constantly plays into our fears. It was easier, as a culture, to point the finger at someone else than to look at our own problems.
One of the greatest things about traveling around the world is discovering that, essentially, we are all the same. There is a universal good to all of humanity no matter where people live or what experiences they have had. We would all rather help someone than hurt someone, even if helping were the more difficult option. Oman is a country of problems like any other country but, on the whole, the people were wonderfully kind and welcoming, and whether we were in Salalah or along the Dhofar coast or in the middle of the desert or in the mountain villages of the north, there was always the offer of a cup of sweet tea. There was always laughter and a kind word. There was never any fear.
What are your plans for the future?
I kept a journal during my time in Oman and, after returning to Canada, I began the process of turning those entries into a full-length travel memoir. After picking away at it for a couple years, I enlisted the help of a professional editor and now I am currently looking for a publisher for Frankincense Land.
The book follows the first year my family and I spent in Oman as we learned to live in a foreign culture, explored the geographical and archeological sites, drove across the Arabian Desert, taught local students, and ultimately found a place that challenged the preconceived notions that the Western world has about life in the Middle East. It is a humorous account of daily life in southern Arabia, but it is also about finding a place and a purpose, raising children away from the comforts of home, and learning about Omani culture. The book reveals a country with open, friendly and welcoming characters that confirm the universal good in people. Combining history and travel with humour and humanity, the book is purposely light and family-friendly so as to find a broad audience. While Oman has been featured in magazine and newspaper articles, no full-length travel memoir about the country has yet been published. I'm hoping mine will be the first.
While my writing has appeared in various magazines and websites, I am finding it difficult to find a publisher interested in my entire manuscript. Books about living in Italy and France continue to find a large readership; I think it is more difficult to find readers interested in a country few Westerners can locate on a map.
As I wait to hear back from Canadian publishers, I am finding a growing readership for my shorter nonfiction pieces and poetry, and I am currently writing my second book about my travels around Ireland. I have been interested in Irish history, culture and mythology for several years, and I should be finished the book by the end of the year. I will hand it over to my editor and then pitch it to publishers. Because I am crazy, I am already planning my next writing destination. I'm hoping to journey to northern India, but I'm not sure if it will be this summer or next summer.
Those interested in reading Chris' travel writing, personal essays and poetry, can find samples of his work on his website or on his Facebook page.
Would you like to share your experience of life abroad with other readers? Answer the questions here to be featured in an interview!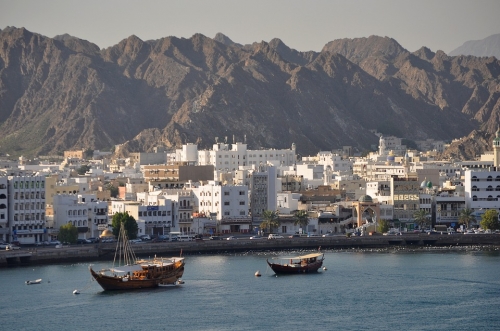 For years the Sultanate of Oman has been one of the top destinations of choice for expats from across the globe, primarily because of the lucrative earning potential it offers. The country has very high economic prospects thanks to its rich oil reserves. As a result, industry is booming and there is a constant demand for well‒qualified and skilled professionals from across the globe, primarily in the fields of engineering, healthcare, accounting and management.Since a number of construction projects are also under way, skilled immigrant workers from developing nations often get great offers too, enabling them to earn much more than they would back home.
For decades now, expats have received generous employment packages in Omani Rials (OMR) along wth tax free salaries and extra benefits when they moved to this peninsula. Many of them managed to put a decent amount away, even while leading a fairly comfortable life. The majority of these immigrants took up opportunities in Oman just so that they could send money to their families back home.
In the first half of this decade, the overseas remittances made from Oman showed a steady increase:
• In 2010: OMR 2.13 billion (US $ 5.53 billion; £ 4.31 billion; € 4.70 billion)
• In 2011: OMR 2.77 billion (US $ 7.19 billion; £ 5.61 billion; € 6.12 billion)
• In 2012: OMR 3.10 billion (US $ 8.05 billion; £ 6.28 billion; € 6.84 billion)
• In 2013: OMR 3.50 billion (US $ 9.09 billion; £ 7.09 billion; € 7.73 billion)
• In 2014: OMR 3.96 billion (US $ 10.28 billion; £ 8.02 billion; € 8.74 billion)
• In 2015: OMR 4.20 billion (US $ 10.90 billion; £ 8.51 billion; € 9.27 billion)
This shows that up until the recent past, expats were sending home more money from Oman than ever before. The remittance amounts almost doubled over a period of six years. This trend continued, even though the island experienced a significant economic slowdown. Interestingly, the number of expat workers in this destination also reduced slightly for a short duration, even though the amount of money sent home increased year on year.
However, in 2016, this figure saw a slight decline. The overall amount of overseas remittances fell to OMR 3.95 (US $ 10.26 billion; £ 8.00 billion; € 8.72 billion) that year. At the same time, the total number of overseas bank transactions out of the country went up from 30.8% to 37.3% in a span of a year. This could be due to the fact that the blue collar workforce has increased threefold over the last ten years or so.
According to a report released online by Central Bank of Oman, a major chunk of the gross domestic saving was sent out of the Sultanate in the form of current transfers (like remittances by laborers) as well as investment incomes (such as net interest and dividends that are paid on external liabilities).
The report further went on to state that the country's gross national saving as a percentage of the GDP fell to 20.1% in the year 2015, compared to a rate of 39.5% in the past. This indicates a leakage of savings, to the extent of around 19.4%, going out of the nation. The gross national saving rate of 20.1% was a lot less than the domestic investment rate of 33.8%, thereby leading to a disinvestment of foreign assets overseas, as the net inflows under capital and financial accounts fell short of the current account deficits.
The remittances that were sent overseas would have been very useful for Oman. If the money had been used for spending or investment within the country the benefits would have been enjoyed by the domestic economy. The Sultanate's budget deficit went up by half a billion Rials, from OMR 4.2 billion (US $ 10.90 billion; £ 8.51 billion; € 9.27 billion) in 2015, to OMR 4.7 billion (US $ 12.20 billion; £ 9.52 billion; € 10.38 billion) in 2016.
A Shura member, Nasser Al Khamisi, spoke with the Times of Oman and said that the huge amounts being sent overseas were creating a negative impact on the country. He referred to them as wasted investment opportunities for Oman and said that they absorb the local wealth, taking a huge chunk out of the national budget.
Al Khamisi added that expats should be allowed to bring their close kin into the country, even if they earn less than OMR 600 (US $ 1,558; £ 1,215; € 1325) per month. A major chunk of foreign remittance is made by blue collar expats, who leave their families back home in search of high‒paying jobs. These workers remit a huge percentage of their salaries overseas.
The National Center for Statistics and Information (NCSI) has also published its Statistical Handbook for 2017, shedding some light on Oman's economic journey. This report includes data on expats within the country, between 2007 and 2016. By the end of 2016, the expat population had gone up to 1,986,000 from 820,000 in 2011.
According to the President of the Bangladesh Social Club, most people arriving in Oman today are blue collar laborers, who save up and send home a major part of their salaries.
Shazia Jahazeb, Managing Director of Four Stars, said that though the expat population has gone up, the overseas remittance is no longer in proportion. This means that the immigrants are either earning less than they used to or are sending home less money. She added that it was difficult to be sure about the exact reason, but as long as there was a rise, the economy was likely to be in good shape. Jahazeb pointed out that her employees had been sending back almost the same amount of money as they did in the previous years.
Imtias Sikder, a financial analyst based in the Sultanate, has stated that the slowdown of remittances this year is a healthy sign. He said that a small rise was good but too much was bad. The flattening of the curve was a positive sign, which showed that the money was staying in the country, without going any lower. He also stated that his people were sending home the same amount as they did last year, thereby indicating a healthy slowdown in foreign remittances.
Statistics show that the biggest percentage of the expat labor community in this country is made up of Bangladeshis (around 695,000 people), closely followed by Indians (about 692,000 individuals). If their family members are allowed to live with them in Oman, they will use schools, transportation, healthcare and other services locally. The Sultanate will therefore be able to generate higher revenue, which in turn would increase the number of jobs available. Expats in turn would not be required to send high amounts of money back home.
Of course, the cost of living on this island is not exactly low. While people may lead a good standard of life, they are likely to spend a lot more than they do back home, especially if they are from other Asian countries. As a result, they are not likely to put any amount away towards their savings. It is therefore best to calculate all possible expenses and compare the total with the expected revenue. Draw up a monthly budget based on your income as well as your basic requirements and make sure that you stick to it.
Maximizing Savings in Oman
Expats find that the cost of living in this Sultanate is relatively low compared to many of the other Gulf countries. However, as is the case in many other places, living expenses are much higher in the capital. According to the Mercer Cost of Living 2017 Survey, Muscat ranks 94th out of 209 cities.
Westerners tend to get handsome remuneration packages inclusive of tax‒free salaries, an annual bonus, accommodation for the family, local conveyance (a car), medical insurance and educational allowance (for families with children). The majority of the organizations also pay for their expat employees' visa and health check costs. This enables immigrants to save a significant portion of their salaries, which they are free to send home or invest locally.
Heavy remuneration packages are only made available to expat managers in top positions. Skilled laborers, who form a considerable part of Oman's workforce, do not get such perks. Many of these workers settle for low‒paying jobs, just to ensure that their contracts are not terminated. Their companies may pay for their visa costs and offer them shared accommodation, but they don't get any other allowances. They therefore end up paying for most of their daily expenses including rents, utilities, food and travel. As a result they save very little money, which they usually send to their families back home. Fortunately, it is still possible for people to enjoy a fairly good quality of life while maximizing their savings.
The real estate market in Oman has eased a lot since its peak and prices of accommodation are gradually coming down, in line with the rest of the Middle East. Moreover, construction is constantly on the rise and new homes are being made available every day. Expats are therefore bound to find a place that suits their lifestyle and budget.
Rents are generally lower in more remote areas, compared to the heart of the city. You can lease a bigger home in a new building with better amenities by choosing to live in the outskirts. Generally, apartments in Oman are rented without any furniture, so remember to factor in the amount you will spend on basic furnishings when you plan your budget.
Landlords usually ask for all the rent to be paid in advance, instead of accepting monthly payments. Since this amount is huge, several employers loan it to their workers. However, if you leave the property before the contract time is up, the money is not refunded.
Utility costs are almost never included in the rent. Fortunately, these services are available to residents at subsidized costs. Electricity bills tend to rise drastically during the summers as people need to use the air conditioning all the time, even to cool the premises when they are not around. Newcomers should therefore avoid keeping the air conditioner on excessively.
Since the government is encouraging international investments and businesses, the authorities have kept the cost of international phone calls relatively low. Most expats therefore tend to go overboard, spending more than they should to keep in touch with people back home. Fortunately, new technologies and apps are available to minimize this expense.
Owning a vehicle in this country is quite cheap in comparison to many other places. Almost all expats here have their own cars, and therefore don't find it necessary to rely on public transport. People in the upper income groups also have chauffeurs to drive them around.
Taxis are in theory not expensive but many of them are without meters and passengers often find themselves paying exorbitant amounts quoted by the drivers. You can either settle on the price beforehand or use the bus service to commute for longer distances.
Food in Oman is very cheap, especially if you eat like the Omanis and consume higher amounts of the local produce. At the same time, you will find a wide variety of imported products available at the bigger supermarkets, but these are very expensive. Eating out on a regular basis can be quite costly too, unless you frequent the smaller stalls and joints. Buying alcohol in this nation is an expensive and complicated affair.
The entertainment options that are popular among expats tend to be overpriced. These include snorkeling, dolphin sightings and sunset cruises. You can easily have a good time while saving money by visiting the cinema, a beach or a park instead.
Do keep in mind that it is possible to save money and remit it home, as long as you plan your lifestyle carefully.
Have you lived in Oman? Share your thoughts in the comments below, or answer the questions here to be featured in an interview.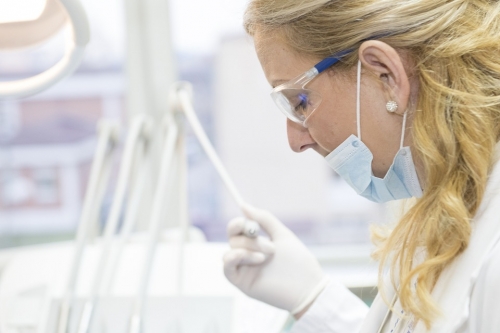 Expat life is exciting: traveling to new locations, meeting new people, exploring diverse cultures – for most people, life really can't get any better than that. However, even the exciting expat life is not one without a few worries. When moving to a new place, there is a lot of anxiety over your ability to adjust to your new surroundings.One of the biggest worries expats have on their minds when traveling to foreign locations is health and wellness. The kind of hospitals and medical care that you're used to might not be available in some locations. So, what's the healthcare system like in a 21st-century monarchy like Oman?
Located on the south-eastern coast of the Arab Peninsula, Oman holds a strategically important place at the mouth of the Persian Gulf. With developed countries like Saudi Arabia and United Arab Emirates to the west and northwest, and Yemen to the southwest, Oman is well connected by land to the Arab world. Iran and Pakistan share Oman's maritime border. The Arabian Sea to the southeast and the Gulf of Oman to the northeast form the country's coastline. The terrain in Oman is varied across its span. The deserts and valleys make up about 80 percent of the Arab nation's geography. Most of it is a wide desert plain with mountain ranges to the north and southeast.
The climate is hot and dry in the interior and humid along the coast. Summers in Oman are usually very hot, with temperatures shooting up to 40 degrees Celsius and sometimes even higher. The north of the country receives an inadequate amount of annual rainfall – roughly 100 mm in January. Rainfall is much higher in the mountains, with Jebel Akhdar recording around 900 mm of rainfall. The south has a more tropical atmosphere with moderate rainfall in the months of June to September. Winters are mild and the most pleasant of all seasons in Oman. The temperature ranges from a cool 18 degrees Celsius at night to 26 degrees Celsius in the day during the winters.
Oman for expats
Oman is an absolute monarchy with its capital in Muscat. Despite having modest oil reserves that put it in 25th place worldwide in terms of oil production, the country's economy is not solely dependent on oil exports.
A large portion of Oman's wealth is generated through fishing, tourism, exports of dates and other agricultural produce. This has led to the UNDP ranking Oman as the most improved nation in 2010 due to the progress it has made in the last 40 years.
According to a survey conducted by the Global Peace Index, it has also been ranked 74th on the list of most peaceful countries globally. In 2016, HSBC conducted a survey that ranked the country at 18th position among a list of 45 countries across the globe suitable for expat life. It is a lucrative option for expats looking to make good of the high-income economy.
Adjusting to Oman's climate
There are a few things that expats must keep in mind before making the move. Common health problems in Oman often occur due to the extremely high temperatures in the region. If you're not from the Gulf region, the arid climate can prove to be quite the shock to your system. There is a high chance of sunburn and sunstroke from prolonged exposure to the sun. That is why it's recommended to carry hats and sunglasses at all times of the day and use sunscreen when outside. Dehydration can also occur very quickly, which is why it is advised that you drink fluids throughout the day.
Given that Oman is in a steady state of construction, the dust in the air can also cause respiratory problems to those prone to dust allergies and breathing issues. When moving to Oman, the following vaccinations or boosters are generally prescribed:
• Hepatitis A
• Hepatitis B
• Meningitis
• Rabies
• Influenza
• Diphtheria
• Polio
• Measles, mumps and rubella (MMR)
• Pertussis (whooping cough)
• Tetanus
You should also consult your doctor or general practitioner for any other medications or vaccines that you might need to take before your trip.
Healthcare in Oman
The Sultanate of Oman provides free healthcare to all its citizens and to people from other GCC (Gulf Cooperative Council) countries through its public health plan. In fact, healthcare is a right for all citizens according to the constitution of Oman. Article 12 of Oman's Constitution holds the government's social security system responsible for citizens and their families in case of sickness, emergencies, incapacity and old age. Healthcare in Oman is classified by the Sultanate in 3 broad categories:
• Primary – Complete primary care and wellness through all local clinics, hospitals and health centres in the governates and regions.
• Secondary – Specialist healthcare services provided by fewer referral health centres and hospitals in Oman.
• Tertiary – Advanced services that require cutting-edge technology and doctors with superior skill sets. These hospitals, mostly located in Muscat, act as referral hospitals for all health centres.
The standard of public hospitals is quite high, with most of them housing excellent modern facilities to combat illnesses. Despite not having many water resources, the Sultanate has managed to provide safe drinking water to homes and industries through the country. Sanitation systems are also in good shape which has helped in decreasing the chances of contracting infectious diseases.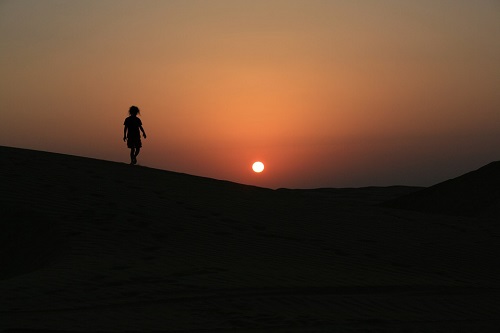 Adjusting to the heat in Oman can be difficult
Steps have also been taken by Sultan Qaboos and his government to decrease infant and maternal mortality rates. The mortality rate of children below 5 years of age has decreased by an impressive 94%. The immunisation rate of infants against diseases like tuberculosis, diphtheria, polio, whooping cough, tetanus and other such diseases has gone up to 98%. The current life expectancy has also reached 74 years.
Communicable diseases like typhoid and measles, which were once widely prevalent in the country, have almost been eradicated. These efforts have been very instrumental in shaping Oman's healthcare system and bringing it to a better position globally.
There are currently about 59 major hospitals in the country and about 900 clinics and health centres spread across its span. 49 of these hospitals – roughly 87% – belong to the central government. There are over 5,000 workers in the health and wellness industry in Oman. Each major city or town houses one state-of-the-art hospital with highly trained doctors in all spheres of modern medicine.
The demand for medical facilities doesn't generally take a toll on the infrastructure of the country. The proportion of medical supply to the needs of people is considerably high. A lot of the medical workforce in Oman are foreigners, which is a clear indication of the country's booming healthcare system.
Foreign doctors looking to practice in Oman must get their qualifications verified by the Ministry of Health and Ministry of Interior before they start working in the country. This is ideal for expats who aren't well versed with Arabic as the majority of the medical staff is well versed in English, especially in private hospitals. The government has also undertaken efforts to encourage young Omani people to contribute more to the healthcare industry in Oman.
Foreign expatriates however don't get a lot of benefits of the Sultan's universal healthcare system. This is the reason why most foreign expats choose private hospitals for treatment and medical care. Expats in government jobs and their families are also eligible for free healthcare in public hospitals and clinics.
Despite foreign expats not being a part of the public healthcare plan, the emergency units of all public hospitals in Oman are legally obliged to admit medical emergencies for people of all nationalities. Emergency services are well maintained at all public and private healthcare centres across Oman. The national emergency hotline for healthcare services is 9999. It is advised that you arrange for transportation to the hospital, as ambulance services are sparse.
Expats must register themselves at a nearby primary care centre for accessing any kind of medical service. Most of the areas in the country are within a five-kilometre radius from a health care centre. For serious ailments that would need a specialist's diagnosis you can get a recommendation from your general practitioner.
However, for non-urgent treatment of illnesses, expats have to visit a private hospital and the fees have to paid for immediately, and often in cash. The Burjeel Medical Centre at Al Azaiba is the preferred choice of most expats when it comes to foreign hospitals. While the facilities and technology in these private hospitals are excellent, the prices can be a bit steep. Hence it is highly recommended to have a private health and medical insurance policy when traveling to the country.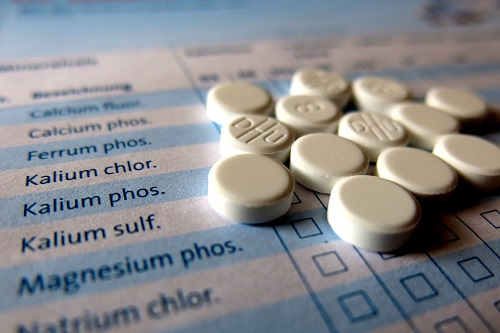 Check that your medication is not banned in Oman
If you're moving to Oman as an employee, the chances are that your employer has already paid for your insurance plan. The government however does not make it mandatory for employers to provide employees with insurance. Therefore, it is advisable to verify the terms of the plan. Sometimes, these plans are limited in the options where the insurance is valid or exclude a few non-public clinics and hospitals. Some plans might not cover a range of medical services such as dental hygiene and mental health issues. It is very important to speak to your employer about your needs and negotiate a plan that works well for you.
When finalizing on a medical insurance plan one should ensure that the policy includes:
• Air ambulance to your home country in case you need to fly back in an emergency
• Complete medical cover for all healthcare bills
• Cover for the medical care of your dependents against diseases and travel related sickness
• Cover to transport the body home in the unfortunate scenario of death
There are ongoing talks to make health insurance mandatory and easily accessible for all expats in Oman. The Oman Chamber of Commerce and Industry plans to bring this into effect from 2019. This would be good news for foreign nationals working in Oman in the private sector. The bill aims to make healthcare more affordable for everyone and would go a long way in promoting expat life in Oman.
Medication
Medications are easily available at most local pharmacies. There are quite a few 24-hr medical stores in Muscat in case of an emergency. It is recommended that you discuss your health care with the authorities in regards to which medicines are commonly found in the country. While most medications are easily available over the counter, make sure the medicines you need aren't banned in Oman. If the medicines are banned, check with your physician to see if there are alternative ones you can purchase.
A lot of anti-depressants are banned in the country, so expats with depression must discuss the best options with their doctor before arriving here. If you do need to carry medication that is banned in the country, it is advisable to carry a doctor's letter as proof stating that you require the medication and why. Some pharmacies may require a local doctor's prescription as opposed to a foreign doctor's. This is readily available after a consultation at any healthcare centre.
Learning a few key words in the local language can help speed things up, even though most healthcare professionals you find will be proficient in English. If you're traveling to less populated areas of Oman, get a map or directions to the nearest healthcare centre and local pharmacies for emergencies. Carry a first aid kit with you at all times, as you never know when it will come in handy. Carry a record of your recent medical history when you travel to help doctors in Oman if you end up being hospitalized.
Once you have your insurance covered, there isn't much more to worry about. You will find that your healthcare needs will be attended to quickly and in a professional manner. Once the motion for better expat healthcare is passed, Oman will become an even more enticing option for expatriates from all over the world.
Have you lived in Oman? Share your thoughts in the comments below, or answer the questions here to be featured in an interview.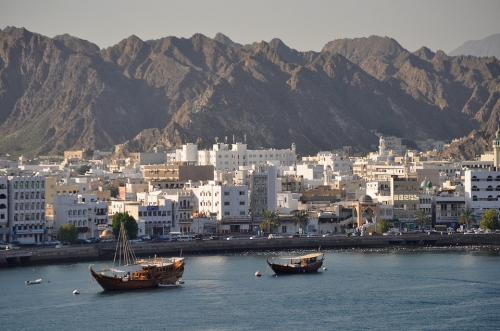 The Southeastern corner of the Arabian Peninsula is home to the most welcoming monarchy of the Gulf, the Sultanate of Oman. This country is like a gentle introduction to the Middle East, as it is one of the safest and most peaceful places in the region. Even in the current times, it has managed to stay relatively unruffled by the political and economic crises affecting other nations in the area. In spite of its modern infrastructure and new development, you will find glimpses of ancient traditions and beliefs everywhere you turn.In the last few decades, this Sultanate has grown by leaps and bounds. Today, it offers numerous education, career and business opportunities to locals as well as outsiders. Its high earning potential is a major attraction for people from all across the globe. At present, more than 40% of the residents in this country are from overseas. The majority of the foreign nationals choose to live in the capital city, Muscat.
The influx of outsiders has put a strain on the limited resources, which is why the cost of living in certain areas, especially rental accommodation, has skyrocketed. Fortunately, reforms in local laws have been made to curb these costs. Many immigrants are choosing to own houses, instead of leasing them on a long-term basis.
Expat housing options all across this Arabian destination are of a high standard, ranging from compact apartments in high rise condominiums to luxury villas and town houses. Up until a decade or two ago, foreigners had no option but to rent their homes because they were not permitted to buy property in the Sultanate. However, things changed in with the introduction of "Vision 2020". This plan aims to diversify the economic base of the country in order to reduce dependence on oil revenues.
In December 2002, citizens of Gulf countries were granted the right to own real estate for investment and residential purposes. In February 2006, this benefit was extended to people of all nationalities, as long as they met certain criteria. However, the non-GCC expats could only purchase houses in the Integrated Tourism Complex (ITC) developments. Up until a short while ago, foreigners could buy property in select areas, which included Al Mouj Muscat (formerly known as The Wave), Blue City and Muscat Hills Golf & Country Club.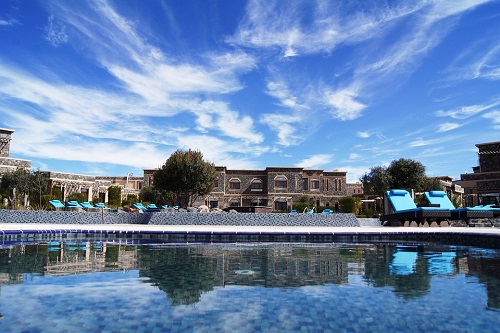 Many expat properties come with amenities like access to a pool
In the last few months the Omani government has been making plans to open up additional areas for foreign investors, in order to boost the real estate market. The revised recommendation will include the allocation of special zones for expats to purchase houses. Properties in these areas will be available at more reasonable prices compared to the tourist complexes.
If you are looking to move to this country on a permanent basis you may want to think about making an investment in the housing market. Under the current laws, expatriates who own property in the ITC developments are automatically entitled to get residency rights for themselves as well as their families. As a result, the growing number of immigrants has fuelled a real estate boom in certain cities.
In the past, tourist complexes have dominated the expat housing markets in terms of value and growth. These developments are extremely popular among homeowners as well as tenants, with limited vacancies and high rents. Even though prices fell in 2009, the properties continued to be in demand because of their superior design and facilities. According to local real estate experts, resale values of these apartments are stable.
Potential homeowners have now started leaning towards residential properties that are available at lower prices. As per the most up to date sales transaction numbers from the National Center for Statistics and Information, the volume of transactions increased within the first two months of 2016 but the actual traded value went down significantly, from Omani Rial or OMR 1 billion (US $ 2.6 billion) in January and February 2015 to OMR 563 million (US $ 1.4 billion) in January and February 2016.
Apart from the ongoing interest in the ITC developments, there have been many "off plan" sales of new apartment complexes in Muscat. However this demand has been primarily driven by the locals, not foreign investors. These developments include the following.
Ruwi, East of Center
This is the main commercial and business district of the capital and the prices of a 1-bedroom apartment are likely to start at OMR 30,000 (US $ 77,812). Apartments with 2 and 3 bedrooms are also on the market, with their starting prices being as low as OMR 45,000 (US $ 116,868) and OMR 60,000 (US $ 155,824).
Qurum
In Muscat's most up-market suburb, the prices of houses are:
• 1-bedroom apartment – In the range of OMR 38,000 (US $ 98,688) and OMR 45,000 (US $ 116,868)
• 2-bedroom apartment – Starts from OMR 65,000 (US $ 168,809)
• 3-bedroom apartment – Starts from OMR 85,000 (US $ 220,750)
Al Khuwair
Being one of the coastal areas in the capital, this is quite popular with expats. Prices are:
• 1-bedroom apartment – In the range of OMR 38,000 (US $ 98,688) and OMR 45,000 (US $ 116,868)
• 2-bedroom apartment – Starts from OMR 65,000 (US $ 168,809)
• 3-bedroom apartment – Starts from OMR 85,000 (US $ 220,750)
Bausher
Since this is one of the newly established areas of Muscat, the prices are still on the lower side:
• 1-bedroom apartment – In the range of OMR 33,000 (US $ 85,703) and OMR 45,000 (US $ 116,868)
• 2-bedroom apartment – In the range of OMR 45,000 (US $ 116,868) and 65,000 (US $ 168,809)
• 3-bedroom apartment – In the range of OMR 70,000 (US $ 181,794) and 75,000 (US $ 194,780)
Al Mawella, East of Center
This is one of the more reasonable areas:
• 1-bedroom apartment – Starts from OMR 25,000 (US $ 64,926)
• 2-bedroom apartment – Starts from OMR 30,000 (US $ 77,812)
• 3-bedroom apartment – In the range of OMR 35,000 (US $ 90,897) and 40,000 (US $ 103,882)
In spite of an economy that is undergoing bouts of instability at the moment, the housing market is expected to remain steady in the coming months.
In January 2017 the Times of Oman published an article about how expats buying homes under Omani names could face strict action. This followed a study conducted by the Ministry of Housing, which showed that many foreigners are choosing to purchase houses outside of the freehold areas by entering into illegal agreements with locals. These contracts go against the regulations of the country and those found guilty of such practices are likely to be dealt with harshly.
Engineer Siham Al Harthi, the Director General of the Real Estate Development at the Ministry of Housing, stated: "We know that there are expatriates who are buying properties under the name of an Omani they either know or through a contractual agreement between them. This is illegal. A study is currently being discussed about allowing expats to own real estate development properties outside the ITC areas. This study is more of a regulation and [a measure to] organize the real estate market". He explained that regulating the market would help potential buyers see that their investment is safe, since they own it 100%. This move will also allow the government to know which areas are in higher demand with foreigners.
With the change in regulation, new taxes are likely to be imposed on the purchase of property, since the Sultanate is free of the property tax law and the ITC areas are free zones.
One of the biggest advantages to purchasing real estate in the Gulf is that you pay low income taxes compared to other countries. All rental revenues are charged a flat rate of 3%. As an individual, you do not pay capitals gains tax on your property, unless it has been derived from a professional or a business activity. In such instances, the rate is 15%. Inheritance taxes don't exist in this country either.
Upon purchasing property in Oman the buyer is liable to pay a registration fee of 3%, along with a stamp duty and a small application fee to process the paperwork. The costs incurred by the seller are almost nil. If you seek the services of an agent or an attorney (which is highly recommended), you should consider their fees as part of your expenses too. Buyers are often given the option of a "buy off" plan, but this involves a holding deposit, with regular payments to be made for the entire duration of the construction process, till the contracts are completely signed over and the property changes hands legally.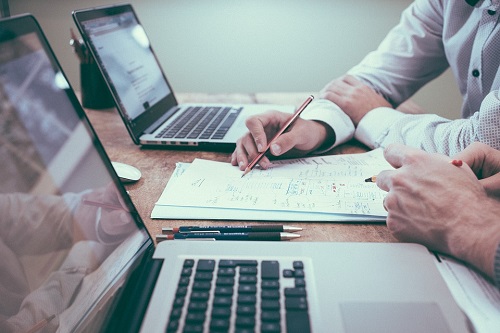 It is worth hiring someone to help you go through the legal paperwork
Since foreigners are only given permission to purchase property in certain developments, you will find concentrated expat areas. Of course, the prices in these neighborhoods are bound to be higher, because of the demand that has been created by the restriction. However, that is not the only reason for the premium prices. Most of the ITC developments offer amenities such as swimming pools, gyms, laundry rooms, tennis courts, shops, restaurants and even golf courses. Many houses, especially villas, have a room for domestic help too.
As soon as you purchase property in this Sultanate, you are entitled to gain residency of the country immediately. This benefit is extended to your immediate family members too. The visa application should therefore be made without any delay. While the procedure is fairly straightforward, it can be a bit too much for someone who is not familiar with the local laws. It is therefore best to have an agent, or preferably an attorney, guide you through the entire procedure.
As a homeowner, you can leave your property to anybody in your will. It is essential to have a will specifying who is going to inherit all your assets within Oman. If no heir comes forward, the property will be taken care of by the Ministry of Tourism and will go back to being owned by the government after a period of 15 years. If the owner faces deportation for any reason, they have the right to sell the property.
It is also possible for you to buy real estate with the prime intention of letting it out to someone else. In fact, since this trend is still in its infancy, there is immense potential to make money through rentals. Many expats are therefore choosing to take this step. A number of international companies are recruiting foreign workers with the offer of accommodation in their packages. These organizations are willing to pay high amounts for properties that are well maintained and come with all the amenities. If you are interested in leasing your house, it may be a good idea to approach one of these companies, but only after you have consulted a lawyer.
The reforms in Oman's property ownership rights have given hope to many potential expats who are thinking about buying more reasonable real estate in this country, for residential or investment purposes. However, before making any decision, do keep in mind that the lifestyle of this country may be different from what you are used to, and regulations can be altered at any time. It is therefore highly recommended that you live in the Sultanate for at least a few months before making any kind of investment. Also, whereas the tax rates in this country are very low, you are likely to pay taxes on any property owned here back home too. It is therefore essential that you speak with a lawyer in your home country before you sign on the dotted line.
Further Reading
Global Property Guide
Times of Oman
Have you lived in Oman? Share your experiences in the comments below, or answer the questions here to be featured in an interview.
Who are you?
I'm Freddie Sayers, a 36 year old expat working in the construction industry.
Where, when and why did you move abroad?
I moved from the UK to Canada in 2001 for an internship in Edmonton, Alberta.I chose to go to Canada because my girlfriend (now wife) was in Canada. We then spent some years in Toronto. In 2007 we moved from Toronto to Muscat, Oman.
What challenges did you face during the move?
Moving to Canada was relatively easy, no culture shock or language barriers. Moving to Oman was…. interesting.
Are there many other expats in your area?
Both Canada and Oman are full of expats.
What do you like about life where you are?
I have a good job that allows me to spend time with my family. My commute is less than 10 minutes so I can get home quickly and spend time before and after work with my family. While the summers here are horribly hot, the winters more than make up for it with exceptionally good weather.
What do you dislike about your expat life?
In Oman, you have few rights, and if you are told you're leaving… you're leaving. Friends come and go, it can be very hard when long-term friends leave.
What is the biggest cultural difference you have experienced between your new country and life back home?
True freedoms – you're only here as long as your visa allows you to be here – you can't purchase a home here unless it's in very expensive specially assigned areas and so really it's a transient lifestyle.
What do you think of the food and drink in your new country? What are your particular likes or dislikes?
It's my opinion that the food and drink here is pretty much international and you can eat and drink pretty much whatever you like. As for traditional Omani fare… I find it bland and it's not my favourite. Indian food here is varied and amazing!
What have you learned from living abroad?
You get what you pay for, long-haul flights are horrible, true friends stay in touch and people who don't travel sometimes do not comprehend having a different point of view on something.
What advice would you give to anyone following in your footsteps?
When you close your door of your home, make it your home. Paint the walls, buy some artwork and hang it. It's too easy to live in a white-walled place because "you are renting". Make it your home – it'll make a difference.
What are your plans for the future?
Keep working at my job and saving money for a house in Canada.
Would you like to share your experience of life abroad with other readers? Answer the questions here to be featured in an interview!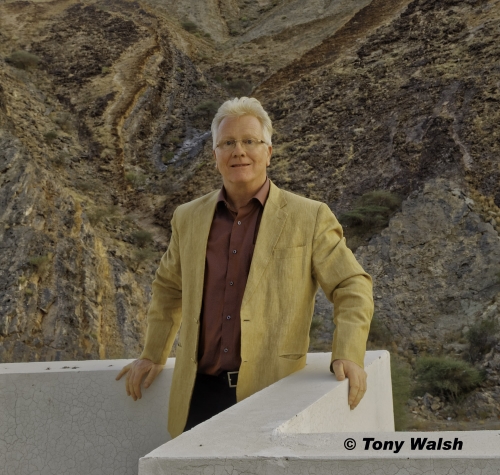 Who are you?
Well, I'm very different from the person I was when I first moved away from my home country. My name is Tony Walsh and have been fortunate to have had so many great cultural and work experiences away from my home country, England.Where, when and why did you move abroad?
In 1986 I moved to Muscat in Oman which is an extraordinary country on the south-east of the Arabian Peninsula. The reasons for my moving were many and essentially looking for a change. Because Oman wasn't well known and I was moving as an individual working for a local company it was to a large extent a step in the dark.
What challenges did you face during the move?
The move itself was easy as I was single. I arrived into Muscat in the morning on a British Airways flight in March and was met at the airport by the company driver, who had no English. I had no Arabic and even if I had it would have been of no use as he was from Kerala in the south of India. This encapsulated probably the major challenge I faced, the country was decidedly multi-cultural and coming from an England that, at the time, was still a mono-culture I was faced with the need to make considerable changes to my way of working and interacting with people. The company needed a rapid re-organisation for it to become successful and this coupled with all the new cultural issues meant that my learning curve had to be near vertical.
Are there many other expats in your area?
Oman, like other countries in the Gulf Co-operation Council (GCC) , has a large proportion of expatriates. When I arrived about 20% of the population was expat and when I left, in 2016 it was around 50%. This means that, especially from EurAsia, there will be people working in Oman from each country. In Muscat this is especially so – and you will find expats from say India, who are General Managers in major banks or sweeping the streets; it's a fantastic mix.
What did you like about life where you lived?
The thing I especially liked was that in work, though it was often a challenge, it usually was possible to find solutions to problems rather than dead ends even though the bureaucracy was considerable. The other thing was that people in general were more engaging that they usually were in England when I left, or was it me that changed!
What did you dislike about your expat life?
The major thing was the need for 'sponsorship' which means that a national or organisation in the country holds legal sway over your work and residence. This is a common issue in all the GCC states and, in my opinion, is not an effective political or economic situation.
What is the biggest cultural difference you have experienced between Oman and life in England?
Probably the sense of community. This does appear to be a natural Asian attribute and is something that the Oman government has actively worked on.
What do you think of the food and drink in Oman? What are your particular likes or dislikes?
I am frankly an easy person to please for food, although I of course enjoy gourmet dining as most people do. In general the food and drink are excellent, especially in 'local' restaurants / snack places. The style veers towards Indian subcontinental, which is hardly surprising considering the proximity of Oman to Pakistan and India. Food is rapidly prepared and is as a result fresh. As an Islamic country alcohol is not widely available and as a result a plethora of fresh fruit juices area available that are amazing, again prepared for you the way you want. The other favourite is tea with the recent explosion of 'Karak Tea' which is a spiced tea.
What have you learned from living abroad?
So many things, a book full! Certainly acceptance of cultural differences and how to achieve results despite those differences as well as language barriers.
What advice would you give to anyone following in your footsteps?
Firstly moving into a different country for a couple of years or more is a positive thing and in your home country the lessons learnt in the foreign country are likely to be an extraordinary asset for you. Unless you intend to live in a 'bubble' it's good to actively understand the culture and ask about areas that are perplexing. It also goes without saying that learning as many words in a local language as you can will be beneficial to you.
What are your plans for the future?
I'm fortunate that I'm not only self employed but am able to work in any location. I enjoy the stimulation of living in a very different culture I look forward to finding another one that I gel with.
You can keep up to date with Tony's adventures on Twitter, and find a copy of his book, Bradt Guide Oman, on Amazon (UK | US).
Would you like to share your experience of life abroad with other readers? Answer the questions here to be featured in an interview!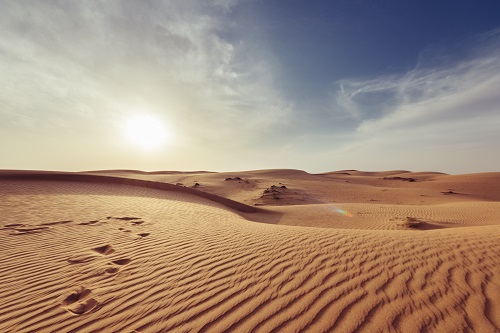 Tucked away on the southeastern corner of the Arabian Peninsula, the Sultanate of Oman is the most welcoming monarchy of the Middle East. In a time where the other nations in the region are going through political, economic and civic crises, this developing oasis has managed to steer clear of all the mayhem. While it may not be as modernized as the United Arab Emirates, this country is a lot more progressive than many of its neighbors. Potential expats looking for new and unique educational, professional or entrepreneurial opportunities in the Gulf are therefore looking at Oman as the place to be.More than 25% of the country's residents are citizens of the United Kingdom, the United States, Canada, Australia, New Zealand and South Africa. Many westerners are mesmerized by the landscaped highways, sunny coastline, dramatic mountains and distinct architecture they see in the capital city, Muscat, which is home to the majority of the expat population.
Of course, like in the case of any other place, life in Oman has a number of ups and downs. Professionals planning to move to this destination should only do so if they have a definite offer from a reputed firm. This may be a challenge, thanks to the ministry's Omanisation drive.
What is Omanisation?
In 1988, Oman's government enacted a policy which was aimed at replacing expatriate workers with local personnel. They set quotas for each industry, where a certain percentage of the employees had to be Omani and no more than a specific percentage of the workforce could be from overseas. To maximize the effectiveness of their mandate, the government has funded a number of universities to help increase the number of skilled locals. A higher quality and quantity of Omani graduates are driving a hiring boom all over the nation.
The organizations that meet the required goals receive a "green card", which means some amount of attention from the press, as well as preferential treatment in their dealings with the municipal authorities. Recently, one of the officials was quite candid when saying that those organizations that don't meet the set target "will not find a friend in the Ministry of Commerce and Industry".
This move is bound to have an adverse impact on the recruitment of expats from all over the world. According to reports published by some of the leading manpower agencies in the country, more than 80% of all the existing job postings are only open to Omani nationals. In fact, data show that for the last two years, skilled and qualified locals have been chased by headhunters, as the companies are trying to meet the targets concerning the local workforce.
The Minister of Commerce and Industry, Dr. Ali Bin Mas'oud Al Sunaidi, recently stated that an Omanisation rate of 35% was expected in most organizations and warned them about the consequences if they failed to adhere to the target. Most of the businesses in the private sector seem to have heeded the message, as an upsurge of jobs for Omanis can be observed. The Ministries have already reached 100% Omanization, which means that foreigners cannot be hired for government jobs. However, there is a freeze on jobs in the public sector, which is why the locals are seeking opportunities in the private sector.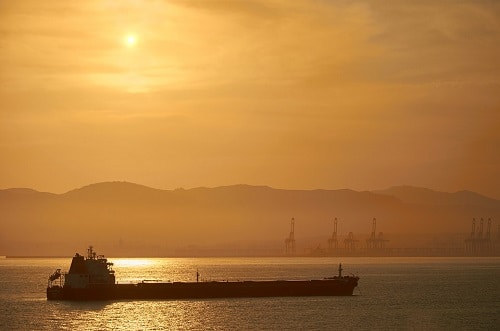 The oil industry has a high Omanisation quota
© Raw2Jpeg on Pixabay
In the private sector, the areas that have met the required percentages are:
• Communication, Transport and Storage: 60%
• Finance, Insurance and Real Estate: 45%
• Industrial: 35%
• Hospitality (Hotels) and Food & Beverage (Restaurants): 30%
• Trading (Wholesale or Retail): 20%
• Contracting: 15%
Employers should keep in mind that the targets don't just apply to the overall organization, as per the industry, but also to the people working in specific categories. For example, the quota for the engineering field is 50%, with the highest being 80% for skilled workers and 70% for technicians. Similarly, accounting firms have a target of 29% for managers, 55% for specialists and 66% for technicians; 100% of the people hired in administrative and clerical positions have to be local. In the oil and gas sector, the level is 90% for the production and operation companies and 82% for firms that are in direct service.
While the government organizations as well as the oil and gas sectors have registered up to 90% Omanisation, some industries, like construction, are still lagging way behind, with their numbers in single digits. Things may get worse for those who have not met the quota, as the authorities are planning an upward revision of the targets.
Is Omanisation responsible for fewer expat vacancies?
Up until 3 years ago, about 50% of the job vacancies across the country were open to foreigners. However things have changed drastically since then, as the number of openings for Omanis has increased by a huge margin. What is surprising is that not everyone is in agreement about the reason for the boost in demand for Omanis.
One of the top managers in the nation's leading recruitment agency has attributed this change to the fact that in the last few years, the citizens of this country have fared extremely well at college as well as in vocational studies; many of them have degrees from well reputed institutes overseas. More companies are now willing to hire them, instead of outsiders. Another expert in manpower hiring trends clarified that the dramatic increase in the demand for local employees was only partly due to Omanisation. He added that the quality of graduates also played a major role in this shift. Some believe that the tightening of visa requirements for expats has also helped increase the preference for locals. Others are of the opinion that an economic slowdown has made firms more aware of the Omanisation percentage as they shy away from spending high amounts on expat packages, which often include visa expenses, accommodation, healthcare, education (in case of children), conveyance, and domestic services.
On the other hand, a majority of recruitment gurus claim that the strict Omanisation quota that companies need to adhere to is the primary reason for the rise in opportunities for the country's talent.
This doesn't mean that outsiders can't get good jobs in Oman. Dr. Al Sunaidy reiterated this fact during his speech at the Oman Industry Day event. He started off by highlighting the role expats play in the economy of the nation. At the same time, he made it clear that companies failing to meet and maintain the minimum Omanisation percentage were not fulfilling their social responsibilities. In his opinion, many of the foreign companies with offices in Oman have been quite successful in attained the Omanisation rates but the local firms were struggling to do so. He urged the top management to take complete ownership of this drive.
The Minister of Commerce and Industry stated "I'm aware of the contributions made by the expat doctors and engineers to develop the country. We know that we need them. However, when we talk about jobs that can be done by Omanis but are instead given to expats, it is a problem. Why can't we give the job to an Omani who has the expertise to do it well?" He added that organizations achieving and exceeding the set percentages should be appreciated through special incentives. The decision makers were called upon to discuss this further with the Ministry.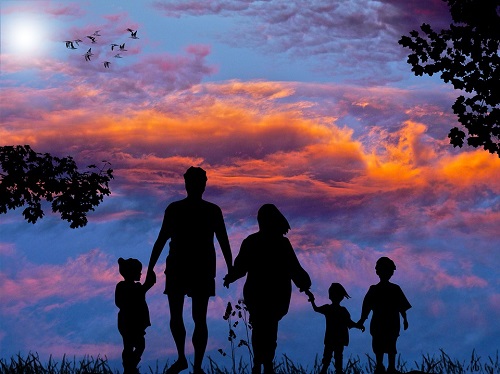 Expat relocation packages often cater to the whole family
© bykst on Pixabay
Getting hired by local firms or multinational companies in this country isn't as easy as it used to be, even for those who have special skills. In order to get an offer of employment and obtain a work permit for Oman, an expat should have a minimum of 8 to 10 years' experience in the same relevant field. It is rare to come across vacancies for foreigners with under 3 to 4 years of work experience, no matter how qualified they may be.
Expats are asked to read up on the lifestyle in Oman and connect with other foreigners living in the region before accepting any job offer, no matter how tempting it may be. Bear in mind also that the living and working culture will probably be quite different from what you are used to.
Other challenges of working in Oman
Changing jobs is one of the main issues that expats working in this country face. A company that hires a foreigner on a fixed-term contract has to invest a lot of time, money and effort into getting them an employment visa, flying them in and helping them settle down. If any of them decide to quit the job before their agreement expires, they are required to leave Oman for a minimum of two years before they can return and take up another position. This means that it is compulsory for expats to complete their contracts, even if the work conditions are less than favorable. Failure to do so will have them banned from working in the country for two years, unless they manage to obtain a No Objection Clearance (NOC) from their employers. However, even after getting the NOC and a new job offer, they have to leave the country for a while and can only return after they get a fresh work visa that has been sponsored by their new employers.
When it comes to decision making, the final authority rests with the locals in the top positions, who may have a slightly conservative approach to business matters. Foreigners in upper management roles are given a lot of duties and responsibilities, but almost no power to make crucial decisions.
It is also important for outsiders to familiarize themselves with the work culture of the Arabs in order to have positive interactions with their clients and stakeholders. Values like respect, honestly, loyalty and humility are highly appreciated and will give you an edge in terms of fostering cordial relationships with everyone. Avoid disagreeing with someone openly and never put a colleague down, even in jest, or you may offend people around you.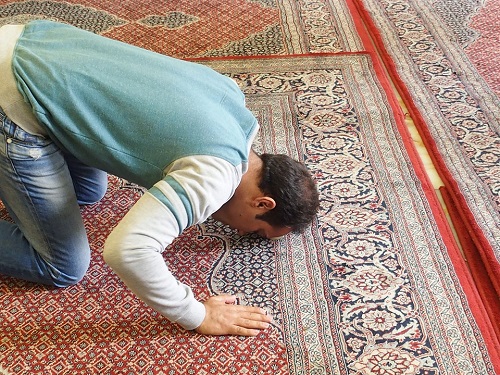 It is important to respect the religious beliefs of those around you
© rudolf_langer on Pixabay
Islam is prevalent in every aspect of Omani life, even at the workplace; prayer times and other religious practices like fasting during Ramadan are often given more importance than meetings or calls. Do keep this in mind during all your interactions with the locals.
While English is widely used and understood, colleagues usually converse with each other in Arabic, even during important meetings. Similarly, English may be the main language for office communication but most of the government documents are printed only in Arabic. It is therefore best to learn the language as soon as possible or hire a good interpreter.
Working hours in Oman can be long. Depending on the policies of the industry and the specific company, the employees work anywhere between 40 and 48 hours a week. This may be higher during the month of Ramadan, as the working hours for Muslim employees are cut down to under 6 hours a day, to accommodate their fasting schedules. Also bear in mind that gulf nations observe Thursday and Friday as their weekend, not Saturday and Sunday; many businesses stay shut only on one day of the week.
Even though women constitute a significant portion of the Omani workforce, at times female expats encounter resistance. In some cases, a person may insist on interacting with a male representative instead of a female, regardless of how qualified and able she is. Fortunately, these instances are not very common.
To conclude, the Omanisation drive may prevent you from finding a good job opportunity in the Middle Eastern Sultanate, unless you are a highly qualified, skilled and experienced professional, more suitable for a role in upper management. Even if you do manage to get an offer that suits you, make sure you weigh all the pros and cons carefully before signing the dotted line.
Have you lived and worked in Oman? Fill in the questions here to be featured in an interview!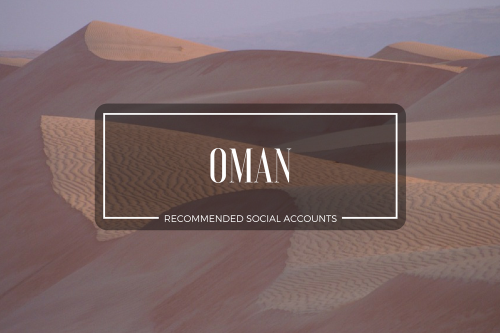 At Expat Focus, we like to be on the lookout for resources around the web that could help prospective expats adjust to their new countries. Today, we're taking a look at Oman and some of the social media accounts you should be following if you're thinking of moving there.The Duncan Adventures
Facebook page | Instagram
Heather Duncan is a wife, mum, blogger and Scottish expat living in Muscat. If you need any motivation to get out and explore your new home-away-from-home, Heather's feed will give it to you in spades. She regularly posts photos and videos of her family's activities in the great outdoors – think lots of kayaking and climbing, or how about a ride in a tandem paratrike above the Omani coastline? You'll also be plugged in to Omani events. Add some Duncan Adventures to your 'following' list and be inspired to live your expat life to the full.
The Muscat Mutterings
Facebook group
This is the Facebook page of what is known as Muscat's busiest English language blog on life and events in Oman. Its author is a Western expatriate who has been living in the Sultanate of Oman since 2007. On the page you'll find lots of recommendations for where to eat and go out. There's also local news, suggested activities for families with young kids and frequent giveaways. The group owner even gives followers the heads up on road closures and when he spies great shopping deals.
Women's Guild in Oman
Facebook page
With more than 3,000 members, the Women's Guild in Oman aims to offer fellowship, an opportunity for women to connect, share information and experiences – and raise funds for charity. This is a very active group that welcomes new members with open arms. They always have an upcoming meetup (or three!) for newly-arrived expats to dive right in and learn from those who have been in the country for many years. There's a weekly coffee morning held at various spots around Muscat, a buy and sell portal and various benefits to being a guild member.
Oman Tripper
Facebook page
Exploring Muscat and beyond, Ali is an engineer and self-confessed couch potato who happens to also be very passionate about nature, the outdoors and photography. His is a great page to follow if you want to know where to get out and explore in Oman. Ali and his friend Riyadh try to hit the outdoors every other weekend, and they film/shoot/write about the places they visit. They're also very happy to answer questions from followers, whether they are planning a relocation, or need tips and advice for a shorter visit to Oman.
The Sewist
Facebook page | Instagram
Mayya was the first Omani woman to start a YouTube channel. Through her videos, blogs and Facebook posts she hopes to change the image the west have of muslim women. Mayya was born to her local father and a French mother – and she speaks four languages. Expat followers are given 'real' insight into this 30-something mum's life, and she shares everything from recipes to fashion and beauty tips, outfits of the day and hijab tutorials.
Arabesque
Facebook page
This Facebook page is technically for books written about the Middle East, however followers quickly discover that it's an even more useful feed. Updates cover everything from the latest visa permit changes to tips for coping with the summer heat. There's Omani company/local business news and the writer – a British expat – also reflects on events happening both in the Middle East and beyond.
Buy/Swap/Sell Oman
Facebook page
Featuring 5,000+ members, this page does what it says on the tin; allows Omani expats and locals to list their goods for sale, or get hunting for a bargain. Furniture listings feature heavily but you can also find items like clothing, air conditioning units, cars, plane ticket transfers and gas cylinders.
Omani Paws Rescue
Facebook page
Cute kitten and puppy photos alert! If you're passionate about animals, you'll find a like-minded community in this group. It brings together people who have been working with stray cats and dogs in Muscat. They work to Trap, Neuter, Release and rehome fur babies, be they after injury or abandonment. They also raise awareness about animal welfare. If you're looking to take in a cat or dog in need, this is also an excellent resource to see which animals currently need loving homes.
Oman Observer
Facebook page | Twitter
This is the longest-running and most trusted English-language daily newspaper in the Sultanate of Oman. It covers local, national, regional, and international news paying special attention to Oman's economic development, the country's natural, historical and cultural wealth. Follow these social media accounts to stay up-to-date and access the Oman Observer e-paper.
Living in Oman
Facebook group
This is a group for expats to share their experiences of living in the country. Posts cover all aspects; from settling in to immigration, traffic rules, social activities, schooling, shopping and more. If you've just made the move or are preparing to, you'll find this group to be an excellent resource and way to connect with other expats in your new home.
We're always on the lookout for more accounts to feature – if you write about living in Oman on social media, leave us a link in the comments and we'll take a look!
Would you like to share your experience of life abroad with other readers? Fill in the questions here to be featured in an interview!