Croatia is a beautiful country, with a rich history, a hot climate and a delectable cuisine. Whether you are living in the country or just visiting, you will find many opportunities to keep fit and well, from walking and hiking to using indoor and outdoor gyms. There are also numerous water sports available along Croatia's picturesque coastline.Sports are popular in Croatia, with football being particularly so at both a professional and an amateur level. The Croatian Football Federation has about 118,000 registered players. There is also a lot of enthusiasm for handball, basketball and water polo. Tennis is another favoured sport, and Croatia has some top players, such as Marin Čilić and Goran Ivanišević.
You will find that even urban Croatia has some great places for walking and running. Marjan Park in Split, for example, has some stunning views of the Adriatic. You can map out trails through the park and, since it is hilly, you can vary the level of your workout. The park also has equipment you can use, such as suspension straps.
You may also want to visit Biokovo Mountain, situated next to the Dalmatian coast, which is described as "a mountain with roots in the sea and head in the clouds." It's a good choice for those who want to split their time between walking and visiting the beach.
The Croatian coastline is so lovely that travellers are sometimes inclined to ignore the mountainous regions further inland, but if you are interested in trail hiking and mountain walking (whether or not you have mountaineering experience), then the interior of Croatia offers some fantastic choices.
You may like to explore Sveti Ilja on the Pelješak Peninsula, as well as Plješevica Mountain and the Plitvice lakes. If you are planning on hiking in the mountains, remember to take plenty of water (and something to eat), as there are unlikely to be options to buy sustenance along the trails. You may also want to bring a light waterproof with you and a jumper, as mountain regions can become suddenly cold, and do not forget to wear suitable footwear. Make sure, too, that you descend before dark, as some trails can be treacherous underfoot.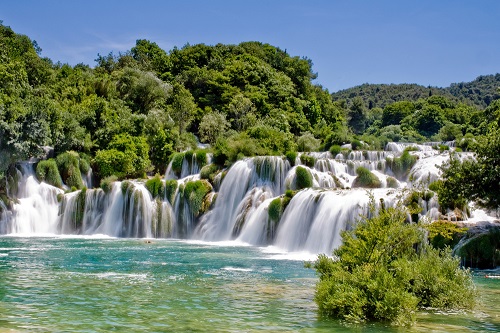 Croatia offers some fantastic opportunities for trail hiking and mountain walking
If you enjoy winter sports, then you may wish to experience skiing in Croatia. The country has some top ski resorts, such as the Sljeme ski resort, which is not far from Zagreb. The Snow Queen trophy (slalom races for both women and men) takes place every winter. Croatia has produced a number of gold medalists.
If cycling is your thing, then you will have plenty of opportunities in Croatia. You can hire a bike and strike out on your own, or join a local guide for a cycling tour. You can choose to cycle along the more rugged interior terrain, beside the Dalmatian coast or in some of the islands. Biking Croatia can sort out all the logistics for you and can make suggestions for tours based on your cycling experience. You can also combine boat and bike tours.
If you enjoy water sports, then Croatia's coastline allows for a range of activities you might want to take part in. You can try kayaking, sailing, parasailing, canoeing, rafting, paraboarding and swimming. You might even want to have a go at jet skiing. Make sure that, if you are learning one of these activities, you sign up with a registered instructor (do not be afraid to ask for proof of qualifications). Ensure, too, that your insurance covers you for any injuries – some policies may not cover extreme sports.
Golf is increasing in popularity, and you can sign up for a golfing holiday, on which you will discover some high quality courses. The sport did not used to be popular in Croatia, which for years had only three courses, but it is now being promoted by the tourism authorities, and new courses are being planned for Dubrovnik, Zadar and Split.
Horse riding holidays are also an option, and these can be great for those wanting to see the countryside at a leisurely pace. You will be able to sign up with a tour that suits your particular level.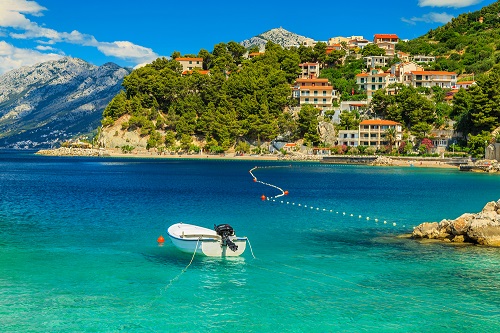 Croatia's coastline allows for a range of water sports
You will find a good range of both indoor and outdoor gyms. The island of Hvar hosts fitness holidays, based around running, swimming, powerlifting, Olympic lifting, gymnastics and functional fitness.
Eating healthily in Croatia should not present you with too many problems, especially along the Dalmatian coast. Seafood, vegetables and fruit all feature in the national cuisine, which is sometimes described as basic but with plenty of fresh ingredients. Oily fish, such as sardines and mackerel, play a big part in the Croatian diet, and rice dishes, such as risotto, also feature. Croatia is famous for its oysters. The proximity of Croatia to Italy has resulted in a strong Italian influence on Croatian food, and the country's olive orchards mean that olive oil is used in abundance. Croatian cuisine is often described, justifiably, as Mediterranean.
Vegan travellers say that it is reasonably easy to access vegan food in Croatia. Non-dairy milk is found in grocery stores, and there are plenty of dishes that don't contain meat.
If you have a chronic illness, you should make sure that you bring enough medication with you for your trip, and take your medication in its original packaging, in case you need to take it into a pharmacy. Bring your prescription with you, too.
Lastly, if you are resident in the country, make sure you safeguard your mental and emotional health. Monitor your alcohol consumption, make sure you eat properly, get plenty of exercise, and keep in contact with friends and relations. If you are working in Croatia, you will be signed up with the national health insurance scheme, and you must be registered with your local family doctor.
All in all, Croatia is not a difficult country in which to stay fit and well!