Blessed with an abundant amount of sunshine all year round, the Republic of Cyprus sits at the intersection of Europe, Asia and Africa. The Jewel of the Mediterranean boasts varied topography, which includes golden beaches, ragged cliffs, glittering bays, lush forests, awe-inspiring ruins, and volcanic hills. The people are known to be warm, welcoming and respectful towards outsiders. This island has therefore gained a lot of popularity with people from across the globe.For many years now Cyprus, a former British colony, has also been attracting expats from all over the world, especially senior citizens from the United Kingdom. In addition to its natural beauty and great weather, it offers high living standards at relatively low costs, primarily in terms of accommodation, healthcare and education.
Unfortunately, the island suffered a major banking crisis not very long ago when the European Union imposed certain measures in exchange for a bailout loan. This had a huge adverse impact on its overall economy, causing it to shrink even further. Some expats who had invested large amounts of money lost their savings. Since then, the cost of living has gone up significantly, along with the property prices.
In the past, potential homeowners from all over the world were drawn to this island mainly because of the incentives they received from the government, which included tax breaks, title deeds at discounted prices, and the chance to obtain a citizenship of the EU. Moreover, up until a few years ago, the island had not recovered from the recession of 2008 and the property prices were fairly low. The surplus of expat housing options also made the market more competitive for buyers. However, after seven long years, the housing market in Cyprus showed improvement amid a recovering economy as the price fall is decelerating. Since 2014, property prices in Cyprus have been on the rise and finding reasonable houses is no longer very easy. You may have to look around a lot before you finally find a property that is within your budget. Below is a brief guide to buying property in Cyprus, without getting a raw deal.
Reasonable Housing Options
The development of the property market in the country increased its appeal to buyers, which in turn pushed up the prices. A number of off-plan development properties were made available to Cyprus, as the in-demand resorts continued to grow. Houses in the popular neighborhoods became highly expensive and the previously undeveloped areas began to offer schemes that were constructed to attract potential buyers from overseas. You can easily find an overwhelming choice of brand new and recently-built houses in Cyprus.
The traditional properties on this island can be seen in the form of villas and townhouses, located in the city center, suburbs and rural areas. There are plenty old, refurbished houses in quaint, village-like settings, but within driving distance of the major cities. Most expat buyers show a preference for houses in these areas, mainly because of the lower costs.
Certain investors are attracted to the north of the island, on the Turkish side, mainly because of the low prices. However, it is imperative for people to understand the potential risks associated with this area before making any kind of decision. The issue of a clean title is a problem that has been faced by many.
Unfortunately, it is no longer easy to purchase reasonable property in this country, unless you head for the less popular suburbs. In the most well-developed and picturesque areas, your best bet will be to buy a slightly dilapidated house and fix it up to make it a more habitable home.
Expats from the UK, France, Spain and Portugal often claim that property prices in Cyprus are quite reasonable, even after the steady rise the market has been experiencing. However, it is important to note that this sentiment stems from a comparison to countries where the earning potential is also relatively high. People from countries that have a weaker economy will not have the same opinion as the Europeans.
Costly Housing Options
The coastal areas are the main draw for foreign investors and you will therefore come across a number of properties of different types, in close proximity to the sea. From studio apartments to luxury villas, developers can offer something to suit everyone's needs. Needless to say, these properties tend to be among the most expensive.
Keeping the glorious climate in mind, it is no surprise that golf is more than just a hobby with most of the residents; it has become a growing industry in the recent times. The Cypriot authorities aim to develop nine courses across the island. Many of the properties available are located on these courses. These are, of course, among the most exclusive and therefore priced highly.
Housing Hotspots
The Island in the Sun has several locations that may be of interest to property buyers from overseas. However, some of them tend to be a lot more expensive than others, because of the quality of housing as well as their high demand. The most popular areas are below.
Paphos
The Culture Capital of the island, Paphos boasts a rich cultural heritage and numerous attractions like the Adonis Baths Water Falls, the Kato Paphos Archaeological Park and the Tombs of the Kinds. With its natural beauty and a wide variety of high-quality property, this has become one of the most sought-after regions in Cyprus. Families with children also prefer residing in this area, since it has a number of good local and international schools. Paphos has its own airport and hospitals; at the same time, it is well connected to the other locations across the island.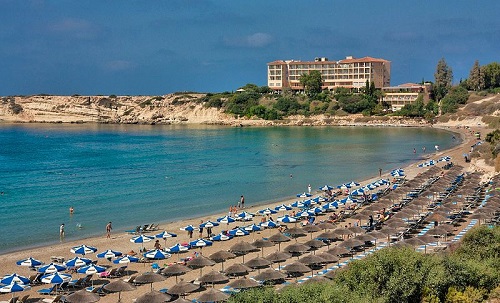 Paphos is a popular expat property destination
© Paul Lakin on Wikipedia
Fortunately, people can find houses to suit their preference by the sea, close to the beach, on a golf course, or in the middle of nature. Depending on the location you choose, you are likely to pay –
• Between € 100,000 (US $ 111,975; £ 87,412) and € 230,000 (US $ 257,542; £ 201,048) for a 2-bedroom apartment
• Between € 200,000 (US $ 223,950; £ 174,824) and € 325,000 (US $ 363,918; £ 284,089) for a townhouse
• Between € 410,000 (US $ 459,097; £ 358,389) and € 510,000 (US $ 571,072; £ 445,802) for a villa
Since the prices of property on this part of the island are rising faster than the rest of the country, it is important for potential investors to move fast.
Limassol
Often regarded as the second capital of the island, this region is a hive of activity, with a number of high priced apartments and a wide choice of prime property. Depending on the state of the property and the area, you are likely to pay –
• Between € 130,000 (US $ 145,567; £ 113,635) and € 170,000 (US $ 190,357; £ 148,600) for a 2-bedroom apartment
• Between € 170,000 (US $ 190,357; £ 148,600) and € 230,000 (US $ 257,542; £ 201,048) for a townhouse
• Between € 200,000 (US $ 223,950; £ 174,824) and € 425,000 (US $ 475,893; £ 371,501) for a villa
The lower range of prices is indicative of the village areas that tend to be a lot cheaper than the rest of the island. However, a majority of these properties are old and require an extensive amount of renovation.
Some expats are open to the idea of purchasing old village houses and repairing them but not many estate agents like to deal with such properties. You will therefore need to ask around, if you are looking for one of these houses. The best person to contact in this case is the Village Head. You will also be able to bargain when purchasing such properties.
The thought of living in a charming village may seem quite appealing but this lifestyle is only recommended for those who like absolute peace and quiet.
Larnaca
Thanks to its beautiful beaches and international airport, Larnaca is a great region for homebuyers on a limited budget. This locale is not far away from the Paralimni resort, a place that offers the cheapest property on the island. The range of prices in Larnaca is –
• Between € 85,000 (US $ 95,178; £ 74,300) and € 170,000 (US $ 190,357; £ 148,600) for a 2-bedroom apartment
• Between € 185,000 (US $ 207,153; £ 161,712) and € 200,000 (US $ 223,950; £ 174,824) for a townhouse
• Around € 255,000 (US $ 285,536; £ 222,901) for a luxury villa, with a private pool
The prices of property are rising at a fast pace but Larnaca is still cheaper than some of the other regions, in spite of being home to some of the most stylish apartments and penthouses.
Other locations
Contrary to the common belief, Nicosia is not the most popular place with holiday home buyers, primarily because it is quite far away from the sea. Expat professionals and businesspeople tend to favor this region but most of them prefer to rent, instead of buying property.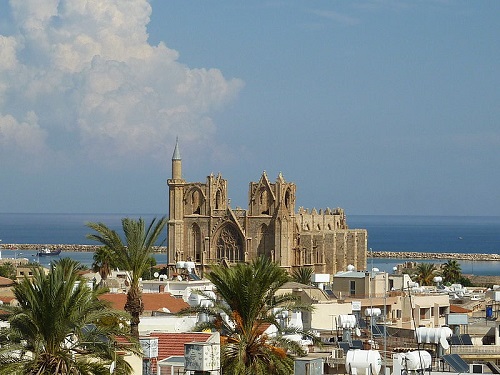 You can find some good deals in Famagusta
© Chris06 on Wikipedia
Famagusta, a ghost town located in the heart of the country, was the most glorious resort of the Mediterranean in the 70s. However, its reign as paradise for the tourists and islanders came to an abrupt, untimely end after a Greek military coup in 1974 and the invasion of Turkish forces. Today, a part of the region is still guarded fiercely by Turkish troops and remains sealed off completely with barbed wire. The two principal resorts in this region are Agia Napa and Protaras. Depending on the type, size and condition of the property you decide to purchase, you can pay anywhere between € 100,000 (US $ 111,975; £ 87,412) and € 275,000 (US $ 307,931; £ 240,383).
Getting The Right Price
Unless you are very familiar with the real estate market in Cyprus, you may get ripped off when trying to purchase property. Never contact a buyer directly after seeing an ad online or in the newspaper. Also, do not jump at the first deal you come across, no matter how good it may seem, until you have conducted a thorough investigation of the premises.
It is best for you to engage the services of a licensed and experienced agent, who will be able to negotiate the transaction on your behalf. It may also be a good idea to consult an attorney as you will definitely need some guidance on the entire procedure, which can seem quite complicated, especially to a foreigner.
Financing Property Purchases
In spite of being a foreign citizen, you should not face any trouble if you decide to apply for a mortgage with a Cypriot bank or financial institution. The interest rate as well as the terms and conditions are quite competitive compared to other countries. In 2014, the Central Bank of Cyprus dropped the rates of interest on loans to stimulate lending, consequently increasing the demand for residential property.
The banks on this island grant a loan-to-value (LTV) ratio of 70:30 on mortgages. As a buyer from overseas, you also have the option of taking a loan in foreign currency, for a maximum period of 15 years. However, most potential investors prefer to make a purchase when they have the money, or by obtaining a loan in their home country.
To summarize, property prices in Cyprus are definitely on the rise but it still remains one of the better locations for investors from overseas. Finding reasonable property is possible, though not as easy as it used to be a few years ago. It is imperative that you look around, or preferably engage an experienced local to help you with your search, negotiate if necessary and guide you through the entire procedure.
You should also bear in mind that rentals are still not very high on the island and it may be a while before you see the returns you were expecting.
Have you lived in Cyprus? Share your experiences in the comments below, or answer the questions here to be featured in an interview!