Estonia may not have the biggest expat community, but in Tallinn and Tartu, it's starting to gain traction—especially with families, international students and young professionals.This is, in part, thanks to the country being among the most advanced in terms of digital and tech industries. Another contributing factor is that many diplomats and politicians choose to call it home, as it is a member of the EU and NATO.
Regardless of what brings you to Estonia, the combination of new-age tech and medieval old-town vibes is bound to offer you a unique experience. If you're looking to move to the country and have already found a property, then next you'll need to consider your banking options. This article will take you through what you need to know about setting up a bank account in Estonia.
Can non-residents open a bank account in Estonia?
They sure can! Whilst many countries in the EU ban non-citizens from opening an account, Estonia does not. However, you must prove that you have a link to the country in order to open a bank account without citizenship. This can be done through having a job, owning property, or by starting a business in the country—something which is easily done through Estonia's e-residency programme.
The e-residency programme is a government-issued digital identity/status that enables digital entrepreneurs to manage their business online, whilst providing access to Estonia's digital business environment. It doesn't automatically guarantee that you'll be able to open a bank account as a non-resident, but it can help, and it enables both Estonians and foreign-nationals to manage their life-admin online.
If you're an EU citizen, the process of opening a bank account will have far fewer roadblocks!
What bank should I open an account with?
At the moment, Estonia doesn't have an international bank offering in the country, so opening an Estonian element to an existing account won't be an option. But Estonia does have numerous Scandinavian and local banks that operate in the country.
The banks that come most recommended include:
• SEB Bank
• Nordea Bank
• Swedbank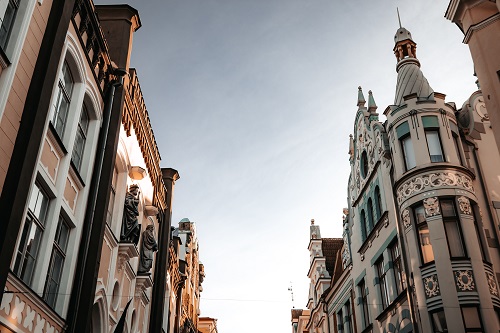 There are numerous Scandinavian and local banks that operate in Estonia
Danske Bank used to operate in the country, but after a huge money laundering scandal, it had to close down it's branch there.
The opening hours of these banks vary, but you can typically expect them to be open between the hours of 8 am and 6 pm, Monday to Friday.
How do I open a bank account?
If you're a resident of Estonia or have an active e-residency, you'll be able to open a bank account online. However, if you'd like to open a bank account online but do not have an e-residency, you'll need to apply for this first. Otherwise, you'll need to visit a branch in person, as many of Estonia's services still operate in a face-to-face capacity.
Once you have decided which bank is best for you, go there in person and let them know that you'd like to open an account. A bank advisor will discuss your finances and status and will let you know what account options are available and suitable for you. They will then ask you to complete an application form, which will be reviewed. You'll hear back from the bank within five days, at which point they will let you know whether your application has been successful or not.
If you're not granted an account, it's important to ask why, so that you know which criteria you did not meet. You're always welcome to apply again, so you can make sure that you meet the criteria before your second attempt. Alternatively, you could approach a different bank.
What documents do I need to open an account?
If you are granted an account, you'll need to go back to the bank to officially open your account. When you do this, you'll need to take the following documentation with you:
• Proof of identity – for this, you can use a passport, an Estonian driving license, or an EU-citizen identity card
• Proof of a residential address – for this, you can use a utility bill for items such as gas, water, or electric; alternatively, some banks will accept a signed rental contract
• Proof of your connection to Estonia – for this, you can use your business details, a deed to your Estonian property, or an employment contract; if you don't have any of these things, the bank may consider your application if you have an Estonian ID and residency permit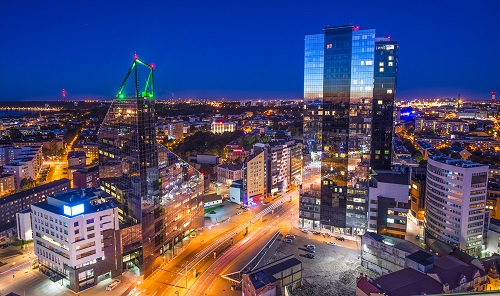 To open an account in Estonia, you will need a number of documents, including proof of your residential address
Are there any banking fees involved?
Almost all banking services have a fee attached, but the type of fee will depend upon what type of bank account you have. The most common fees you'll face are:
Account handling fees
The fees in this category vary greatly, from monthly fees to one-off setup fees. For example, when opening a bank account in Estonia, you may face a charge of a few hundred Euros. Alternatively, you may have a set service, such as unlimited transactions and withdrawals, for a set monthly fee. If you're not sure what type of fees you'll be facing with your account type, it's always best to ask upfront, as you don't want to find yourself unprepared.
ATM fees
If you only use ATMs provided by your bank, you won't have to worry about ATM costs. However, if you use a different bank's ATM, you may face a fee for doing so. This is typically around 1 EUR + 2.5% of the total transaction, but it can vary from bank to bank.
International transfer fees
Perhaps the most common fees are for international bank transfers. These are perhaps the largest fees you'll face, as banks always charge for international transfers, and you may also get stung by exchange rates. Some banks hide these fees in their exchange rates, so it's always worth checking what the current currency exchange rate is before you request a transfer. If your bank account fees for transfers are too high, there are third-party providers you can use.
To summarise, whilst it may seem like there's a lot of red-tape in Estonia, the reality is that, once you have your residency (or e-residency) in place, the process of opening a bank account is fairly simple. Just make sure that you ask questions, and don't be afraid to spend time comparing banks and account types before you commit to any.