Although Egypt may not be the first place that comes to mind when considering expat-friendly destinations, the country is becoming something of an expat hotspot, in part due to its unique culture and constant sunshine. As long as you stay alert to the ever-changing political situation there, you will most likely find Egypt an accommodating and friendly place to settle down.If you're planning to move to Egypt, there are a number of things you'll need to consider, including with regard to your finances. This article will take you through how to open a bank account in Egypt.
Do you have to be in Egypt to open a bank account?
If you're planning on working and living in Egypt long-term, it makes sense to open a bank account, as you'll need a way to manage your finances. With a local bank account, you can pay for goods and services without hefty fees and exchange rates. Also, your employer will be able to pay your salary directly into your bank account.
Most banks will stipulate that you must have lived in the country for at least six months in order to open an account. However, different banks will have different requirements—with some having even tighter restrictions than this.
With most banks, you are unlikely to be able to open an Egyptian bank account from abroad, as there are a number of documents, as well as a minimum deposit, that need to be provided in person. However, there are some banks (such as HSBC) that will allow you to open an international bank account, and this can be done from your home country. This process is relatively straightforward, although you will still need to supply a range of documents, including proof of residence (in your home country), proof of employment, and proof of salary.
An international account will allow you to manage your finances in a number of countries. You can open one in your home country at your local branch, or in Egypt when you arrive, meaning that there is no need for you to have been living in Egypt for six months first.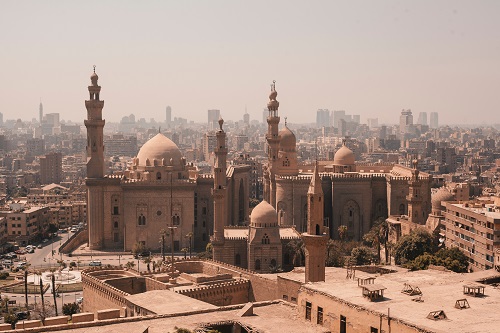 With most banks, you are unlikely to be able to open an Egyptian bank account from abroad
What banks in Egypt are suitable for expats?
Egypt is home to a large number of banks, including a range of international banks. There are two types of bank accounts available for expats to open in Egypt: savings and current. Major credit card companies also operate in Egypt.
The most suitable banks for expats in Egypt include:
• Arab Bank Egypt
• HSBC Egypt
• Bank Audi
• Mashreq Bank
• Emirates NBD
Opening hours vary, but banks in Cairo and other cities are usually open from 8:30 am to 2 pm from Sunday to Thursday. Some branches may stay open until 5 pm. You should try to avoid visiting the bank before vacation days, as you'll likely have to queue for a long period of time.
Larger banks in Egypt are generally very good and are well-catered for expats. However, it's always worth checking our third-party reviews and asking for advice from other expats.
What documents are needed to open an account?
Opening a basic bank account in Egypt is relatively simple, although you do need to be a resident before you can do so. To open up a bank account, you will need:
• A valid national ID or passport
• Your residence permit
• Passport-sized photos
• The minimum deposit (the amount needed will depend on the bank)
• A completed (and signed) application form
In many cases, you will also need:
• Proof of employment (such as an HR letter or a tax card)
• Proof of residence (utility bill or rental contract)
• Proof of salary (such as a payslip or a signed letter from your employer)
• Salary transfer letter
Are there any fees involved when opening a bank account in Egypt?
You will need to pay fees to open a bank account in Egypt, but the amount these will cost will depend on the bank you choose to open an account with.
An account opening fee of around 30 Egyptian Pounds per customer is typically required, and you may pay a similar amount as a monthly account fee. You will need to have finances available when you open your account to pay these, but they are the equivalent of just a couple of dollars, making it inexpensive to open a bank account at many Egyptian banks.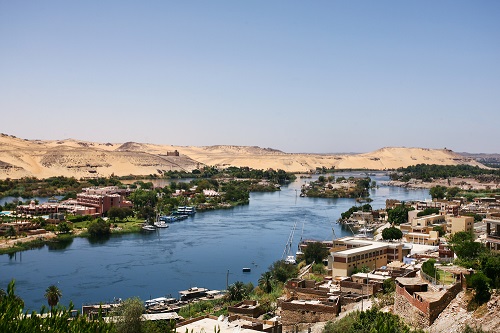 An account opening fee of around 30 Egyptian Pounds per customer is typically required
Before you open your bank account, find out as much as you can about the fees. While some banks require just a few Egyptian pounds to open an account, others may ask for up to several thousand. You should ask any questions you have about fees before you commit to a bank, as well as any questions about the interest rates you may face for investing or borrowing.
Many banks in Egypt offer competitive interest rates, and if you are opening a savings account, you'll need to take note of these. They are usually calculated monthly and will be credited to your account every year.
It's also common to have to pay ATM fees in Egypt when you withdraw money using another bank's ATM. These are only a couple of dollars per transaction, but they can soon add up. When choosing which bank to go with, it's worth checking the locations of various ATMs to try and minimise the charges you may face. Banks in Egypt are generally good quality, so going with a branch that's local to your residence is a good way to decide who to bank with.
You'll have to pay a large amount to move money between accounts in different currencies. For this reason, it's best to have your salary paid into an Egyptian bank account and use this as your spending money while in the country. Most banks will charge a flat fee for international transfers, and if you are planning to make a lot of these, you should find out about transfer fees from various banks before you choose which one to go for.
When you arrive at your chosen bank, you will be assigned a customer service number. When your number is called, you can proceed to a teller window. You should find that most bank employees speak very good English and that the entire process is relatively smooth. Bank forms will be available in English, and the process should take less than an hour, provided you have the correct documents.