There are a few options open to expats living in Finland, when it comes to arranging finances. Some choose to maintain an existing account in their home country, which can be useful for things like paying recurring bills back home. Others choose to open an international account with their existing bank, which may eliminate or reduce penalties on moving currencies across borders. There is also the option of using a borderless account, such as TransferWise. However, generally speaking, if you're going to be moving to Finland long-term, then your best option will be to open a local account.Opening a local account in Finland will make it easy to receive your salary, pay bills, get a mortgage, and establish a credit history in the country. It will also serve as a means of electronic identification when you register with any government web pages for things like paying tax or job seeking.
By law, Finnish banks are not allowed to discriminate based on an applicant's nationality. Every bank in Finland must provide basic account services to anyone who has a legal residence in an EEA member state. However, this really can be a minimum account at first. You will get your account number immediately, but your card may not come through for a few days, and you may not get online access for up to three months. Ultimately, your account will be as functional as any native Finn's, but it may be worth factoring in the limitations on your banking activities when planning ahead for your Finnish residency.
Some of the most popular banks in Finland include:
• Aktia
• Danske
• Handelsbanken
• Holvi – this is the only bank listed here whose native website is in English
• Nordea – this is the largest bank in Finland, with hundreds of branches and ATMs across Finland and Scandinavia as a whole
• OP Group – OP will let private customers open accounts in different currencies, free of charge
• S-Pankki (online only)
• Säästöpankki
Many other Scandinavian banks have a presence there. The only bank from further abroad is Citibank.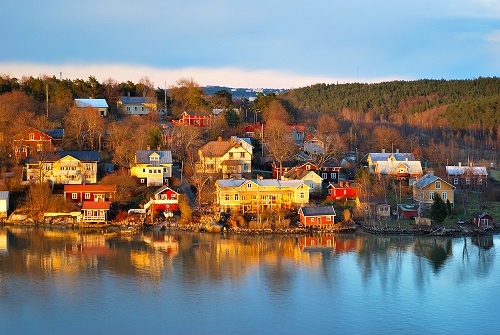 Generally speaking, if you're going to be moving to Finland long-term, then your best option will be to open a local account
Opening a bank account in Finland is fast, easy and free. In principle, all you will need to do is turn up at the bank with your documents prepared. Almost all the personnel there will speak English, so there will be no need for you to take a translator. It will be worth making an appointment, as this can help you avoid long waiting times and give you the chance to confirm exactly what documents you need to take. Normal banking hours in Finland are from 9.15 a.m. until 4.15 p.m.
While the process of opening an account is free, once you are signed up, you will probably have to pay a nominal monthly fee of around 2 euros, and there will be further possible fees based on what services you are using. However, check your bank's fees in advance, as they may vary even between customers and may depend on how much business you do. The more products you have and the more business you do through your account, the cheaper the fees may be.
If you are not a resident in Finland, then you can still open an account, as many banks have special 'international account' offers for just such cases. The requirements for supporting documentation will vary from bank to bank, so check these by contacting the bank in advance. There may be additional requirements for international accounts that do not apply to residents, and limits may be placed on what you can do with the account. However, you should still get all the usual minimum services.
Assuming you are opening an account as a resident, you will be expected to provide the usual baseline documents. For EU residents, these will be:
• Your passport
• An additional form of photo ID – this can be an official document issued by any government, not just the Finnish one, so, for example, your driving licence from your native country will be sufficient
• Proof of your address – for example, a utility bill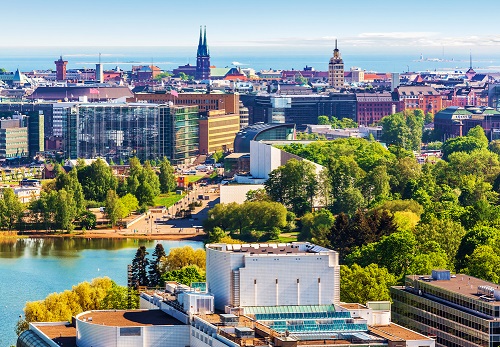 If you are not a resident in Finland, then you can still open an account, as many banks have special 'international account' offers
Non-EU residents (and possibly EU residents too, depending on your bank) will also need:
• Your personal Finnish ID number (henkilötunnus), if you have one
• Your residence permit or visa
• Your Kela card – this is a personal health insurance card, entitling you to be covered by the Finnish residence-based social security scheme
You will also be interviewed informally about things like your occupation, your salary expectations, and whether the account you're setting up will be your main account that your salary will be paid into.
You will need to establish whether (and when) you will get access to online banking, as it may not be automatic. Check also that your card can be used as a debit card to pay for services, rather than just to withdraw cash from ATM machines.
You will be able to ask for your statements to be sent to you in a particular language; the options are usually Finnish, Swedish or English. If this is not made clear to you, then make sure you request it, as otherwise your statements will probably be sent to you in Finnish by default.
Note that e-banking is incredibly popular in Finland. You may use cash to pay for services, for example in a shop or a restaurant, but generally payments are made either with a debit card or electronically, from one account to another. If you want to pay cash into your account, then you may be asked to confirm where it has come from. You may also need an appointment to do this, as not all banks provide paying-in forms.
Also note that you will not receive a cheque book. Cheques have not been used in Finland for at least two decades. You can pay a cheque from someone else into your account, but it may be a lengthy process, and again it will probably require an appointment. If the cheque is only for a small amount, then it may be largely eaten up by processing fees.