Who are you?
I am Katrin Lindenbauer, originally from Austria and happy to gain experience abroad for more than two years.
Where, when and why did you move abroad?
When I was younger, I could not imagine myself living anywhere else than in Austria. I had a lack of self-confidence and considered myself as an introverted person that could not make it alone "out there".I experienced mixed opinions from friends and family. However, I felt confident enough to accept a new challenge that would help me to grow personally. I decided on an international study program, which led to my first experience abroad in 2015.
I stayed three months in Russia and after that three months in Italy. I went back home after that for about a year. My thirst for discovering new places and cultures led me to a one-year internship in the Netherlands. This was my first experience where I had to organize everything on my own. Honestly, this was the best decision I could take!
One year passed and I needed to look for another job opportunity. I had no concrete destination in mind and, finally, ended up in the beautiful South West of France in Bordeaux. I would have never expected that I would ever live in France, but surprises are just waiting around the corner!
What challenges did you face during the move?
The first thing that comes to my mind when thinking about my latest move is the language barrier. I was confident enough that my French skills from years in school were good enough to get around. It turned out to be tougher than expected. I was maybe a bit spoiled from my stay in the Netherlands where most people speak perfect English.
This went hand in hand with the challenge of finding a flat. The city is becoming increasingly popular among people, which makes is difficult for foreigners and for French people to find a place to stay. The market is really competitive and if your French language skills aren't that advanced, it will be a bit tougher.
How did you find somewhere to live?
I was a bit lucky in this. I received support from the company that I was going to work for. An agency helped me to look for flats. I found a short-term solution in a shared flat, but it took me two months to find a flat to stay in. If you plan to move to Bordeaux, I would recommend organizing your flat search well in advance.
Are there many other expats in your area?
Indeed, there are more expats here than I expected. Different associations offer networking events for internationals and locals. There are plenty of opportunities to meet some like-minded people if you are up for it! Especially during the week, there are many things going on.
What is your relationship like with the locals?
I recognized that international networking events also attract many locals. I met some French people there, but it is not always easy to build up a stronger connection to them. Locals most of the time already have a social circle. If you don't speak French very well, it can sometimes be difficult to get fully involved in a group of French people. However, this cannot be generalized! With some efforts you will get to know French people that you get along with.
What do you like about life where you are?
I like the city of Bordeaux. It is filled with different facets and never-ending opportunities to discover something new. I think that this gives living here always an exciting touch! Neither too big nor too small with many charming streets and corners that you can easily fall in love with!
The neighborhood Chartrons, where I am residing, has a very relaxed atmosphere. The delightful streets get filled with life on sunny days. This makes you want to be part of it and spend the whole day outside. The whole city becomes really vibrant in spring and summer and offers plenty of events. There is just something for every taste!
What do you dislike about your expat life?
I do not really dislike any aspect in the expat life, but what I do miss most is my family and friends from home. You cannot meet up with beloved ones from home at any time. For me it required some time and efforts to create a circle of trusted people here, whom I meet on a regular basis.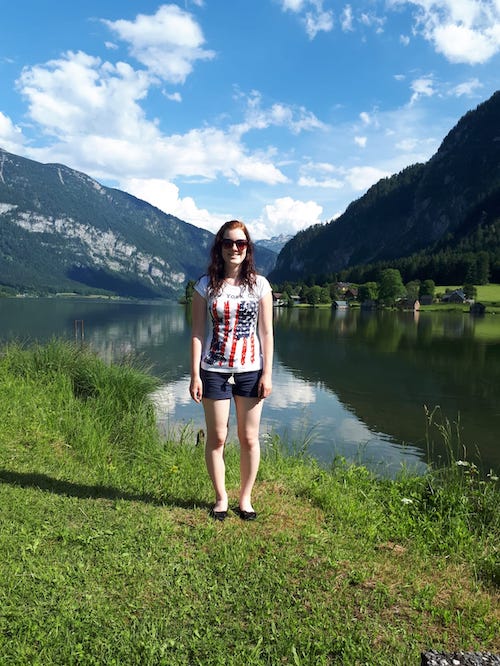 What is the biggest cultural difference you have experienced between your new country and life back home?
I recognized very fast the differences in the work culture. I am working in an office and people usually start working between 9-10 in the morning. A daily routine for most employees is to go straight away for a coffee and have a long chat with colleagues. It seems like kind of a tradition where even non-coffee drinkers participate but just with a cup of tea!
In addition, here you have more flexibility when it comes to working hours than back at home. If you take a lunch break of two hours, it is fine too. Just make sure to get your work done or stay a bit longer if needed. Honestly, I like these aspects of the working culture here.
Back home in Austria, everything seems a bit more rigid. It is more common to have fixed breaks and people start work usually a bit earlier. Even at home people love coffee, but it is less common to start the day with a race to the coffee machine. Obviously, this varies from company to company.
What do you think of the food and drinks in your new country? What are your particular likes or dislikes?
In general, the quality of food is really high in restaurants. Usually, they attach great importance to how they present dishes to customers. I think the French cuisine is very diverse and in typical restaurants they seem to value the use of good products. I can tell you that this is a feast for the eyes!
Here in Bordeaux bakeries are full of baguettes, bread, croissants and much more sinfully delicious and sweet pastries. I absolutely enjoy that, but I miss salty pastries from Austria. They are common for breakfast and as snacks or lunch.
When it comes to drinks, Bordeaux wines count as very delicious. I am more than satisfied with the range of drinks here!
What advice would you give to anyone following in your footsteps?
If you plan to move to Bordeaux or France put some effort into learning the language. I think this is one of the best pieces of advice that I can give. Learn some very common phrases to be prepared for the basic challenges that you might face.
I discovered something interesting. With an "Est-ce-que vous pouvez parler en Anglais?" you will realize that it's easier to get a response in English than if you just start a conversation in English. Sounds weird? It is at least a funny thing that I experienced here! You should try it out! It does not matter how your French sounds, but most of them will appreciate your effort anyways.
As I mentioned before, it is advisable to start your flat search well in advance before moving. Finding a flat takes time and real effort. Take some time for it and you will not be badly surprised. Check out housing platforms and dedicated social media groups. If you have friends from the city or country you are moving to, ask them for some local tips or platforms that you might not know about. It is also worth considering agencies if you are not successful.
What are your plans for the future?
I plan to be here in Bordeaux for at least another year. There is still so much to discover, and I will definitely make a France trip next spring. Now I am also building my own blog to share meaningful tips with other expats and inspire people to go and discover something new abroad. Apart from this, I have nothing planned! Life always brings surprises!
You can find Katrin on LinkedIn, or send her an email on anexpatontravel@gmail.com.
Would you like to share your experience of life abroad with other readers? Answer the questions here to be featured in an interview!