Anyone who has ever considered moving abroad will inevitably have spent a lot of time thinking about the impact such a move might have on their living standards. Of course, what constitutes a good quality of life for one individual or family may be different from another. Generally speaking, though, there are some good ways of measuring quality of life, such as local education, job opportunities, access to services, transport and housing.According to Mercer, there are 10 main points of consideration that come together to form a ranking system of the World's best cities for expats to reside in. These are recreation, housing, economic environment, consumer goods availability, public services and transport, political and social environment, natural environment, socio-cultural environment, schools and education and finally medical and health considerations.
Based on these factors, this year's top 10 cities have been revealed…
1. Vienna, Austria
2. Zurich, Switzerland
3. Vancouver, Canada
4. Munich, Germany
5. Auckland, New Zealand
6. Dusseldorf, Germany
7. Frankfurt, Germany
8. Copenhagen, Denmark
9. Geneva, Switzerland
10. Basel, Switzerland
Vienna, which has now topped the list for a decade, reigns supreme, with Zurich a close second. Western Europe dominates both the ranking on quality of life and the new personal safety measure, with Luxembourg rated the safest city in the world.
So, What Makes A City Great For Expats?
The top three cities in the list, Vienna, Zurich and Vancouver, have something in common that other cities further down the list (including London in 41st place) do not; that is, a relatively low population density. This may mean more jobs, better access to health services and schools, and less pollution. Urban cities such as Shanghai (103) and Tokyo (49) have fared less well in the ranking, although job opportunities are often good in these localities. Good international and local transport links are vital for expats, particularly those relocating for a job that will involve lots of travelling.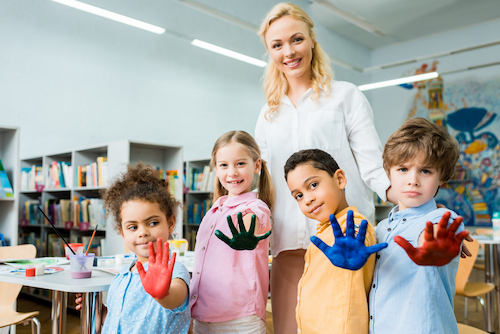 Childcare is an important part of life abroad for many expats
For expats with young families, great schools and universities are a non-negotiable factor. Another key element is the friendliness of the local people to newcomers; after all, everyone wants to feel welcome and accepted when they move abroad. Speaking the language can have an impact on how quickly you can integrate as well as contributing to overall happiness; it will also open up more employment opportunities.
Spotlight On Vienna
Having spent a decade consistently topping the list of best cities in the world for expat quality of life, Vienna is clearly doing something right. But what makes it so special? The Austrian capital is divided into districts which are different enough to satisfy most requirements an expat might have.
Whether you're young, single and looking for vibrant nightlife, a young family looking to live the good life or anyone in between, Vienna has it all. The city is surrounded by green space, mountains and vineyards, so has a clean, countryside feel to it.
Due to its popularity, finding a Wohnung (apartment) in Vienna can be tricky – more than 50% of the city is dedicated to state housing, meaning the private rental market is rather bijou and can be competitive. The process is also expensive as you will be expected to pay the estate agent's commission, which is typically two month's rent. As in many cities, shared accommodation is an option if you are making the move to Vienna alone.
For families with school-age children, Vienna has many high-quality international schools that follow the national curriculum from their students' home country. The city is also full of child-friendly culture, including museums and theatre shows.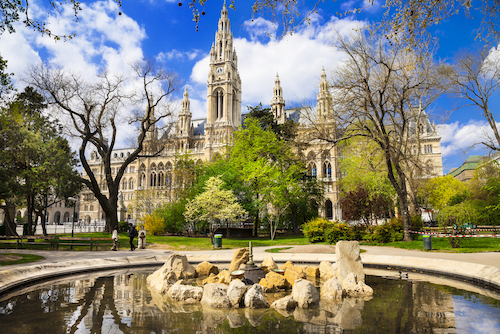 Vienna has topped the survey for many years
Whilst the majority of Viennese people speak English, which is another positive for a lot of expats, learning German can provide even more opportunities. Being familiar with the local language can help expats to fully immerse themselves in the culture, which is imperative for a high quality of life.
Other aspects of life in Vienna that have contributed to it coming out on top for expat quality of life are the work/life balance (the city is quiet on Sundays – most people do not work and shops are closed), the exceptional public transport system and the vibrant nightlife in the city centre.
What Makes A City Less Good For Expats?
Recent terrorist attacks in Belgium and France have seen their cities drop dramatically in the rankings, alongside the Greek capital of Athens, due to ongoing fears over its economic stability. However, despite being near the bottom of Europe's rankings, these cities are a far cry from those in the bottom 10:
1. Conakry, Guinea Republic
2. Kinshasa, Democratic Republic of the Congo
3. Brazzaville, Congo
4. Damascus, Syria
5. N'Djamena, Chad
6. Khartoum, Sudan
7. Port au Prince, Haiti
8. Sana's, Yemen Arab Republic
9. Bangul, Central African Republic
10. Baghdad, Iraq
Generally, the Northern hemisphere is deemed to be better for expats, with Europe seemingly best of all the continents. This is likely to be due to a fortunate combination of temperate climates, good transport links, safer streets, excellent services and facilities and a plethora of job opportunities.
Would you like to share your experience of life abroad with other readers? Answer the questions here to be featured in an interview!