Citizens of a country in the European Union or the European Economic Area can enter and remain in Germany as a tourist for any length of time without a visa. Note that, until the end of 2020, the UK is still regarded as an EU country for purposes of travel. It is not yet known what arrangements will apply after 2020.
Citizens of the 62 countries listed here on the Germany Visa website can enter Germany without a visa for up to 90 days within any 180-day period. During this time, they can conduct business but not work. To stay for longer than 90 days, they would need a visa or a residence permit; see 'Residency' below.
Citizens of any other country need a visa to enter Germany. Anyone staying beyond the term of their visa will require a residence permit; see 'Residency' below.
Germany has no work permits as such, so any visa holder wishing to work full-time needs a work visa; see 'Visas' below.
For further information, visit the Germany Visa website.
Visas
There are several types of visa available, as below. Follow the links provided to determine which visa is best for you. You will also find additional details, such as how to apply, the associated fees and which supporting documents you will need.
Tourist & Visitor Visa
A Schengen visa for visitors from outside of the Schengen area – this is valid for 90 days.
Work Visa
A long-stay visa for anyone working full-time in Germany.
Job Seeker Visa
A six-month visa for anyone seeking work.
Guest Scientist Visa
A long-stay visa for scientists or researchers who have been invited to Germany by a scientific institution.
Study Visa
A visa for anyone entering Germany to learn or study. It comes in three forms:
• Language Course Visa – this is for people completing German language courses, lasting from three months to one year
• Student Applicant Visa – this is for prospective students who are still trying to find the right course, or who do not yet have a confirmation letter from a university
• Student Visa – this is for students who have been accepted by a German university
Family Reunion Visa
A visa for family members of German residents. It is a long-stay visa that can be extended into a residence permit. Eligible family members are: spouses (n.b. Germany does not recognise polygamous marriages); children under 18; adult children, if the alternative is unavoidable hardship where they currently live; and parents of minors living in Germany. Families of unpaid interns working in Germany are not eligible for this visa and must apply for a tourist visa.
Business Visa
A Schengen visa for business people who need to remain in Germany on business for more than 90 days within a six-month period.
Training/Internship Visa
A visa that allows the holder to train or work as an intern for up to 12 months. The holder must secure the training position or internship before entering Germany.
Medical Treatment Visa
Either a three-month or a longer-term visa for anyone seeking medical treatment.
Trade Fair & Exhibitions Visa
A visa for anyone attending a trade fair or exhibition; its length of validity depends on the event in question.
Cultural, Film Crew, Sports, and Religious Event Visa
A short-stay visa for anyone entering Germany as film crew, or to participate in a cultural, sporting or religious event.
Airport Transit Visa
A visa required by nationals, from a limited range of countries, who need to pass through a German airport en route to their final destination. The visa allows them to leave their plane, remain in the airport for up to 12 hours, and board their onward flight.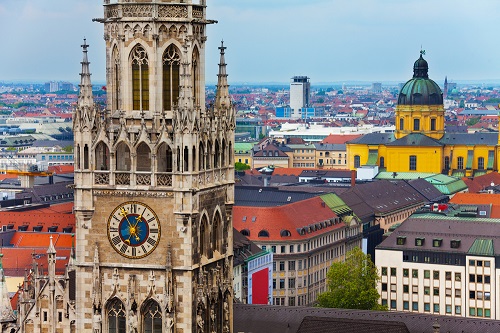 There are a number of different types of visa available for people wanting to visit or live in Germany.
Supporting Documents
Depending on the type of visa you are applying for, you may need a variety of supporting documents. The following will always be required:
• Passport – this should be no more than 10 years old, and must be valid for at least three months beyond your intended departure date
• Application form – this can be completed online here
• Photo – this should have been taken within the last three months
• Health insurance with a minimum coverage of 30,000 EUR – this must cover illnesses, accidents and repatriation in case of death
• Travel itinerary – this should include proof of your round trip flight or travel reservations
• Proof of financial means – this must show that you can finance yourself during your planned stay in Germany, assuming you spend at least 45 EUR per day
Once you have filled in the form, make an appointment for an interview at the German embassy in your country of residence, but not more than six months before your trip. The interview will last around ten minutes.
Fees
You must pay your fees at the interview. A table of the fees associated with each type of visa is available on the Germany Visa website. Generally speaking, a short-stay visa fee is 80 EUR and a long-stay visa fee is 75 EUR.
Work Permits
There is no work permit as such in Germany.
Full-Time Work
Citizens of the following countries can enter Germany without a visa, and then apply for a residence permit for the purpose of working: EEA/EU member states, the United States of America, Australia, Canada, Israel, Japan, New Zealand, Switzerland, and the Republic of Korea.
Citizens of other countries must obtain a work visa before traveling to Germany, as detailed above. This counts as a work permit for as long as it is valid.
Limited Work
Holders of the following visas can work under the specific conditions for which the visa was granted:
• Guest scientist visa
• Business visa
• Training/internship visa
• Trade fair & exhibitions visa
• Cultural, film crew, sports, and religious event visa
In addition:
• Family reunion visa: every adult that comes to Germany on a family reunion visa, and settles, is allowed to work, providing that the relative they are joining:
– is allowed to work; or
– holds an EU Blue Card (see 'Residency' below)
• Studying & language learning visa: you can work part-time but not full-time with a student visa. You cannot work at all with either of the other two types of this visa.
Work Not Allowed
You cannot work in Germany if you hold one of the following:
• Tourist & visitor visa
• Job seeker visa – once you have found a job, you must change this to a residence permit for the purpose of working; see 'Residency' below
Residency
Anyone who wants to remain in Germany for more than 90 days, or beyond the term of their visa – and is not a citizen of an EU country, Switzerland, Norway, Iceland or Lichtenstein – needs a residence permit. There are three possibilities.
Temporary Residence Permit (Aufenthaltserlaubnis)
This lets you stay for one year, with the possibility of extension. You can only engage in the activity for which you have entered Germany. For example, if you are in Germany to study, then you cannot also work, and vice versa. If you are looking for work, then you should have a job seeker visa; if you find work, you can then apply for a temporary residence permit as well as a work visa.
Spouses and children of German citizens, or people with a permanent residence permit, must apply for a temporary residence permit. After a certain period of residence, usually two years, they will be eligible for permanent residence. This applies to both mixed-sex and same-sex couples.
EU Blue Card
This is for highly skilled nationals from non-EU countries. To be eligible, applicants must find a job in Germany in the same field in which their skills and educational qualifications apply. The job should have a minimum income of 53,600 EUR. Applicants must have a high level of proficiency in German.
The EU Blue Card is valid for four years, and holders qualify for permanent residence after 33 months, or 21 months if their German is especially good. Holders can bring their spouses to Germany. The spouse does not need to be as proficient in German, and will be able to work after the holder gets permanent residence.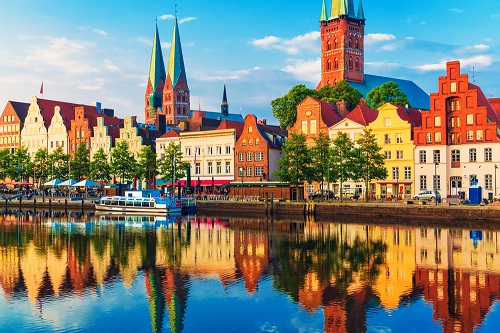 If you are a highly skilled national from a non-EU country, you may be eligible for an EU Blue Card.
Permanent Residence Permit (Niederlassungserlaubnis)
This allows holders to live and work in Germany, and come and go in and out of the country as they wish. The usual route to a permanent residence permit is to have previously held a temporary residence permit or EU Blue Card. If you don't hold an EU Blue Card, and aren't applying for reasons of marriage, then you must have worked for at least five years in a job approved by the Federal Employment Agency, and you must have paid all applicable taxes and social security contributions. The German language requirements are also more stringent than for a temporary residence permit.
To Apply For A Residence Permit
• Register your German address with the authorities. This process is called Anmeldung. Find your nearest authority by entering your postcode at Um.ziehen.de – it may be called Einwohnermeldeamt, Bürgeramt, Bürgerbüro, KVR or Kundenzentrum. You will be given a certificate (Anmeldebestätigung) confirming your registration
• Get an application form at your local immigration office: the Einwohnermeldeamt (Registration Office) or Ausländerbehörde (Foreign Nationals Authority), probably located in your local town hall. Make an appointment to have your application processed in an interview
• Attend the interview, making sure you have all the paperwork detailed below; the interview will be conducted in German
Requirements
Applicants must:
• Have a minimum proficiency in German
• Hold German health insurance
• Pass a health check
• Be financially stable, i.e. able to support yourself (and family if applicable) – proof of income and a German bank account may be required
• Have no criminal record
You must provide:
• A valid passport
• Proof of a German address (Anmeldebestätigung)
• A job offer letter from your employer, if you are applying so you can work
• An acceptance letter for your course, if you are applying so that you can study
• Your marriage certificate, if you are joining a spouse
See the Germany Visa website for more details.