The housing market in Germany is equally split between renting and buying. There are no restrictions for foreigners buying property, even those from outside the European Union.There are various online property websites, including ImmoScout24, Immonet.de, Immowelt.de and Berlin vis-à-vis. All of these list rental accommodation, as well as properties for sale. Property listings include overall living space (in square metres) and the number of rooms, not including bathrooms. WG-Gesucht is a dedicated property rental portal and, unlike those listed above, offers an English language version.
Local newspapers, especially weekend editions, usually also have property listings, and these can give you a general indication of the prices you can expect to pay.
All residents in Germany must register their address with their district office. The process varies according to local jurisdiction, but must be completed within two weeks of moving, irrespective of whether you own or rent the property. Generally speaking, you will need to complete an application form, as well as provide proof of ID for all residents, proof of ownership or rental agreement, and a residency permit (if you are not an EU citizen). Additional information may be required, so you should check for this online or with local residents associations.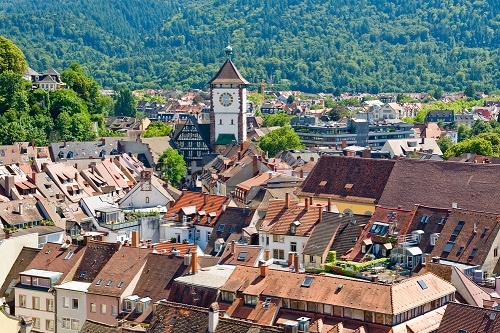 All residents in Germany must register their address with their district office.
Renting a property
Rental properties range from purpose-built apartment complexes to houses and house conversions. Consideration should be given to local amenities, transport links and car parking (if required). The majority of rental properties are unfurnished, and many of them do not even include kitchen appliances or light fittings. As half of the German population prefer to rent, securing an apartment in larger cities, such as Berlin and Munich, can be difficult.
You can engage the services of a local Makler (estate agent) to identify suitable properties, and to assist in contract negotiations – this may help you to avoid any potential language barriers. Fees are normally the equivalent of one month's rent. The more reputable agents are likely to be members of Ring Deutscher Makler or another accredited professional body.
Rents are calculated by the overall size of the property. These vary according to location, with suburban and rural areas being significantly cheaper than city centres. In 2019, the average price was €15 per sqm. Heating and utilities are not always included, and there may be management service fees for properties in larger apartment blocks. The average basic monthly rental for a one-bedroom apartment in central Berlin was about €1,493, while in Frankfurt it was €1,678 and in Munich it was €2,243.
A security deposit, typically one to three months' rent, is always required, returnable at the end of the contract. Your tenancy agreement may stipulate that you must restore the property to the condition it was in when you moved in. Failure to do so may result in you forfeiting the return of your deposit.
Lease agreements in Germany can be long, with an initial period of up to two years. You should ensure that all relevant details are included in your tenancy agreement, and that the conditions for early termination are clearly stated. A minimum of three months' notice to terminate is required from either party. Landlords can only initiate eviction proceedings if you default on the rent for two consecutive months. You have the right to contest their decision, and courts tend to rule in favour of the tenant. You can also challenge any rent increases not stipulated in the tenancy agreement.
To secure a rental property, you will need to submit an application form, together with the following documentation: your passport or ID, three payslips as proof of income, three months' bank statements and, if you have been in the country long enough, a credit report (SCHUFA-Auskunft) with your credit record. In the absence of a SCHUFA record, bank statements should be sufficient to support your application. You may also require references from previous landlords and/or a financial guarantor.
Buying a property
Germany is currently experiencing a housing shortage and, as Germans tend to buy property for life, finding a suitable residence may prove challenging. Prices range from state to state, and central locations are more expensive than rural areas. In the third quarter of 2019, the average cost per sqm was €2,670, but the average in major cities, such as Berlin, Hamburg, Munich and Frankfurt, was €6,100. However, in the eastern states, property prices can be as low as €1,500.
German properties tend to be smaller than their North American equivalents, and built to a high standard, with brick as the preferred construction material. In 2019, the cost of a typical 120 sqm apartment in Berlin was about €599,000. It was about €545,000 in Frankfurt, and €942,000 in Munich.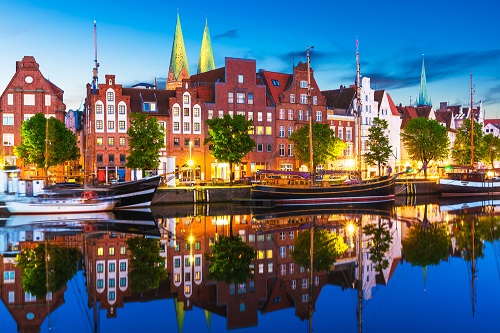 Germany is currently experiencing a housing shortage.
The majority of German properties are sold through estate agents, although some owners prefer to advertise privately. The onus is on the buyer to identify a suitable property, and the first stage in the process is to secure a mortgage. Rates and deals vary from lender to lender, so you should investigate thoroughly before applying. Your financial position will be fully assessed, as well as the property asking price.
With over 6,000 members, the German Real Estate Association (Immobilien Verband Deutschland) is a reputable source of estate agents. Their website also provides listings for notaries, surveyors, tax advisers and other useful resources.
If you are buying through an estate agent, you should check whether they charge fees to buyers as well as vendors. The online websites provide local area information, as well as details of any potential additional costs that may be involved. It is your responsibility to commission a structural survey, rather than that of the vendor.
Property purchase generally requires a 20% deposit, and agency fees (if shared, these tend to be 3% to 7% of the purchase price), plus 19% VAT. Sales must be notarised and recorded in the land registry. Notaries charge about 2%, and there may be additional translation charges if your notary does not speak your language.
On completion of purchase, you are required to pay property transfer tax to the relevant federal state. Rates vary from 3.5% of the property purchase price in Bavaria and Saxony to 6.5% in Brandenburg, North Rhine Westphalia, Saarland, Schleswig-Holstein and Thuringia. There is also a mandatory annual municipal tax, calculated at between 0.26% to 1% of the assessed property value. Note that these costs are not generally covered by your mortgage lender. If you sell within ten years of purchase, you will be liable for 25% capital gains tax on any profit derived from the sale.