Gibraltar's relationship with the UK, its lifestyle and the fact that it is English-speaking means that it is an attractive proposition for expats who are seeking work, particularly if they come from the UK. It also affords possibilities of becoming a cross-border worker, living in Gibraltar and working in neighbouring Spain, for example, or vice versa. It is estimated that around 9000 people cross the border every day for employment purposes.If you have qualifications and experience in finance, insurance, IT, or the gaming industry (a number of international gaming companies have made the Rock their headquarters in recent years), it is worthwhile checking out vacancies here, and you may also be able to pick up casual work in the hospitality industry.
Your status as a potential employee will depend on your nationality: if you are an EU national, you will be able to apply for a 5 year work permit in the country after 6 months' residence. You can apply for a residence permit, but may need to prove that you can support yourself and will not become a burden on the state.
Conditions for non-EU nationals are stricter and will depend on whether a company can find someone from the EU/EAA to fill the position. If you are not from the EU and wish to work in the territory, you will need to apply to the Employment Training Board and you will only be able to do so once you already have an employment contract. The work permit will run for 12 months and must be renewed at the end of this term. Your employer will also have to ensure that you have accommodation.
If you are from the UK, however, since Gibraltar is a British territory, you will be allowed to work without a residence permit.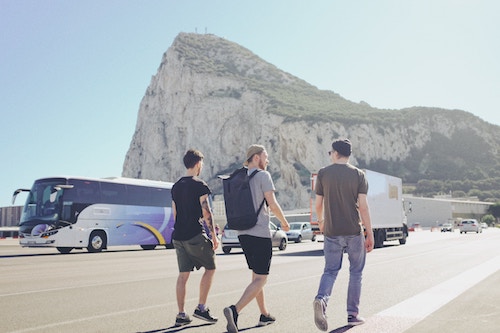 British expats do not need permits to work in Gibraltar
The above conditions also apply if you are intending to be self employed in Gibraltar. You will need to register with the Employment Office and the Income Tax office; most expats do so as a sole trader. The process is usually straightforward.
If you are applying for a work permit, you will need to submit:
• an application form
• a copy of your passport
• your spouse's passport and marriage certificate if applicable
• notice of your terms of engagement
• a copy of the Notification of Vacancy
• copies of your qualifications
You will also need to submit a processing fee (currently £52).
You are likely to be more successful finding employment if you are a member of a skilled profession (such as medicine or accountancy). Due to the growing presence of the gaming industry in Gibraltar, a background of employment in online gaming may also be to your advantage. Gibraltar is a small territory and correspondingly has a small labor pool: jobs may therefore be limited and you may not find it easy to change jobs.
Since Gibraltar is a British overseas territory, you will not need to be bilingual in Spanish if you want to work here, although speaking Spanish may be helpful if you are living over the border in Spain (where property is somewhat cheaper) and if you plan to live in Gibraltar and work in Spain, speaking the language might well be essential.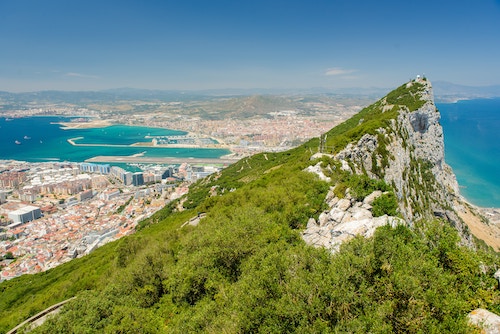 Salaries in Gibraltar are lower than in the UK
Typical working hours are similar to the UK: business hours typically run from 9 a.m. – 5 p.m. over a 5 day week. Gibraltar thus works a 40 hour week.
On average, Gibraltaran salaries are around 20% lower than similar positions in the UK. The minimum wage is currently set at £6.75 but is due to experience a staggered rise over the next few years to £7.50 and will then continue to increase commensurate with the rate of inflation.
The minimum paid annual leave entitlement is set at 15 days for employees working at least 5 days a week, increasing to 25 days once the employee has been employed for 8 years.
If you have been continuously employed for more than I year before the birth of your child you will be entitled to 14 weeks' maternity leave. If you have been paying a sufficient number of social security contributions, you will be entitled to a Maternity Allowance, a weekly sum paid over 18 weeks. You may also be eligible for a Maternity Grant, a lump sum payment after the birth of your child.
Your spouse will be able to work if they are a British citizen (with no need for a work permit) or an EU national, but they will not automatically be granted residence if they are not an EU national (even if you are a Gibraltan citizen yourself!)
Job Vacancies
Recruitment agencies (for instance, RecruitGibraltar) prefer to interview applicants personally and there tends to be a preference also for local applicants. It may, therefore, be worth your while to visit Gibraltar first and apply for work when you are there.
You can also make speculative applications.
Applying For A Job
A standard one page CV/resume is recommended. You will not need to have anything translated.
The Equality Act legislates against discrimination on the basis of sex, disability, religion or belief, sexual orientation and age or age group, pregnancy or maternity leave, racial or ethnic origin, or gender reassignment. You should not experience questions at interview which violate the terms of the Equality Act, therefore.
Qualifications And Training
If you are qualified in a particular field (such as medicine) in the UK, your qualifications will be treated as analogous in Gibraltar. Generally, professional qualifications across the EU are transferable.
Would you like to share your experience of life abroad with other readers? Answer the questions here to be featured in an interview!