Portugal remains a popular destination for both living and working among expats, and despite the country's recent economic downturn, there are still opportunities here if you are seeking employment. Tourism and hospitality remain a major sector, but there is also work in call centres and in manufacturing. Your chances of finding employment will depend somewhat on whether you are seeking casual seasonal work or permanent full time employment. The ease with which you find a job will also depend on whether you are an EU/EEA citizen.If you are a citizen of an EU/EEA member state, you will not initially need either a visa or a work permit, although you will have to register for residence (Cartão de Residencia) and find a job within 6 months of your arrival. Residence can depend on you being in employment, so it is important to sort out some form of paid work: a number of expats use call centres as a stepping stone.
If you are from outside the EU/EEA, you may find it more difficult to obtain employment. Portuguese companies are supposed to prioritize Portuguese citizens and EU/EEA nationals above third party nationals. One option would be secondment from your current company, if your employer has a base in Portugal.
You will need a residence visa and a work permit (Autorização de Trabalho). You can apply for this at your local Portuguese consulate or with Portuguese Immigration Services (SEF) if you are already on the ground. You will need to submit the following documentation for your residence visa:
• valid passport with at least 2 blank pages
• 1 x passport photo
• letter of invitation from employer or a document explaining the purpose of your visit
• flight ticket reservation or itinerary for multi-area visits
• health and accident insurance
• bank statements as proof that you have sufficient funds (the minimum is €40 plus €75 per country visited)
• proof of accommodation
• biometric data such as fingerprints and digital photos
You will also need to pay a fee (the amount may vary but will not exceed €200). You will then need to supply documents in support of your work permit, which are:
• passport
• residence visa
• 2 x passport photos
• bank statements as proof of sufficient funds
• proof of accommodation
• criminal record checks (e.g. DBS certificate from the UK – this usually has to be valid for 3 months)
• possibly proof of Portuguese proficiency
• your employment contract
• any relevant tax documents
• Social Security registration
You will also need to have to pay a fee for this: again, the amount may varying depending, for instance, on the kind of work permit for which you are applying.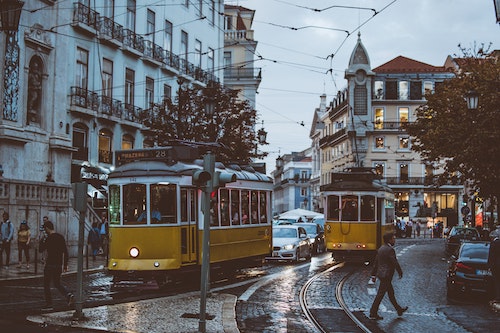 Fees vary based on the permits you apply for
There are skills shortages in IT and medicine, with opportunities also remaining in the tourism sector, where there is a shortfall.
Call centre work, mainly in Lisbon or Oporto, is popular for a short term employment choice and people who are bi- or multilingual in a number of European languages (German, French or Spanish in particular) will have an advantage. Apple also has an online support centre in Portugal.
There is also a demand for online gaming support and web development, so if your skills lie in the digital sector you may find that there are some interesting opportunities open to you.
Teaching English is popular and you should be able to find work if you have a TEFL certificate. Much of the country – particularly the Algarve – is English-speaking and thus if you are a native English speaker, you will find yourself at an advantage.
Portugal typically has a 40 hour working week, consisting of 8 hours spread over 5 days. You can negotiate to work more per week (up to 60 hours).
You will be entitled to 22 days of leave per year, with an additional 9 public holidays.
The minimum wage is currently €600 – 700 a month (depending on how it is calculated per year). This may vary across the regions: for example, if you are working in Portugal itself, in the Azores or in Madeira.
If you become pregnant, you will be eligible for paid maternity leave at a rate of 100% of your salary for 120 consecutive days. 30 days must be taken before delivery and at least 42 days of leave afterwards. Fathers can take 5 consecutive days as leave after delivery and may also take 10 days (not necessarily consecutively) within the following month.
Your spouse can work if they are an EU citizen
Your spouse will be able to accompany you and to work if they are an EU/EEA citizen. If you are from outside this region, you can apply for a family reunification visa, but this will not automatically entitle your spouse to work: they will need to go through the work visa process above to obtain separate permission to work.
Job Vacancies
You can make speculative approaches to companies without any difficulties, particularly if you are already an EU/EEA citizen.
Your best method of finding employment is to consult online jobs boards, or approach recruitment agencies. There are also a number of consultancies which can guide you through both the residence and work visa application processes.
Applying For A Job
A standard CV/resume is acceptable. You may wish to have some of the headings translated into Portuguese.
Portuguese anti-discrimination law is extremely comprehensive and currently prohibits discrimination on the grounds of parentage, age, sex, sexual orientation, gender identity, marital status, family situation, economic situation, education, origin or social conditions, genetic heritage, reduced work capacity, disability, chronic disease, nationality, ethnic origin or race, territory of origin, language, religion, political or ideological beliefs and affiliation with trade unions.
Qualifications And Training
You may wish to get your qualifications apostilled, particularly if you are coming from outside the EU.
Would you like to share your experience of life abroad with other readers? Answer the questions here to be featured in an interview!