Gibraltar is a great place to live, work and visit, and with its Mediterranean setting, climate, and seaside location with some lovely beaches, it's also an easy place to keep fit and healthy.
Gibraltar is also an excellent place to visit if you're into swimming, sailing or other water sports.The Rock is so small that it's not an ideal place for extensive hiking, but there are some walking opportunities available. The Mediterranean Steps lead up to the Upper Rock Nature Reserve, where you can picnic and enjoy the fantastic views across the straits. Watch out for the Barbary Macaques, though: the monkeys are charming but cheeky and they will try to steal your picnic! It takes about 2-4 hours to climb the Rock, depending on your fitness levels and how quickly you want to get up there.
There are some other trails across the nature reserve up on the Rock, including Inglis Way, Royal Anglian Way and Douglas Path. These are themed and include sites of historical and local interest, such as Jews' Gate, the Moorish Castle and St. Michael's Cave.
Four trail networks have been developed across the Nature Reserve: the 'Nature Lover', the 'History Buff', the 'Thrill Seeker' and the 'Monkey Trail'. Each trail has its own logo to guide you and if you're still not quite sure where to go there's a new Gibraltar Nature Reserve Application (GNR App), available on iOS and Android platforms.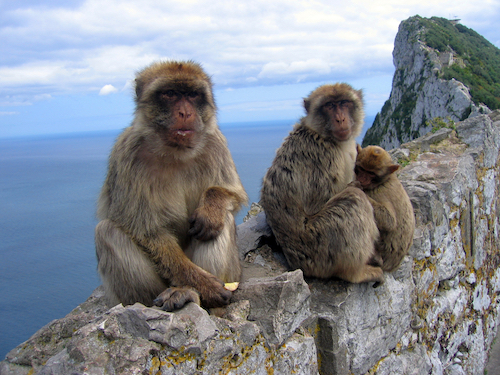 Watch out for the cheeky Gibraltarian monkeys!
Back down on the coast the territory has three marinas, with opportunities for chartering a yacht or learning to sail. The Royal Yachting Association offers a Competent Crew qualification in which you'll learn to helm a yacht, raise and lower sails, keep a lookout, row a dinghy and assist in all the day-to-day duties of a sailing boat. In addition, Gibraltar has a wide sailing area for practice, covering the Gibraltaran coast itself, plus the coast of Spain and nearby North Africa.
Diving is also popular, with over 50 wrecks to be found around these dangerous straits. And as a more passive activity, you can go dolphin watching. There are a lot of opportunities for swimming, too, from using the territory's beaches to open air pools, and if you're a keen swimmer and really ambitious, you might give some thought to swimming from Gibraltar to Morocco: about 10 miles.
The Straits Of Gibraltar Swimming Association will be able to give you information and support should you decide to go for it! Less riskily, some of the hotels have sea-swimming pools and there is a lido at Camp Bay, which also has a seawater waterfall and what is claimed to be Europe's first artificial reef. Little Bay, nearby, has a pool for children.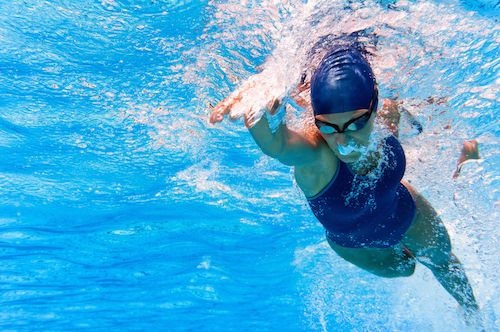 Swimming is popular in Gibraltar
In addition to walking and water sports, rubgy, football and hockey are also popular sports on the Rock and a number of residents belong to sporting associations, such as the Gibraltar Football Association. Gibraltar has a couple of sports stadiums, the Victoria Stadium and the Tercentenary Sports Centre, which are home to some artificial football pitches, tennis courts, archery ranges, a climbing wall and facilities for basketball, netball, badminton and other team games. Gibraltar also has an amateur basketball association who can provide advice on finding teams and facilities.
As a British Overseas Territory, cricket is very popular in Gibraltar, and the territory has had some success in international cricket circles. Darts is popular, too. Football is very popular: the Gibraltar Premier Division was established by the Gibraltar Football Association (GFA) in 1905.
The Gibraltar Sports and Leisure Authority also run a variety of training courses and coaching courses, if you want to take your interest in fitness further.
There are also a number of gyms and fitness clubs to be found in the territory, with opportunities for a general workout but also specific classes, such as crossfit, boxing, and workouts for expectant and post-natal mums. If you decide to use your stay in the territory to give your overall fitness a boost, then why not hire a personal trainer: you will find plenty of choice.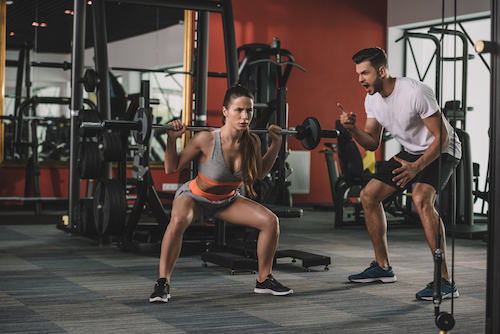 There are plenty of gyms and personal trainers in Gibraltar
It's not just all about exercise: you'll find plenty of options for healthy eating in the territory. Being on the Mediterranean, sampling some of the Gibraltar's seafood is a must, and the country has an eclectic mix of Spanish and British food, with influences from Sephardic and North African cooking. There are vegetarian options, too.
There are a number of alternative and complementary therapies available on the Rock, including acupuncture, hypnotherapy, cranial-sacral therapy, massage and reflexology. Osteopathy has recently been recognized and licensed by the Gibraltar Health Authority. A number of private clinics also offer rehabilitation and physiotherapy for sports-related injuries.
If you're unfortunate enough to have an accident when you're living in Gibraltar, you'll be able to access emergency treatment for free at the local hospital, St Bernard's. You might have to pay unless you're a resident or a British national, but if it's critical, your healthcare will be free.
Would you like to share your experience of life abroad with other readers? Answer the questions here to be featured in an interview!