Although Hungary is a member of the European Union, it is currently outside of the eurozone. However, it is expected to adopt the euro by 2022. The official currency is the forint, which is abbreviated as HUF or Ft (it equates to £0.0025, $0.0031, or €0.0029). It is possible to spend euros in some tourist areas, but even at Budapest Airport, change is always given in forint.Banking in Hungary is overseen by the Magyar Nemzeti Bank (MNB), which is a member of the European System of Central Banks and the European System of Financial Supervision. Overall, there are sixty institutions in the Hungarian banking sector. These encompass 26 commercial banks, nine foreign bank branches, five mortgage banks, four building societies, three specialised banks, and 13 credit or saving cooperatives. In total, this amounts to over 2,300 individual branches.
In 2018, in a population of 9.8 million, there were 10.5 million bank accounts, 9.1 million payment cards (72% of which were contactless), and an infrastructure with 5,100 ATMs ([pénz] automata) and 136,400 POS terminals. Six of the nine foreign bank branches are operated by Citibank, and the remaining three are operated by Deutsche Bank. Both banks cater exclusively for business account holders and commercial operations.
General services provided by local banks include deposits and withdrawals, account management, overdrafts, credit services, online and mobile banking, savings accounts, and loan and mortgage services. ATM and mobile SMS services are available as well. Some banks may also offer travel insurance.
The Hungarian Post Office also provides banking, bill payment and money transfer facilities.
Some Hungarian banks provide an English language interface to their websites, but not every page is fully translated. Therefore, it may be preferable to visit a branch in person, so that you can fully understand their individual service offerings and charges. However, not all local branches employ English-speaking staff, so you may need to use an interpreter.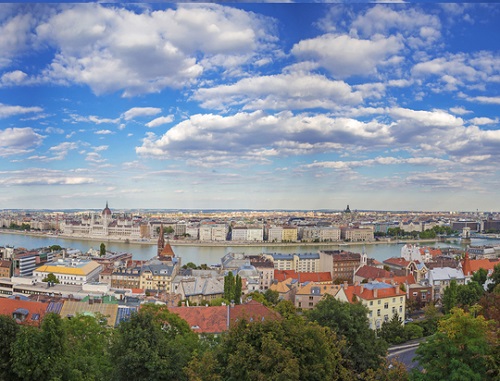 In Hungary, it's worth visiting a bank in person, in order to fully understand what services they can offer
There are no restrictions for foreign residents wishing to open a Hungarian bank account, even for expats from outside the European Union. Some Hungarian banks will offer accounts in both forints and other currencies, such as the euro or US dollar. There is no reason why you should not retain your home bank account, especially if you have future bills to pay.
Hungarian banks charge fees for their various services, so you should take these into consideration when selecting which bank to open an account with. These invariably include charges for using another bank's ATMs, so you should consider the number and proximity of your chosen bank's ATM machines.
As of March 2020, the MNB has launched its automatic payment system, whereby all domestic bank transfer transactions, up to HUF 10 million, will be processed within 5 seconds, 24 hours a day, seven days a week. Previously, such transactions were limited to weekdays during banking hours, and it would take at least two hours to receive a bank transfer. However, pension payments continue to be settled at night, and wage payments, generally made as group transactions, will still be processed during weekday working hours until the end of the year.
Opening a bank account
Anyone over the age of eighteen can open a bank account in Hungary, but foreign residents need to show their passports and proof of address. Typically, this will be the address card issued with your residence permit (lakcímkártya). You may also be required to show a valid work permit. Some banks may wish to see proof of earnings or a letter of employment.
Account applications are usually made in person, although some banks offer an online application process. If you apply online, additional documentation may be required. As a minimum, current accounts provide a debit card and internet and mobile banking.
Banks usually charge fees on everyday transactions, and some banks also charge an account set up fee and/or require an initial deposit. Although transaction fees generally include cash withdrawals, according to Hungarian law, the first two withdrawals of up to HUF 150,000 each month are free of charge.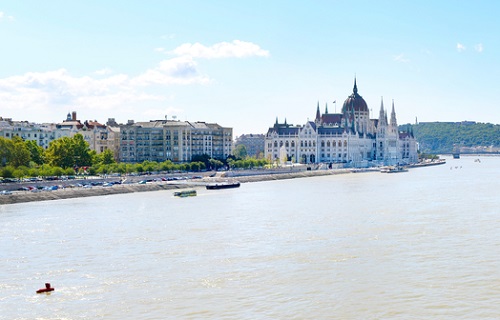 Anyone over the age of eighteen can open a bank account in Hungary
Bank opening hours
Generally speaking, Hungarian banks open between 8am and 4pm, Monday to Friday, and are closed on weekends. Post Offices are open from 9am to 6pm on weekdays and from 8pm to 1pm on Saturdays.
Major banks in Hungary
The largest bank in Hungary is OTP, which has 378 branches and around 2000 ATMs. OTP offers both forint and foreign currency current accounts. Their e-banking services include internet, mobile, telephone, and SMS options.
OTP's forint account enables you to apply for a range of debit and credit cards (either Visa or Mastercard). Foreign currency account holders can apply for a Foreign Currency Mastercard. Cards can be either online or offline (embossed cards).
K&H is Hungary's second largest bank, with 204 branches. Like OPT, K&H offers a range of forint current accounts, as well as a foreign currency current account option. Their electronic banking supports Apple Pay. They do not appear to operate credit card facilities.
Erste Bank has 110 branches in Hungary. As part of the Austrian owned Erste Group, they have approximately 2,400 branches in seven countries (Austria, Czech Republic, Slovakia, Romania, Hungary, Croatia and Serbia). They offer a range of current and savings accounts, as well electronic banking. However, the English interface to their website is minimal.
Smaller banks include Raffeisen, which has 67 branches, CIB, which has 65 branches, and Unicredit, which has 51 branches.