Who are you?
I'm Mari, a 36 year old female from Helsinki, Finland.
Where, when and why did you move abroad?
The very first time I moved abroad was to do an Au Pair year in Zürich, Switzerland, in my very early 20's.Experiencing living abroad had been playing in my mind forever, and a year off Au Pairing seemed like a great option to do that. I ended up having such a great time that I stayed much longer than a year!
After that I returned back to Helsinki to finish my degree in Fashion Design & Garment Technology, and worked there quite a few years. In 2009, my career in Helsinki had come to the point where I was ready for next steps and some new winds were blowing in my direction, so I took an opportunity and moved to London.
After working in Fashion Retail Management in central London for nearly 4 years, I started to aspire something else than hectic busy life in a huge city. I decided to go backpacking to South, Central, and North America for a year to take some time off and to think about the potential next steps – this is when I started to study a degree in Sustainable Tourism followed by another degree in Digital Marketing.
My studies, urge to explore the world and my never ending love for Icelandic horses led me to a job in North Iceland, where I'm currently based and have spent 3 seasons so far. I've been working in this really awesome Guesthouse as a Horse Riding Tour Guide and managing the operations. On the side, I manage some freelance marketing, photography, and writing/blogging projects for different companies. For some months over the winters I've escaped back to the UK or to Helsinki to work on different projects around travel and tourism.
What challenges did you face during the move?
With moving from London, a huge and busy city, to the north part of Iceland, a fairly remote area where the closest city with a population of 18,000 is 7 km away, you'd think it's been challenging. But the truth is, that it has actually been nothing but the opposite. Icelandic lifestyle reminds me of Finland quite a lot, so I've instantly felt more at home here than I ever did in London.
Both Finland and Iceland being part of the Nordic countries, there are some special agreements that also made the move very easy. As a Finnish citizen, no visas, paperwork, or residence permits were required – the Nordic countries are kind of seen "as one", so moving countries was almost like moving between two cities in your own country.
Of course some things have been different – tax calculations etc, but pretty much everyone in Iceland speaks excellent English so stuff like this is easy to figure out.
Are there many other expats in your area?
There are loads. Even where I'm based close to Akureyri, the "capital of North", there really are. Iceland has a big demand for foreign workforce at the moment – there are't enough locals to fill the positions. We have a good bunch of different nationalities here from all over the world.
What do you like about life where you are?
I absolutely adore the nature in Iceland – it's breathtaking! I love that there is an unlimited amount of activities around from river rafting and horseback riding to hiking and mountain climbing, all pretty much on my doorstep. I have a great place to live, really sweet workmates and friends, the food here is fresh and the air is clean. For a lot of people it might sound like my location is tucked away and one would get very bored very easily, but I feel like I actually struggle to have enough time sometimes. There is just so much to do!
I love the fact that almost weekly I can have a few days road tripping around, focusing on photography and exploring the stunning nature. I can see whales playing in the fjord from my kitchen window during the summer time, and can have my horse practically in my back yard. There's always a new horse to be ridden or a mountain to be climbed somewhere, and did I mention the stunning sunsets and insanely beautiful Northern Lights?
What I love the most about living here is that my mind and body is in a total balance. I don't think I have ever been healthier – it must be because I spend almost all of my time outdoors when I'm here. And if I ever needed a bit of city life, my town Akureyri normally fills the need. And if not, Reykjavik is only about 5 hour drive away for a nice little weekend getaway with a pretty decent amount of culture.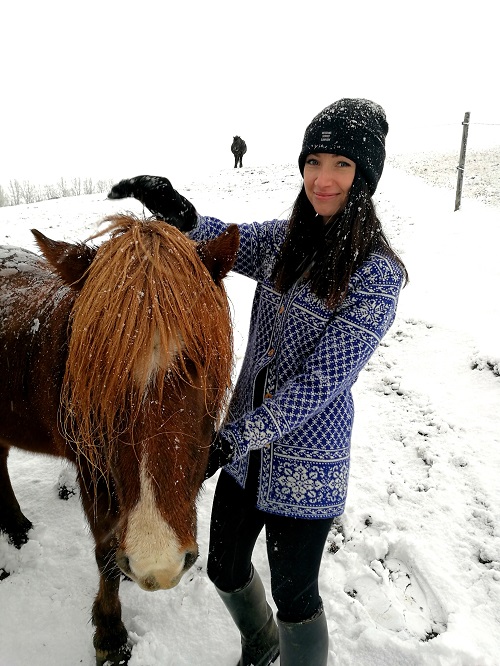 The stunning nature here is my daily inspiration for everything – work, photography, writing, hobbies. I've studied whales, horses, and geology whilst being here, just to make the most of my time in this astonishing country and to understand more about my beautiful surroundings. I've started to knit woolly sweaters again – the colours of the nature let my creative side out and I come up with all sorts of patterns. And I'm not sure how many other places there are in the world to satisfy your photography needs the way Iceland does… I really do love it here.
I've made some great friends too, something that I'll be grateful for forever.
What do you dislike about your expat life?
Of course it can be difficult to not be able to see friends and family whenever I want, and at times it can feel lonely. I'm missing out on seeing my amazing little niece or friends' babies growing up, but I have chosen this way of life. And with today's technology, keeping in touch is super easy!
Luckily Iceland is not a million miles away from home so visiting is easy, and I've been pretty lucky so far – I've had a few friends and some family from all over the world visiting me here. Sometimes I get a craving for some food from back home, although so far it's been rare – the Icelandic food is quite similar to what I'm used to so that helps. What I do dislike quite heavily though, is the high prices in Iceland. It would be great to go out to eat more often, and I don't even want to think about buying clothes or make up here! Better to just bring stuff with me from my trips to Finland haha.
What is the biggest cultural difference you have experienced between your new country and life back home?
Even though people in Iceland work really hard, life is a little slower paced here and people think slightly differently. I think this might come down to me being from a decent size city, now located on the outskirts of a small town in the middle of nowhere. In the end, the Icelandic culture is somewhat similar to the Finnish one, so there haven't been too many big differences so far.
Even the weather has been surprisingly easy to deal with – I tend to like warm weather, but not having a hot summer here has not been a problem so far whatsoever. The nature is just too beautiful and it's much nicer to do activities when it's not boiling hot.
For me the winter here is pretty rough though – it's quite dark and windy. It can be beautifully snowy also with crisp air and sunshine, but I do struggle with the lack of daylight. Over Christmas, there are about 3 hours of kind of bright light, but the sun doesn't actually even come up the horizon for over a month here in the North. I just can't find so much to do inside to occupy myself for so many months, I'm too much of an outdoor person! The winter can be a lot of fun sometimes as well though – I've experienced a 5 day snow hurricane, where the whole town lost electricity and they had to close the roads of the whole country for days. Something like that would never happen in Helsinki!
What do you think of the food and drink in your new country? What are your particular likes or dislikes?
Iceland has quite similar way of eating as we do in Finland so I'm very happy with the food, except the prices! Meat is insanely expensive here, but that doesn't really bother me as I don't eat much meat. Eating out can be a great experience – but once again I wish the prices would be lower. They have some amazing draft beer here but like food, that stuff does not come cheap. At all. Ever. Unfortunately. I love the freshness of the food, and the fact that I can have almost the same kind of liquorice here as I'd get in Finland. Icelandic chocolate is also to die for! Fish here is excellent too, as well as lamb.
What advice would you give to anyone following in your footsteps?
Being able and willing to live in different places and not necessarily settling somewhere for too long before the time is right, requires a great deal of open mindedness and structure. I would advise not to take life too seriously and not plan too much. Plan a little though, study, work, do what you need to do to get to the next place where you want to get. Be organised and make sure you are financially as secure as possible. Get all the amazing experiences, grow as a person, and have the time of your life.
Regarding moving to Iceland, I would say go for it with your full heart. You will love the nature and everything the country has to offer. Make the most of your time in this country, as there is so much to be experienced here!
What are your plans for the future?
It looks like this will be my last year in Iceland for now – I have a work visa and flights arranged to New Zealand in early 2018, so I guess a new adventure begins again. I'm not completely sure what I'll be doing there yet, but there are a couple of interesting opportunities in the areas of Tourism and Marketing that are currently being discussed. With some horse stuff on the side of course!
I love Iceland with my whole heart and it will always stay as one of my homes. I know I will be back many times in the future at least for visits, and I'm not saying I won't come back to live here again either. But for now, it's time to move on with new opportunities and adventures and see where they will lead.
You can keep up to date with Mari's adventures on her blog, and on Instagram.
Would you like to share your experience of life abroad with other readers? Answer the questions here to be featured in an interview!