The Southeastern corner of the Arabian Peninsula is home to the most welcoming monarchy of the Gulf, the Sultanate of Oman. This country is like a gentle introduction to the Middle East, as it is one of the safest and most peaceful places in the region. Even in the current times, it has managed to stay relatively unruffled by the political and economic crises affecting other nations in the area. In spite of its modern infrastructure and new development, you will find glimpses of ancient traditions and beliefs everywhere you turn.In the last few decades, this Sultanate has grown by leaps and bounds. Today, it offers numerous education, career and business opportunities to locals as well as outsiders. Its high earning potential is a major attraction for people from all across the globe. At present, more than 40% of the residents in this country are from overseas. The majority of the foreign nationals choose to live in the capital city, Muscat.
The influx of outsiders has put a strain on the limited resources, which is why the cost of living in certain areas, especially rental accommodation, has skyrocketed. Fortunately, reforms in local laws have been made to curb these costs. Many immigrants are choosing to own houses, instead of leasing them on a long-term basis.
Expat housing options all across this Arabian destination are of a high standard, ranging from compact apartments in high rise condominiums to luxury villas and town houses. Up until a decade or two ago, foreigners had no option but to rent their homes because they were not permitted to buy property in the Sultanate. However, things changed in with the introduction of "Vision 2020". This plan aims to diversify the economic base of the country in order to reduce dependence on oil revenues.
In December 2002, citizens of Gulf countries were granted the right to own real estate for investment and residential purposes. In February 2006, this benefit was extended to people of all nationalities, as long as they met certain criteria. However, the non-GCC expats could only purchase houses in the Integrated Tourism Complex (ITC) developments. Up until a short while ago, foreigners could buy property in select areas, which included Al Mouj Muscat (formerly known as The Wave), Blue City and Muscat Hills Golf & Country Club.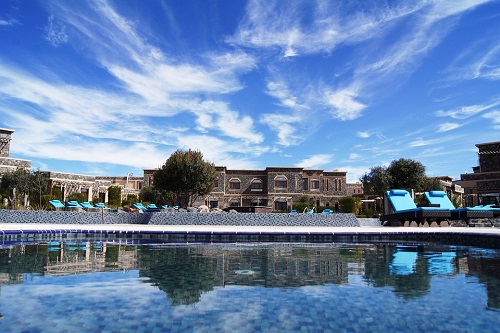 Many expat properties come with amenities like access to a pool
In the last few months the Omani government has been making plans to open up additional areas for foreign investors, in order to boost the real estate market. The revised recommendation will include the allocation of special zones for expats to purchase houses. Properties in these areas will be available at more reasonable prices compared to the tourist complexes.
If you are looking to move to this country on a permanent basis you may want to think about making an investment in the housing market. Under the current laws, expatriates who own property in the ITC developments are automatically entitled to get residency rights for themselves as well as their families. As a result, the growing number of immigrants has fuelled a real estate boom in certain cities.
In the past, tourist complexes have dominated the expat housing markets in terms of value and growth. These developments are extremely popular among homeowners as well as tenants, with limited vacancies and high rents. Even though prices fell in 2009, the properties continued to be in demand because of their superior design and facilities. According to local real estate experts, resale values of these apartments are stable.
Potential homeowners have now started leaning towards residential properties that are available at lower prices. As per the most up to date sales transaction numbers from the National Center for Statistics and Information, the volume of transactions increased within the first two months of 2016 but the actual traded value went down significantly, from Omani Rial or OMR 1 billion (US $ 2.6 billion) in January and February 2015 to OMR 563 million (US $ 1.4 billion) in January and February 2016.
Apart from the ongoing interest in the ITC developments, there have been many "off plan" sales of new apartment complexes in Muscat. However this demand has been primarily driven by the locals, not foreign investors. These developments include the following.
Ruwi, East of Center
This is the main commercial and business district of the capital and the prices of a 1-bedroom apartment are likely to start at OMR 30,000 (US $ 77,812). Apartments with 2 and 3 bedrooms are also on the market, with their starting prices being as low as OMR 45,000 (US $ 116,868) and OMR 60,000 (US $ 155,824).
Qurum
In Muscat's most up-market suburb, the prices of houses are:
• 1-bedroom apartment – In the range of OMR 38,000 (US $ 98,688) and OMR 45,000 (US $ 116,868)
• 2-bedroom apartment – Starts from OMR 65,000 (US $ 168,809)
• 3-bedroom apartment – Starts from OMR 85,000 (US $ 220,750)
Al Khuwair
Being one of the coastal areas in the capital, this is quite popular with expats. Prices are:
• 1-bedroom apartment – In the range of OMR 38,000 (US $ 98,688) and OMR 45,000 (US $ 116,868)
• 2-bedroom apartment – Starts from OMR 65,000 (US $ 168,809)
• 3-bedroom apartment – Starts from OMR 85,000 (US $ 220,750)
Bausher
Since this is one of the newly established areas of Muscat, the prices are still on the lower side:
• 1-bedroom apartment – In the range of OMR 33,000 (US $ 85,703) and OMR 45,000 (US $ 116,868)
• 2-bedroom apartment – In the range of OMR 45,000 (US $ 116,868) and 65,000 (US $ 168,809)
• 3-bedroom apartment – In the range of OMR 70,000 (US $ 181,794) and 75,000 (US $ 194,780)
Al Mawella, East of Center
This is one of the more reasonable areas:
• 1-bedroom apartment – Starts from OMR 25,000 (US $ 64,926)
• 2-bedroom apartment – Starts from OMR 30,000 (US $ 77,812)
• 3-bedroom apartment – In the range of OMR 35,000 (US $ 90,897) and 40,000 (US $ 103,882)
In spite of an economy that is undergoing bouts of instability at the moment, the housing market is expected to remain steady in the coming months.
In January 2017 the Times of Oman published an article about how expats buying homes under Omani names could face strict action. This followed a study conducted by the Ministry of Housing, which showed that many foreigners are choosing to purchase houses outside of the freehold areas by entering into illegal agreements with locals. These contracts go against the regulations of the country and those found guilty of such practices are likely to be dealt with harshly.
Engineer Siham Al Harthi, the Director General of the Real Estate Development at the Ministry of Housing, stated: "We know that there are expatriates who are buying properties under the name of an Omani they either know or through a contractual agreement between them. This is illegal. A study is currently being discussed about allowing expats to own real estate development properties outside the ITC areas. This study is more of a regulation and [a measure to] organize the real estate market". He explained that regulating the market would help potential buyers see that their investment is safe, since they own it 100%. This move will also allow the government to know which areas are in higher demand with foreigners.
With the change in regulation, new taxes are likely to be imposed on the purchase of property, since the Sultanate is free of the property tax law and the ITC areas are free zones.
One of the biggest advantages to purchasing real estate in the Gulf is that you pay low income taxes compared to other countries. All rental revenues are charged a flat rate of 3%. As an individual, you do not pay capitals gains tax on your property, unless it has been derived from a professional or a business activity. In such instances, the rate is 15%. Inheritance taxes don't exist in this country either.
Upon purchasing property in Oman the buyer is liable to pay a registration fee of 3%, along with a stamp duty and a small application fee to process the paperwork. The costs incurred by the seller are almost nil. If you seek the services of an agent or an attorney (which is highly recommended), you should consider their fees as part of your expenses too. Buyers are often given the option of a "buy off" plan, but this involves a holding deposit, with regular payments to be made for the entire duration of the construction process, till the contracts are completely signed over and the property changes hands legally.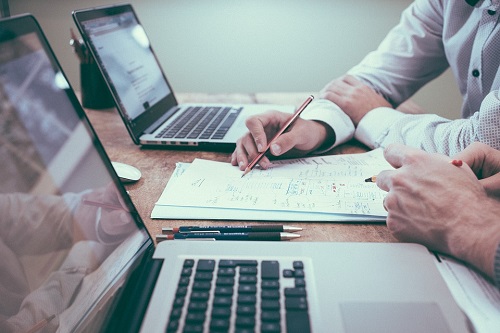 It is worth hiring someone to help you go through the legal paperwork
Since foreigners are only given permission to purchase property in certain developments, you will find concentrated expat areas. Of course, the prices in these neighborhoods are bound to be higher, because of the demand that has been created by the restriction. However, that is not the only reason for the premium prices. Most of the ITC developments offer amenities such as swimming pools, gyms, laundry rooms, tennis courts, shops, restaurants and even golf courses. Many houses, especially villas, have a room for domestic help too.
As soon as you purchase property in this Sultanate, you are entitled to gain residency of the country immediately. This benefit is extended to your immediate family members too. The visa application should therefore be made without any delay. While the procedure is fairly straightforward, it can be a bit too much for someone who is not familiar with the local laws. It is therefore best to have an agent, or preferably an attorney, guide you through the entire procedure.
As a homeowner, you can leave your property to anybody in your will. It is essential to have a will specifying who is going to inherit all your assets within Oman. If no heir comes forward, the property will be taken care of by the Ministry of Tourism and will go back to being owned by the government after a period of 15 years. If the owner faces deportation for any reason, they have the right to sell the property.
It is also possible for you to buy real estate with the prime intention of letting it out to someone else. In fact, since this trend is still in its infancy, there is immense potential to make money through rentals. Many expats are therefore choosing to take this step. A number of international companies are recruiting foreign workers with the offer of accommodation in their packages. These organizations are willing to pay high amounts for properties that are well maintained and come with all the amenities. If you are interested in leasing your house, it may be a good idea to approach one of these companies, but only after you have consulted a lawyer.
The reforms in Oman's property ownership rights have given hope to many potential expats who are thinking about buying more reasonable real estate in this country, for residential or investment purposes. However, before making any decision, do keep in mind that the lifestyle of this country may be different from what you are used to, and regulations can be altered at any time. It is therefore highly recommended that you live in the Sultanate for at least a few months before making any kind of investment. Also, whereas the tax rates in this country are very low, you are likely to pay taxes on any property owned here back home too. It is therefore essential that you speak with a lawyer in your home country before you sign on the dotted line.
Further Reading
Global Property Guide
Times of Oman
Have you lived in Oman? Share your experiences in the comments below, or answer the questions here to be featured in an interview.