The street food of India is internationally famous. You can get a little taste of its flavours in marketplaces from the UK to South Africa. Increasingly, you don't even have to find a street vendor to try it, with indoor street food restaurants popping up everywhere.But for the true gourmet hunting authentic culinary experiences, the only place to go for the real deal is of course India.
Street food is a national institution in India. Cheap, plentiful, and hugely varied, for many locals it forms the basis of their daily diet. From substantial meals to light snacks, your street food vendors can satisfy your hunger at any time of day, and into the night.
So if you're moving to India, trying out your local street food is an absolute must. What you'll find is as varied as the regions of India. Local culture, climate, ethnicities, and history influence the type of food you'll find, the spices that are used, and the meats and vegetables that form the basis of your meal.
With so much diversity, the range of options can be bewildering. If you do take a stroll around the street markets, you might not know what you're looking at, what's in it, or if you'll like it.
But don't worry about not liking it. If you find it's not to your taste, you can just try something else. As for the rest, here are some top tips to get you started.
Pav Bhaji
Originally conceived as a quick, satisfying lunch in Mumbai, Pav Bhaji is now served all over India. While you can find it in restaurants, eating this thick, creamy vegetable curry from a street food cart will be far more satisfying, not least because you'll get to watch it being made.
There are a whole range of variations of Pav Bhaji available, but all of them start from a foundation of mashed up vegetables, cooked in plenty of butter, served with a buttered bread roll.
Cooked on an enormous flat griddle, or 'tava', it starts with rough chopped vegetables. Potatoes, tomatoes, peas and onions are a common base. Next comes a thick, spiced gravy, and then the mashing begins. Butter is added to the mix as it cooks.
Finally, a last dollop of butter will be melted onto the tava, and then soaked up with fresh soft white rolls.
Hyderabadi Haleem
Haleem is a unique dish with a long history. Deriving from an Arabian dish called Harees, it was introduced to the Hyderabad region in the Mughal period. Hyderabad Haleem is now world famous, and during the month of Ramadan it is transported all over the world through a special courier service.
So if you're in Hyderabad, trying out the local Haleem is an absolute must.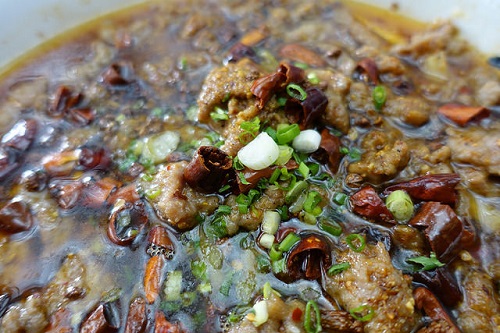 © Guilhem Vellut on Flickr
What goes into your Haleem will vary, but it is always based on a mixture of wheat, barley, meat, lentils, and spices. Slow cooked for seven to eight hours, these ingredients all combine to form a thick, gooey stew with a paste-like consistency.
It might not sound appetising, but the flavour is truly unique, and makes for a filling, hearty meal. Loaded with spices such as turmeric, garlic, cumin, caraway seeds, cinnamon, cardamom, cloves, saffron, pepper, and allspice, then topped off with a spicy ghee-based gravy, pieces of lime, coriander, and fried onions, there really is nothing else like it.
Seem Baal
Seem Baal is a sweet snack made from milk. Also known as Junnu, Posa, Ginnu, and Kharvas, its name may change from place to place, but the result is very similar.
Seem Baal is made from colostrum milk, the first milk of a lactating cow. It looks like a solid, creamy cake, and has a jelly-like consistency. The street vendor will cut small cubes for you to eat.
Sweet and spiced, it is reminiscent of sweetened condensed milk. Unsurprisingly. it is very popular with children.
You can't make a meal out of Seem Baal, but it serves as an excellent quick snack, and a gateway to traditional Indian sweets.
Masala Dosa
A southern specialty, Masala Dosa can be found in the Tiffin street-side snack stalls scattered throughout all India. The locals will line up for a good Masala Dosa, so looking out for a queue is one way to spot a good stall.
The recipe will vary from city to city and stall to stall, but the essence is the same. The dosa is made from a batter of lentils and rice, soaked overnight and then ground into a batter. This is cooked into a crepe, then stuffed with boiled potatoes seasoned with mustard seeds. It is then fried until crispy and then topped with coriander, coconut and lime.
For an added bonus, you can have it with cheese.
Packed with flavour, Masala Dosa might just become your regular go-to street snack.
Chole Bhature
A Punjabi specialty, Chole Bhature is a combination of a spicy chick pea chana masala (chole), and fried Indian bread (bhature). It might be a far cry from a croissant or a bagel, but if you're out looking for breakfast in Delhi, look no further.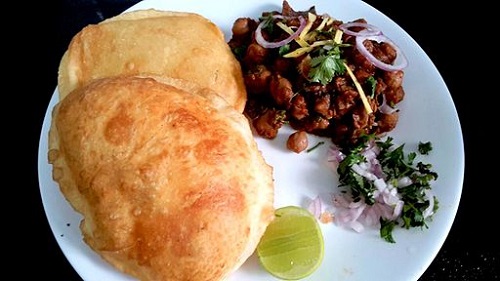 © Kanikatwl on Wikipedia
Chole is made on a chick pea base, with cashews, tomatoes, onion, and plenty of garlic. Add in an array of spices from turmeric to chilli, cinnamon to cumin, and you've got the tastiest breakfast curry you'll ever find.
This is served up in perfect combination with a bhature, topped with fried onions.
Tunday Kabab
There is a lot of food in India to satisfy vegetarians, but there's plenty out there for entrenched carnivores, too. In Lucknow, the meat of choice is the Tunday Kebab.
The Tunday Kabab has a storied history, going back to a Nawab (royal family member) who adored kababs, but was unfortunate enough to lose all his teeth to age. Unable to eat his favourite food, he announced an impressive reward would be offered to whoever could cook for him the softest, most succulent kabab.
In stepped Haji Murad Ali, with a flat patty kabab so soft and juicy that it will fall apart in your fingers as you eat it. He was a one-handed man, in Hindi a 'tunday', and so the nickname stuck to his famous creation.
The secret recipe is said to include 160 spices, passed down by generations of ladies of the house.
Whether the story is exaggeration, fabrication, or truth, the results are tasty and must be sampled.
Raj Kachori
There are as many varieties of Kachori as there are cities in India. Usually they take the form of a round, flattened ball made of fine flour, stuffed with anything from baked Urad Dal, to onion and coconut. There are even sweet versions dipped in sugar syrup.
Hailing from the land of the royals, Rajasthan, this is the king of all Kachori. Raj Kachori is a crunchy ball, stuffed with a delicious combination of spiced potatoes, moong dal, peas, and grains, topped with curd, sweet and spicy chutneys, pomegranate seeds, and crunchy sev.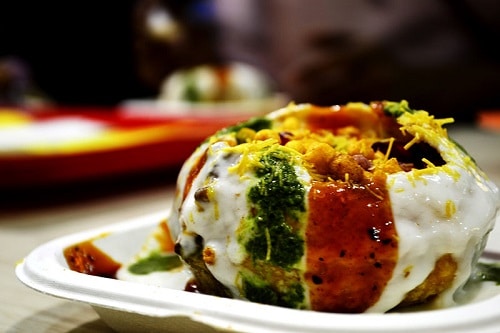 © Puneet vivid on Wikipedia
Incredibly tasty and popular with locals and tourists alike, Raj Kachori is not only a delicious snack, it is also one of the more beautiful street foods you'll find.
Vada Pav
The Vada Pav is a burger, Indian style. It might not hit the same spot as that perfect beef patty and tomato relish combination, but it might just become your new go-to comfort food.
Best enjoyed from roadside stalls in Mumbai, it is hugely popular with locals, from students to businessmen. The patty, or 'vada', is a spiced potato filling, deep fried, then wrapped in sweetened bread. Top it off with a sweet, hot, garlic chutney.
It might not sound like much, but this double-carb treat is moreishly tasty and will keep you coming back for more.
Pani Puri
India can be hot. Very hot. And so is a lot of Indian street food. Fried, boiled, stewed, and baked. Spiced with mustard or chilli, sometimes it might start to feel like you're breathing fire.
But Pani Puri is here to help. A unique Indian snack, perfect for those long, hot summer days, it's like a crunchy water bomb.
It starts with a crispy Puri. Your vendor will punch a small hole in the top, then fill it up with tamarind chutney, potatoes, onions, and chick peas.
The Puri is then filled up with Pani, minty flavoured water.
The result is a refreshing snack that is sweet, spicy, and cooling all at once.
Masala Chai
You may have drunk chai in your home country. It might have come in a tea bag, or perhaps your local coffee chain does a chai latte.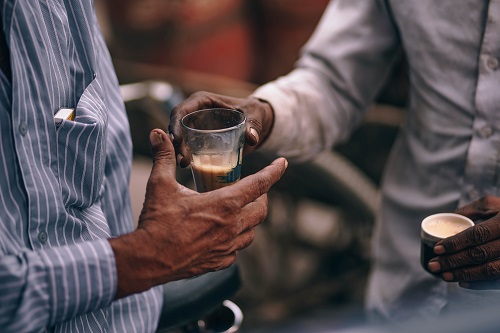 © Igor Ovsyannykov on Unsplash
But you haven't tasted real chai until you've tried it in India. You can get Masala Chai from street vendors all over India. Sweet and milky, it is heavily spiced with cardamom pods, cinnamon sticks, ground cloves and ginger. And, of course, black tea.
Masala Chai is particularly popular during winter and the monsoon season, as it is believed to help keep the body warm and clear blocked sinuses. Street side chah wallahs will ladle it with a flourish into a small cup from a big steaming kettle. You can drink it hot and fresh right at the stall, a perfect pick-me-up on a cold day.
Article by Andy Scofield, Expat Focus International Features Writer