Canberra is the capital of Australia and is also known as the 'bush capital' due to its abundance of nature reserves and national parks. It is home to a smorgasbord of people from varied backgrounds, including students from all over the world who come to attend the prestigious universities it has to offer. People who relocate here are generally employed in one of the many government, political or media offices that are situated in the city.The climate in Canberra is relatively dry and warm compared to the rest of Australia. January is one of the warmest months and July is the coldest. Snow is rare in the city, but the surrounding areas have been known to get snowfall through the winter. There is much to do in Canberra, whether you love art and culture or prefer wandering through nature and exploring new horizons.
Here's a quick look at what you can do and see when in Canberra.
National Parks and Nature Reserves
Namadgi National Park
Approximately 40 kilometers southwest of Canberra, the Namadgi National Park has a rich Aboriginal history featuring the Ngunnawal people. There are various archaeological sites that show a presence dating back to at least 21,000 years in this area. This particular region was also known to be an important gathering place for neighboring tribes from the Ngarigo, Gundungurra, Wolgalu Yuin and Wiradjuri nations. There is a lot to do and explore at the national park, from discovering the unique birdlife in the area to picturesque fishing and picnic spots for the entire family. You could also try one of the many bushwalks and enjoy the scenic views. It is possible to hire a ranger for a guided walk, and horse riding and biking are permitted on some designated trails only. Campgrounds are also available and you can get more information about these at the Namadgi Visitor Centre.
Tidbinbilla Nature Reserve
The Tidbinbilla Natural Reserve is a great place for a family visit as there are a lot of activities for both adults and children. There are several sites of Aboriginal significance, like the Birriagi Shelter Rock which is the oldest known Aboriginal site in the state (Australian Capital Territory).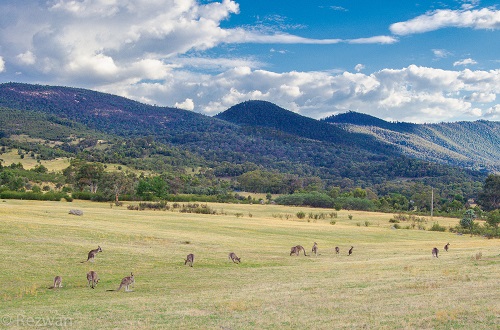 © rezwan on Flickr
This nature reserve offers a number of bushwalks that range from 30 minutes to over six hours. The area is known to house kangaroos, koalas, wallabies, lyrebirds, emus and other wildlife and you can go on a ranger guided tour to explore the area. There is a large Discovery Playground that is very popular with kids and also great BBQ spots around for the entire family.
Australian Alps Walking Track
The Australian Alps Walking Track is a 655-kilometer-long walking track that runs through alpine regions in three different states (Victoria, New South Wales and Australian Capital Territory). The walking track passes through about five national parks and it can take 5-8 weeks to complete the entire trail. Only hikers whp are highly experienced and have good navigational skills are encouraged to do the trail, as there are some sections where the trail does not pass through any towns so food drops or support crews are necessary.
Mulligans Flat Woodland Sanctuary
Situated within the Mulligans Flat Nature Reserve, the sanctuary is the property of the Australian Capital Territory and falls under the area collectively known as Canberra National Park. This sanctuary is known to protect the largest area of Box Gum Grassy Woodlands in the world. Animals like the Eastern Bettong and Eastern Quoll, that are locally extinct, have been re-introduced to Mulligans Flat. This is probably the only place in Canberra where you can spot these creatures. The sanctuary offers twilight tours, where you can witness firsthand life as it used to be in the Australian bush about 100 years ago.
Wine Regions
Boasting of more than 30 wineries, Canberra's wine region is doing really well. The wine region is only a 30-minute drive from the city and features a number of boutique cellars. Most of the wineries also serve food and some even offer accommodation.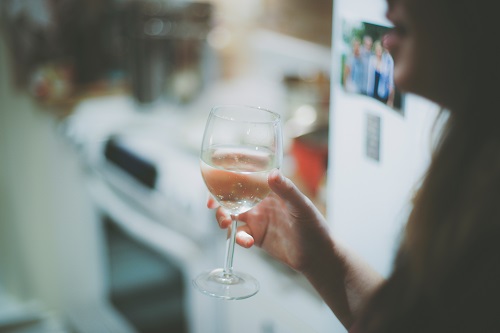 © Chris Montgomery on Unsplash
The main grape varieties grown here are Riesling, Chardonnay, Cabernet Sauvignon, Sauvignon Blanc, Sémillon, Viognier, Shiraz, Tempranillo, Pinot Noir and Pinot Gris.
Some of the top wineries include Lerida Estate, Lark Hill Winery, Mount Majura Vineyard, Clonakilla, Helm Wines and Eden Road Wines.
Alpine Region
The Australian Alps are a very popular destination for visitors and even those living in Canberra. The region offers a range of activities like freshwater fishing, hiking, scenic drives, skiing, snowboarding and much more. You could visit some of the highest peaks in Australia and stay at one of the many snow resorts.
Located just three hours out from Canberra, the Snowy Mountains are known for their towering peaks, rivers and glacial lakes. The drive here is extremely picturesque and depending on the time of year, the landscape changes from wildflowers in the summer to snow in the winter. There are many seasonal activities on offer like horse riding, skiing, snowboarding. June until October marks the snow season but visitors flock here all through the year. There are many events and festivals all year round, like the Snowies Mountain Bike Festival, the Thredbo Jazz Festival, Festival of the Falling Leaf, Redlands Cup and much more. A popular spot is the Yarangobilly Caves that are limestone caves leading into frozen waterfalls and underground pools. Cast your lines and enjoy fishing at Tumut River, Lake Jindabyne, Lake Eucumbene and Thredbo. The lakes of the Snowy Mountain Hydro Scheme are filled for boating, paddling, sailing and fishing as well.
South Coast Region
Enjoy a scenic drive down the south coast and explore some of the pristine beaches and towns. Batemans Bay and the Eurobodalla Coast is an ideal spot for holidays and quite a popular one as well. There are water sports, sandy white beaches, national parks and an exciting marine park where you get to meet penguins and seals or even visit the zoo or opt for some waterside dining. Clyde river, which is at the entrance to Batemans Bay, is famous for its oysters. Activities include surfing, snorkeling, swimming, cycling, fishing and kayaking. There are surf lessons for beginners and other adventures like sky driving, deep-sea fishing or snorkeling. Some other highlights in the area include the Montague Island Nature Reserve, which is a wildlife sanctuary and a world-renowned snorkeling and diving spot. If you enjoy cheese, then you should visit the Bodalla Dairy Shed. It is cottage-style café and restaurant that serves a variety of cheeses.
If you go further south, you will come across the unspoiled wonders of the Sapphire Coast. 70 percent of the coastline comprises forests, mountains and beaches. The Eden Killer Whale Museum holds exhibitions about the role played by indigenous Australians in shore-based whaling and other exhibitions about the impact that the local fishing and timber industry has had on the community in Eden. Whales can be seen from various vantage points at the museum.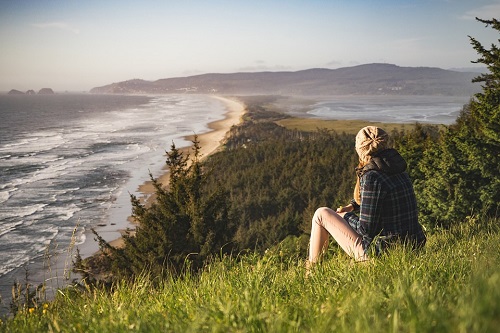 If you travel north of Eurobodalla, you will come across the Shoalhaven Coast which is a very well-known holiday destination. There are many beautiful beaches here and a multitude of water sports and activities that can be enjoyed. Jervis Bay is probably one of the more popular spots on the Shoalhaven Coast. Visitors also love to go to the Jervis Bay Marine park which is a haven for beautiful sea animals like seals, bottle-nose dolphins, sea dragons, penguins and migrating whales. There are several seaside cottages or beachside camp sites available.
Galleries and Museums
National Gallery of Australia
Opened in 1982, the National Gallery of Australia is a treasure trove of art and culture both past and present. This is one of the largest art museums in Australia and houses more than 7500 works of art across 13 galleries. The space features a sculpture garden, western art, Australian non-indigenous art, and Australian Aboriginal and Torres Strait Islander art, as well as a gallery shop and café. Free guided tours are available every day from 10:30 am until 2.30 pm.
National Portrait Gallery
The National Portrait Gallery in Canberra tells the history of Australia through the faces of the people who were pivotal in making a difference. The gallery features colonial portraits of the nation's founding families, wax statues of Indigenous Australians, portraits of change-makers and those of popular artists like Nick Cave, Ned Kelly, Mick Jagger, Cate Blanchett and many more.
Australian War Memorial
The Australian War Memorial in Canberra is a shrine and a testament to those Australians who have died in wars. The Memorial has an extensive archive of war memorabilia and it is a shrine to commemorate Australians who were casualties of war. It aims to help Australians always to remember and understand the experience of war and its impact on Australian society.
Other Attractions
Australian National Botanic Gardens
The Australian National Botanic Gardens comprises a wide variety of native plants from all over Australia. The plants are used towards research and to gain insight into proper plant classification and biology. The gardens are known to host some plants that are threatened in the wild. The gardens also host fun and interactive clay workshops, art exhibitions, native plant sales and a very popular bushland walk that offers spectacular views of the city and Parliament House. You can also try one of the free guided walks or there is an electric bus on the Flora Explorer Tour for those who don't want to trek through the gardens.
Australian Parliament House
The most prominent building in Canberra, Parliament House was opened in 1988 and designed by Mitchell/Giurgola & Thorp Architects. After going through a security check, visitors are allowed to explore large sections within.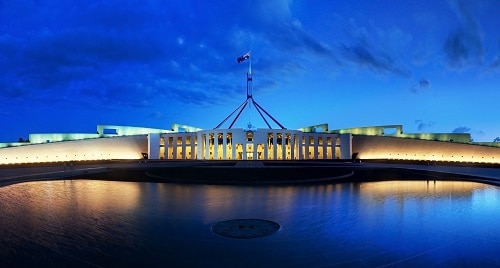 © JJ Harrison on Wikipedia
There are free tours that allow you to see the chambers of Parliament on non-sitting days, the Marble Foyer, the Great Hall, the Members' Hall and some highlights of the art collection. There are also paid tours that allow you to have an in-depth look at the public areas of Parliament House, walk the corridors and also visit some of the private spaces within.
National Zoo and Aquarium
The only combined zoo and aquarium in all of Australia, the National Zoo and Aquarium in Canberra is definitely one of a kind. Situated on about seven hectares of land, the zoo boasts a wide variety of native and exotic animals, while the aquarium features the largest inland saltwater tank. This is a great place to be with the family as there are plenty of activities from feeding the animals to booking interactive encounters with some of the animals. You could also try one of the tours and finally pick up some lovely mementoes at the gift shop.
National Arboretum
If you are a nature lover, then you should definitely visit the National Arboretum in Canberra. The arboretum features 94 forests filled with rare and endangered species of trees from around Australia. Visitors are treated to spectacular panoramic views, brilliant architecture and the natural beauty of plants and trees. One of the main aims of the arboretum is to conserve species that are threatened with extinction and also educate the community about the different types of tree and plant life in Australia.
Lake Burley Griffin
An enormous artificial lake in the center of Canberra, this is a focal point of the city. It is a fun gathering point for locals and tourists alike and features a lot of water-based activities such as sailing, rowing, kayaking, and stand-up paddling. Those who want to enjoy a quiet and leisurely spin on the lake can catch the ferry or take a cruise. It takes approximately two hours to cycle around the entire perimeter of the lake.
What are your favourite things to do in and around Canberra? Let us know in the comments!