If you're looking to keep fit and healthy, then Jamaica is an ideal place to visit. It's a beautiful island with a tropical climate and many opportunities for fitness activities. A wide variety are available, from horse riding to water sports and from hiking to golf. Whether you are living in the country or just visiting for a holiday, you will not be stuck for things to do.The most popular sports on the island are cricket (the national game of Jamaica), athletics, and association football, closely followed by basketball and netball. Basketball is rapidly growing in popularity. Rugby is also increasingly popular.
The Jamaican national cricket team has won seven WICB Cups and ten Regional Four Day Competitions, and Jamaican cricketers also participate in international teams, as part of the West Indies.
The national football team has won the Caribbean Cup five times.
Jamaica also does well in athletics. Olympic medalist Usain Bolt is Jamaican, along with many other athletes.
When it comes to activities on or in the water, there are plenty available, whether you are looking for relaxation or for something a little bit more active. For example, you may want to try one of the following:
• Deep sea fishing
• Glass bottomed boat cruises
• Water skiing
• Jet skiing
• Parasailing
• Scuba diving
• Snorkelling
• Zip-lining
• Jungle river tubing
• ATV safaris
• Kayaking
• Windsurfing
Jamaica has many coral reefs situated off its magnificent 900 km coastline, and you will have the chance to explore these with experienced diving personnel. Make sure that your instructor is licensed, whatever level of experience you have.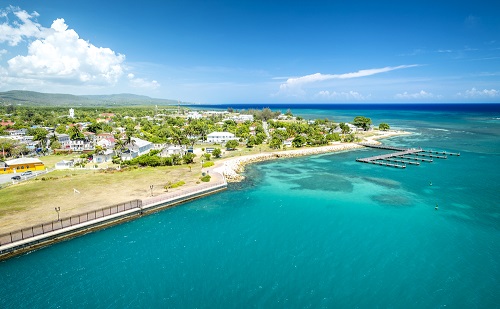 Jamaica offers many water activities along its magnificent coastline
The coastal area around Ochos Rios has been protected since the 1960s, including Jack's Hall, a 40-foot coral dive, and the wreck of the Katryn, a 50-foot dive to a deliberately sunk 140-foot former minesweeper. Jamaica's north coast, off the Cayman Trench, has some excellent diving opportunities. Port Royal also offers some sunken ship diving opportunities.
You will need certification, but you can do a one-day dive course that will provide you with basic training. It will cost in the region of US$45 to US$80 for a dive.
Travellers Beach Resort in Negril has PADI and NAUI outfit provision for a range of diving experiences, including nitrox diving and instruction, as well as instruction in underwater photography, night diving, and open-water diving.
You will also be able to simply swim. There are many beaches on offer, although you must make sure that you take note of any safety notices and are aware of local currents. Additionally, many of the large hotels have a pool attached, and they may even have spa facilities.
Wellness is a growing industry on the island. FieldSpa, for instance, is situated on the famous Golden Eye estate, the former home of James Bond creator Ian Fleming. It offers vibrational sound healing, among other treatments. The world class Ocean Spa offers enzymatic micropeels, Carib-Style Thai massages, moonlit massages, and personal training sessions (for those who want something a little more active). The tropical Fern Tree Spa offers a Meditation Labyrinth and Jamaican bush bath, which you may enjoy if you are interested in more exotic treatments.
Yoga is also popular on the island, and Jamaica has a large number of yoga retreats, including for beach yoga. Many of these also have meditation classes available and opportunities for simple pampering. Chiropractic care, reflexology, detox, and cleansing are also offered in many retreat centres.
Golf is another well-established activity in Jamaica, and you will find some great courses. The island has 12 of them, including Tryall, White Witch, Half Moon and Cinnamon Hill. You can even book a golf package that includes flights and accommodation.
Horse riding is very popular in Jamaica, and you can combine riding along the scenic back trails of the island with beach riding and swimming. Remember to wear a swimsuit under your riding clothes if you are planning to take part in this.
Horse riding is very popular in Jamaica, and you can ride along the beach and take breaks to go swimming
Hiking in the Blue Mountains or along the coast is also a great way to see the island at a leisurely pace. The Blue Mountain Peak trail is a 14-mile hike on some of the highest points of the island. The One Love Trail, starting in Ochos Rios, is less arduous, but it takes you through some beautiful scenery. Meanwhile, the Mayfield Falls River Hike will allow you to see some waterfalls. Cockpit Country Trails is one for the birdwatchers, but it is quite rugged, so you may want to hire a guide.
Make sure you take suitable clothing, sunscreen, appropriate shoes and a hat. Jamaica has a tropical climate and can be very hot. You will need to take a supply of water with you, and remember to pace yourself.
Working out is a popular activity in Jamaica, and you will have no difficulty in finding a gym. Some are attached to resort hotels, while others are independent. You can hire a fitness instructor in many gyms.
You will have no difficulty in eating healthily in Jamaica. The island has some excellent seafood, rice dishes, fruit and vegetables, even though it is also famous for its fried food. Vegans will be pleased with how easily Jamaica can cater for them, with its ital diet, inspired by Indian cuisine. The Blue Mountains produce a number of farm-to-table eateries (as well as the region's famous coffee), with a variety of vegan and vegetarian dishes on offer. Fresh juices are available everywhere.
Make sure you moderate your alcohol intake (admittedly, you may find this somewhat difficult to do in the home of the rum punch and other cocktails!). Also, get as much exercise as possible, take care that you do not overheat, and, if you are working on the island, look after your mental health, by keeping in touch with your loved ones and managing your workload. Sign up with your local GP or clinic, and make sure that you have healthcare and insurance in place before you travel.
Overall, you shouldn't find it difficult to keep fit and healthy during your stay in Jamaica.