If you are going to be living and working in Morocco, then you may be wondering how best to keep fit and well there. There are various ways to improve your overall health and fitness, and we will look at these below.Many people in the country take full advantage of the Atlantic and Mediterranean coasts, flocking to the beaches in the hot Moroccan climate. Watersports are therefore popular, such as swimming, surfing, kayaking and windsurfing.
Morocco's coast has decent waves all year round, with larger swells in the winter months. Essauoira is held to be a good starting point for beginners, and Taghazoute (near Agadir) is great for more experienced surfers (it also has board hire and repair shops). The Atlantic coast can be rough, with strong undertows, so it is recommended to surfers with experience. Water skiing is popular, as is sailing, and you might like to try scuba diving too.
Windsurfing has existed in Morocco for a long time, and Agadir and Essaouira are well-known centres for this. Kitesurfing is growing in popularity, so you might want to try this if you are looking for something a little more extreme. You will find opportunities for white water rafting and kayaking in the Atlas.
Most towns have a municipal pool, but you may, especially if you are female, prefer to access a pool that is attached to an international hotel.
Make sure that if you are inexperienced and taking lessons, you are signed up with a registered, licensed and experienced professional. Do not be afraid to ask for testimonials.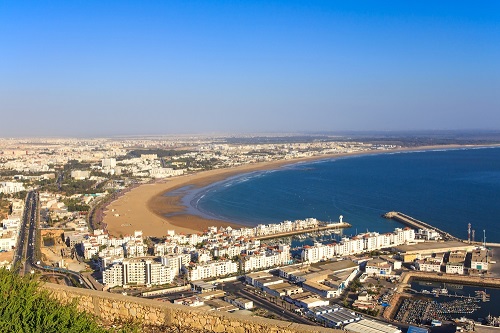 Windsurfing has existed in Morocco for a long time, and Agadir and Essaouira are well-known centres for this
You may not think of Morocco as a centre for skiiing, but it is. Ouka'meden is a well known resort, and you will find provision for different levels. The season runs from February to April. Toubkal Refuge, up in the Toubkal Massif, is home to off-piste skiing. The Azilal–Bou Goumez–Ighil Mgoun area also offers opportunities. Snowboarding is also available in Morocco. Contact the Fédération Royale Marocaine du Ski et du Montagnisme.
Trekking is a must in Morocco, and you can head up into the Atlas Mountains (with an experienced team), in order to enjoy some of the country's spectacular mountain scenery. You can also do rock climbing.
Sports generally are popular in the country, particularly football. The Royal Moroccan Football Federation is the governing body, based in Rabat, and the Moroccan national team have qualified for international competitions. Botola Pro is the national competition, and you will see football played at amateur level throughout the country.
Equestrian sports are also found in Morocco, supported by the Royal Moroccan Equestrian Federation. You may even find opportunities for trekking on horseback, such as at the Résidence de la Roseraie at Ouirgane, who run horse treks up into the Atlas Mountains (you may need to bring your own helmet).
The country has an ICC-approved cricket ground, the National Cricket Stadium in Tangier, and the country hosted the 2002 Morocco Cup.
Basketball is also a big sport in Morocco and has been affiliated to FIBA since the 1930s. Similarly, rugby has been played in Morocco since early in the 20th century.
Golf has been available in Morocco since the first golf course opened in 1917. You will find many 18-hole courses across the country, and there is an international-level course at Rabat. There are nine-hole courses at Meknes, Ouarzazate and Bouznika.
Running might not be your idea of fun, especially when you consider the North African heat, but Morocco is home to two marathons: the Marrakesh Marathon and the Marathon des Sables.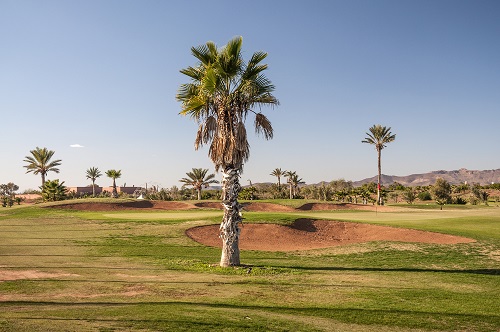 Golf has been available in Morocco since the first golf course opened in 1917
Many hotels have tennis courts attached, both clay and hard courts, and tennis is popular in Morocco. Bespoke tennis holidays can be arranged with some providers. The Grand Prix Hassan II was inaugurated as an ATP Challenger event in 1984 and as an ATP Tour tournament in 1990.
You will find many gyms across the country, including some attached to hotels and offering classes, such as Zumba, body combat, yoga, dance and crossfit. For example, you could visit the Marrakech Plaza Spa & Fitness and the Marrakech Canal Forme.
In addition, many hotels have spas attached, and there are many opportunities for relaxation and pampering in the country. Hammam baths and thalassotherapy treatments are widely available, in addition to many forms of massage. Eco resorts on the coast offer yoga, surf and spa options in one package. Vichy also operates a spa at Bouznika. Morocco is an ideal destination for wellness holidays, with its beautiful beaches and warm climate.
You should find it easy to eat healthily in Morocco. Moroccan food relies on a lot of fruit and vegetables, as well as grilled meat and fish, in addition to grains, such as couscous. Seafood is of a high quality there, as much of Morocco is coastal. Tagine is a healthy, slow cooked stew and one of the country's culinary specialities. The use of spices in Moroccan cuisine is held by some commentators to be good for health, too.
'Khobz,' the flatbread served at many meals, is vegan, since it is not cooked with dairy products. Vegans rave about Moroccan salads; not only are they vegan, but there is a wide variety of them. Vegan tagines are widely found, too. Vegans report that some restaurants will swap rice for couscous if you want to go gluten-free.
Your alcohol intake may be restricted, as Morocco is an Islamic country and quite traditional, but you will find plenty of mint tea across the country. Fresh fruit juice is also widely available, as is panaché (which is like a smoothie). Panaché can be made with either cow's milk or orange juice as its base, so make it clear if you are a vegan.
Overall, you will have many opportunities to keep fit and well in the beautiful country of Morocco.