If you are intending to live and work in Panama, you will be pleased to know that there are plenty of opportunities to keep fit and healthy there. Sports are popular. The country's national sport is baseball, and the national team is highly ranked globally.Football is also popular, and the Panamanian national team, the "Marea Roja" or "Red Tide", qualified for the FIFA World Cup for the first time in 2018. Panama were runners-up in the 2005 and 2013 Football Gold Cup, losing to the United States. Basketball is also highly regarded in the country, and so is boxing.
Panama also participates in the Bolivarian Games, which is a multi-sport competition involving athletes from Bolivia, Chile, Colombia, Ecuador, Panama, Peru, and Venezuela.
You will find a number of international sporting events in Panama, including the Gulf Coast Triathlon and the ocean to ocean Panama canal cayuco (canoe) races in March-April.
Cricket is popular, and there is a Panamanian Cricket Association. Batsman Geoge Headley, who played for the West Indies, came from Panama.
You will find many hiking opportunities in Panama, including mountain trails, such as those found on La India Dormida. These vary in difficulty, from the Chorro de las Mozas and Chorro el Macho trails to the more challenging La Piedra Pintada, and you will see some magnificent views and waterfalls along the way.
Panama City has the Metropolitan Natural Park at its centre, giving you the chance to do some jungle trails and to see some wildlife at the very heart of this urban environment. The jungle trails of the Soberania National Park allow you to experience the bird life of the country.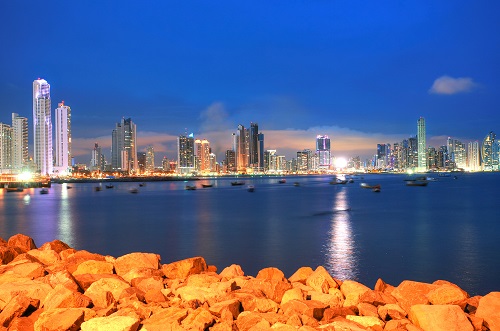 Panama City has the Metropolitan Natural Park at its centre, where you can do jungle trails
If you are planning on walking and hiking, make sure you take plenty of water with you, as well as sunscreen, and it is advisable to take insect repellent and a hat as well. The country is very hot, and it is easy to become quickly dehydrated and to overheat.
You will also find opportunities for cycling in Panama, although the country does not have a national cycling route, so you will have to choose back roads or the Pan American Highway. Cyclists report that Panama City does not provide ideal conditions, with limited road space and very congested traffic. Road quality varies significantly, too.
Experienced cyclists recommend the Route to Santa Catalina, the Azuero Peninsula, and Bocas Del Toros. Touring cyclists can stay at camping sites or truck stops. Alternatively, you may want to look at Warm Showers Community, which is a free worldwide hospitality exchange for touring cyclists.
There are a number of golf courses across Panama, including the Lucero, the Mantarraya, the Club de Golf de Panama, which dates from the 1920s, and the 18-hole Buenaventura.
If you enjoy horse riding, you will also be able to find some riding holidays in Panama, including on the island of San Cristobal.
Since Panama has an extensive coastline, you will be able to go diving and snorkelling. You can also go jet skiing, paddle boarding and parasailing. Swimming is an option too, and there are some safe places to do this, such as Bocas del Toro. Panama is one of the few countries in the world in which you can swim in both the Atlantic and the Pacific on the same day. Exercise reasonable caution, however, if you are visiting a beach that does not have lifeguards. There have been a few sharks sighted off Panama City Beach.
Panama has been described as 'a surfer's paradise', and you will find beach breaks from Punta Chame, El Palmar and Buenaventura. The Panama Bay is considered by experts to be great for bodyboarding and surfing, catering for all ages and levels of experience. Playa Venao, Azuero Peninsula, is a famous beach break and hosts international surfing competitions. The sea turtles' home of Cambutal is also famous for its waves, and the island resort of Morro Negrito is well known, too. Santa Catalina, close to the National Park of Isla Coiba, has one of the longest beach breaks in Central America.
The above examples are just a few of the possibilities for surfing along Panama's extensive coastline. You will find many more, but make sure that you are aware of local conditions, such as rip tides.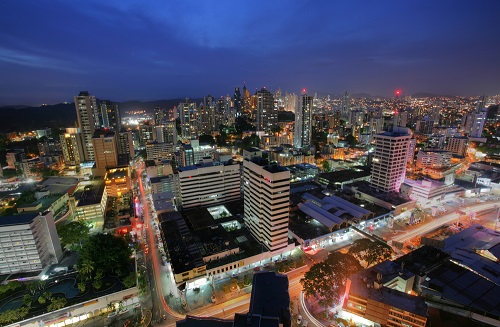 You will find plenty of gyms and fitness clubs in Panama
If you are planning to take part in any water sports, make sure that anyone you sign up with is licensed, if necessary, and qualified, and make sure that you have the appropriate insurance cover.
There are also a large number of spas and wellness centres in Panama. The Alta Vita Spa in San Francisco is a luxury Medi-spa and holistic wellness centre. The Spa at The Bristol offers a range of massages and other beauty and relaxation treatments, as does the Sortis Hotel Spa, which has a rejuvenation Vitality Pool and a champagne room. The Central Hotel Panama has secluded treatment rooms and a dry sauna. You will find plenty of gyms and fitness clubs in Panama, as well.
In addition to being able to partake in fitness and relaxation activities, you will be able to eat healthily in Panama. Panamanian food is mildly flavoured, and much of it is corn-based. Plantain and yuca are eaten widely, as is rice. You will find a lot of empanadas, tortillas and tamales. Seafood is readily available, which is unsurprising given that the country has such a long coastline.
If you are vegan, you will find a reasonably wide range of options in Panama. You may enjoy lentil soup, rice with pigeon peas and coconut, Hojaldre (a type of fried dough), and salads. You will find a number of vegan restaurants that serve international dishes, such as vegan tempura or pad thai.
Overall, keeping fit and healthy in Panama should present you with few difficulties, with plenty on offer in terms of exercise, relaxation and diet.