This Arabic nation is an intriguing choice for expats seeking employment in the Middle East. The Hashemite kingdom of Jordan is an Arabic-speaking nation, with a strong economy, and is a popular choice for European and American expats, particularly in the construction industry. It is home to a number of large construction companies involved in the reconstruction of neighboring Iraq, so if you work already in this sector, you might like to explore the possibilities of contracts related to this. Jordan also has attractive tax requirements: you are unlikely to be subject to double taxation and may be able to avoid being taxed entirely, depending on who you are working for.Employers must give priority to Jordanian nationals and must prove that an overseas worker is better suited to complete the job. Note that in 2019, the Ministry of Labour in Jordan has created a mandatory authorization route for employing highly-skilled expats, and this requires a higher government fee than regular work permits. The new permit is valid for up to a year, and can be renewed. It costs JOD 2,500 (US$3,526), significantly higher than other work permits, which still remain in 3 figures.
If you are not a highly skilled worker you will still be eligible for a regular work permit (at JOD500/US$705), which does not require proof of specialised knowledge or in-demand skills.
Your employer will first need to contact the Ministry of the Interior and obtain approval for a work permit for you. They will need to supply:
• employer's name
• your name, nationality and profession
• a copy of your passport, which must be valid for 6 months
• 2 copies of your contract
• valid vocational license of employer with a copy attached
• a list issued by the General Social Security Corporation, indicating that all the employer's workers are subscribed to social security and that all the subscriptions are paid by the date of submitting the application
• a copy of the projects and tenders undertaken by the employer, if any,
indicating the entity referring these tenders to the employer
• a valid medical checkup certificate from a health centre that is approved by the Ministry of Health
• 1 x photo
• establishment form number (1) or a copy of the notification of its delivery to the directorate
Your employer may also need to guarantee your conduct while you are in the country.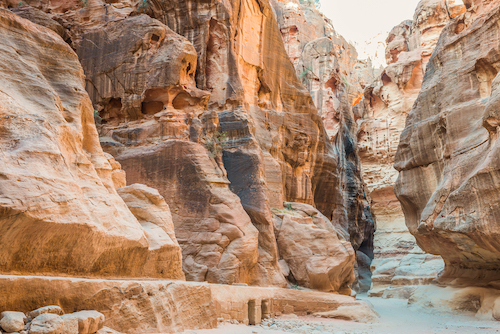 Your employer might be liable for your conduct while you are in the country
Depending on your salary, you will need to pay 7-14% of it in tax, which will be deducted at source by your employer. However, discuss this at the contract stage, as some expat workers may find themselves exempt.
Construction and manufacturing are major sectors and contribute significantly to the Jordanian GDP, so if you have engineering qualifications, you are likely to find opportunities. Note that, as above, the Jordanian government is seeking to rectify the unemployment rate by prioritizing local workers, as well as placing more stringent requirements on work permit applications, so the employment market is becoming more competitive.
English language teaching (TEFL) is not so much in demand here but some vacancies do arise. You will stand a better chance of finding work if you are highly qualified: for example, with a university degree in addition to a TEFL certificate. This is true of the Gulf generally.
IT is a growing sector, with emerging technology entailing a need for specialist skills. Amman has a reputation as a developing IT hub. The Jordanian government is currently investing heavily in infrastructure.
The banking sector is also an option, with some major Middle Eastern banks (such as Arab Bank) established in the country.
Speaking Arabic will put you at an advantage.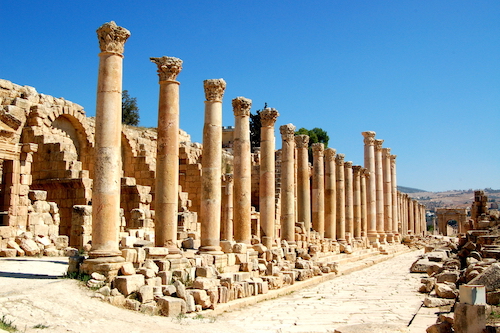 Speaking Arabic will put you at an advantage.
Typical working hours are working hours are 8 hours per day excluding an hour break, or 48 hours per week: these can be distributed throughout the week provided that the working day does not exceed 11 hours.
Every worker is entitled to annual leave with full pay for a period of 14 days. This leave is extended to 21 days where the worker has been in the employment of the same company for five consecutive years. You will also be entitled to 8 public holidays.
You will be entitled to maternity leave with full pay for 10 weeks before and after delivery. If you work in an establishment employing 10 or more workers you will be entitled to a maximum of 1 year's unpaid leave to bring up your child.
The national monthly minimum wage is 190 dinars (US$268). The average monthly wage for private sector workers is 460 dinars (US$649).
If you bring your spouse with you, and if they wish to work, then they must apply for their own work permit. It would be advisable to have a job lined up before you enter the country.
Job Vacancies
There are a number of online jobs boards that cover vacancies in the Gulf and depending on the sector you are in, you may also wish to sign up with a recruitment agency. Your best bet is to try to line up work before you arrive in the country.
You can also make speculative applications to companies.
Applying For A Job
It is recommended that you have your CV/resume translated into Modern Standard Arabic.
Jordan has been making strides in anti-discrimination and equality legislation but gender-based discrimination is still found throughout the country and if you are a woman working in Jordan, you may encounter this. Members of the LGBT+ community have also reported experiencing discrimination, although homosexuality is legal in the kingdom.
Qualifications And Training
It is recommended that you have details of qualifications translated into Arabic, and copies of any diplomas or certificates apostilled.
Would you like to share your experience of life abroad with other readers? Answer the questions here to be featured in an interview!