The Baltic state of Latvia has a two-tier healthcare system, comprising both public and private provision. If you are planning to relocate to the country, your employer should sign you up with the national health insurance scheme. However, some expats choose to take out private cover, so that they can avoid long waiting times and access a higher standard of healthcare. Overall, the quality of healthcare in Latvia is not as high as in some of its European neighbours, although state efforts are being made to improve it. 
Public healthcare in Latvia
The WHO reports that life expectancy at birth in Latvia was 74.8 years in 2015. This is up from 70.2 years in 2000, but is nearly six years below the EU average. There is also a huge gap in mortality rates by socioeconomic status. The life expectancy of Latvians, at the age of 25, with a low level of education is ten years lower than among those with a high level of education. This is largely due to higher death rates from heart attacks, strokes and lung cancer. 
The WHO also says that the Latvian health system is underfunded. In 2015, Latvia spent €1071 per capita on health. This is the second lowest level in the EU, accounting for only 5.8% of GDP, compared with an EU average of 9.9%. Only 57% of health spending is publicly funded (compared to an EU average of 79%). Most of the remaining costs are paid out of pocket by households. This raises severe accessibility issues. Access to healthcare in Latvia is limited for a sizeable proportion of the population and is economically directed. In other words, poorer people have less access to medical treatment. 
The leading cause of death for both sexes is cardiovascular disease. The second leading cause is cancer. Heart diseases and strokes have remained the two most common causes of death in Latvia since 2000. Together, they accounted for half of all deaths in 2014. Lung cancer is the most prevalent, due to high smoking rates. Deaths from diabetes also increased drastically between 2000 and 2014.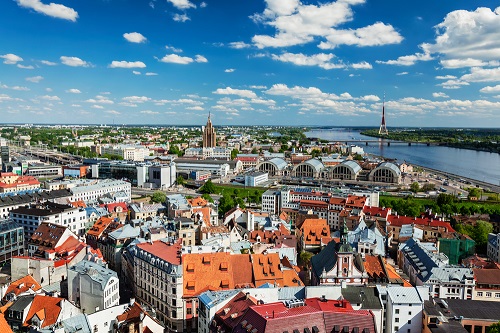 The state system covers:
GP visits, including one annual preventative check-up 

Specialist visits

Laboratory tests

Home care

Emergency medical assistance 

Hospital care

Rehabilitation

Reimbursed prescriptions and medical devices
You will need to pay a fee to see a doctor, unless you are in one of the following categories:
Under 18

A pregnant woman being treated in connection with your pregnancy

Certain groups of patients with particular diagnoses (tuberculosis, psychiatric diagnoses, certain infectious diseases)
For specialised medical care, you will need a referral from a doctor, usually your GP. However, depending on what disease you are suffering from, you may not need a referral to see any of the following: 
Gynaecologist

Ophthalmologist

Children's surgeon

Paediatrician

Psychiatrist

Addiction specialist

Pneumonologist (lung doctor specialising in tuberculosis)

Dermatovenerologist (skin doctor specialising in sexually transmitted diseases) 

Endocrinologist 

Oncologist

Chemotherapy specialist

Specialist in infectious diseases 
The patient's fee cannot be refunded in Latvia, which operates a benefit-in-kind healthcare system, meaning there is no system of reimbursement. However, you can claim reimbursement when you get home.
If you require hospital treatment, you will be charged a fee for in-patient treatment, starting from your second day of hospitalisation. You will not have to pay a fee if you are: 
Under 18

Hospitalised because of pregnancy or childbirth

Undergoing dialysis or some other treatments (e.g. for certain infectious diseases or mental illness)
There are additional fees for:
CT scans (computed tomography)

MRI scans (magnetic resonance imaging)
In addition to the patient's fee, your healthcare provider may charge a co-payment sum for a surgical procedure carried out in an operating theatre.
As above, these payments cannot be refunded in Latvia, but you can claim reimbursement when you get home. You should only be charged the patient's share of the treatment. Overall, costs are currently as follows:
Out-patient examinations by a GP: €1.42

Daycare in hospital: €7.11

Specialist examinations: €4.27

In-patient treatment: €10 a day, starting on the second day of hospitalisation

In-patient treatment for patients suffering from oncological diseases and drug addictions: €7.11 a day, starting on the second day of hospitalisation

In-patient treatment in a nursing home or nurse care unit: €7.11, starting on the second day of hospitalisation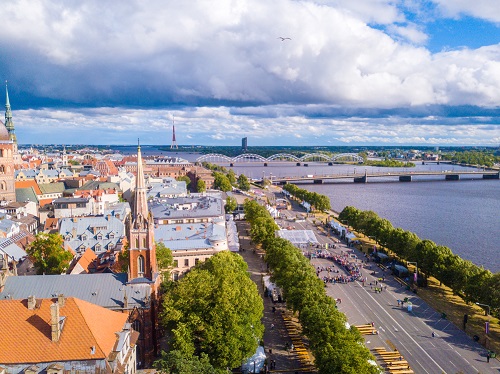 Patients with certain medical conditions will pay reduced fees. Additional diagnostic examinations will cost between €1.42 and €35.57. In addition to the patient's contribution, the healthcare provider may charge a co-payment of between €1.42 and €31. For example, this could be for CT scans, magnetic resonance imaging (MRI), electroencephalograms (EEG), electrocardiograms (EKG), X-rays, or an endoscopy.
You can also claim some of your prescription expenses from the NHS. Make sure your chosen pharmacy is under contract with the NHS. To buy prescription drugs, you need to show:
Your EHIC (if you are from an EU member state and have an EHIC card)

Your passport (or other form of identification)

Your prescription (if you need prescription drugs that are not refunded by the state)
The state refunds 100%, 75% or 50% of the cost of prescription drugs, depending on the condition diagnosed. Again, you may also be able to claim reimbursement in your home nation. 
State-funded dental care in Latvia is only available for children. Adults must pay for dental treatment, which is not refundable.
Private healthcare in Latvia
A hitherto poor level of investment in healthcare, resulting in standards that are still below those of other EU nations, mean that many expats opt for private health insurance. 
Health insurance covers a full range of primary and secondary healthcare, as well as elective procedures, such as cosmetic surgery and more advanced dental treatment. 
Experts point out that Latvia is well placed to be a destination for medical tourism. This is because it has an excellent reputation as a spa centre, particularly among Russians. It also has some high standard private medical facilities, which are very competitively priced. 
As the country is becoming a destination for medical tourism, if you choose to access the private sector, you will find a wide range of treatments available. There are state, municipal and regional hospitals, private clinics, medical rehabilitation centres and resort hotels.