If you're moving to the Netherlands, there is no need to leave your furry friends at home, since the country allows newcomers to bring their family pets with them. However, owners should be aware of the strict conditions relating to pet travel and complete the paperwork in good time. Check out our guide for answers to the most important questions on non-human expatriates.
What type of pet can I bring?
Dogs, cats and ferrets are allowed into the Netherlands and do not need to be quarantined.
Many other non-endangered animals can also be bought from the EU into the Netherlands, provided you have a health certificate signed by a veterinarian just before you leave. Outside the EU, additional restrictions may apply. For exotic pets, check with the airline, with the Nederlandse Voedsel en Waren Autoriteit (Dutch Food and Consumer Product Safety Authority) and with the European Commission to be sure that your pet is allowed and that you have completed the right paperwork.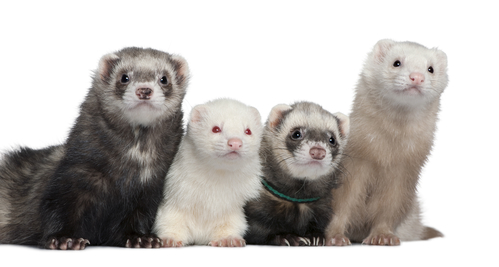 Dogs, cats and ferrets are allowed into the Netherlands
An English translation of the list of animals that you can keep as a pet is provided in this article.
You may bring no more than five domestic animals to the Netherlands.
What is microchipping and does my pet need it?
Dogs, cats and ferrets entering the Netherlands must be microchipped.
Microchipping involves inserting a chip the size of a grain of rice under a pet's skin, usually between their shoulder blades. Each microchip has its own registration number which can be read by a scanner. This keeps a record of every pet in the Netherlands, and can help reunite lost pets with their owners.
The microchip is normally inserted by a veterinarian using a syringe. It is a simple operation which causes only mild discomfort and is over very quickly. The procedure normally costs €25-€50. The International Standards Organisation (ISO) chip is the most widely recognised. The microchip does not work like a signalling device for tracking pets; it can only provide information when it is scanned.
Does my pet need any vaccinations?
All cats, dogs and ferrets must be vaccinated against rabies when they are 12 weeks old. You cannot travel with the animal until 21 days post-vaccination. Because of this, it is impossible to bring pets to the Netherlands that are younger than 15 weeks old.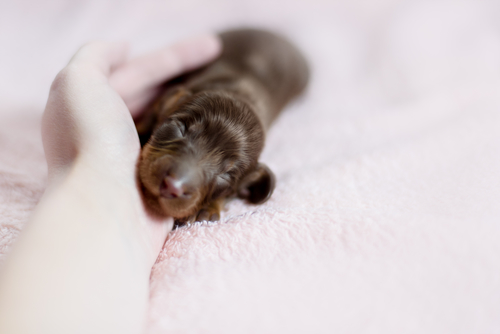 Pets under 15 weeks old cannot enter the Netherlands
If you are coming from a country outside the EU, some additional checks may apply, particularly if that country has a high-risk rating for rabies. More information on this can be found here.
Does my pet need to be inspected?
Dogs, cats and ferrets must be examined by a veterinarian within 48 hours prior to departure. This is to check they are disease-free and fit enough to make the journey to the Netherlands. Your veterinarian will provide you with a health certificate which you may need to present at the check point. Other animals are also subject to a health check, so check the rules for your pets.
What paperwork do I need?
All dogs, cats and ferrets require a passport. This is available from your veterinarian before you leave. The passport is a little blue booklet containing basic information about your pet, such as breed, age, sex, colour of fur, and distinguishing markings. It also includes the code on their microchip, the owner's details, and a statement signed by your vet confirming that your pet has been vaccinated against rabies.
If you are bringing your pet from outside the EU, you may need to ask your vet for an additional health certificate. In some cases, blood tests are also required. Be sure to allow plenty of time to prepare the necessary paperwork for travelling with your pet before your final departure date.
Can I fly with my pet?
It is advisable to check with your airline, well in advance of flying, what their policy is regarding pets and how much they charge to transport animals. The cost of bringing a pet on a plane can be more, for example, if there is a transfer involved. Pettravel.com have a handy search engine for checking the policies of different airlines.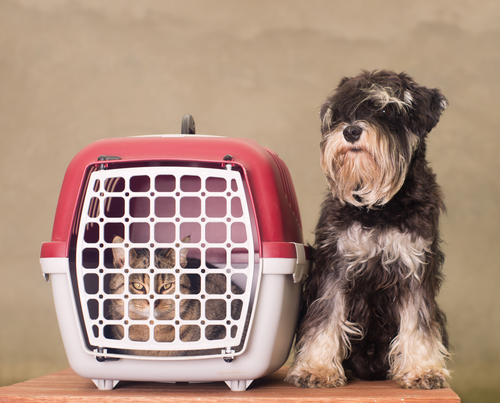 Some airlines require pets to be placed in the cargo hold
You may have the choice to either have your pet in the cabin with you or to fly them as cargo. Pets travelling in cargo will be transported in special sky kennels and looked after by staff. Pets over 28cm tall or weighing more than 7kg will probably need to travel as cargo.
For service animals, there is a more flexibility; most airlines will allow these special companions to travel with you in the cabin. You may be asked to provide documentation that your dog is a trained service animal. For emotional support animals, you may require an ESA Travel letter, signed by a mental health specialist, to bring your animal with you.
Depending on the airline, pets travelling in the cabin will either lie by your feet at the bulkhead, or sit on an adjacent seat. You will need to bring a car harness so that they can be secured for take-off and landing. Remember to have food and water for your animal. Dogs should be exercised, if possible, before you set off for the airport.
What kind of container should I bring my pet in?
If the pet is travelling in the cabin with you, the carrier needs to be small enough to fit under the seat. Your pet must be able to stand and move around in the carrier. Carriers need to be well ventilated and have a waterproof base. It is a good idea to get your pet used to the carrier before it is time to make the long trip.
The use of sedatives on journeys is normally discouraged. If your pet is of a nervous disposition, discuss this with your vet in the weeks leading up to the trip to see what they advise.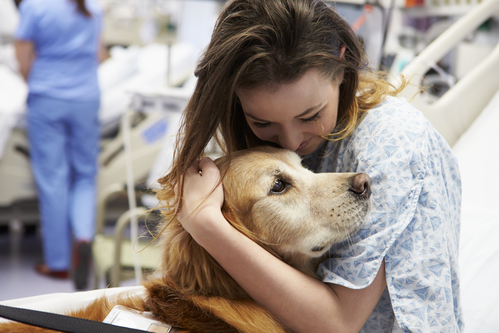 Emotional support animals may need a letter from a specialist
Can a friend or relative bring my pet over for me?
Someone can bring your pet to the Netherlands for you, but they must carry a written declaration, signed by you, authorising this. They must also travel within five days of your departure date.
Which pets are popular in the Netherlands?
Cats are the most popular pet in the Netherlands, followed by dogs. Recent figures suggest that around a quarter of all households have a cat, while dog-owners make up around 20 percent of the population. Fish, songbirds, small reptiles, rabbits and rodents are also favourites. In more rural locations, poultry are often kept for their eggs.
Do I need to pay Dog Tax?
Dog owners must register their animals with the municipality and are normally required to pay hondbelasting, an annual tax which varies depending on where you live. Expect to pay between €60 and €80 for most municipalities. Some councils, including Amsterdam, have scrapped the tax. Further information can be found here.
Do I have to insure my pet?
Pet insurance is not obligatory in the Netherlands but, to avoid any unexpected costs, it is recommended. The cost of pet insurance for dogs and cats varies considerably according to how much excess you are willing to pay and how extensive you want the cover to be. Most policies charge €15-€60 per month.
How can I find a vet?
Around 60 percent of Dutch households keep a domestic animal, so most towns have a veterinarian practice. To find the nearest one to you, use this online directory.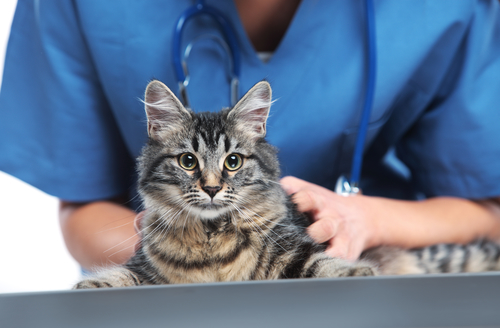 Most towns have vets
In the case of emergency, you can call the dierenambulance on 0900 0245. This ambulance service for animals is run by specially-trained volunteers. Some larger towns also run emergency walk-in clinics called spoedklinieken.
How can I report a lost animal?
Stichting Amivedi is a non-profit organisation which collates information about lost and found animals. You can register the details of a lost pet on their system. You can also check your pet's chip registration on Chipnummer.nl.
For more information on the importing of domestic animals, complete the NVWA's online questionnaire (in Dutch) or email info@nvwa.nl them with your question.
Have you moved to the Netherlands with pets? Share your experiences in the comments below, or answer the questions here to be featured in an interview!