The Netherlands, a country in Northwestern Europe, is perhaps best known for its flat landscape, peppered with bright tulip fields, and its quaint, picturesque towns, with their beautiful, winding canals. The capital city of Amsterdam is home to a myriad of famous museums, as well as the more seedy and illicit spectacles that garner tourism to the area. The Netherlands enjoys a stable economy, a high standard of living, and a booming property market, making it a popular destination for expatriates.
Renting property
Renting in The Netherlands only tends to be popular among certain age demographics, as a large percentage of the population go on to become homeowners. Although rental prices are steadily increasing, the rental market does offer plenty of benefits, including a high level of freedom and flexibility. You can also enjoy less financial responsibility when it comes to property maintenance.
What are typical lease terms?
An estimated 70% of all rental properties in the Netherlands are social housing. Social housing properties are usually capped or rented at a fixed cost to specific people who fit the criteria. This is tightly regulated, so if you are not eligible, you will have to rent privately – it is unlikely you will be eligible as a foreigner. As the proportion of social housing is very high, private rental properties can be few and far between, particularly in the bigger cities. This means that landlords can command a higher price, as there is more demand than supply.
The majority of rental properties in the Netherlands are offered unfurnished. However, it is worth asking the landlord or agent for a more detailed description of the property's condition. Unfurnished could mean anything from including fixtures but not soft furnishings, to excluding everything, even carpets!
If you view the property while tenants are living there, make sure you clarify what they will be taking with them. It may be that you can buy furnishings from them, or it may be that they are required to leave the place completely bare.
In the Netherlands, landlords are obliged to carry out any major maintenance needed on the property. Tenants are usually allowed to do small repairs themselves.
Verbal contracts in the country are not necessarily uncommon, especially when renting through an acquaintance, but it is still always a good idea to get your contract details in writing.
If you choose to use a letting agent, you can expect to pay them the equivalent of one month's rent as commission. Your landlord will no doubt ask for a deposit, which is also typically equivalent to one month's rent. In addition to this, you will usually need to pay your first month of rent in advance.
Rent in the Netherlands is most often split into two parts – the basic rent and the services charges are listed separately. It's always worth double checking whether your rent includes or excludes service charges and utility bills.
In most circumstances, in order to finalise your rental contract, you will need proof of identity, proof of residency, and proof of earnings. It's important to note that you should never hand over cash as a deposit. Instead, use a bank transfer. Property scams are not uncommon in the larger cities, especially Amsterdam.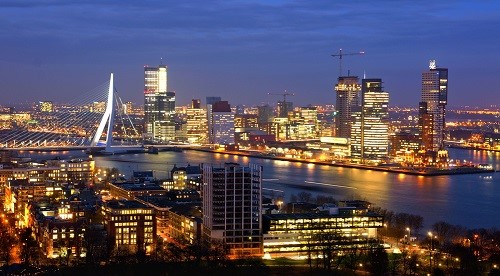 Private rental properties in the Netherlands can be few and far between, particularly in the bigger cities
Where can expats find details of properties to rent?
You can typically find properties to rent in the Netherlands online, through word of mouth, or via a letting agent. Additionally, your HR department at work (if you are working for a Dutch company) may be able to give you helpful advice.
There are various websites and apps that people use in the Netherlands to look for rental properties, including Pararius, Perfect Housing, Stoit, and Kamernet.
What are typical rental prices in major expat destinations?
The small sector of private rentals in the Netherlands means that the price of rent can be much higher in major cities, due to the high demand and relatively small supply. If, for example, you're looking at renting an apartment in Amsterdam, you can expect the rent to cost anything between €700 and €1000.
Popular expat areas include Amsterdam, Haarlem and the surrounding areas (for their proximity to Amsterdam), The Hague, Utretch, Randstad, and Rotterdam. Popular yet more suburban areas include Amstelveen, Bloemendaal, Hilversum, Voorschoten and Kralingen.
Database website Numbeo estimates that a one-bedroom apartment in a city centre costs on average around €1,084.28 per month. The price goes down to an estimated €867.98 for an apartment of the same size further outside the city. The collected data also shows that the average cost of a three-bedroom apartment in a city centre is around €1,748.28 a month, falling to approximately €1,318.54 in the more suburban areas.*
[size=12*The cities are not specified, but the data was collected and updated in April 2020 over the course of 18 months from independent contributors.
Buying property
The tax benefits for homeowners typically mean that mortgage costs are often lower than paying rent. That being said, this can vary depending on the area you are looking to buy in, as transaction costs and the high prices that come with living in some of the major cities all need to be considered.
Although property prices have risen sharply in recent years, due in part to a housing shortage in the main cities, mortgage interest rates remain low, with some providers even offering 100% mortgages.
Are there any legal restrictions on the ownership of property by foreign nationals?
There are little to no restrictions on foreigners when it comes to purchasing property in the Netherlands. As an expat, you will have all the formal rights of a Dutch citizen when it comes to applying for a mortgage. However, if you are new to a job, self-employed, on a low income, or of non-EU nationality, it may be harder to get a loan.
The main prerequisite is that you are resident in the Netherlands and registered with the municipality (gemeente). If you are from a country in the EU, EEA or Switzerland, you do not need a visa to live or work in the Netherlands. You will need to apply for a residence permit and a national security number (a BSN).
You can only apply for permanent residence after living in the Netherlands for a period of five consecutive years. You may find that some banks are not willing to provide non-permanent residents with a high mortgage loan.
What is the typical house buying procedure?
The buying procedure is fairly straightforward in the Netherlands. To get an idea of how much different properties cost, you can check the Land Registry (kadaster) of the area you are interested in. The buying process is typically as follows:
Making an offer
Usually a Dutch property agent will only negotiate with one seller at a time, making one offer to the buyers. If you are interested, but not able to make an offer, you may be able to arrange first refusal on the property, giving you a few days in which others cannot make an offer. This gives you time to find out how much you can borrow and to carry out a building survey if necessary. Bear in mind that not all sellers are happy to offer a first refusal option.
Arranging an appraisal and survey
In order to apply for and obtain a mortgage in the Netherlands, you will need an appraisal report (taxatierapport), which is carried out by a valuer (taxateur). In addition, a structural survey, while not mandatory, is always a good idea.
Exchanging contracts
You can negotiate things like the closing date, the price for movable items you are willing to buy, and other conditions for the seller. Important contingency measures to take into account at this stage may include a financing clause (which will allow you to withdraw if you cannot raise the required mortgage), a National Mortgage Guarantee, and a penalty clause should either party decide not to go through with the sale.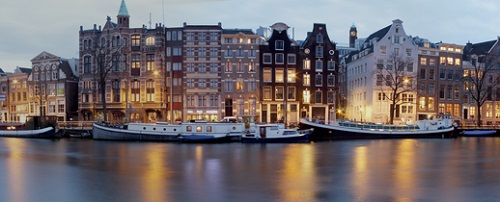 The buying procedure is fairly straightforward in the Netherlands
Once you have agreed on the terms, a preliminary purchase contract with contingencies (voorlopige koopovereenkomst met ontbindende voorwaarden) will be made. Even though this is 'preliminary,' it does mean that you are committed to the purchase. The additional fees for various services are usually calculated based on the value of the property plus VAT (or BTW, as it's known in the Netherlands). The major upfront cost to consider is the 10% pre-sale deposit (Koopovereenkomst waarborgsom).
Additional costs also include transfer tax (2%), transfer contract (0.3% plus VAT), mortgage arrangement (1% to 1.2 % plus VAT), mortgage contract (0.15% plus VAT), and the valuation (0.2% plus VAT). There are also estate agent fees (Makelaarscourtage) to take into account, which typically amount to around 2% of the purchase price plus VAT, and the costs of notary and land registration fees, which can vary.
Overall, all of the additional fees and costs tend to add up to approximately 5% to 7% of the purchase price, assuming a mortgage is needed. So, as an example, if you are purchasing a property for €200,000, the total cost would be around €212,100.
Where can expats find details of property for sale?
Looking for property in the Netherlands is a similar process to how it is in many other European countries. Keep an eye on local publications, newspapers, and bulletin boards. You may also spot Te Koop (for sale) signs. Additionally, there are several popular websites that many people in the Netherlands use to find property, such as Funda, Jaap, Pararius, Huislijn, and Zoekallehuizen.
You may wish to use a property agent (makelaar) to assist you in your search. Property agents typically conduct an initial screening of the property, handle negotiations and notary meetings, and arrange the sale contract.
Do local banks or other lenders issue mortgages to foreign nationals?
As long as you are a resident in the Netherlands, there is nothing to stop you getting a mortgage. Mortgage interest rates in the Netherlands are essentially at an all-time low. Typically, they are available for up to 90%, but some mortgage lenders are even offering 100% mortgages.
There are many options available in terms of types of mortgage, the most common of which are linear mortgages (lineaire hypotheek) and annuity or repayment mortgages (annuïteiten hypotheek). Your best bet as an expatriate is to get a good mortgage adviser, who can find you the best deal and help you navigate the market.