If you are living and working in the Philippines, or if you are visiting the country, you will find many opportunities to keep fit and well. The country is a beautiful one, with some lovely coastal and mountainous regions for you to take advantage of. Bear in mind that it may be worth taking out comprehensive health insurance, depending on which activities you would like to do.The Filipino people themselves are partial to a wide range of sports, including:
• Basketball
• Boxing
• Tennis
• Football
• Billiards
• Volleyball
Filipinos are friendly people, and you might like to find a local team to play with, if you enjoy any of the above sports. If you are feeling adventurous, you might even like to try the national sport of the Philippines, which is known as arnis, escrima or kali. It is based on an indigenous weapons-based martial art that the local people were practising when the Spanish appeared. You may also come across the wider Filipino martial arts (FMA), known as Sining panlaban ng Pilipinas, which refer to ancient Indianised and newer fighting methods.
If you enjoy walking, the country has a wide range of hiking trails, including some mountain walks, such as Mt Batulao. Since the country is a sequence of islands, you will find that many of these trails boast some spectacular views. The Sierra Madre trail takes you up through a tropical forest. The Masungi Georeserve gives you the chance to try out a rope suspension bridge. Mount Pinatubo allows you to explore volcanic terrain. All of these trails have different levels of difficulty, and some are not suitable for beginners; parts of them may be steep and slippery.
Remember to take plenty of water with you, as well as sunscreen; you will be walking in a tropical environment. However, some regions, such as Sagada, can be quite cold, particularly in the morning – the Philippine islands are quite diverse. You may want to think about taking electrolyte replacement drinks, along with sensible shoes.
If you prefer cycling to hiking, you will find plenty of opportunities to cycle in the Philippines, and you may even like to sign up to a cycling holiday. Islands such as Palawan allow you to take a coastal cycling tour and combine it with beach activities. Again, difficulty levels vary. You can choose to cycle along a flat terrain, perhaps around the rice paddies, or take part in more advanced mountain biking.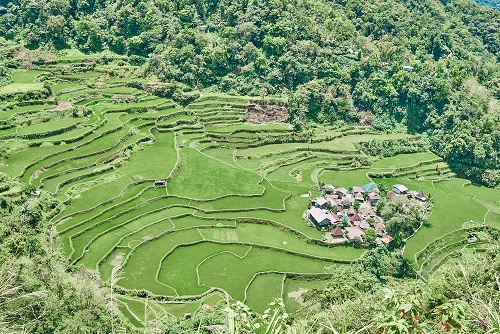 You may like to cycle around the rice paddies in the Philippines, or through the mountains
You will find no shortage of gyms in the Philippines, some of which are attached to hotels. If you are resident in the country, you should have little difficulty in finding one that's close by. You may prefer not to exercise outside, as the climate can be extremely humid, and there is generally considered to be a shortage of parks in urban areas. However, if you would like to, then expats recommend doing so either very early in the morning or late in the evening, as this will help you to avoid the heat of the day. Ask locals where they would recommend for jogging or running. Some urban areas are best avoided, not necessarily because they are dangerous, but because they have high levels of traffic and thus air pollution.
There are plenty of opportunities to undertake watersports in the Philippines. The islands are major diving destinations and have literally thousands of dive sites. Luzon has a lot of scuba diving centres. Diving is a year-round activity but can be divided into three seasons: December to March (monsoon); April to June (warm); July to November (southwest monsoon; wet but the water is warm). Air temperatures average 25-32°C/78-90°F with high humidity. Depending on which area you choose to dive in, you may see coral reefs, sharks or wrecks.
You can also choose to go swimming, which is a recognised sport in the Philippines under the governing authority of the Philippine Swimming Incorporated (PSI) organisation. The islands also have many water parks.
If golf is your thing, you will find almost 100 courses in the Philippines, mainly in Luzon, including some that are world class. Most of these are country club or membership courses. The country is not yet a top destination for golf, but with recent efforts by the tourist authorities, this may soon start to change.
The beautiful scenery in the Philippines makes the country an ideal destination for retreats and wellness centres. You will find a number of yoga workshops and yoga holidays there, set in some beautiful locations and accompanied by a variety of therapies, such as massage and reiki. You may also be able to access some traditional Chinese medicine (TCM), such as acupuncture. The country's tourist authorities are keen to develop this aspect of Filipino life, and wellness tourism is becoming increasingly popular.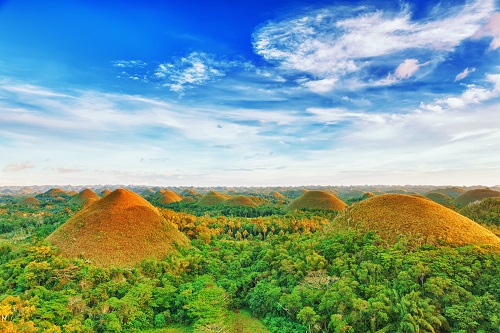 The beautiful scenery in the Philippines makes the country an ideal destination for retreats and wellness centres
It has to be said that the Filipino cuisine, though delicious, may not be among the healthiest in the world. Dishes there can be high in fat. However, the country does have a wide variety of vegetable dishes, along with a lot of fish, and there are a number of vegetarian cafes and restaurants in the country. Travellers report that it is difficult to be vegan in the Philippines; a lot of dishes are pork- or cheese-based. In addition, food there that doesn't contain meat can be somewhat bland, as the Filipino diet is not generally very spicy.
When you travel to the Philippines, make sure you take basic precautions with regards to looking after your health. For example, before you go there, it may be worth checking for any country-specific problems you may encounter, since they can experience outbreaks of infectious diseases, such as dengue fever and Zika virus, as well as other mosquito-borne illnesses. It is also worth making sure you have comprehensive health insurance, which should include a medical evacuation clause.
If you are resident in the country, then make sure you look after both your physical and your mental health as much as you can. Factor in some downtime if you have a heavy workload; get as much exercise as you can; and try to eat as healthily as possible. If you are working on your own in the country, try not to become isolated. Keep in touch with family and friends as much as possible, whether in person or through digital means.