If you are moving to Poland, you may want to open a new bank account. Even if you plan to maintain existing chequing or savings accounts at home, in order to pay certain bills or to manage your savings, you may find that you need a local account too. A local account will allow you to pay local expenses, and your salary can be deposited into it. Your other options, with regard to banking, include opening an international account with your current bank, if they allow this, or opening an offshore bank account that can be accessed from wherever you are.Overall, opening a bank account in Poland is fairly straightforward, and you do not need to be a resident to do so. However, if you are a resident, you will find the process much easier, and some banks will even give you the option of opening your account online, so long as you have a Polish phone number.
When you are ready to open your account, you will need to be able to provide the following:
• Proof of identity (either a passport or a national identification card with your PESEL number)
• Proof of address (rental agreement or a Karta Pobytu, or a residence card)
• Proof of income (pay slips) – this will be necessary if you would like to open a chequing account with overdraft protection or sign up for a credit card
• Phone number (this can be international)
You will also need to provide information about whether you are subject to Polish tax law or not. If you will spend more than 180 days in a calendar year in Poland, you will need to pay taxes to the country. You pretty much need to apply once you are already in Poland, though some banks may accept a PO box as proof of residence.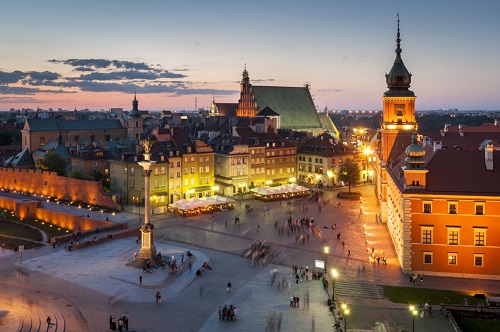 If you are a resident of Poland, you should find opening a bank account there fairly straightforward
If you are going to bank with a major national or international bank in a main city centre, such as Warsaw, Poznan, Kraków, or Wrocław, chances are that someone at the branch will speak English and can help you through the sign-up process. Smaller regional banks, and more remote branches of major banks, may not have English-speaking staff, but they may have an option to call an English-speaking support line.
When choosing your bank, make sure you understand what fees are applicable. Many banks charge fees for ATM withdrawals, account maintenance, and foreign cheque cashing. Some charge monthly fees for having access to a credit card, whether you use it or not. Personal cheques are not used in Poland, though you may be able to use or cash traveller's cheques. As a foreigner, you may qualify for a loan with a Polish bank, but most banks will prefer you to have been banking in Poland for at least a few years before they will approve you for a loan.
Even though Poland joined the European Union in 2004, it does not use the euro. The currency in Poland is the złoty, which comes in bank note denominations of 10, 20, 50, 100, 200, and 500. Coins are issued in denominations of one, two and five złoty and one, two, five, 10, 20, and 50 grosze (or cents). As in many other countries, cash is more prevalent in more remote and rural areas.
Banks are typically open from 9 a.m. to 4 p.m. Monday through Friday, though some stay open as late as 7 p.m. On the weekends, many banks open from 9 a.m. to 1 p.m. on Saturdays and are closed on Sundays. It's quite normal for Polish citizens and residents to do the majority of their banking online, so, aside from visiting the branch when you sign up for your account, you may find that you rarely, if ever, need to go into a bank branch.
There are numerous expat-friendly national banks, where staff usually speak at least some English. One example is MBank, which is an internet-based banking option with few in-person offices around Poland (less than 50) but full online banking options and agreements with other banks' ATMs. Another example is Bank Millennium, which offers initial cashback bonuses on spending and free current account management. A third example is PKO Bank, which is one of the largest banks in Poland and offers options for individuals, including mortgages, as well as businesses. A final example is ING Bank, which charges no account maintenance fees.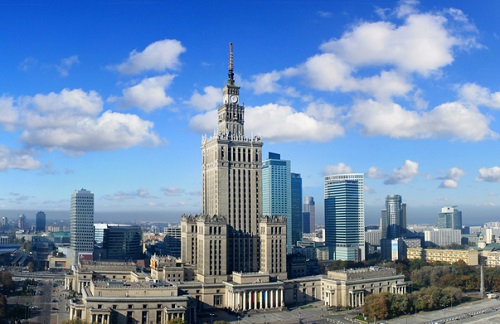 There are numerous expat-friendly national banks in Poland, where staff usually speak at least some English
Bank Millennium, ING Bank, and PKO Bank all have expat chequing account options that come with debit cards, and you only need to have a passport and a valid visa for Poland to sign up. They also all have English options for their websites and English-speaking call centres. Bank Millennium has a remote sign-up option that allows you to apply online and sign up for a courier, who will visit your residence, collect your documents, and provide you with a bank card. In this way, you can get your account up and running without ever having to visit a branch.
Other popular Polish banks include Narodowy Bank Polski, the national bank of Poland, and BNP Polska. The large majority of banks – about 80% of them – are privately owned. Polish banks follow the European Union regulations of insuring deposits of up to 100,000 euros, and they are regulated by the Polish Financial Supervision Authority (Komisja Nadzoru Finansowego).
International banks, such as Citibank and Deutsche Bank, are also popular with expats. They have branches in major cities and can be a good option for anyone not looking to open up a local account.