Moving abroad is a stressful time, even if you have chosen to move to a new location for a better overall quality of life. It is important to try to keep up good habits after you arrive, and to work out a health and fitness regime to keep you in top shape while you are living there.Portugal has a huge range of fitness options, from gyms and swimming pools to the ocean and mountains. Whether you're an indoor person or you prefer to exercise outside, you should be able to find an option that suits you.
Gym Memberships In Portugal
Lisbon in particular has some excellent gyms, with fitness trainers from around the world taking up residence there for brief periods of time. This means you can often find an interesting class that lasts a few weeks, give it a try, and then move on to something else.
A premium gym in a big city like Lisbon or Porto could cost you up to €80 per month. This is a significant outlay, but if you are a regular gym user then it is probably worth the price. This includes having a locker at the gym, so you don't need to carry your kit from home every time; access to the pool if there is one available; and free fitness classes. Some gyms even have in-house physiotherapists to help with aches and pains, and most will have personal trainers available to advise you on your fitness needs, although these will usually come at an extra cost.
If paying a premium price puts you off, then you could try signing up with a budget option such as Fitness Hut. These have branches all around Portugal, and if you go for the slightly higher-cost option then you will be able to access all their clubs, not just the one closest to where you live.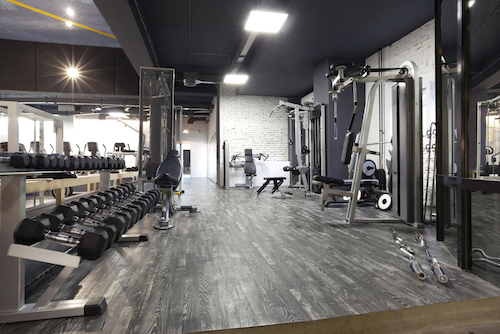 There is a wide range of gyms to choose from in Portugal
Low-cost gyms will be equipped with all the basics you need to keep fit, including a gym floor area where you can stretch and do floor exercises; a weight-lifting section; and a variety of treadmills and cardio machines. You might also be able to hire a personal trainer to work with you at one of these gyms, although this will come at an extra cost.
One of the main differences between the premium gyms and the 'no-frills' approach is the lack of comfort-level equipment when you arrive. For example, some low-cost gyms will operate on a keypad or door card basis, rather than having a receptionist there to greet you when you arrive.
You will also need to bring your own towels, including one to wipe down the equipment after you have used it; and your own water bottle and any snacks you might want to consume after your workout. There will usually be lockers available, but you will only be able to use them while you are working out: you are not allowed to leave your kit here overnight.
Outdoor Activities
If you prefer your fitness activities to take place out in the wider world, take a look around your local area for inspiration. If you come from somewhere like the US, where a lot of places are not very pedestrian-friendly, then you might be pleasantly surprised to find that one easy way to increase your fitness levels is simply to walk more places.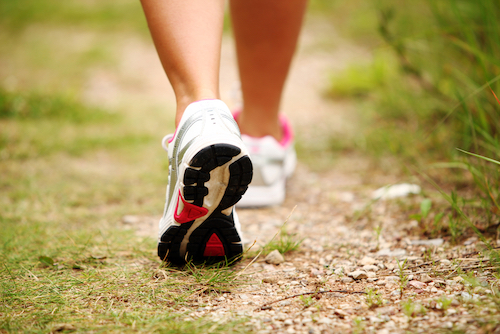 Going for a walk is a good way to keep fit
Portugal on the whole is a pedestrian-friendly country, with sufficient sidewalks in the cities and towns, and public walking routes through the countryside. Perhaps you could walk to work, or to your local supermarket. Or maybe you prefer to go for a walk in the evening when you come home, to finish the day on a relaxing note.
Swimming is a popular outdoor pursuit among fitness buffs, and Portugal is equipped with a wide range of beaches that are free to use. In the summer, the sea gets very warm, which might be a pleasant surprise for swimmers from cooler climates!
Take a look around your local area to see if there are any groups or events you can join. For example, the annual Swim Challenge in Cascais is a great way to improve your swimming technique and meet new people. Joining a group like Open Water Swimming on Facebook is a good way to connect with people who have similar interests.
Surfing and bodyboarding are popular in certain locations, with Nazaré being a particularly popular destination for the daring. In 2017, Brazilian surfer Rodrigo Koxa set a new world record for the highest wave ever surfed, when he surfed an 80-foot wave at Nazaré. Not for the faint of heart! But there are plenty of tamer surfing options around Portugal, if you are looking to have fun and get fit, and not break any world records!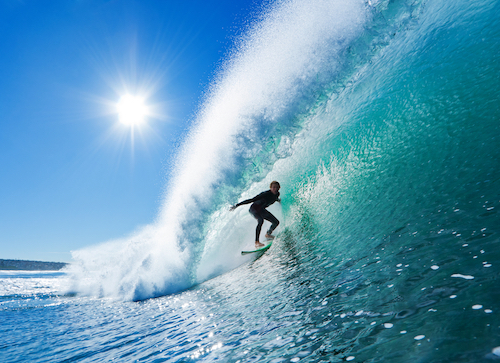 Portugal has a lot of good surfing destinations
Portugal also has some excellent mountains, and there are groups set up for people who want to climb these on a regular basis. You can make new friends and take in some beautiful views, and get fit along the way! If you want something more adventurous than a straightforward hike, take a look at Climb Europe's website for rock climbing adventures all around the country.
Fitness Classes
If open water swimming and rock climbing in the mountains are a little too adventurous for your tastes, but you would rather not exercise in a gym, there are still plenty of options available. In most cities and towns you will find a range of indoor and outdoor fitness classes, from yoga and zumba clubs to tai chi and high intensity interval training.
Your local gym will probably be able to give you a list of clubs in the area, and you can also check noticeboards and ask your neighbours.
Taking up a fitness-based hobby can greatly improve your overall health. If you do encounter health difficulties, though, then rest assured: Portugal's health service is excellent. You can also opt to take out private health insurance for added peace of mind, and there are options to cover you for additional extras, such as sporting injuries or specialist cover for mountain evacuations.
Would you like to share your experience of life abroad with other readers? Answer the questions here to be featured in an interview!