What's not to love about Portugal? Whether you're looking to emigrate to chase the sun, enjoy the beautiful beaches or just simply soak up a rich new culture, Portugal has it all.But where are the best places to live in the country? From the areas with the lowest crime rates, highest number of blue flag beaches, average rent and house value and more, a helpful guide by Imovirtual gives you the lowdown on the best locations to live in Portugal.
The Best For…
Schools
For those of you moving as families with young children, you'll want to know that you have the best choice of schools. Lisbon has been found to have the highest number of schools, giving you the most choice for children of all ages.
Sun, Sea & Sand
If it's the beaches you're seeking, Vila Nova de Gaia is perfect for beach lovers, boasting a massive 19 Blue Flag quality beaches for you to enjoy. Funchal has the highest mean temperature, giving you access to an average heat of 18.8°C – a decent temperature for getting used to a different climate when moving to Portugal.
House Prices and Rent
Are you looking to buy a house? Santa Maria da Feira has been found to have the best price per square metre, totalling €658. Renters can find a great deal in Guimaraes with rent averaging at €3.20 per square metre.
Average Income
Looking for the best place to make the most money? While it's not guaranteed – and a lot of other factors come into play such as job type, industry etc. – people who live in Oeiras earn the most income on average, taking home around €20,069 a year.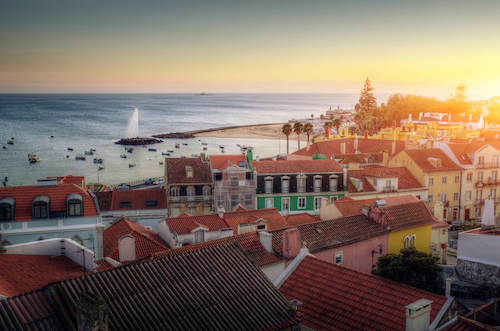 On average, Oeiras has the highest incomes
Lowest Crime Rate
Feeling safe is extremely important, especially when you're moving your whole life to a new country. In Portugal, Barcelos was found to have the lowest crime rate per 1,000 people, achieving a rating of 16.8.
Doctors
No one wants to think about getting ill, but if you have medical conditions which require regular doctor visits, you'll want to be looking to relocate to an area which has an abundance of doctors to ensure that you can get your treatment. Coimbra was found to be the best area for accessibility to doctors, with an average of 33.4 doctors per 1,000 people.
Lowest Average Annual Precipitation
Portugal is known for its incredible weather all year round, but it's no stranger to a bit of rain every now and then.
If you're looking to avoid the rainy weather as much as possible, Funchal is probably your ideal municipality, with only 587mm of rain falling on average throughout the year.
How does the area you're looking at moving to rank up against the rest of Portugal? You can view the full list of municipalities and ranking factors here, or take a look at the infographic below.

Would you like to share your experience of life abroad with other readers? Answer the questions here to be featured in an interview!