As we are coming to our real estate season that starts October to April, sales are setting record numbers, and the available inventory of existing properties for sale is experiencing a decline. I see several area indicators that all point to significant growth patterns as sales are soaring and average sales prices are climbing steadily.I'm Aleksandra Marzec, a Broker-Associate at the Miami Beach Office of The World Realty Residential Real Estate in South Beach, and I see the upsurge in activity across the board. Many high-end, luxury properties – both homes and condos – are being purchased in all-cash transactions, with some even buying more than one condo unit at a time. From the Beach to Brickell, brokers are seeing a huge increase in traffic and contracts, as those who have been watching the market opt to purchase now before all the good remaining inventory is gone.
The Venetian Islands – Miami Beach's String of Gems
While it may be true that the Venetian Islands are technically "artificial" in that they were created by man and not Mother Nature, everyone agrees that the breathtaking waterfront beauty and quality of life here is very real.
Idyllically set along the Venetian Causeway that connects the City of Miami to Miami Beach's South Beach area, the Venetian Islands are comprised of Biscayne Island, San Marco Island, San Marino Island, Di Lido Island, Rivo Alto Island and Belle Isle, as you drive west to east.
While there were some truly impressive single-family estate properties on Belle Isle when it was first developed – retail pioneer J.C. Penney had a majestic home there – today it is home to some of the Beach area's most impressive condominium buildings, including the beautiful Nine Island Avenue and Costa Brava. People also travel to Bell Isle from around the world to visit and stay at the world-class Standard Hotel, a truly luxurious spa and resort located along the sparkling waters of Biscayne Bay on the north shore of Belle Isle.
The other islands are comprised primarily of single-family homes, with a mix of stately, original early Florida architecture and stunning new residential masterpieces. The islands were created to offer residents there some of the most impressive water views in all of South Florida, and the easy access to the open waters of the Atlantic makes it a perfect spot for boaters and fisherman to call home. This is a great place for lovers of waterfront homes who still like access to the city and airport and or cruise line for frequent travels.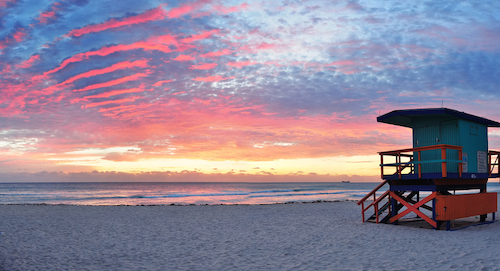 Originally connected by a wooden bridge, the current Venetian Causeway began construction in 1925, and is currently undergoing a complete refurbishment. Not only does it provide quick access between Miami's downtown and the City of Miami Beach, the toll road is also a popular route for joggers, cyclists or those just taking the family dog for a beautiful waterside stroll.
The Venetians now represent some of the most desirable and hottest real estate properties in the area, thanks to the availability of condominiums from around $300,000 and up, and truly affordable waterfront homes starting at around $2 million. Here you'll find everything from a small, 1930's-era Mediterranean bungalow to a stunning 10,000+ square foot contemporary work of architectural art.
The Venetian Islands are home to an eclectic array of residents, including young families, business executives and entrepreneurs, affluent retirees and even world-renowned celebrities. But the appeal of these waterfront gems to all who live here remains the neighborhood feel that one may not find in other parts of the area. And with the convenience of venues like the American Airlines Arena and Adrienne Arsht Performing Arts Center just off the western tip of the Causeway, to the cosmopolitan class of Miami Beach's Lincoln Road Mall on the east side, Venetian Isle residents are fortunate to have the best of all worlds just outside their doors.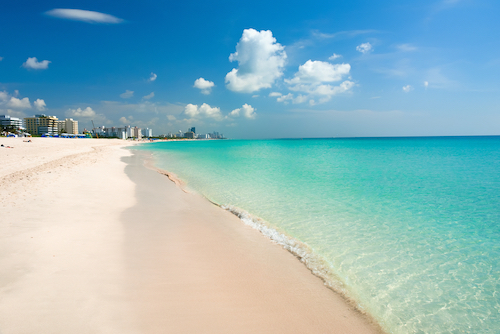 Some have called the Venetian Islands Miami's best-kept secret, as it has generally fallen under the radar of some of this area's more famous, or infamous in some cases, islands like Star Island and Fisher Island just to the south. And for those who call the Venetians home and others who are looking closely at the prospect of living there, that suits them just fine.
SoBe… Everything South Beach
The South Beach real estate market has its own unique attraction. Commonly known as "Sobe"… explore and you will discover luxury waterfront homes, exclusive penthouses, distinctive architectural features, and dreamscape views.
Located between Biscayne Bay and the Atlantic Ocean, the area is comprised of all of the islands to the south of Indian Creek – another exclusive Miami Beach neighborhood rated as one of the highest income locations in the US with its most recent record-breaking home sales.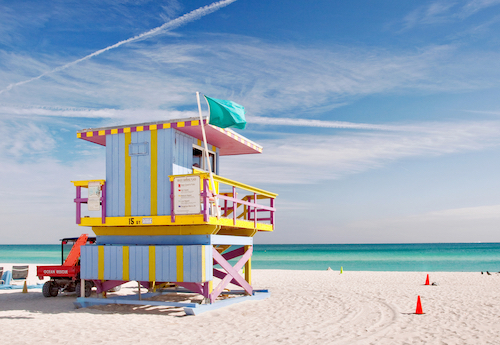 Distinctive to SoBe is its architectural transformation that began in the 1930s… an artistic revolution that created a wave of Art Deco, Streamline Modern, and Nautical Modern building styles. Adding to the notoriety of the area is the assertion that SoBe maintains the largest Streamline Modern architecture collection in the world.
During a difficult period in the 1970s and 1980s with a repeat underworld theme portrayed in popular crime shows such as Miami Vice, a movement was initiated to trail-blaze the placement of South Beach on the National Register of Historic Places, and the Miami Beach Architectural District was born in 1979.
Renowned for its star-studded clientele, the district has been home to many colorful characters – from the filming of the Jackie Gleason Show, Miami Vice, and CSI Miami, to residents that have included Elizabeth Taylor, Gloria Estefan, Julio Iglesias, Jennifer Lopez, Shaquille O'Neil, Rosie O'Donnell, and Madonna.
Today SoBe is considered one of the most affluent areas on the Beach. It is a destination popular with American and International tourists from Canada, Europe, Israel, Latin America, and the Caribbean, with both permanent and second homes.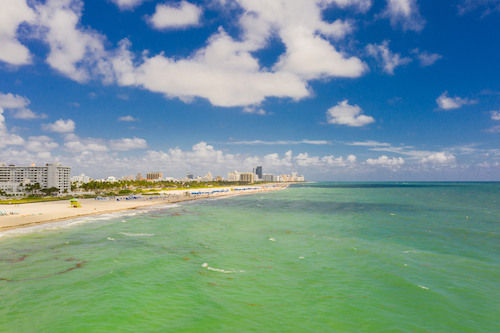 According to a recently released real estate report, this month's home values are up 8 percent in the third quarter of this year compared to the same period of time last year. Significant to this boost is the rise of international buyers – Florida is now the number one state for international residents. Offering a rich blend of diversity, culture, and languages, with stunning water views and beaches, you can't go wrong choosing the Beach as a permanent residence or a second home opportunity – the property values are back on the rise, proving it a profitable long term investment choice.
Miami Beach has everything for everybody, from affordable prices to multi-million dollar mega-mansions. The inventory is high and buyers have a lot to choose from. They also have an upper hand in negotiating for a better price.
We are currently selling beautiful new construction and pre- contraction oceanfront condos with some developers' perks, like two years' paid condo monthly fees or taxes, upgraded in the unit, developer friends and family prices, all because we have connections directly with best agents who can get things done.
You can find out more about Miami Beach, and find your perfect property, at AleksandraMarzec.com.