Saudi Arabia (officially the Kingdom of Saudi Arabia) is a country constituting the bulk of the Arabian Peninsula. Geographically, Saudi Arabia is the largest sovereign state in Western Asia, and the second-largest in the Arab world (after Algeria). Saudi Arabia is bordered by Jordan and Iraq to the north, Kuwait to the northeast, Qatar, Bahrain, and the United Arab Emirates to the east, Oman to the southeast and Yemen to the south. It is the only country with both a Red Sea coast and a Persian Gulf coast.Interestingly, Saudi Arabia also has one of the world's youngest populations, with around 50% of the 33.4 million people living there being under the age of 25 years old. If you're looking to move there, then you may be interested to know that an estimated 37% of the population is made up of immigrants and expatriates.
Renting property
Although there are no concrete statistics, it is estimated that about half of the population rent their homes in Saudi Arabia. Many expats cite volatile geopolitical conditions as one of the reasons why they are not so keen to invest in property there. The most popular types of accommodation among expats are compound properties on gated premises, with security and amenities close at hand. It is worth noting that many of the gated compounds come with stringent rules. For example, guests will have to present their ID at security checkpoints, and unmarried members of the opposite sex will not be allowed to visit you, unless they can prove that you are an immediate relation.
The average cost of rent in Saudi Arabia is relatively cheap compared to in some of the other Middle Eastern countries, such as the United Arab Emirates and Qatar. More often than not, utilities are included in this cost. Contracts are usually conducted on an annual renewable basis. If you are renting privately, you will need to pay a year's rent in advance through post-dated cheques. The landlord can ask for two checks or for quarterly cheques; this is usually negotiable.
You will also need to pay a refundable security deposit, which is typically the equivalent of a month's rent. All rental agreements in Saudi Arabia must be registered on the Ejar electronic system. Ejar is an online portal that monitors your rental space. Failure to comply and register on Ejar as a tenant could lead to your work permit not getting renewed.
Where can expats find details of properties to rent?
In many cases, an expat's employer will sort out their accommodation, and rent is deducted from their monthly salary. If, however, accommodation is not included in your contract, and you are looking to rent privately, you can either use a local estate agent or a property website, such as:
• Bayut
• Property Finder / Esimsar
• Just Property
• Zaahib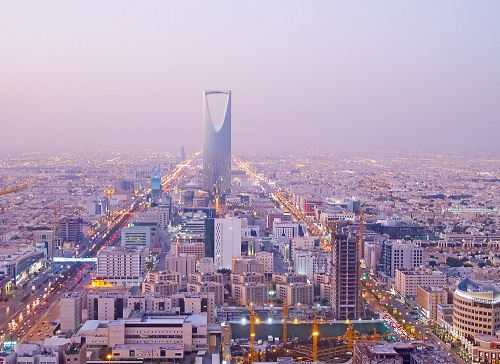 Often, if you are moving to Saudi Arabia for work, your employer will be able to help you find accommodation
What are typical rental prices in major expat destinations?
Most skilled expat workers tend to be based in either Damman, Jeddah, or Riyadh. According to data statistics website Numbeo, the average rent for a one-bedroom city centre apartment works out to be 1,419.06 Saudi riyal (SAR) per month. This is equivalent to roughly £303.55 (GBP) or $377.36 (USD). An apartment of the same size in a less central location could cost as little as 1,007.77 SAR (£215.42 or $268.06). A larger apartment with three bedrooms in a desirable location costs around 2,425.88 SAR (£518.85 or $645.17) per month in rent.
Are there any challenges/problems in the rental process that expats often encounter?
It is highly likely that all agreements and negotiations will be conducted in Arabic, and all the documentation pertaining to your tenancy contract will also likely be in Arabic. If you do not speak the language, it may be worth hiring a translator. It may also be a good idea to get an English version of your tenancy agreement drawn up.
It is important to keep in mind that Saudi Arabia is governed by strict Islamic laws and is quite different from the more 'globalised' markets, such as the United Arab Emirates or Qatar. For example, same-sex relationships are illegal and can be punished by public floggings or even the death penalty. Even engaging in such relationships online can carry severe punishments.
Strict dress codes must also be observed. For example, women must be covered, and it is illegal for men to "behave like women" or to wear women's clothes – this also applies vice versa. Unmarried socialising, relationships and cohabiting are all prohibited, except between immediate family members or chaperoned by family members.
Buying property
Laws have been relaxed on foreign ownership in recent years, but there are still various restrictions in place. Essentially, foreigners are allowed to own real estate in Saudi Arabia, subject to approval of the licensing authority. Geographical restrictions apply, including in Mecca and Medina, where foreign ownership is forbidden unless the property is inherited.
What is the typical house buying procedure?

It is worth noting that eligible foreigners who are purchasing property can apply for an indefinite stay or a one-year renewable residency.
The negotiations and documentation are likely to be in Arabic, so it is highly advisable that you hire a translator and lawyer during the buying process. The price will usually be negotiated between yourself, the seller, and any facilitators.
You will then need to conduct a title search on the property through the First Notary Public Department. This is in order to verify that the details of the property deed provided by the seller match those in the records of the agency. In order to do this, you will require authorisation from the seller.
Once everything is in order, you and the seller can reserve an appointment with a notary. In order to request a transfer, parties should request an appointment online here. The appointment reservation is immediate.
On the scheduled day, you will both attend the appointment at the First Notary Public Department. The notary employees will check that all necessary documents are present and correct.
The necessary documents are as follows:
• Identification cards
• Certified check
• Deed/proof of ownership
• Original copies of the articles of association, if applicable
• Original copy of the Certificate of Registration
• Proof of power of attorney, if applicable
Eligible foreigners who are purchasing property can apply for an indefinite stay or a one-year renewable residency
The notary will issue the deed and both parties will be required to sign before the notary.
You can then check in at the front desk, where you will be given a room number, which is where the transfer will take place. The notary will retrieve any necessary documents and conduct a final check that everything is in order. The notary can then approve the transaction and the change of owner's name. A new deed with the notary's signature will be given to you, and a copy containing both parties' signatures will be archived by the notary.
In the instance of purchasing land, once you have come to an agreement, you will need to go to the local Sharia Court to ensure that the land in question is really owned by the seller. You must also ensure the transfer of title is recorded. The Court will stamp the title document to indicate the legal transfer of ownership.
Where can expats find details of property for sale?
Expats can choose to work with a reputable agent, or can conduct a private search using property portals and websites, such as:
• Aqarcity.com
• Bezaat.com
• Mstaml.com
• Opensooq.com
Do local banks or other lenders issue mortgages to foreign nationals?
Theoretically, both local people and expats can get home loans in Saudi Arabia. That being said, it is still a fairly new concept and the market is still developing. This means that many banks will not be eager (or may outright refuse) to offer a home loan, or approve a mortgage, to foreign buyers.
Instead of taking out mortgages, many Saudi nationals use long-term loans from the Saudi Real Estate Refinance Company (SRC). The SRC's Real Estate Development Fund has existed since 1974 and offers interest-free loans to Saudi nationals.
Direct (murabaha) and fixed-rate mortgages are often only available to locals. You may find it easier to obtain a mortgage from an international bank or from a lender in your home country. However, before doing this, you should seek professional financial advice, and try to avoid currency fluctuations.