Slovakia (officially the Slovak Republic) is a landlocked country in Central Europe. It is bordered by Poland to the north, Ukraine to the east, Hungary to the south, Austria to the southwest, and the Czech Republic to the northwest. The country has a diverse landscape, with mountainous terrains, more than 6,000 caves and 1,300 natural mineral springs. Slovakia also has the highest number of castles per capita in the world.It is estimated that there are around 120,000 foreigners living in Slovakia, just over half (54.5%) of whom come from countries outside the EU. If you're looking to join them, then read on to learn about your options when it comes to renting and buying property there.
Renting property
Typically, you will have to pay a security deposit equivalent to one month's rent, along with a month's rent in advance. If you find your property through an estate agent, then you will likely have to pay them a commission fee, which will also be equivalent to one months' rent.
It is always a good idea to exercise caution when renting property. Make sure you ask the landlord to prove that they have a certification of ownership or power of attorney, so that you can be sure that they have the legal right to rent the property out to you. In some circumstances, tenants may sublet properties. You may want to ask to see proof of a subletting agreement or some sort of written permission from the landlord, before you commit to renting from a tenant.
If you do not speak the language and do not have any friends that can help, it may be worth hiring a translator and getting a copy of the tenancy contract translated before you sign it. That way, you can be sure what you are agreeing to and check for any hidden clauses. Most apartments come fully furnished, but this varies depending on the landlord.
You will need to check whether your rent includes utilities or not. Meter readings are usually only done once a year in Slovakia, and consumption is worked out on an annual basis. Therefore, when the reading is done, you may need to pay more, depending on whether the consumption has increased or not.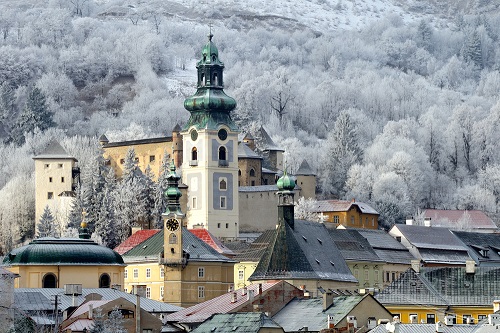 Most apartments for rent in Slovakia come fully furnished
Where can expats find details of properties to rent?
The majority of rentals in Slovakia tend to be dealt with through an estate agent. Often, adverts are posted by agencies rather than landlords. Some websites that may be useful in your search include:
• Nehnutelnosti.sk
• Topreality.sk
• Byty.sk
• Novostavby.sk
There are also a few websites specifically for renting rooms, such as:
• Bedrooms.sk
• Spolubyvajuci.sk
• Spolubyvanie.sk
What are typical rental prices in major expat destinations?
Rental prices vary depending on where you would like your property to be. Bratislava, the capital of the country, draws in many foreign workers. Some of the most popular areas of the city include the Old Town, Ruzinov, Nove Mesto and Raca.
According to data statistics website Numbeo, the average monthly cost to rent a one-bedroom city centre apartment in Slovakia is around €487.14 per month. For an apartment of the same size in a less central location, you would likely need to pay roughly €386.29 a month in rent. For a larger place, with three bedrooms, in a desirable location, the average rent is approximately €740.07, while its more suburban counterpart would cost you closer to €589.07.
Are there any challenges/problems in the rental process that expats often encounter?
You will need to make sure that the landlord registers you as a foreign tenant. They must do this by signing and notarising a čestné vyhlásenie (the official document of consent to provide a residence permit). This can often be a prerequisite for you getting approved for a residence permit, or for you being allowed to extend or renew your current residence permit.
Another bit of information you may find useful is the way in which properties are advertised. Slovakia counts and advertises all rooms excluding bathrooms and kitchens. So an advert for a two-room flat will refer to a property with a bedroom and a living room, rather than two bedrooms.
A final piece of advice is that it is worth checking whether the flat you would like to rent is equipped with central heating or not, as Slovakian winters can be brutal.
Buying property
There are no legal restrictions on foreigners buying residential property in Slovakia, as it is a member of the European Union. However, there are restrictions on buying agricultural and forest land.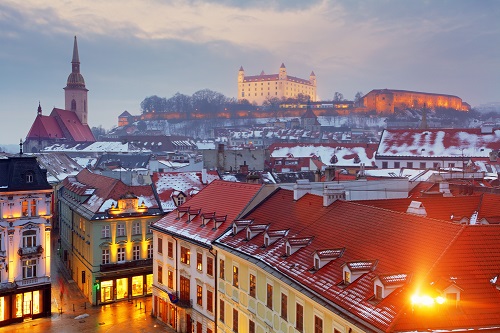 There are no legal restrictions on foreigners buying residential property in Slovakia
What is the typical house buying procedure?
Once you have chosen the property you wish to buy, you will be expected to put down a 10% deposit. At this point in time, the pre-purchase agreement will be drawn up and signed by both parties.
Next, you will need to get a surveyor's report on the property, of which your solicitor will receive a copy. Once your solicitor has received this, and providing that there are no issues, they will begin preparation for the final contract.
The final contract can then be signed (by both parties), and you can submit payment. The property will need to be registered on the The Cadastral Register (kataster nehnuteľností), which includes details of you, as the new property owner, and of the property and/or land itself. Properties in Slovakia cannot be sold without a Kataster.
The title deeds are then transferred to the buyer's name after a period of four weeks. Notaries are not necessary before registry. Additional fees that are commonly incurred include the estate agent´s commission (which ranges from 3% to 6%), legal fees (generally around 1% of the property value), and notary and registration fees.
A notary is not required to establish certain real estate rights. However, a notary public or local municipality usually certifies the signatures of transferors in such legal agreements.
The transfer of real estate is VAT-exempt, except for transfers made within five years of the official completion of the construction. Transfers of land, except building land, are not subject to VAT. The standard VAT rate is 20%.
Do local banks or other lenders issue mortgages to foreign nationals?
Foreign nationals have the right to get a mortgage loan in Slovakia. The mortgage can be used for purchasing an already built real estate or real estate that is under construction. The minimum loan period is usually four years; the maximum period is up to 20 years. Interest rates vary depending on the mortgage provider.