South Africa is an incredibly diverse country on the southernmost tip of the African continent. It is made up of several distinct ecosystems, including the lowveld flatlands, which are popular for safaris, and the rolling vineyards of the Western Cape. Lush forests and lagoons can be found on the Garden Route, and Table Mountain can be seen overlooking the city of Cape Town. Cape Town is also home to one of the three mainland colonies of African Penguins.Unfortunately, South Africa is also famous for its chequered political past. However, this hasn't stopped some four million expats making the country their home. A study by HSBC showed that 62% of expats believed their quality of life had improved since moving to South Africa, and 55% planned to stay there for more than twenty years. Residents in South Africa often cite the country's climate and the quality of life it can offer as key to its appeal.
Renting property
While verbal agreements are technically legally binding, it's always a good idea to obtain confirmation in writing (with the signatures of both parties). Ideally, you want a written tenancy agreement that details the terms and conditions of your rental agreement and clearly defines the responsibilities of the tenant and the landlord. It should also show the amount you have agreed to pay in rent, the payment method, payment dates, and any additional charges or payment increases. Legally, the landlord cannot deny you this if you request a written lease.
A security deposit of one to two months' rent will be required, which may be in addition to a month's rent in advance. If you find a property through an estate agent, you may have to pay their commission and a holding deposit. In some cases, you may also have to pay some additional fees, such as registration and reference fees. Both furnished and unfurnished rentals are commonly available on the market.
There are various different property types that you will come across in adverts, such as:
Bachelor flat
This is a small one-bedroom flat with a kitchen, a bathroom, and a lounge/living/dining area.
Flat
A standard flat is bigger than a bachelor flat and typically consists of one to three bedrooms, as well as a kitchen, bathroom and lounge/living/dining room.
Townhouse
A townhouse in South Africa may be different from a townhouse in your home country. Town houses are usually found in complexes of up to 30 homes. They can be a semi (one floor) or a duplex (two floor) property. Townhouses often come with additional costs, such as contributions to maintenance and upkeep of the complex itself.
Cluster house
Cluster houses are somewhat similar to townhouses, in the sense that they are also located in complexes, often with shared facilities (such as pools, club houses etc.). Each cluster also comes with a garden that will be your responsibility to maintain.
Cottage
A cottage in South Africa may be very different from a cottage in your home country. In South Africa, a cottage is typically defined as a second, smaller property located on the grounds of a larger property.
Detached house
A detached house is a standard, stand-alone family-sized property with a private garden. The majority of detached houses in South Africa are all on one level, with no additional floors.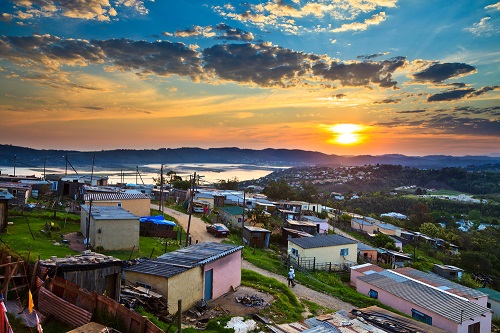 There are various different property types available in South Africa
Where can expats find details of properties to rent?
It is perfectly possible to find private rentals in South Africa, and even to enter into purely verbal agreements with private landlords. However, the large majority of rentals, particularly for expatriates who are not familiar with the country, are dealt with through an estate agent or, in some cases, an expat's employer.
Estate agents in South Africa need to be registered with the Estate Agency Affairs Board. Most reputable agents are also members of the Institute of Estate Agents of South Africa. There are plenty of large estate agencies, but you can also find smaller, locally-operating ones in the yellow or white pages (which is still a thing in South Africa, along with Woolworths). You will also see plenty of advertisements in local newspapers.
Some of the larger, better known real estate agents in South Africa include:
• Aida
• REMAX
• ERA
• Nationlink
• Rawson
• Pam Golding
• Seeff
What are typical rental prices in major expat destinations?
Rent in South Africa tends to be more expensive in the larger cities, with Cape Town boasting some of the most expensive rent prices in the entire country. Apartments in Capetown can often exceed $1,700 (USD) per month for an average 120-sqm apartment, compared to around $1,400 in Johannesburg. For those searching for family homes, an average 300-sqm property in Cape Town costs the equivalent of around $3,500 per month.
That being said, data statistic website Numbeo shows that, on average, rent in South Africa is 57.04% lower than in the United Kingdom. It collected the average data over the course of 18 months from 1909 different contributors to estimate monthly rental costs in South Africa. The average monthly rent for a one-bedroom city centre apartment was 6,559.97 ZAR (South African Rand). This is roughly equivalent to £281.95 (GBP) or $352.77 (USD). An apartment of the same size in a less central location would typically cost 5,697.87 ZAR per month (£244.91 or $306.42). The average monthly rent for a three-bedroom apartment in a central location was 13,392.30 ZAR (£575.73 or $720.21), whilst its suburban counterpart was more likely to cost 11,060.18 ZAR per month (£475.55 or $594.83).
Buying property
Foreigners are generally subject to the same laws as South African nationals and, as such, may purchase property and land with little to no restrictions. Working residents should see no issues at all, whereas non-residents will need to apply for a permit as per Immigration Act 13 of 2002, which you can read more about here.
What is the typical house buying procedure?
Once you've found your dream property, you will need to make an offer. If you are using the services of an estate agent (which is highly recommended) then the offer will be made through them. The estate agent will request a formal letter confirming the details of your offer, which they will read through and alter or approve, before sending to the seller. If the seller accepts your offer, both of you will sign the document, which effectively becomes the sale agreement. At this point, you will pay your deposit.
The seller will then appoint a conveyancer to deal with the legal aspects of the transaction. While the seller typically chooses the conveyancer, the buyer usually has to pay the fees, which typically range from 0.1% to 1% of the property value. You will then need to submit your identification documents to the Deeds Registry, so that you can be officially registered as the new owner. Once you've been officially registered as the new owner, you'll need to pay the remaining balance, after which the conveyancer will deliver the title deed.
When purchasing a property, there are additional costs to take into consideration, such as registration fees and the estate agent's commission (if applicable). It is also worth noting that buyers are liable for transfer duty on properties with a value exceeding 900,000 ZAR. Properties purchased for developers will be liable for Value Added Tax (VAT).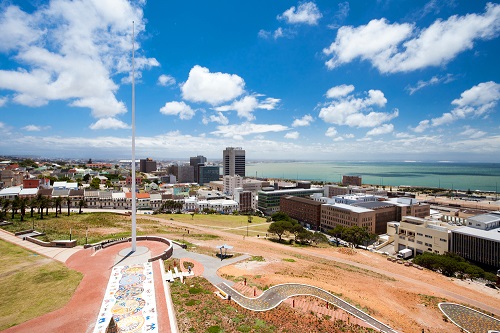 In South Africa, buyers are liable for transfer duty on properties with a value exceeding 900,000 ZAR
Where can expats find details of property for sale?
It is generally advised, particularly if you are unfamiliar with the country, that you use a reputable estate agent (details of these can be found in the rental section). There are also some websites that you can use to conduct your property search, such as:
• Gotproperty.co.za
• Privateproperty.co.za
• Myproperty.co.za
• Residentialpeople.com
• Homes.trovit.co.za
Do local banks or other lenders issue mortgages to foreign nationals?
Foreigners fitting certain criteria can take out mortgages relatively easily in South Africa. Your eligibility will depend on a number of factors, such as your residence status and whether you are working in the country or not, as well as your background, credit history, and financial status. For example, if you are not working in South Africa, you will typically not be granted more than half of the purchase price of the property you wish to purchase. The balance must then be paid in cash, and this may be cash generated in South Africa, or off-shore funding.
Some lenders may require you to have a work permit of at least four years before they will consider a bond for more than half of the purchase price. Individual banks set their own terms, but they need to work within the legal framework of the South African Reserve Bank. Therefore, you will also need to obtain permission to take out a loan from the South African Reserve Bank.
The conditions on mortgages are often more strict for non-residents of South Africa, and you may find that this can delay the buying process. Many expatriates choose to work with a mortgage broker to avoid any pitfalls or delays.
You will need certain documents in order to make the mortgage application, such as:
• Passport (or ID card, if you have one)
• Proof of address
• Offer documents
• South African Reserve Bank permission certificate
• Proof of income, such as your last three months of wage slips
• Accountant's reference and your last two years' audited accounts and tax returns (if self-employed)
• Your last three months' bank statements
• Your most recent tax certificate and an employer's reference